Gone Hiking
Terminal cancer. What would you do if your doctor delivered the scariest two words in the English language? Andy Lyon went for a hike.
Heading out the door? Read this article on the new Outside+ app available now on iOS devices for members! Download the app.
The kid limps into Yakima Valley Memorial Hospital out of the late-September night. His pack is worn and dusty, his face cloaked in a beard that grew out rather than down. It's the first time he's been inside a hospital in 23 months. The last time, his doctor gave him 24 months to live. He walks up to the admitting nurse. "Can I help you?" she asks.
"I think I need some help. I've been on the trail and I keep falling down."
She directs him to have a seat, then asks him his name.
"Astro," he says.
"Your name is Astro?"
"I'm sorry, I'm sorry. My name is Andy. Andy Lyon. I've been walking the trail for a while and everyone calls me Astro."
"Where do you live?"
"Well," he says. "I live on the trail."
"You live on the trail?"
"Yeah."
"Do you have a mailing address?"
"Yeah, my parents live in Laguna Beach, California"
"How did you get here?" she asks. It is, after all, south-central Washington.
"I walked here."
"You walked here from Laguna Beach?"
"I actually walked here from Mexico," Andy says, and can immediately tell what she's thinking: psych ward. "Let me start from the beginning."
But where is the beginning? Maybe it's when he was first diagnosed with Hodgkin's lymphoma four years ago at age 19. Or, maybe it's after the second relapse, after the first round of chemotherapy failed and then the stem-cell transplant failed and then he was given a 1-in-10 chance of living another five years. Or maybe it's the moment when he decided to try to heal himself by hiking the 2,655-mile Pacific Crest Trail from Mexico to Canada. Would the nurse even believe that story?
Would anyone believe that story?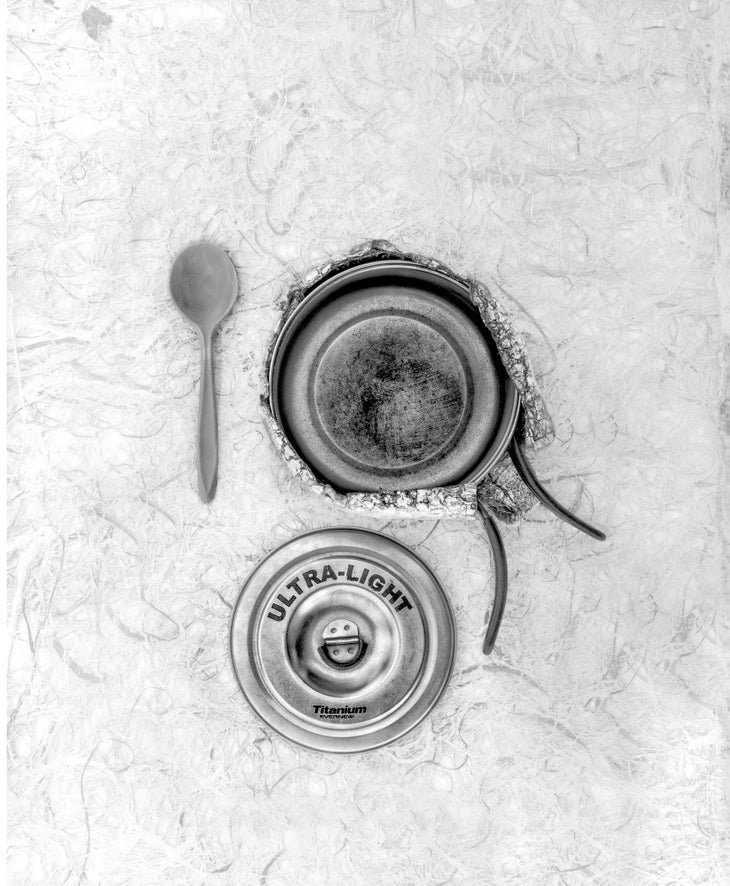 Few footprints circle the PCT monument at the Mexico border, 2,300 trail miles south of Yakima, in early April. Most would-be thru-hikers appear a few weeks later, after they've wrapped up logistics: how to feed themselves, how to clothe themselves, how to minimize suffering on the journey. But Andy makes his footprints here today.
From the look of his trail runners, these are the first steps he's taken in them at all. He walks over to the monument, locates the trail register, and writes, "The longest journey begins with a single step." It's just the kind of stuff written by hikers filling the pages preceding this one, people who knew to start earlier than 1 p.m. on a sun-blasted trail.
He's olive-skinned but pale. His white, button-down sunshirt looks starched, and his trail pants sag around his thighs and calves. On top, he wears a beige, full-brimmed hat that makes him look like Gilligan gone rogue. He smiles and it's hard to tell if he's happy or wincing. Or maybe he's just squinting into the desert sun.
Andy shoulders his 22-pound pack, the strap sitting right next to the scar the chemo port left. He starts down the trail, a ribbon of dust snaking through the shrubs and over the low rollers out to the northern horizon. Even though this is just a trial run for his thru-hike, if he makes it 42 miles to Mt. Laguna, it'll be both his farthest backpacking trip ever and his first time going solo.
He walks and the nerves dissipate into the rhythm of his footsteps. In camp, he pulls out the unused alcohol stove he made from a soda can and Internet instructions, and fills it with diesel-line deicer. When he sets the lighter to it, fire engulfs the whole thing, sneaks out under his windscreen, and lights the ground on fire in a 3-foot circle. He stomps at it, then grabs for his socks and slaps at it. Then he fishes out his cell phone and texts his mom: Hey! Safe and sound … 🙂 just set up my tent, now making chow. 11 miles today, 1 horny toad, 2 snakes (one rattler, one gardner). This is great! 😀 xoxo"
Back at home in Laguna Beach, Betsy Gosselin is relieved. She has no idea what to expect during this thing either, but she already decided that she would do whatever needed to be done to support her boy—time, money, anything. So what if she hadn't even heard of the Pacific Crest Trail three months ago?
On the fourth day, he waits for Betsy at the predetermined pick-up spot and writes in his journal: "Well, that wasn't so hard!"
Nature is a faith healer. Everyone implicitly understands that, even if they don't really get how it works. Plenty of people harness the power of wilderness to clear their heads, or to recharge their batteries. There's power in nature's beauty, and strength to spare. Andy believes that, too, and his journey would test the limits of that power.
He was a freshman studying astrophysics at the University of California at Berkeley when an X ray revealed a dense, white mass at the base of his neck. A biopsy confirmed what doctors feared: cancer. Hodgkin's lymphoma. But the prognosis was good: With treatment, some 90 percent of people so afflicted remain cancer-free in five years.
But the treatment isn't pretty. After six months of chemo, even Andy's eyelashes fell out, and the nausea came in long sweeping fits that would leave him retching for hours. That's how Western medicine fights Hodgkin's. Andy, full of optimism, was a model patient. He memorized his drug regimen, studied up on what each ingredient of the cocktail did and what baggage came with it.
It worked, and Andy, now in remission, took a six-week victory tour across Central America, exploring Mayan cities and swimming in the waters of the Lago de Atitlán in Guatemala.
He re-enrolled at Berkeley for his sophomore year, but eight months later, a follow-up PET-CT scan revealed the cancer had returned as stage 4, spread throughout his body and in his bone marrow. His chances of survival dropped to the mid-60s. Betsy was staggered, but she held it together for Andy and her family. When she had a night alone, she let the sadness come. "This time it could mean death," she wrote on her private blog. "Andy could die. I feel the immense fear of losing my boy."
Andy did what his doctor said: a stem-cell transplant that would leave him in isolation on a sealed hospital floor for three weeks while his immune system rebooted. When he grew sick of the confinement, he convinced his mom and stepdad, Michael, that he needed some fresh air. They loaded him into a wheelchair, pushed him down the hall, and slipped through the elevator doors. "The trick," Betsy later said, "is to walk like you know what you're doing."
But 100 days later, the cancer was back, again. His doctor informed him that he was not a candidate for another stem-cell transplant. His five-year survival odds sank to 10 percent.
The normal 20-something, hearing the news, might erupt in a mix of rage, sadness, and frustration, cursing the universe for the awful unfairness of it all. But Andy didn't react like that. When he visited his Ayurvedic practitioner (a form of Indian medicine) a few weeks later, he didn't even mention the relapse.
He came to believe that maybe the cancer wasn't the real problem, but a symptom of something larger and more profound. Maybe, if he located the things inside him causing the cancer, he could heal himself. That April, in a ceremony organized by his mother, Andy marked his completion of Western medicine and a new start to his healing. It kicked off a year spent meditating beside spiritual gurus in the American Southwest. He car-camped around the Sierra, sometimes discovering unmapped stands of sequoias and sleeping beneath them. It was his Summer of Bliss.
But that treatment plan was no better. On October 20, 2010, pain forced Andy home to Laguna Beach to see his doctor. A PET-CT scan showed tumors throughout his body. His doctor suggested that without medical intervention, Andy would die within two years.
Other cancer patients in this situation have refused chemo, choosing quality over quantity in their remaining time. Andy rejected chemo as well, but that didn't mean he was giving up on a cure. He had other ideas. He now believed that the only way to defeat the cancer—to win—was to prove that he was stronger than it.
In January 2012, on a 10-day silent retreat near Yosemite, Andy picked his battlefield: the Pacific Crest Trail.
He knew it sounded ludicrous—a young man with zero long-distance hiking experience and a terminal disease is going to cure his cancer by walking really far? Among responses to a terminal diagnosis, his notion was, to put it charitably, unique.
His family, friends, and spiritual guide objected. But Andy had made up his mind. He was going to thrust himself into the heart of hardship and beauty to seize control of his fate and challenge his disease in a fight to the death. If he won, he'd be healed. If it killed him, that'd be an OK way to go. The only thing he couldn't accept was waiting around to die.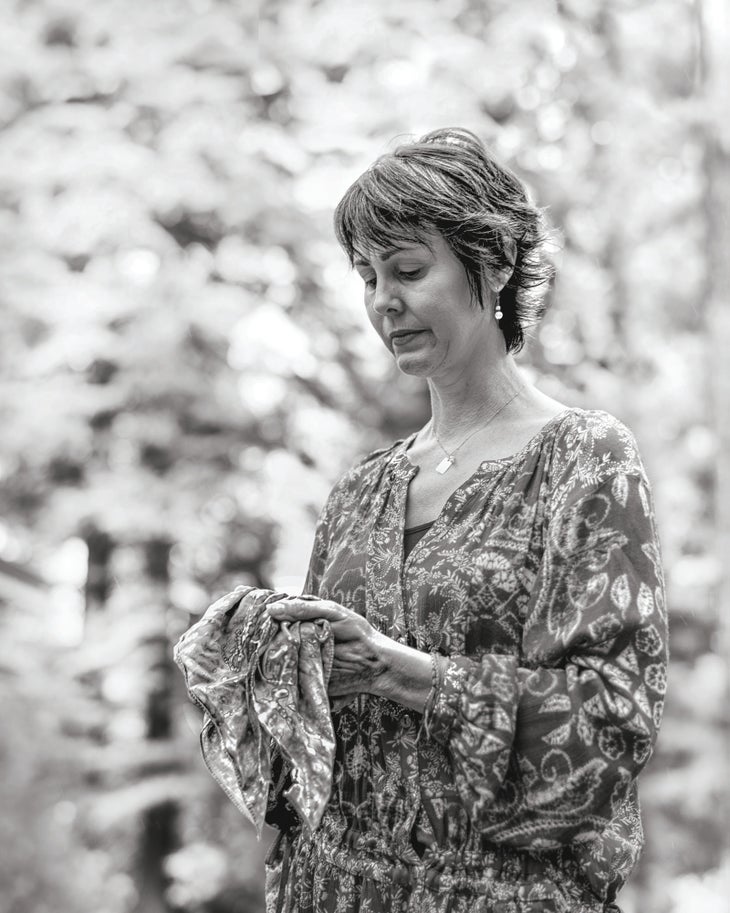 There's a tradition among thru-hikers to take on trail names. Not only do these handles represent membership in the tribe, they're also an acknowledgement that the things that happen on a long-distance hike transcend normal life.
Andy wants his trail name to be about his diet. Whereas other hikers' food bags—especially guys his age—contain Snickers Bars and instant ramen noodles, Andy's is an apothecary of organic foods and vitamins. He wants to be known for running on such premium fuel. Then, a week and a day after leaving the southern terminus, he meets Gourmet.
Andy is already in his tent when Gourmet cruises past on the purple-painted desert flats 75 miles north of the border, rapping about snowboarding. He camps a short distance away, and, the next morning, Gourmet apologizes for the disturbance. But Andy just laughs and asks him to sing the lyrics once again. Gourmet is a 39-year-old musician from Seattle, doing his first thru-hike, but Andy doesn't ask his real name. Nor does he tell him—or anyone else—that he has cancer. The two become quick friends.
The rolling folds of the Volcan Mountains elevate them to views of San Jacinto Peak (snow-dusted after a recent storm) and deposit them among the flower-speckled lowlands of the high desert in bloom. Chaparral and cactus line the hillsides as Andy, Gourmet, and two other hikers travel the hillsides sometimes together, sometimes apart.
In the town of Warner Springs, they set up their sleeping bags on the lawn of the fire station and stare at the sky. Andy knows all the constellations, the planets, the mythology attached to each; he points them out when the other hikers ask. Gourmet, considering this, says Andy shall henceforth be known as Astro. And so it is.
He is Astro now and he is new and he is in control of his story. To other hikers, he's not sick; he's not a cancer victim, or a novice hiker. He's just another skinny, early 20s guy with no history, lots of blisters, and a scraggly beard.
Gourmet and Astro descend Fuller Ridge, the skinny part of a mountain just west of Palm Springs, and the start of a 15-mile downhill. It's hot, 80, 90, 100 degrees. Gourmet, hiking ahead of Astro, notices a living room-size cave, shaded and out of the sun, and ducks in for a 10-minute break.
At the next road crossing, Gourmet stops and waits on Astro. Hours go by as Gourmet grows impatient, then worried. Then Astro traipses down the trail wearing an expression of bemused satisfaction. "Oh hi, Gourmet!" Andy says.
"What happened to you? You OK?" Gourmet asks.
"I took a wonderful nap in the cave back there," Andy answers. "It was the perfect rest spot. I couldn't pass it up."
Even in the early stages, where most thru-hikers concern themselves with making miles and wringing distance out of daylight, Andy feels no such urgency. He doesn't tell his new friend that he intends to savor every moment on the trail as if it might be his last.
Under the setting sun, they cross the desert floor toward Cabazon, where trail angels welcome hikers with a hot foot soak. Andy sags, eyes shut, head in hands, with his feet in the tub. The next day, he announces that he's taking a rest day. "I'm sorry, Gourmet," he says. "You should definitely hike, though." And just like that, fast friends become memories.
The trail in Southern California is like a long and winding ramp. It delivers hikers over the forested crest of the same San Gabriel Mountains Andy saw from his hospital bed during the stem-cell transplant. He's moving well now, 20, 25 miles per day, but he doesn't hurry. He stops to take selfies, which he's never really done before. In one, he's standing in front of a chestnut-brown horse grazing on the trail. He's smiling next to its shoulder, where a heart is outlined in white fur. He is always finding hearts. He sends the photos to his mom.
He arrives in Big Bear, where Betsy is waiting to drive him a few miles to the family's cabin at Lake Arrowhead, a deep, cold, fir-fringed lake in San Bernadino National Forest.
It's a huge house, complete with a yoga studio, in a peaceful spot. Andy wants to fill the place with thru-hikers. Betsy, always game, buys food to host. It's what she does for her son. Even when Andy recently crashed her anniversary dinner at a fancy restaurant, she didn't mind. She'd have a lot more anniversaries. What parent would say no?
A few calls later, Andy learns his friends are hiking on; it'll be just the two of them. But that's fine. They've been tight since Betsy carried the family through a divorce from Andy's father, John, years earlier, when his drinking got out of control. Over the next few days, Betsy, a yoga and meditation teacher, leads Andy through poses to loosen up his tight muscles. They also crank disco tunes—Andy's favorite—and dance like crazy. She drops him off at 8:30 p.m. on a Sunday night and he hikes back into the darkness, buoyed against the loneliness of solo hiking.
"Andy was happy out exploring," Betsy says. "Our hope was that his elation over these life experiences, and the freedom to do whatever he wanted with his precious life, would bring peace. And of course, we always hoped for a miracle."
A few weeks later, needing another break, he rides the train home to Laguna Beach and immediately settles into old routines. He goes hiking with his sister, Alex, and dog, Luna, and when Luna gets tired after a few miles, he scoops her up and carries her. The rest is dining at good restaurants, insisting on the most comfy pillows, bowling, and letting his little sister look after him. "He liked being independent because it gave him a sense of strength," Alex says. "But he also liked being spoiled."
Back on the trail four days later, Andy pulls out the voice recorder he'd taken from home. He's always been a private person, someone it took a while to get to know, but, at his mom's urging, he'd decided to share this journey. He clicks on the recorder. "Even at home," he says, "I was itching to get back on the trail and I can tell that's what my body likes right now, and what my mind likes right now is the peace and simplicity of walking every day."
At the edge of the Mojave Desert, he clicks on his voice recorder again. "I'm kinda having fun with this voice memo thing, so I'll do another one that's more personal, maybe." Then he exhales. "It's going good. You know, actually it's going really good. Every day is like," and he laughs and changes his mind mid-sentence, "more challenges. Every day, I'm like, 'Goddammit, why am I doing this?'"
There is pain now and it reaches beyond the blisters, bites, and bruises all thru-hikers deal with. "What happens is my belly, the upper right side of my abdomen, gets sore. If you push on it, it's very tender and then I begin to feel angry. I begin to feel anger, frustration, rage for even the littlest provocation."
But a few moments later, he's back on the recorder, exuding calm. "When you're satisfied with the present moment in every moment, that's pure joy," he says. Then adds, "I'm walking in this desert, among these Joshua trees, and it's beautiful."
"Guess where I am!" Andy says to Betsy in a phone call at 10 a.m. in early June. She thinks, hopes, it's a trick question. "Hiking the Pacific Crest Trail?" she ventures. Andy shouts, "I'm on top of Mt. Whitney!" The landscape all around him falls away in spikes and columns of gray stone against a brisk, blue sky.
Andy explains, "It was here and I was here, so I figured, why not?"
At least, that's what he tells his mom. Most thru-hikers are trail-toned and sun-tanned at this point. To climb an extra 4,000 feet over 8 miles seems like a pittance for the chance to stand atop the tallest mountain in the Lower 48.
Andy, hobbled in recent days with a new pain in his left foot, pushed his body beyond anything he'd yet experienced to get up Whitney. He had to make it to the summit—an exercise in mind over matter that tested his whole idea for this journey. If he can make it up Whitney, he thought, maybe he really can make it to Canada.
On the way down, his foot seizes with each step, shooting pain into his spine, electrifying all the other muscles on the way—foot, calf, knee, groin, pelvis, back, and heart. It's like a clamp on his entire being, but he continues, alone. He has to make it 7 miles to the base of Forester Pass, so he can cross it the next morning, before the storms roll in.
He starts to whimper under the strain, but knows he must drive himself past the place where physical pain controls his mind. It's the only way he can uncouple the two. Over 3 miles, his groans build into yelps, become a rising cry of Why? Why? Why! WHY!
Then his father's face comes into his mind.
Andy's dad has been gone for 15 years. Drank himself out of the family, and, years later, to death. Andy never understood, but as a boy he felt guilty, like he could have saved his dad. He once confided to a friend that it had made his heart become like a closed fist. The tension spread through his body, and that, he thinks, is where his cancer came from.
He begins to cry.
Then he screams, "You did this to me! You motherfucker! Do you see what you did? Seven years have passed and I'm still dealing with this! Can you feel this? Do you know how this feels?!"
Andy wants to let go of it now, to give his mind and body a reprieve from the pain and stress caused by the absence of his father's love. He sits by a log and sobs and addresses his father. "You did this to me," he says. "But I forgive you."
Then, with a surge of clenching agony, the tightness in his foot releases. And for that moment, there is no more pain.
If it were only that easy. The fall of 2011 delivered 180 mph winds to the Mammoth area, leveling 400,000 mature pines and rearranging them in a heap. It makes for slow going as Andy and Michael hike together for a few days.
Michael's been Andy's stepdad for 13 years and his friend for longer. At the southern terminus, he'd given Andy a credit card for the kind of trouble he could buy his way out of, and advice for the rest. He's an experienced outdoorsman, quick with a quip, and accustomed to being the stronger hiker when the two of them make miles together. The first thing he notices about Andy is that he's lost weight. The second is his new easiness on the trail.
"He had a self-confidence on the trail that surpassed mine," Michael later says. "He was extremely comfortable." Andy's once-white shirt is formless and streaked with brown beneath his shoulder straps. His Gilligan hat is stacked with sweat rings. At the southern terminus in April, Andy's ultralight gear was top-of-the-line but unused. Up until then, he'd tallied maybe five nights on backpacking trips. Now, he doesn't use a tent—he doesn't even carry a tent—preferring to sleep outside, under the stars.
As they hike, Andy tells Michael about a dinner he had a week ago in the Golden Trout Wilderness. He took off his pants and waded into a stream, hemmed in by bare granite mountaintops, and watched the water. When a fish swam by, he'd scoop his hands in and splash it onto the banks. After a little while, a dinner's worth of golden trout lay gasping in the grass. He cooked them over a fire and ate them, bones and all.
A few days later, Michael flies back home, and Andy proceeds alone through the grand High Sierra. It's Ansel Adams country, a kind of walk-through miracle over an endless succession of high-mountain passes, each one more dazzling than the last. But whatever Andy thinks about this glorious stretch, he doesn't record it. He goes silent, taking not a single note, nor clicking on his voice recorder. If he can manage his story well enough, can he delete his sickness from it? Can he make it go away?
But at the end of this stretch, in Yosemite's Tuolumne Meadows, he's lonely and in pain again. He can feel his liver swollen to twice its normal size, killing him under his hipbelt. He flies back home to Laguna Beach, and a few days' rest stretches past a week.
Andy talks about going back to Berkeley, maybe opening a café, or studying healing. Betsy won't watch him loaf. She delivers an ultimatum: "You've got two choices: You can either get back on the trail, or get a job, because we're not going to support you."
Andy packs up the next day.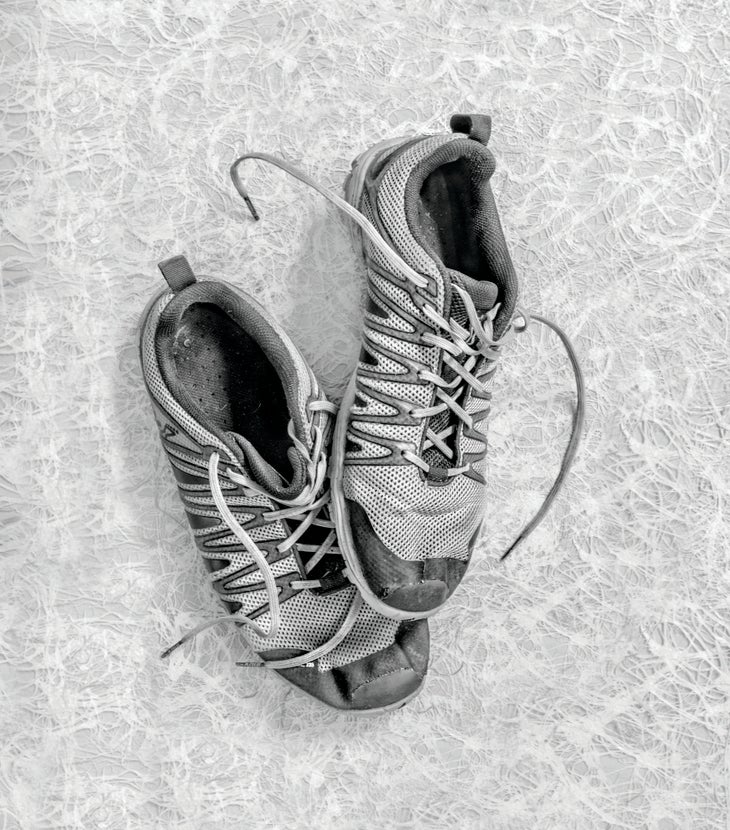 The rest of California is ablaze in one of the worst wildfire seasons in recent memory, but Andy works his way around on a network of trails and roads, friends and trail angels. After the first miles of central Oregon's dark and broken lava fields, he makes camp near a road and packs a tiny bowl of medical marijuana.
His thoughts turn inward. "I had waves of pain, which I was convinced were signs of my ill health and my imminent demise," he later says. "I know there is something in my body that is a dark force." But he's hopeful that if he can accept this, it will finally let him be.
Then, the thought pierces through that the trip is a failure—that he is a failure and he can't do anything right and he is going to die and it is going to be his fault. And when he does, his mom and Alex and Michael will be sad and that would be his fault. He wants out. "I got the idea that I should hike on that night, continue hiking into the lava fields and somehow that would be like crossing the River Styx," he says. "I thought I would need to have a near-death experience, another transcendent experience where the last tethers of the ego would be cut and I would be free and then healing of my body and mind would happen naturally and rapidly."
But he is too afraid of the lava field.
He lies awake for most of the night, thoughts racing but paralyzed, until exhaustion takes him around dawn. A few hours later, he gets up. By the light of day, the lava looks easy.
Hours later, he arrives at Big Lake Youth Camp, where his next resupply box is waiting. When he picks up his package he notices that on the rack nearby sits the box of Scott Williamson, legendary PCT speed hiker (who had given up his speed attempt this year due to fires). Williamson is a hero to most thru-hikers, and Andy feels an urge to open the box just to see what's in there—but he resists. Many other hikers had been content to simply take a photo.
But then Andy opens his own box and finds it's a few dinners light. He thinks, "Well, Scott, he's off-trail, he's not going to use this box or what's in it." He finds jellybeans, Snickers Bars, tortilla chips and dried refried beans, electrolyte packets, a tiny sack of toiletries, and two new pairs of nylon socks.
To set things right, he writes a letter to Scott and tapes it into the box. "I figure if anyone's resupply would give me the extra physical, mental, and spiritual boost I need at this point, it would be yours."
Andy walks out of Big Lake and logs the biggest day of his hike so far: 29.6 miles. In Scott Williamson's socks.
Most thru-hikers look forward to reaching southern Washington's Knife Edge. It's a sharp ridge of black rock, knapped by time into a 2-foot-wide blade that cuts the snow-smeared Goat Rocks Wilderness in two. It's a spectacular milestone, a dizzying catwalk signaling there are only 350 miles left before the Canadian border.
But Andy cannot share the other hikers' enthusiasm. It's late September when he limps up to it and steadies himself on his trekking poles. The hike has progressed well since he acquired Williamson's socks, but just when his strength and stamina seemed to peak, his right leg started buckling, making him stumble and fall.
Now, with the world falling away a thousand feet on either side, he weights his right leg. It collapses, sending his knee down onto the rock. He lifts himself back onto his trekking poles. His leg has given up, but that doesn't mean he has to. He heaves it forward again and leans onto his poles to swivel around his good leg. He collapses again. He crawls forward. He gets up.
Two in three would-be thru-hikers quit before they make it to the end of the PCT. Most simply get tired, worn out by the compounding aches and pains. Mile by mile, Andy has been amassing a body of evidence that he's one of the toughest hikers out there. He's proving himself stronger than the cancer with every forward step. But as he crawls along the rock, he knows he cannot go on. He cannot crawl to Canada.
He tells his recent hiking companion, Wolverine, a veteran of long trails, that he needs to go to a hospital. By luck, Wolverine has friends picking him up a few miles ahead in White Pass. They drive Andy into Yakima, Washington, and drop him off at the doors of the emergency room.
He limps in out of the night and tells the nurse his story.
Hours later, a full battery of tests reveals a large mass pressing on Andy's spine. It's a new tumor and it's responsible for the weakness and numbness in his leg that's causing him to fall.
The doctor on duty prescribes pain meds. Betsy and Michael grab the packed go-bag of Andy's street clothes and take the first flight in. The next day, Andy learns of a new chemo drug, called Adcetris, recently approved and not widely available. Yakima Valley Memorial, in tiny Yakima, Washington (population 90,000), was the first place in the country to buy it. It shrinks tumors rapidly, especially in cases like Andy's, in which Hodgkin's lymphoma has relapsed after a stem-cell transplant. But it's not a miracle. The doctor says it'll only buy him time.
Time is what Andy needs. It's early October by now—late in the PCT season—and cold rain is coming to the high country of northern Washington. Snow won't be far behind, and then the trail will effectively close. Betsy and Andy sit together in the hospital room, waiting to discuss the new drug with the doctor—contemplating whether or not Andy should give Western medicine another try.
Word trickles out: There is a scruffy-faced hiker with advanced cancer who walked here from Mexico. A nurse strolls in, tells them he's arranging for a horse so Andy can finish his journey. Next, a social worker comes in with paperwork from the Dream Foundation for a grant to pay for the horses. Then the phone rings; it's the owner of a packhorse outfitter. She wants to hook Andy up with a horse, a wrangler, and whatever else he needs. Then the press coordinator asks about a news story; then the TV crews arrive.
In an interview with KEPR News, Andy tells the reporter: "One of the greatest blessings I've gotten from this whole experience with cancer and healing is the freedom and the drive to do whatever I want to do."
Now, his story is out and everyone knows. And in a way, it's gratifying. "I've walked all this way suffering," Andy tells his mom. "It's about time someone noticed."
Three days after he comes off the trail, Andy sits in a hospital bed with an IV line in his arm. The Adcetris drips in. His hike has delivered him to one of the few hospitals in the country that has the medicine. Who is he to deny fate? The next morning, he reports the numbness and tingling have subsided enough that he wants to continue. But not with a horse. "If I'm going to finish the trail," he tells his mom, "it's going to be with these feet."
He hefts his pack, pockets his prescription steroids, and walks on. He's making his own miracles now.
There's a parable about death that Andy and his Ayurvedic practitioner, Rob, shared together months before Andy started hiking. When the flowers in the garden know tomorrow is their turn to be plucked, the lesson goes, Do they feel sadness? Do their faces droop? Are they any less bright? No. The moment they know that the next day it is their turn, they make themselves ready with great gusto and excitement.
Betsy drops Andy at a hotel in Snoqualmie, Washington. His friends and fellow hikers are there. Between the rancid gear and body odor, it reeks inside, but Andy meets the dense air with the Yakima Herald held aloft, his grinning mug pasted across the front page and one to match in real life.
A few days later, heading north out of Skykomish, with 172 miles left to the northern terminus, the trail becomes a rocky, hard-scrabble way, winding over mountain passes where glaciers cling to the slopes. The sky is textured gray and full of rain.
The trail is gone, replaced by a rushing stream of cold runoff. Water fills Andy's fifth pair of trail runners. Sometimes it's so cold he can't touch pinky to thumb. He clips his tent canopy (he'd gotten it back when the rains came) to its poles using his teeth. The rain is so loud at night that he has to put in earplugs.
Today, flush with food from his last resupply, he tells his fellow thru-hikers Scrub Rat and Doe Eyes that he's going to stay put and wait out the weather. For days, if that's what it takes. The pair leaves camp and the lashing rains soak them through. The shivering starts soon enough. They're moving slowly. "Our gear was failing," Doe Eyes later says. "We were soaked to the bone and filled with fear about hypothermia. And here comes Astro, jaunting up the trail, his gear soaked, his rain jacket wide open. Fearless."
Andy continues ahead, moving slightly faster than the pair, and begins the long ascent to Ptarmigan Glacier, blue ice mashed against the gray rock and gray sky. The climb is endless, and he begins to despair, his burst of energy long since depleted. Tears of fear join tears seeking mercy from the mountain. On the way down, every other step he slips and every fifth step he falls—his leg is still sore.
"There was a period most of the day today where my thumbs were so numb that I couldn't even unzip anything. I had to open Ziploc bags by ripping them with my teeth. I sped as fast as I could," he tells his voice recorder that night. He knows, like all the hikers do, that if he can't stay dry, he could freeze to death within hours.
For so long, death had been a distant stalker, hidden behind the uncertainty of months to come and solutions left to try. Now it's come in close.
But so has support. Led by Betsy and Deon English, an affable drug rep with Seattle Genetics (the maker of Adcetris), Team Astro comes together to get Andy through to the end.
In search of help for on-the-ground logistics, Deon connects Michael to a friend of hers named Dave Leffmann, who calls his friend, Marc Fendel, who just finished a PCT thru-hike of his own in September. Dave tells Marc the story of a kid with late-stage cancer that has been thru-hiking. Kid's name is Astro. Does he know him?
He does. To most people, Marc is Marc. But to a very rarified tribe, he is Gourmet, the guy who had given Astro his trail name all those months and miles and mountains ago. Of course he remembers him. There are people in this world who leave a mark after only the slightest brush. Andy is one of them. "How can we not do this?" Gourmet says to Dave.
Team Astro mobilizes for the final push to the border. Andy, Dave, Gourmet, and Michael set out from Harts Pass, 29.4 miles from the end. The trail is high in this part, sliding across the side of a mountain with views of snow-dusted peaks that stretch into Canada. They walk together in a snow trench. That night, it pours cold rain, but they can stand up and cook under Dave's giant tarp. They devour the goodies that Gourmet packed in: soup, bread and cheese, chocolate.
On October 19, 2012, Andy wakes up on the day before he was supposed to die. He wakes up and shakes the water off his tent and unzips from the warmth of his sleeping bag. He packs his bag by muscle memory. He is 15 miles from a forest clearing that holds a five-part wooden monument with the PCT's insignia driven into its crown.
They lope along fast, staying warm in the cold and damp. Michael feels like he's jogging. Gourmet's been here before and marks the miles: two more to go. Andy says, "I'm gonna make it. I can't believe it." With a mile to go, the emotion begins to seize him—part elation, part relief, part something only he knows. He thanks everyone for being here. With 100 yards to go, the trail widens enough between the trees to walk two abreast. Michael and Andy walk arm in arm under a sagging sky.
At 5 p.m., Team Astro enters the clearing and approaches the monument. This is his moment, the end of the journey on which he set the terms of his future by focusing on the now. He is supposed to be standing here cured and triumphant with a story of strength and courage that he can use to help heal others. Does it matter that it didn't work out that way?
Andy doesn't say much. He walks up to the wooden monument and reaches out to it with his cold, red-raw hands. His hair is wet with sweat and rain and matted to his face. In this single, perfect moment, he is alive and free from whatever came before and whatever comes next. He closes his eyes, leans in toward the monument, and then, gives it a kiss. 
Ten months after finishing the PCT, Andy steadies himself against the railing as he walks to the Crystal Hermitage Guest House at Ananda Village, his spiritual community in Northern California. Four days later, on the morning of August 30, his mother wakes him so they can watch the dawn. It is Andy's last sunrise.