Layering for Winter Hikes: How to Dress for Warmth on the Trail
Master the art of layering to keep comfy all winter.
Heading out the door? Read this article on the new Outside+ app available now on iOS devices for members! Download the app.
As the old Scandanavian saying goes, "There's no such thing as bad weather, only bad clothes." Sure, the air outside is feeling frosty and the hot cocoa is calling your name, but if you know how to layer clothes correctly, you can withstand some of the worst conditions winter has to offer. You should be dressing to stay mobile, dry, and protected from wind. With these tips, you won't dread checking the weather before your winter hikes; layering clothes correctly will become second nature.
Layering Clothes For Winter
For polar explorer Eric Larsen, the golden rule of winter hiking is staying dry: "Your biggest problem isn't getting cold," he says. "It's actually getting too warm and sweaty because once you stop moving, hypothermia can strike in less than five minutes on cold, windy days." No matter how hard you're working, you need to manage how much you sweat. Learning how to layer clothes is a large part of this. If you start sweating, immediately shed a layer or slow down.
Here's the breakdown to the four essential layers.
Layer 1: Baselayer
No matter how frigid the temperature, wear a light, long-sleeved baselayer next to your skin. Thinner layers wick sweat better and dry faster. Opt for shirts with thumbholes to keep drafts from sneaking in between your sleeve and glove.
Layer 2: Midlayer
This layer should be made of wool, polyester, or a blend of the two.
Layer 3: Hooded jacket
This puffy, zippered jacket should have a hood to act as a heat trap in frigid temps. If the wind is whipping your hood back, lock it in place with a headlamp strap or goggle band.
Layer 4: Outer shell
When you're dressing to the nine-belows, you need a protective outer layer: A shell made of a waterproof/breathable fabric with taped seams. Size it big enough so it fits over everything else. And avoid white jackets and gear, which get lost in the snow.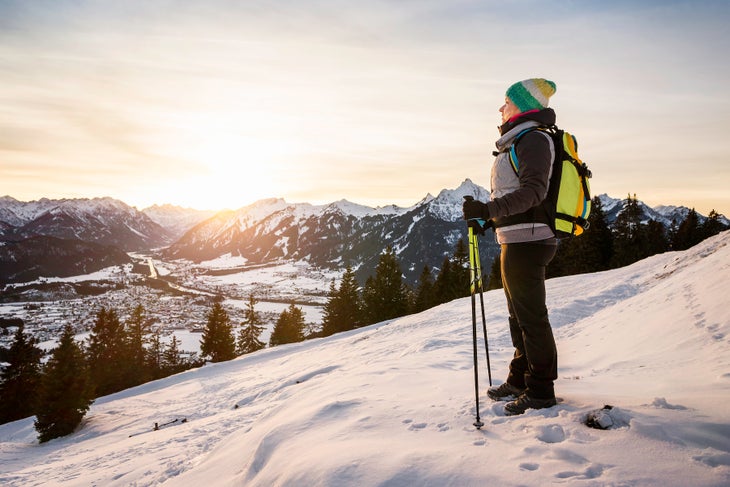 Layering Tips
Stagger Your Zippers
Avoid stacking them around your neck and chin. Otherwise, you could have three to four zippers rubbing you. Consider combining a crewneck baselayer with a zip-T insulating midlayer, then topping them with a neck gaiter.
Also, zip up all your pockets. If you don't, "they can fill with spindrift when it's really blowing," says Brian Clark, a meteorologist who works at Mt. Washington, one of the planet's windiest spots.
Foil Fog
If your goggles steam over, most likely it's because you're too hot. Unzip clothes, manage your body temperature, and keep anti-fog wipes in a handy pocket.
Keeping your balaclava off of your nose also helps; but be sure to protect your schnoz from frostbite. Balaclavas and face masks should be windproof and have vents to prevent condensation and wet-out. If you have long hair, some balaclavas have holes in the back that fit ponytails.
Test Your Gloves
When layering clothes, you still have to be mobile. Your digits are exposed to the chill every time you remove your gloves to tie a knot, pull something out of your bag, or open a wrapper. A great dexterity test: Get dressed and undressed while wearing gloves. If you can't do it, keep shopping.
Gaiter Up
They'll keep out snow and prevent your crampons from slicing your pants. When you're shopping for gaiters, prioritize waterproofness, ease of entry, and a suitable strap system for your own needs. If you're hiking in deep snow, pack knee-length gaiters. If you just want to keep out trail debris or rain, mid-calf gaiters will do.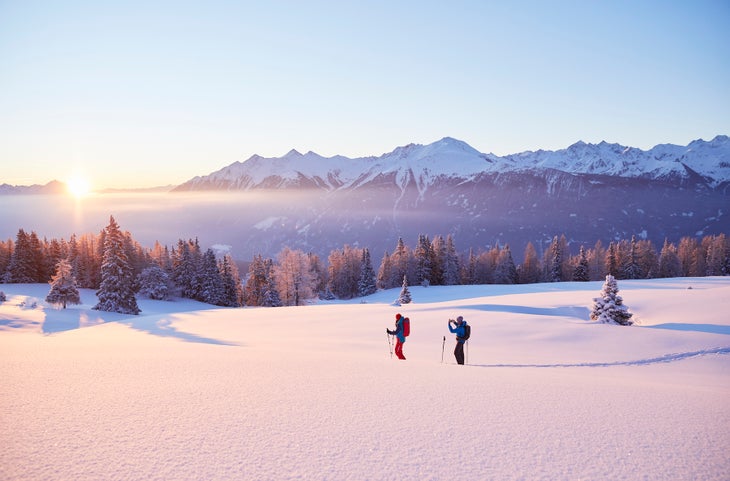 Avoid These Layering Mistakes
As you figure out how to layer clothes, you might make some mistakes. Here are some of the biggest mistakes that you should avoid:
Relying on one big jacket to keep you warm instead of two or three midlayers. What are you supposed to do when you start to sweat? Take off your only jacket and freeze? Layers protect you from temperature whiplash; the goal is to stay comfortable and dry the entire time you're outside.
Forgetting face protection. Sure, you remembered to keep your hands, feet, and head protected with gloves, gaiters, and a hood. But when the wind is whipping at your face, you won't be thinking about how toasty your toes are. Pack a gaiter or balaclava to prevent frostbite and keep everything warm.
Layering too much. You want to be warm, but you don't want to saturate your base layers with sweat. The wetness will chill you too much during rest breaks or when you get to the campsite. Three to four layers is key. Don't worry if you're chilly at the trailhead; after you start moving, you'll heat up in no time.
Wearing cotton or cotton blends. When you sweat, cotton absorbs the wetness and no longer insulates the air around your skin. They say "cotton kills" because it can easily leave you chilled and hypothermic. It doesn't matter if you're a master at layering clothes if those layers include cotton; avoid it for all winter hikes.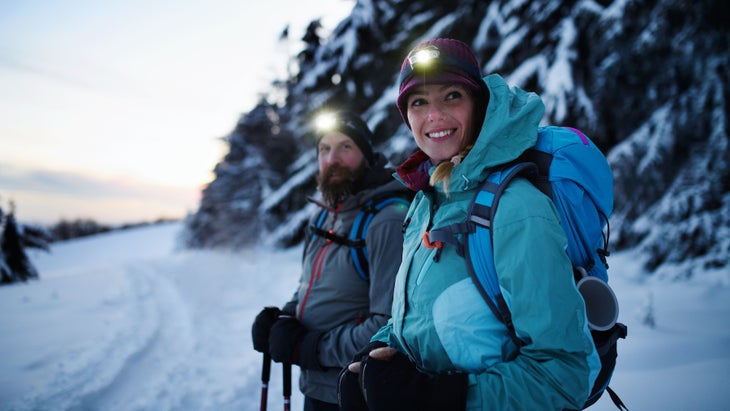 5 On-the-Move Winter Hiking Tips
Keep food handy. "Tear the corners off of several energy bar wrappers before heading out, then store the bars in warm pockets," says Larsen, "so you don't have to fumble with seals or remove gloves while on the move." For a quick energy boost, stow some hard candy in a pocket or hipbelt.
Huddle up when talking to your partners. It'll keep you warm and carry sound better.
Work out sign language beforehand. It's hard to read lips or enunciate under layers of balaclavas or face protections. Establish certain signs, such as trekking poles out to the sides means "All OK."
Carry an emergency bivy. Ounce for ounce, they offer the most weather protection if a storm, whiteout, or injury traps you in the field for the night. Consider it one of your 10 essentials for winter hiking.
Pack like a parachuter. Load everything in reverse order. You won't need your bag or tent until day's end, so they go in first to the bottom of your pack. Your puffy jacket, which you'll need at every rest stop, goes on top for easy access.