10 Wildflowers That Can Kill You
Here are 10 poisonous and otherwise hazardous flowers to watch out for on the trail.
Heading out the door? Read this article on the new Outside+ app available now on iOS devices for members! Download the app.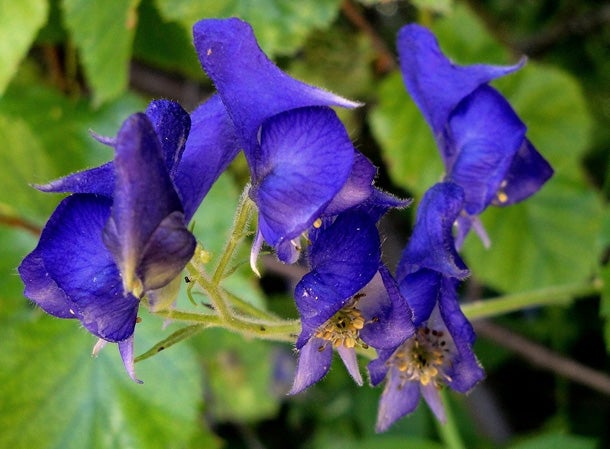 The hooded petals of this blue and violet flower resemble the serene pose of a monk's head bent in prayer. But don't be fooled by its tranquil appearance: If ingested, the toxins found in this plant's leaves and roots can cause paralysis of the respiratory system, muscle spasms, vomiting, and even death. Monkshood grows in moist woods and along creek banks in mountainous areas throughout most parts of the country. [image: utahwildflowers/Flickr]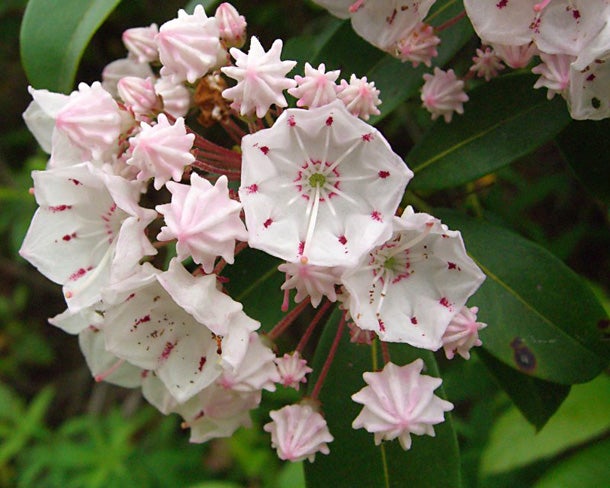 It's likely you'll encounter this flowering evergreen shrub while hiking east of the Mississippi along streams and damp forests. The clusters of showy pink and white flowers are pleasing to the eye, but the toxins present throughout the plant are anything but pleasurable. If eaten, mountain laurel can cause abdominal pain, tingling of skin, a slowed pulse, lack of coordination, convulsions, paralysis, and in rare cases, even death. [image: Jason Hollinger/Wikimedia]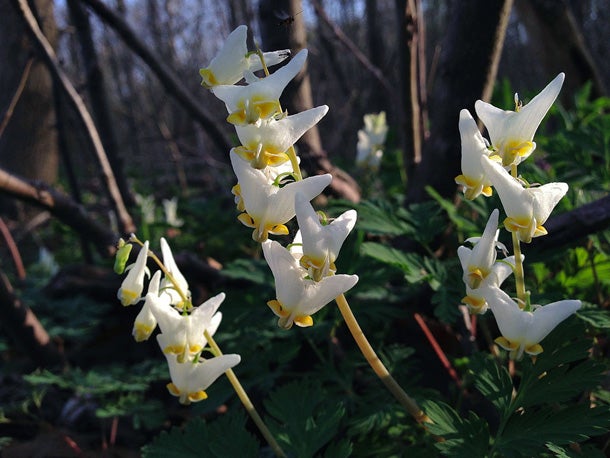 Hikers in the Pacific Northwest, Midwest, and Eastern U.S. may spot these wildflowers shaped like upside-down pantaloons while trekking in the woods. They may look whimsical, but the toxic alkaloids inside them are anything but. Ingesting large quantities of the plant can lead to trembling, vomiting, diarrhea, convulsions, and labored breathing. [image: Wikimedia]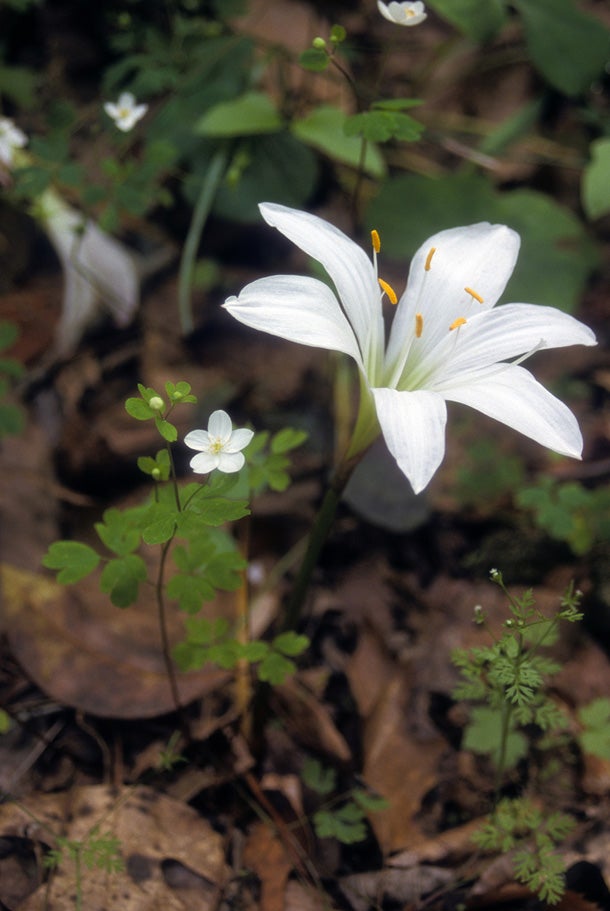 This picturesque wildflower, which grows in the low woods, wet meadows, and swamps of the Southeast may not look threatening, but the alkaloid lycorine found in the petals, leaves, and bulb, is highly toxic—and potentially fatal. People who ingest any part of the plant can also experience nausea, vomiting, and diarrhea. Atamasco lilies are identified by their white, star-shaped flowers and thin, grass-like leaves.[image: Scott Zona/Flickr]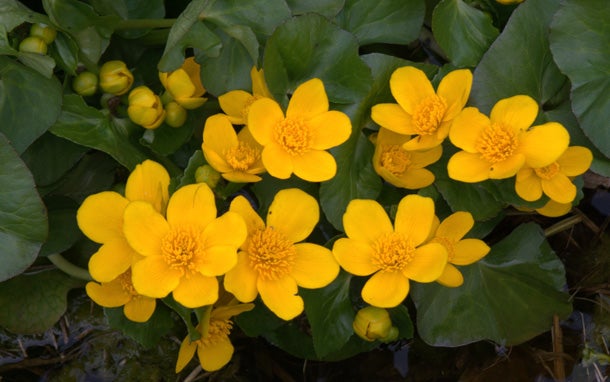 In early spring, the young greens of this bright yellow perennial are edible when cooked. However, steer clear of them the rest of the year. When ingested, the toxin found in the rounded, heart-shaped leaves causes burning of the throat, bloody diarrhea, fainting, and convulsions. Marsh marigold grows in mountainous areas of the West Coast, the Mid-Atlantic, and in New England. [image: Andy Rogers/Flickr]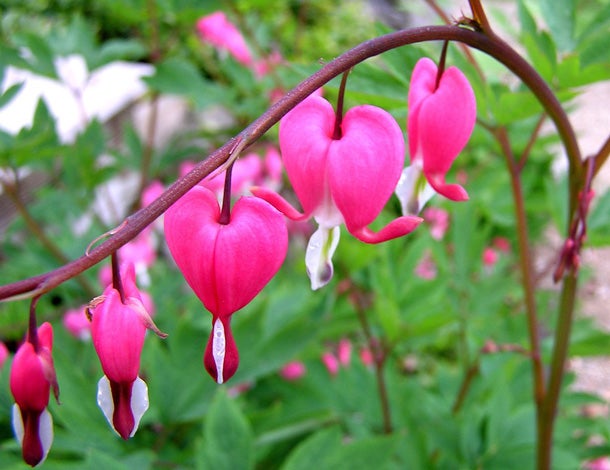 Ingesting the leaves, stems, or petals of this bright pink flower won't make your heart bleed, but it can cause serious ailments, such as vomiting, convulsions, diarrhea, and labored breathing. It has fernlike leaves topped with groups of heart-shaped flowers. Besides perennial gardens, you'll likely see it growing wild along stream banks and in damp woods in the eastern part of the U.S. [image: Liz West/Flickr]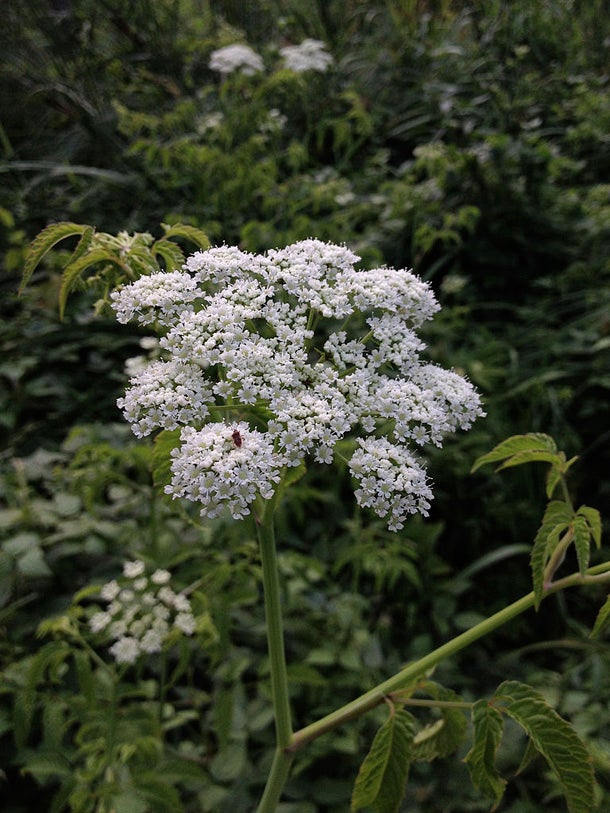 Looks can be deceiving when it comes to this poisonous plant. Although its tuberous roots resemble those of wild parsnip, celery, and artichoke, they are far from edible. Ingesting even a small amount of its cicutoxin can cause muscle spasms, dilated pupils, rapid pulse, diarrhea, violent convulsions, and death. Water hemlock grows in freshwater swamps, ponds, and streams throughout the U.S. and has dome-shaped clusters of small white flowers. [image: Wikimedia]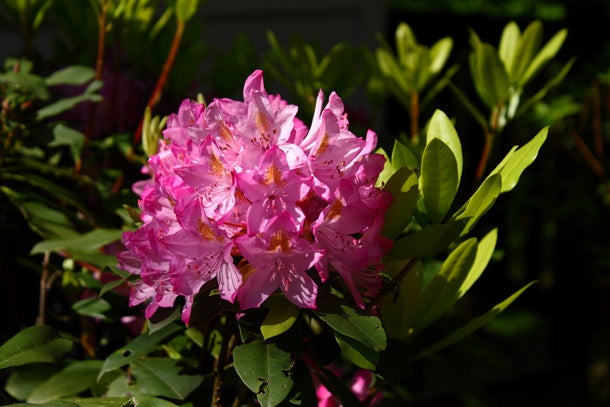 It may be hard to believe that this cheery-looking flowering shrub is poisonous. But the andromedotoxin found throughout the entire plant can cause abdominal pain, diarrhea, paralysis of arms and legs, coma, or death. Catawba rhododendron grows in the southern Appalachian Mountains and blooms with large clusters of pink and lavender flowers. [image: A Yee/Flickr]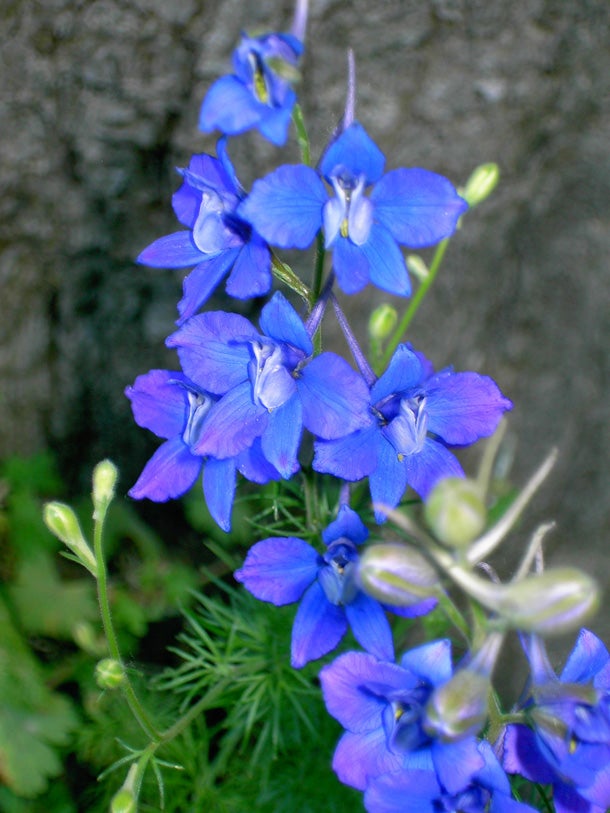 This delicate-looking wildflower with long, narrow clusters of white or lavender-blue flowers is harsh to those who eat it. Several types of toxins present in the plant can cause numbness of throat, intense vomiting and diarrhea, muscular spasms, weak pulse, paralysis of the respiratory system, convulsions, and death. Tall larkspur is native to the Mid-Atlantic, Maine, Pennsylvania, Ohio, Alabama, and Missouri. [image: Joss Smithson/Flickr]
You won't sneeze from smelling this yellowish-orange, daisy-like flower. However, you will end up with serious symptoms by eating a large quantity of the perennial's leaves, flowers, or seeds. Symptoms include elevated temperature and pulse, difficulty breathing, vomiting, and convulsions. Sneezeweed grows throughout the U.S. near streams, ponds, and wet meadows. [image: Wikimedia]
You probably won't have the need or desire to eat wildflowers anytime soon. In an extreme survival situation, however, you may have to forage whatever's on hand. While many roots and blooms are edible, these ten are decidedly not. Click through the slideshow above to see which common flowers should stay off of your menu.