The 50 Best Hikes in the U.S.
With the help of our friends and readers, we set out to find the best trail in all 50 states. From epic thru-hikes to short jaunts, these were the ones that rose to the top.
Heading out the door? Read this article on the new Outside+ app available now on iOS devices for members! Download the app.
In planning this story, we set out to do the impossible: find the best hike in each state. Turns out, "best" means something a little different to everyone. So rather than tinker with formulas, we turned to our most trusted source: you. Hikers from across the country flooded our inboxes and DMs to tell us about their favorite trail. We heard compelling descriptions of crowd-free sunset views, of shimmering alpine lakes, of nostalgia for places with personal significance, and so much more. From there, we narrowed the nominees down to these 50 picks. Our list might be contentious, but behind each entry is a passionate champion who convinced us that their trail is worth visiting. So, are these really the best hikes in the US? Read on, and decide for yourself.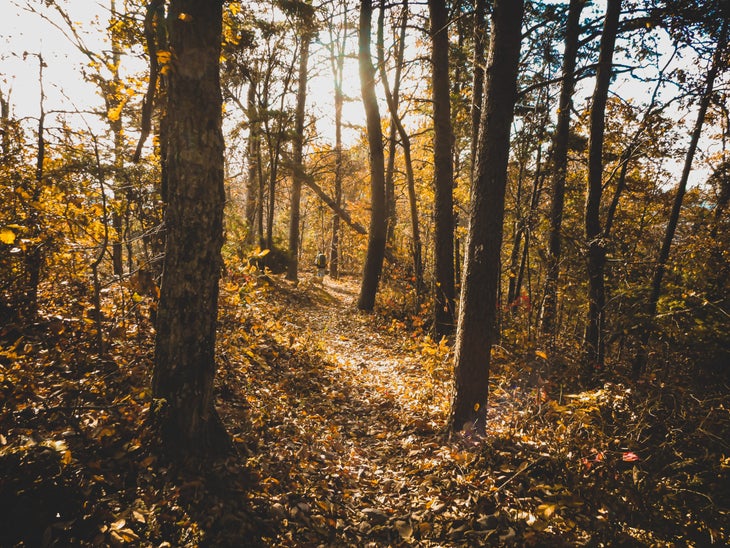 Alabama: Pinhoti National Recreation Trail
Length: 337 miles 
Not many people know about the fantastic hiking in Alabama, and the Pinhoti Trail is this underrated state's crown jewel. On my favorite section, about 10 miles from the trail's southern terminus, I find solitude from step one. My daughter and I hike along a creek, where mini waterfalls surprise us as we wander under a canopy of fragrant longleaf pine and towering oak trees. Mile after mile, we don't see any other hikers. The Pinhoti is full of unexpected delights, but they don't come easy. My feet grow sore from the ups and downs, but I'm eventually rewarded: We reach an overlook of the southernmost Appalachians; views over their green ridgelines make every step worth it. 
Despite the trail's remoteness, a strong hiking community makes me feel safe and welcome as I section-hike the Pinhoti, preparing myself for an eventual thru-hike. Because of its length and reputation for being well-maintained, the Pinhoti serves as a training ground for hikers preparing for treks on some of America's more popular long trails. I read these hikers' rave reviews of the Pinhoti online and can't help feeling a sense of pride; I've always known it was special.
As my daughter and I hike back the way we came, I think about how the next time I walk this section of trail, I may be starting a thru-hike of my own. I can't wait. 
Sarita Johnson of Montgomery, AL, has been section-hiking the Pinhoti Trail for three years between working full time and caring for her three kids. "I always carry a lightweight chair in my pack. I've gotten enough bug bites along the Pinhoti that it's worth bringing something to sit on," she says.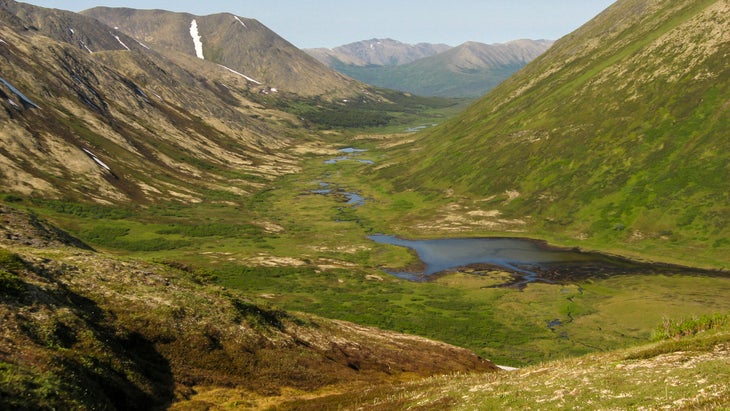 Alaska: Resurrection Pass Trail
Length: 38 miles
I descended into the valley as dusk settled into the nooks of Chugach National Forest. My feet ached—this the most miles they had seen since I climbed on board a commercial fishing boat at the end of May four months ago. Sixteen hours earlier, I had been packing for three nights on Resurrection Pass, looking forward to processing my summer through the repetitive motion of a hike in solitude along the 38-mile trail.  
Dena'ina Ełnena, (Land of the Dena'ina Dené Peoples) hosts some of the most well-loved and accessible trails in Alaska. In the winter, Resurrection Pass is a popular ski area, and in summer provides ample hiking, biking, and horseback riding opportunities. From a forest floor layered with heshkegh ka'a (devil's club) and protected by a thick canopy of spruce and ancient cottonwood, the trail ascends to an upper valley of rolling tundra. 
Resurrection Pass connects the Turnagain Arm, a narrow channel between the Chugach and Kenai mountains, and the Kenai River, a stretch of glacial blue majesty which used to host one of the largest king salmon runs in Alaska. This area has seen an influx of change since Captain Cook's violent voyage of 1778, which resulted in the colonization of Alaska. Within my lifetime, fire and beetle kill have altered the landscape, and traffic has increased on the Kenai Peninsula as tourists and new residents seek "the last frontier." 
While walking, I thought of my grandfather, a Deg Xit'an Dené man who has stories of hiking 40 miles in a day looking for beaver, martin, lynx, wolverine, and snowshoe hare. Trails like the Resurrection have always connected Indigenous peoples for trade and travel between areas of natural abundance. Hiking allows us to move with intention, and asks us to pause and begin to understand the balance needed to take only what is necessary from these places. 
Despite its proximity to Anchorage, you can escape the sound of engines and decompress on the trail. If you get the chance, I encourage you to travel at any pace that allows you to reflect on the vibrance of the land, the use of trails when they were necessary parts of life, and recognize the original peoples of the land, the Dene'ina Dené, who have seen a massive influx of settlers on their land.
Deenaalee Hodgdon is a nomadic Deg Xit'an Dené and Sugpiaq descended from the Yukon River and Bristol Bay. They split the seasons between subsistence and commercial fishing in Bristol Bay and various forms of storytelling and artwork through the winter. Deenaalee is currently telling stories on Lower Tanana Dené lands in Fairbanks, AK. Their favorite trail snacks are salmon strips and dried moose meat.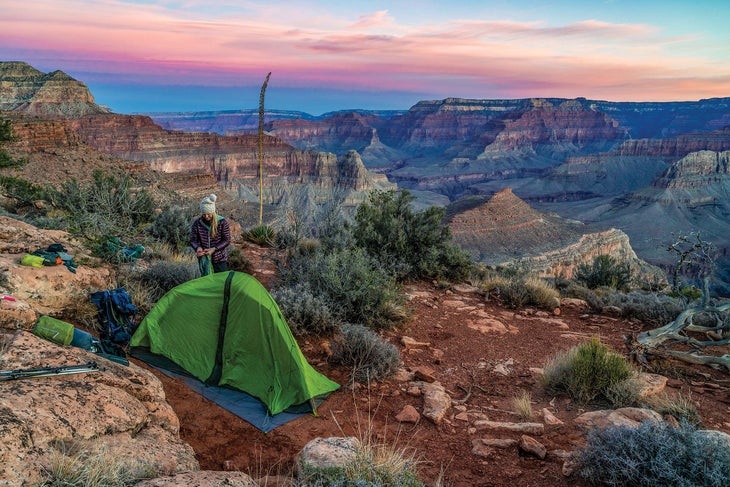 Arizona: Hermit-Tonto-Boucher Loop
Length: 23.5 miles 
You can escape the crowds at the Grand Canyon with this three-night loop, but you will have to earn the privilege. This adventure-packed route is perilously steep at times, with exposure thrown in for extra thrills. But when you watch the sun rise and set just a few steps from your tent on a broad ledge 1,200 feet below the South Rim's Yuma Point, you'll forget the suffering it took to get here. 
Do the loop counter-clockwise so you descend the better-maintained Hermit Trail and climb up the precipitous Boucher Trail. The first day you'll drop almost 4,000 feet in about 8 miles while overlooking the gaping chasm of Hermit Canyon, a sheer-walled defile so dramatic that it could be a national park all by itself. At Hermit Camp, soak your weary feet and knees in the clear creek while you filter water.
The next day you'll leave the tourists far behind as you follow the Tonto Trail 4.6 miles, hugging the Inner Gorge Rim on your way to Boucher Creek. Take in vertigo-inducing sights of the roaring Colorado River almost straight below, then relax beside a perennial stream before you mosey 1.8 miles down to the mighty Colorado. The third day, grind your way up the Boucher Trail, a route park rangers call the most difficult, hazardous, and demanding on the South Rim. Believe the hype: You climb 1,800 feet to the top of the Red Wall Limestone in only 1.5 miles. After an easy 0.7-mile traverse, climb another 1,000 feet steeply up through the red rock. Near the top is the crux of the entire hike: The final scramble is the steepest, most exposed part of the entire loop. This section became even more difficult in 2021  when a rockslide covered it with loose rocks and debris. Use great caution climbing it.  
Soon enough you'll be relaxing at your dry camp on the sandstone promontory below Yuma Point.  Drink in the sunset view, possibly the best in the canyon below the rim; the campsite lies on a point with a drop-off of hundreds of feet on three sides, offering broad views across the entire Grand Canyon. You've earned it. The next day's final 5 miles will be a piece of cake.
Laurence Parent came to love hiking naturally, having grown up in the southwestern national parks where his father worked.  While he was once an engineer, for many years he's been a full-time writer and photographer, particularly of outdoor subjects. Among his 45 books are three hiking books for Falcon Guides on New Mexico and Texas. He lives in Prescott, AZ.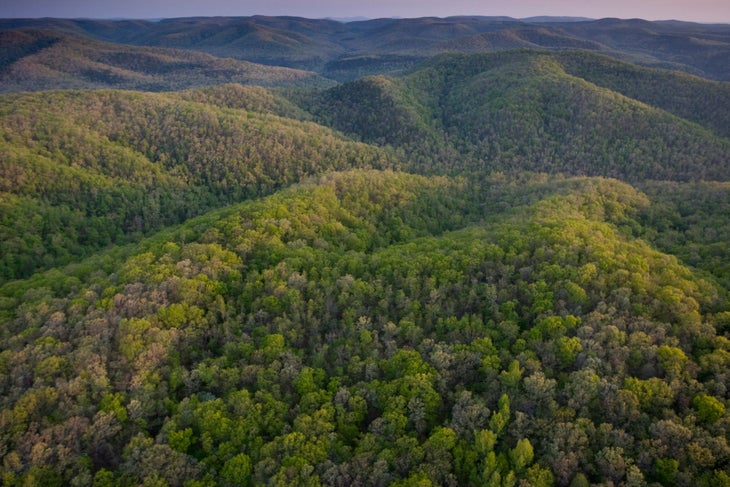 Arkansas: Ozark Highlands Trail Through Hurricane Creek Wilderness
Length: 10.2 miles
The midriver pool by our campsite was still, deep, and the kind of teal blue that seemed to melt away the summer heat just by looking at it. This was what we had come for, driving eight hours from the plains of central Oklahoma along twisting country roads  for a taste of Hurricane Creek in Arkansas's Ozark Mountains.
My dad and I arrived at the trailhead near Fort Douglas for this section of the 270-mile Ozark Highlands Trail and emerged from the car to near-solid heat and a chorus of cicadas buzzing from the surrounding beech trees. It's best to hike in this area during the early spring or fall when temperatures are milder, making for a more pleasant climb out of the sloping river valley. The first time I hiked this trail, the creek's clear blue waters and milky waterfalls struck a sharp contrast with the brittle brown of the hardwood forest. As someone who grew up in the Pacific waters of O'ahu, I seek places to submerge myself, preferring warm forest pools to icy mountain plunges. So we returned at a time when the languishing portions of the creek were more amenable to swimming. We were not disappointed.
Our second night out on the trail, we set up camp adjacent to a large slab of shale, pockmarked with small pools of rainwater. The canopy opened to reveal the creek rushing just below, depositing sun-warmed waters into yawning blue swimming holes. I spent an unforgettable afternoon diving endlessly into the creek and snapping pictures of the scalloped, moss-dappled cliffs as iridescent black and blue butterflies flitted by. It's a memory I won't soon forget.
Kaily Heitz is a postdoctoral fellow in the Department of Geography and Environment at the University of Texas at Austin, and is a lifelong backpacker and climber. Her go-to trail dinner is tuna macaroni and cheese. She recommends that folks pack bug spray, a good map, and a swimsuit for this trail. Kaily has called Stillwater, OK, Chicago, IL, and Oakland, CA home.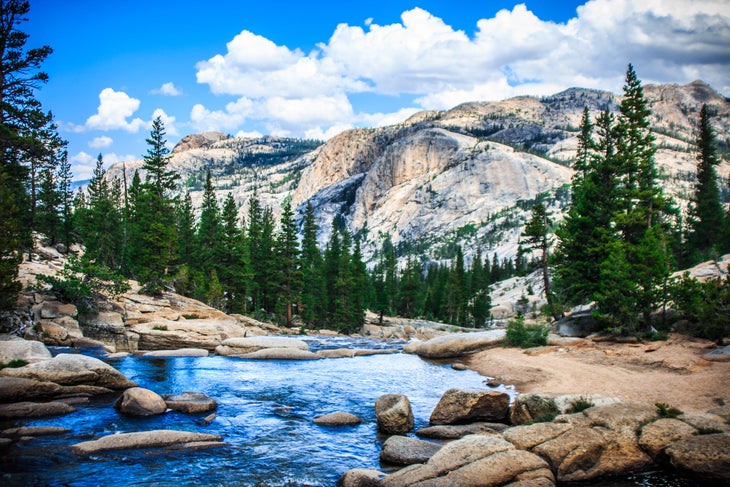 California: PCT from Tuolumne to Agnew Meadow
Length: 27.5 miles
"There's no bathroom here," the Yosemite ranger says, her back to us. "Oh, we're actually here for our permits," Dad responds. People don't usually backpack the Ansel Adams Wilderness in mid-October, the ranger's furrowed brow says. And apparently she's right. Over this stretch of the Pacific Crest Trail, we meet only a handful of other parties. There's plenty else to see: 8 miles of the Lyell Fork of the Tuolumne snaking along the canyon's glaciated granite; the morning sun climbing above the forested Kuna Crest, softening the frozen soil surrounding our dispersed campsite; the snow-dusted Cathedral Range and partially-frozen glacial cirque lakes as we ascend Donahue Pass towards the Great Western Divide and the eastern Sierra.
I grew up not far from here, in the Auburn foothills of the Sierra. My dad's been backpacking since the 1970s, but has never hiked the range's east side. "I just love the west," he confesses as we pump water before our final push up the pass. "And I've always had a bias against the east." His smile is guilty: He should know better. Mine is eager: He'll soon find out.
A few thousand feet later, we step into Inyo National Forest and onto dark eastern Sierra soil. Banner Peak juts skyward from the Ritter Range, celebrating itself amongst a history of earthquakes and glaciers, weather and time. Spires of metamorphic lava rock climb up Koip Crest to our left. A grove of solitary foxtail pine stands solemnly in the sedge grass valley below. Prints of gray ground squirrel and California coyote and brown bear appear in six inches of snow that amass around our tent on our fourth and final morning. It's all the best that this region has to offer.
"I guess there's a lot more to the eastern Sierra," Dad grins as we leave the PCT through the Agnew Meadow trailhead. Mammoth Mountain is now in front of us. Metavolcanic minarets are to our left, Devils Postpile to our right. Peaks and valleys and rivers and forest are behind us. And over 2,600 yet-to-be-explored miles of the PCT are all around.
Benje Williams is a writer living in New York City and cofounder of Understory, a nonprofit working to restore forest landscapes. He is a Public Voices fellow with the OpEd Project and Yale Program on Climate Change Communication and loves hiking with old-school topo maps.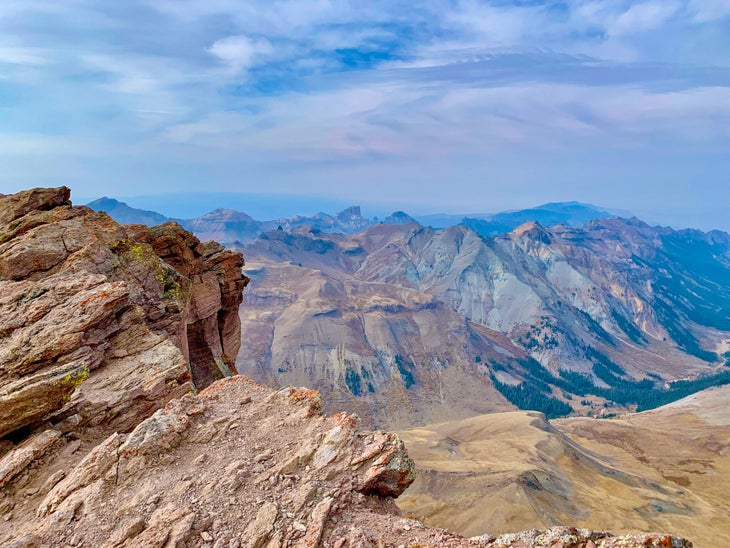 Colorado: Uncompahgre Peak
Length: 13.4 miles
Uncompahgre Peak is a mountain of haves and have-nots. What it does have: proud status as the sixth-tallest Colorado Fourteener; an exciting, keeps-you-on-your-toes Class 2 scramble up to the summit plateau; and finally, commanding views of the San Juans, the state's most roughhewn and remote range.
What Uncompahgre lacks: crowds, a characteristic that it would surely share with its fellow Fourteeners if it was closer to Denver (or, really, a population center of any notable size; tiny Lake City nearby is a great trail town, but it too is delightfully remote). The mountain also doesn't have the exposure, ultralong approaches, and a slog out that seem befitting for a peak of this stature.
All that makes for an unspoiled Colorado summit experience. To up the wow-factor even more, the best approach to Uncompahgre is from the Matterhorn trailhead. While the Nellie Creek trailhead is the closer option, setting out from Matterhorn Creek sends you through bowls of expansive alpine meadows, where Sound of Music meets the Centennial State.
You'll pass beneath the craggy, triangular east face of the Wetterhorn—another Fourteener—before cresting a mini-pass and laying eyes on Uncompahgre in all its blocky glory, a ship set sail on a sea of high-altitude greenery. The trail that curls up the mountain's southeast ridge is hidden from view, and the ascent looks intimidating. Stopping again at this point on the way back, the "Dang, I climbed that?" factor will be off the charts.
While Uncompahgre can be done as a dayhike, the meadows surrounding the peak offer pristine camping. And don't worry, you can brag about how cool it was when you get home: The crowds aren't coming here any time soon.
Eli Bernstein is Backpacker's senior gear editor, originally hailing from New Rochelle, NY. He climbed Uncompahgre Peak on his first backpacking trip after moving to Colorado, and that four-day circuit remains his favorite hike.
Connecticut: Blue Trail, Sleeping Giant State Park
Length: 2.9  miles
That this verdant quad-buster of a hike exists in one of the most densely populated areas of the country is a miracle. The Blue Trail, my go-to for a weekend respite or even a pre-work stress release, is just 15 minutes from New Haven. Its craggy sandstone and conglomerate rocks and 600-feet-per-mile grade deliver an injection of true adventure in an area where that's not a common word. The Blue Trail begins along the Mill River and climbs quickly—at times approaching a 60-percent grade—through hickory, beech, and oak trees. Steep, non-technical scrambling leads you to a stone lookout tower built in the 1930s at the mile-and-a-half mark. From the tower's upper level, enjoy views over green hills (in fall, see vibrant reds and yellows), the nearby summit of 676-foot Mt. Carmel to the east, and the blue waters of Long Island Sound to the south. While this particular trail offers a nice physical challenge, easier paths nearby lead to the same view, so there's a route for everyone. From the top, you can descend the Tower Trail to turn your outing into a loop hike, or go back the way you came. It's the fastest way to escape the city bustle for some nature therapy.
Julia Monk is a PhD student in ecology at Yale University, originally from New York City. Her fieldwork takes her hiking deep into remote sections of the Andes in Argentina, where sometimes she doesn't see other people for weeks at a time. Her field site lies along the Inca Trail.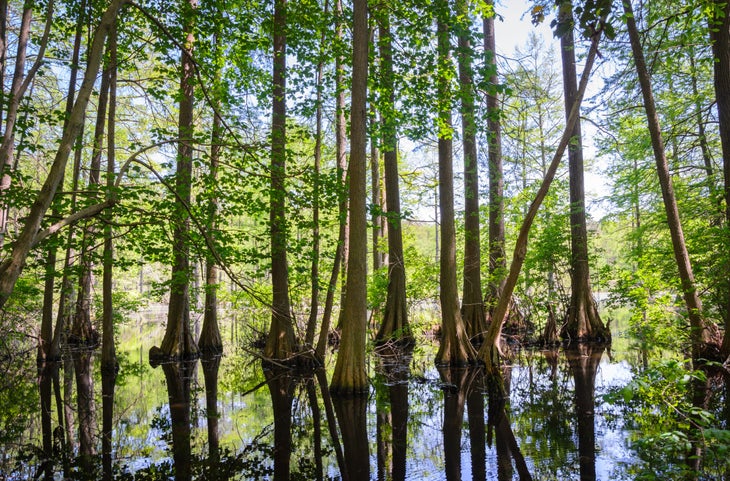 Delaware: Bob Trail
Length: 4.5 miles
The interlocking trails at Trap Pond State Park are best measured in one simple way: smiles per mile.
You won't mistake the 2,685-acre park for the vastness of the desert southwest or the otherworldliness volcanic northwest—as the nation's second-smallest state, Delaware doesn't have that kind of real estate.
But if you want to introduce kids to the outdoors, clear your head of the weekday clutter, or launch a mini-vacation, the park's Bob Trail will do nicely. It is a terrific introduction to the Chesapeake Bay Gateways and Watertrails Network, a regional partnership with the National Park Service.
The 4.5-mile trail—just call it "The Bob"—is the longest in the park. Bald cypress trees poke out of the wetlands along the trail singly and in small groves, their bulbous trunks casting spooky reflections and their feathery needles rustling in the breeze. You don't have to wait until sundown to spin a yarn about pirates and buried treasure on The Bob.
You are never far from the water's edge, either. The Bob leads you past the boat launch for Trap Pond and adjacent Raccoon Pond for paddling, fishing, and birding opportunities (see great blue herons, belted kingfishers, turkey vultures, and more). An adjacent campground has tent sites, cabins, and yurts. In such a small state, you can still have big adventure.
Candy Thomson spent 40 years gathering facts as a journalist and an equal amount of time spinning tales on the trails and waterways of the Mid-Atlantic. Passing along tips as the Baltimore Sun's outdoors writer was the best job ever. Having the right outdoor gear was Thomson's ticket to covering five Olympics.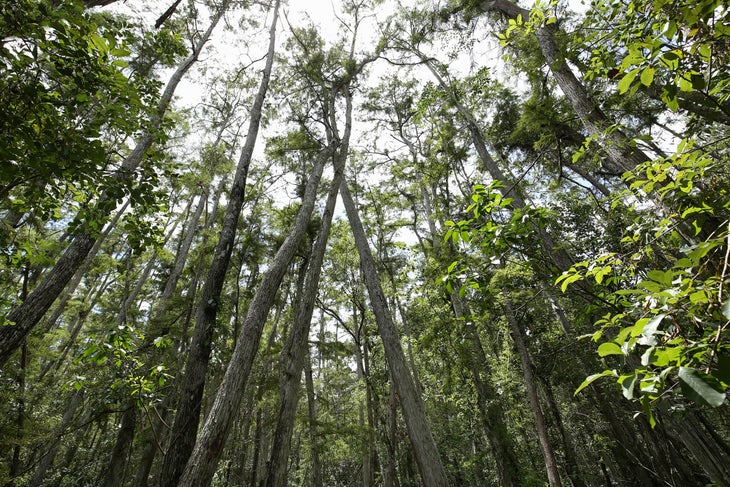 Florida: Florida Trail Through Rice Creek Conservation Area
Length: 2.4 miles
My favorite way to kick off the new year is with a hike, and this year, I decided to visit my favorite section of the Florida Trail at Rice Creek Conservation Area. On New Years Day, I pulled up to the trailhead at what was once an 18th century rice plantation. As soon as I stepped out of the car, two bald eagles flew overhead. Wildlife sightings of everything from otters to alligators aren't unusual on this trail, but this felt like an especially good omen. Rice Creek is mostly swampland, and the hike took me over narrow boardwalks and bridges through cypress groves and mixed forest. When the boardwalks disappeared, I hopped between large palmetto leaves like stepping stones over the marshy ground. Just off the trail sits the seventh-largest cypress tree in the state; knobby cypress "knees" protrude from the ground near its base, creating a mystical effect. I thought to myself that it looks like somewhere you might find a gnome living.
Rice Creek makes for a good dayhike-loop, but the Florida Trail stretches hundreds of miles in either direction, making it a perfect section on a longer trek, too. The conservation area features one stilted shelter that thru-hikers refer to as the "Rice Creek Hilton." As I hiked back to my car, I thought about the rich history of this area, its evolution from wild swamp to a commercial plantation and now back to conservation land. I'm only here for a small portion of this history, but those huge cypress trees have seen it all.
Chelsea Collinson, from Gainesville, FL, is the community outreach manager for the Florida Trail Association. Collinson has completed the 52 Hikes Challenge (one hike a week for a whole year) twice—going on three times. She's had to end a hike early on multiple occasions due to an alligator blocking the trail.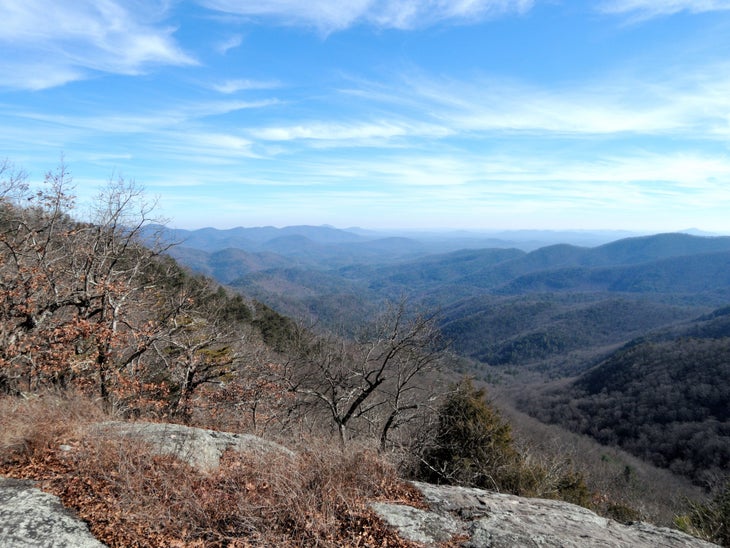 Georgia: AT from Neels Gap to Hogpen Gap
Length: 6.5 miles
As soon as I start the initial climb on my first multiday hike along the Appalachian Trail, I know I packed too much gear. My pack, loaded down with camera equipment, sits heavy on my shoulders, the imbalance threatening to tip me over. But as soon as I come to the first viewpoint atop 3,806-foot Levelland Mountain, I forget all about the weight. Layers of blue-green mountains stack into the distance. This route links more than half a dozen peaks over 3,500 feet, and the ups and downs give me a sense of pride at every overlook. It's rare to stay so high in Georgia, but on this trail the long views don't stop—on 3,783-foot Green Cliff Top, a sheer dropoff gives way to westward views over the green expanse of Chattahoochee National Forest. I'm panting for breath in the summer heat as I take in the 180-degree vista, but it couldn't be a more perfect day. The sky is blue, the views are expansive, and I have one more mountain ahead of me before I reach Hogpen Gap, the end of my hike. These  handful of miles have made me a backpacker for life.
Kimie Yates is a landscape and adventure photographer from Macon, GA. She travels in her van with her husky, Bodhi, and never leaves home without her camera.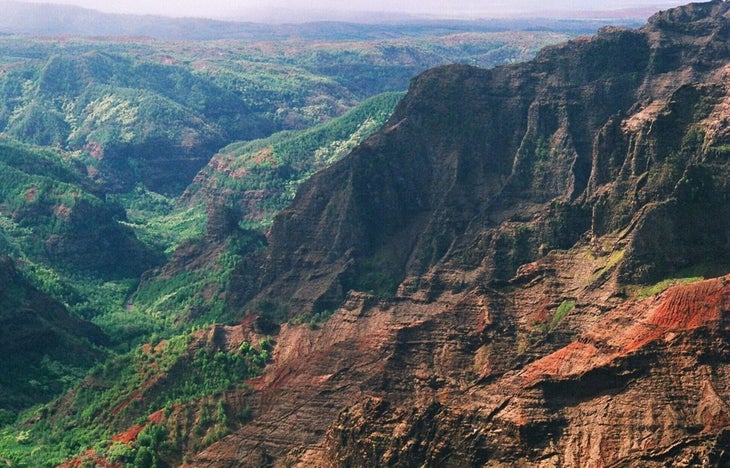 Hawaii: Kukui Trailhead to Lonomea Backcountry Site
I stand alongside the river, watching the water staircase its way down the gorge over boulder fields and cliff edges. It branches off into waterfalls, filling inviting pools below, while the red, towering canyon walls rise more than 2,000 feet above my head.
The red rocks are reminiscent of the southwest, but the river banks—full of guava, avocado, mango, and kukui nut—are constant reminders of my tropical location.
I'm deep within the backcountry of Waimea Canyon, also known as the "Grand Canyon of the Pacific," on Kauai.  It's 3,600 feet deep, a mile wide, and close to 14 miles long. The rim of Waimea Canyon is one of the most-visited places on Kauai, riddled with scenic overlooks and criss-crossed by helicopter fly-overs. Down here, though, it still feels like one of the least-explored places in Hawaii, where the wilderness remains untamed. Four swimmable pools, filled by waterfalls and within a short walk of the most remote campsite, Lonomea, offer absolute tranquility and the chance to swim beneath the towering canyon walls.
It's not the Hawaii you picture when you close your eyes—it's nowhere near the beach, and there's more red rock than rainforest— but that's exactly why I love it. All the other islands have those beautiful beach hikes or volcanic terrain; this 5.3-mile adventure is one of a kind, and not overcrowded like other trails. With permits limited to one eight-person group per night, Lonomea guarantees privacy and even a little bit of convenience, with a covered shelter, cooking pit, and composting toilet in the wooded area adjacent to the river. With plenty of side canyons to explore, I recommend a two-night stay. Hot tip: Pack a small, inflatable inner tube to ensure maximum relaxation in the waterfall pools.
Will McGough runs tent testing for Backpacker and is based in Palisade, CO. He is currently obsessed with slow-cooking soups over a campfire, which often makes his friends hangry.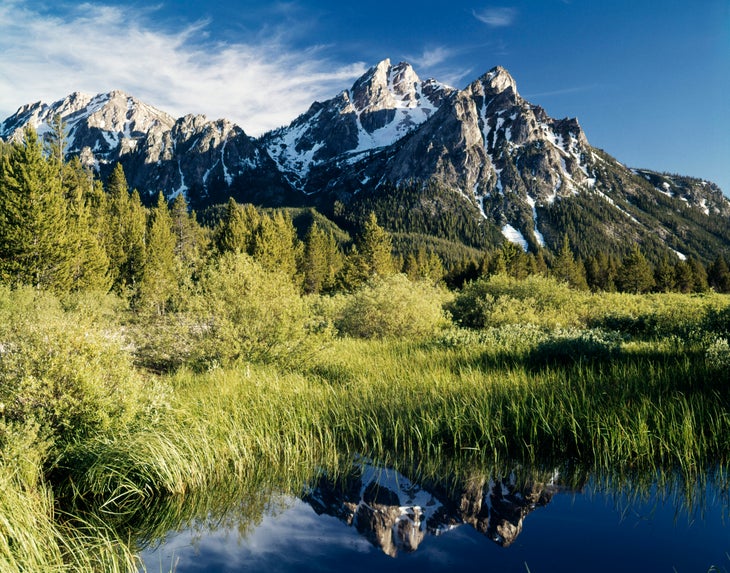 Idaho: Sawtooth Wilderness Loop
Length: 63 miles
This loop is a contender for best in the country—not just best in the state. Located near Stanley, Idaho and contained within the Sawtooth Wilderness, the hike begins at the Grandjean Campground and immediately climbs into the subalpine. Most backpackers go clockwise to get the scar of a wildfire behind them at the beginning of the trip. After 10 miles of burn, the trail rises over an alpine pass at 8,700 feet before joining the shores of Sawtooth Lake, the largest on the loop. From the lake, hundreds of jagged rock spires line 10,000-foot ridgelines in all directions. Sawtooth Lake is the perfect spot to camp on night one, with numerous well-used campsites.
From the peaceful lake, a 3,000-foot descent over 6 miles ends at the first bail-out option at the Redfish Creek-Baron Creek Trail junction. From there, begin a long, slow climb along Baron Creek. The ascent back to 9,000 feet is surrounded by small ponds, alpine meadows, and aspen groves. Baron Lake and Upper Baron Lake offer some of the most scenic campsites of the entire wilderness, with the upper lake nestled just one step up from the lower lake among a backdrop of toothy granite ridgeline.
Perfectly still water reflects the unique rocks of the landscape, and Redfish Lake Creek flows between lakes on the descent to the Mt. Cramer Trail. On the way to the high point, lake after lake quietly sit among amphitheaters of granite, with the final switchbacks to 9,466 feet visible on the ridge above. After all that hard-earned elevation, the route stays high for 14 miles. A slow descent along a gentle creek closes the loop. 
The consistent views of summits, clear mountain lakes, and wildlife sightings—from elk to wolverines—make this loop one of the most rewarding mile-for-mile backpacking trips I've ever done.
Jeff Garmire has hiked 30,000 miles through 42 states but still has an irrational fear of horses, especially when attempting to share the trail with them. He is from Bozeman, MT.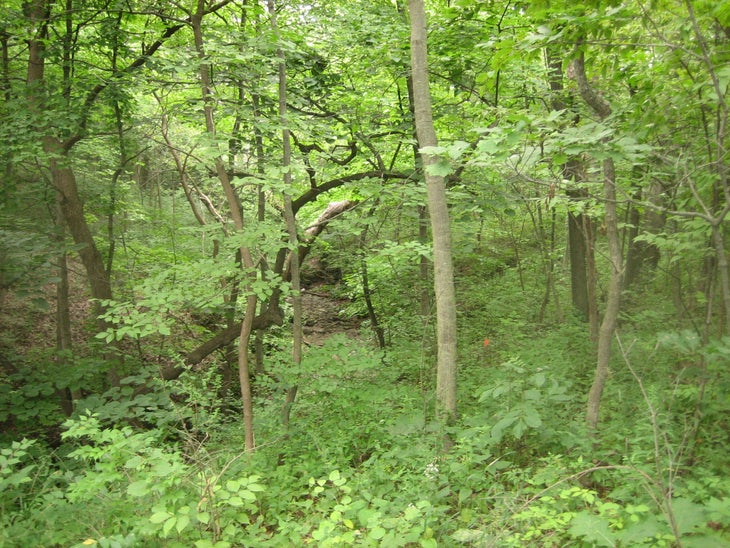 Illinois: Swallow Cliff Woods
Length: 8 miles
In Illinois, any topography is exciting. Growing up, that made Swallow Cliff, only a few miles from my childhood home, a near-mythical place. Formed 12,000 years ago by retreating glaciers, the 100-foot-tall bluff has served as the home to a ski jump, a set of toboggan slides, and a 125-step limestone staircase carved by Works Progress Administration laborers in 1930. Though the ski jump was torn down in 1943, the stairs still stand, and are often covered by hordes of suburbanites getting their cardio in.
Beyond the crowds lie 20-plus miles of gravel and dirt trails. In high school, my cross country team ran these trails almost every day, creating our own names for each segment and loop. "Double Loop," as we called it, marked in yellow on the map and trail markers, winds 8 miles through oak and hickory forest, wetlands, and meadows. Creeks flow through the bottom of steep ravines, and expansive views of the open woodland ecosystem await at the top of the bluff.
To do the loop, start from the Swallow Cliff Woods North parking lot, head east on the yellow trail, following the bottom of the bluff under La Grange Road and across Kean Avenue before you swing around and climb up to the top. Once you cross under La Grange a second time, stay on the yellow trail to enter the second part of "Double Loop," crossing Willow Springs Road and heading back down the bluff (along "Forever Hill," as it was known to us). After conquering a series of steep rollers and going over Willow Springs Road again, the trail returns to the bottom of the bluff and deposits you once again at the parking lot. You'll head back to the surrounding urban sprawl having passed through the most remote place in Cook County with sore quads and a smile on your face.
David Gleisner is an avid runner, hiker, and writer from Orland Park, IL and has an unrequited love for exhausting himself up steep hills. He has better access to this unique brand of suffering in his current home of Boulder, CO.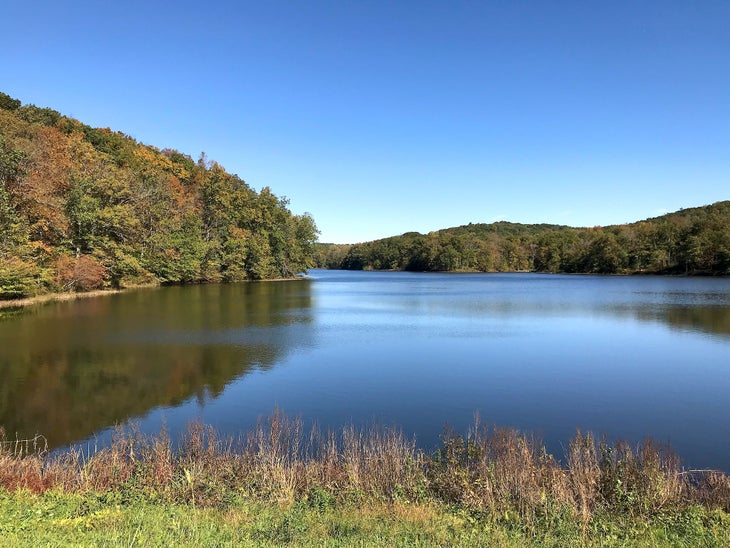 Indiana: Tecumseh Trail
Length: 42 miles
Backpacking opportunities may not abound in Indiana, but that doesn't mean there aren't any at all. The Tecumseh Trail provides a perfect weekend outing close to Indianapolis. Only an hour drive from the city, it's easy to reach on a Friday after work or get an early start on Saturday morning. Best done as a shuttle hike, this well-maintained path  winds through dense forest, rolling hills, and quaint towns. The scenery is distinctly Indiana: thickly-forested groves, bridges over stream crossings, and a portion of trail along the shore of serene Yellowwood Lake. Three pristine cabin-style and lean-to shelters provide options for overnighters. Two of the shelters were built in the last two years, and they're ideally located for splitting the trail in half or turning it into a two-nighter over a weekend. Catch splashy fall foliage in autumn, or visit in the middle of winter to have the trail to yourself.
[Editor's Note: Indiana's Tecumseh Trail has been closed since May 2020 from State Road 45 to the parking area south of Beanblossom Creek. The trail is bisected by a railroad crossing. Hikers who cross the tracks or divert to an adjacent road will be trespassing. The Knobstone Hiking Trail Association is working on a solution to reopen the trail.]
Brian Ainley travels all around the world to mountaineer, backpack, and climb when he's not exploring near his hometown of Carmel, IN. He summited Aconcagua in 2020 and has climbed Mt. Kilimanjaro.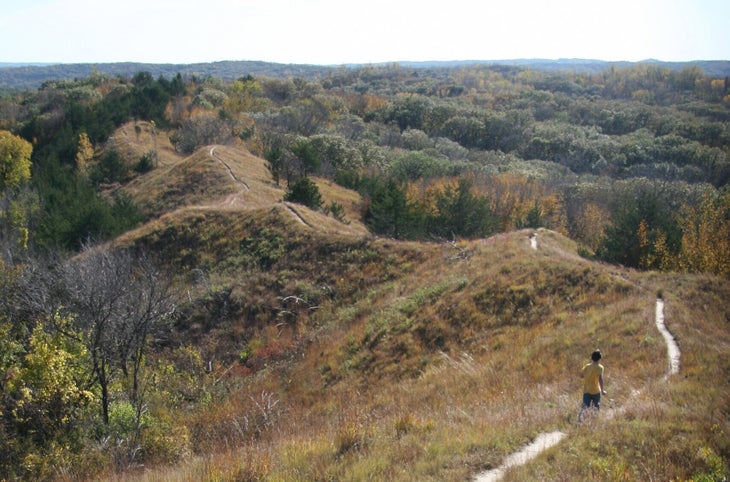 Iowa: Brent's Trail
Length: 8 miles
Think there's no such thing as ridgelines in the midwest? Brent's Trail proves otherwise. You'll use your quads plenty on this hilly adventure through hardwood-forested valleys, grassland, and over rounded spines overlooking bucolic farmland. Formed over thousands of years from windblown soil, the Loess Hills make for 1,600 feet of elevation gain over 8 miles (arrange a shuttle, or relive the wonder to make it a 16-mile out-and-back) with plenty of opportunities for dispersed camping along the way. From the high point at nearly 1,500 feet, take in the placid views of vast prairie, rolling forested hillsides, and neat fields below. The well-maintained trail winding up challenging-yet-approachable grades is a treat for flatlanders, as is the ample shade from dense oak, walnut, hickory, and elm trees. With this gem in my own backyard, I know that even the Midwest has something special to offer hikers.
Amy Alvarez is a working mom of three from Davenport, IA. She enjoys taking her kids hiking around the Midwest and watching them form their own connections with the outdoors.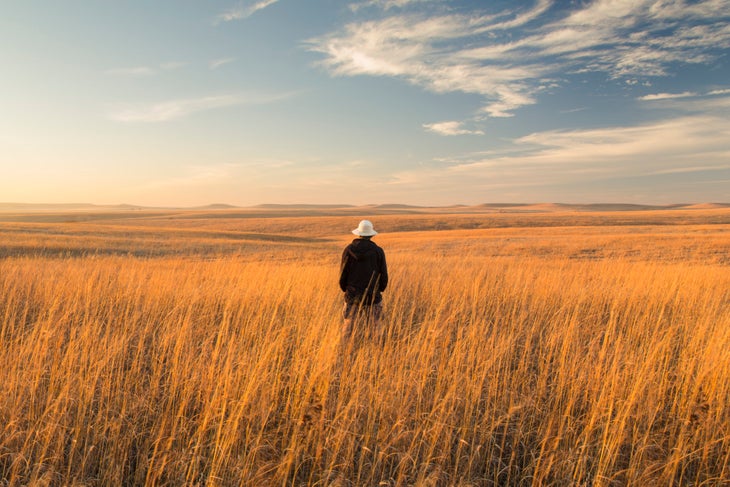 Kansas: Tallgrass Prairie National Preserve Scenic Overlook Trail
Length: 3.2 miles
Roam with wildlife on this mellow trail through open Windmill Pasture in Tallgrass Prairie National Preserve. There's plenty of tranquility to be found amidst the rustle of waving switchgrass and birdsong from nearby sparrows, warblers, and finches; nearly 150 species of birds can be spotted on the preserve. Limestone deposits along your route tell the story of when the area was once a vast body of water that geologists call the Permian Sea. From the overlook at almost 1,500 feet (about 3 miles from the visitor center), take in panoramic views of rolling grass prairies, clusters of cedar trees in the distance, and a herd of reintroduced bison (make sure to observe them from a safe distance). In spring, sunflowers and asters bloom among the lush green grasses, creating an explosion of color. From the overlook, extend your hike onto one of the many other trails on the preserve, or head back to the visitor center.
Buffy ""Compass" Sawyer grew up in south-central Kansas and discovered hiking when she moved to the Pacific Northwest. She's thru-hiked England's Cotswold Way and section-hiked long trails across the U.S. "Whatever trail I am on, I feel blessed to enjoy the peace and adventure that only the outdoors can give," she says.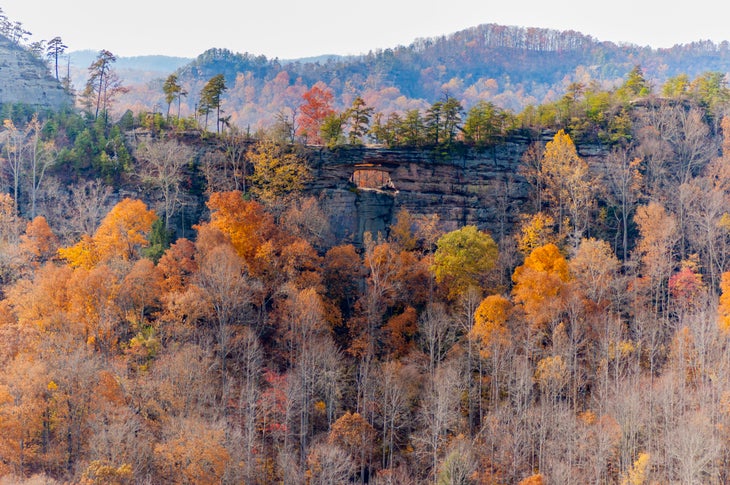 Kentucky: Sheltowee Trace Trail
Length: 343 miles
Walking the Sheltowee Trace National Recreation Trail is like attending a 343-mile-long geology lesson. Towering sandstone cliffs, cavernous ravines, and steep rocky ridges—the result of millions of years of weathering and erosion—form a scene that turns more dramatic with each step. White blazes link this path across the 708,000-acre Daniel Boone National Forest—one of my family's favorite outdoor-adventure getaways, stretching from eastern Kentucky to northern Tennessee. Start just north of Morehead, a small Kentucky trail town bursting with comfort food, then make your way south and prepare to be amazed.
By mile 70, the Red River Gorge's looming cliffs and soaring arches shade the trail. Sheltowee Trace meanders through the heart of this rock-climbing destination, known as "The Red" for its bright sandstone. Take a quick detour through Natural Bridge State Resort Park just before mile 84 to admire The Red's most famous attraction: a 78-foot-wide sandstone arch that towers 65 feet above the deep green hemlocks and pines.
Continue south to reach Cumberland Falls State Resort Park. In this "Niagara of the South," the Cumberland River plummets 60 feet into a boulder-dotted gorge. The hike's final 100 miles wind through equally as impressive topography, with a patchwork of sandstone bluffs, arches, and gorges in Big South Fork National River and Recreation Area. Hikers relish Sheltowee Trace's final views alongside the area's four-legged residents: black bear, bobcats, elk, and gray fox. This enchanting two-to-three-week trek shows a wilder side of Kentucky—a side those of us born and raised around coal country are excited for the world to see.
Stephanie Vermillion was born and raised in Ohio. She currently lives in Cleveland and spends most non-working hours exploring her home region's beauty while leaving no trailmix M&M left uneaten.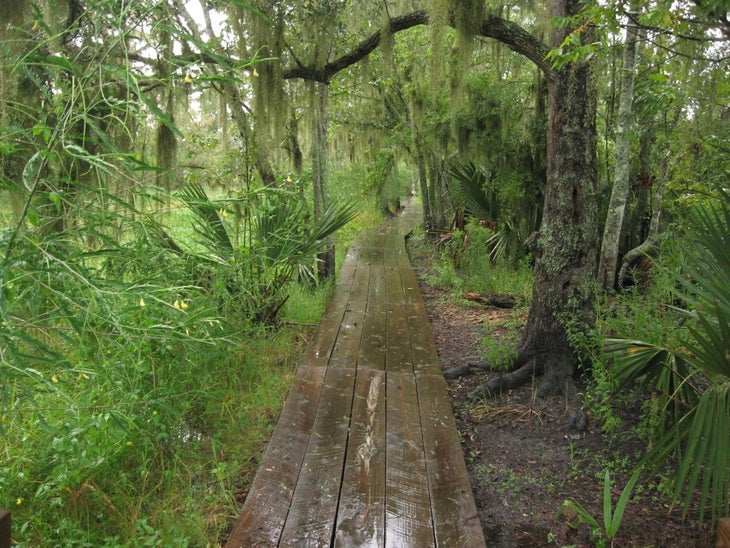 Louisiana: Bayou Coquille Trail and Marsh Overlook Trail
Length: 1.8 miles
The Bayou Coquille trail rambles along the edge of a peaceful wetland, the ancestral home of the Chitimacha and Houma Tribes and, historically, the pirate Jean Lafitte, who temporarily abandoned his life of crime to defend New Orleans during the War of 1812. Before that he and his brother ran a succesful smuggling port in the bay this bayou borders. The winding path tempts hikers into slowing down and immersing themselves among the live oaks and giant palmettos. Every season brings a new surprise, from the native irises blooming in the spring to the palm-sized lubber grasshoppers ambling about in the heat of the summer. Where the Bayou Coquille Trail meets the Marsh Overlook Trail, the path changes from dirt to a wooden boardwalk through a storybook cypress-and-tupelo swamp. Giant golden silk spiders spin webbed walls along the route, while only steps away, alligators peer over the water's edge. Near the end of the trail, the boardwalk rises into a bridge over the Pipeline Canal/Upper Kenta Canal, offering a glimpse of the distant skyline of downtown New Orleans. From there, drop to an elevated platform with expansive views of a freshwater marsh, its gently waving grass reaching out to the horizon. Bayou Coquille is a prime example of the timeless bayou wilderness that makes Louisiana special.
Kristy Christiansen lives in New Orleans, LA, with her husband and three boys. When not hitting the trails in Louisiana, they travel the country collecting National Park Junior Ranger badges.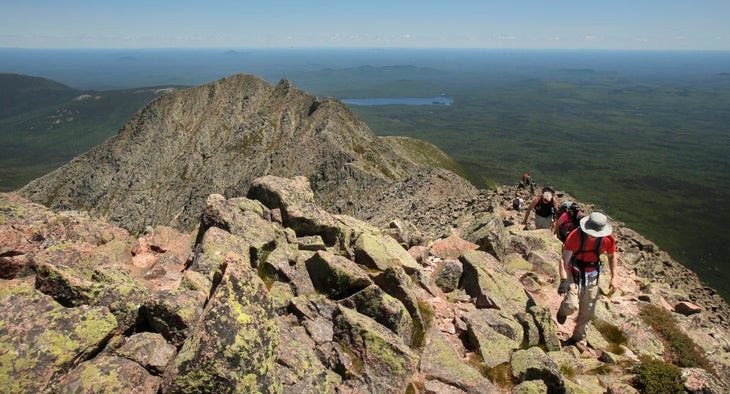 Maine: The Knife Edge
Length: 2.2 miles
We're atop Baxter Peak, the highest point on Mt. Katahdin in Baxter State Park. On any other day we might lounge here for hours, but this time my group is on the move: Clouds are rolling in, and we want to experience the exposed Knife Edge in all its glory before they arrive. We tiptoe out onto the mile of sharp, rocky ridgeline, the world dropping away to either side. from our new viewpoint we gaze down on Chimney Pond, nestled among the myriad smaller peaks in the park, where we began our approach; on our right, the leafy wilderness extends for miles, hiding the road we drove in on. The Knife Edge itself varies from smooth, along the flat spine of the ridge, to jumbled boulders requiring scrambling with nothing but air on either side. Halfway across our tightrope journey, we sit to snack on a flat rock. Now that I'm not focused intently on watching my footing, I can truly absorb the view I've been surrounded by this whole time; endless forests to the horizon, broken by a few ponds and smaller peaks. I scoot to the edge and let my feet dangle over—it's like I'm sitting at the rim of a giant bowl made of jagged rock. Filled with awe (and a few handfuls of GORP), we continue along the Knife Edge. The clouds never do roll in, so the woods below remain our backdrop as we revel in the airy feeling of our 5,000-foot-high perch. An hour after setting out, we arrive at Pamola Peak, the other end of the ridge. It's named for the moody Penobscot god of storms, but today he must have been in a good mood.
August Posch lives in Portland, ME, and loves to hike and run to the top of mountains all across the Northeast. He enjoys wearing brightly colored shoes, and he always carries an extra snack.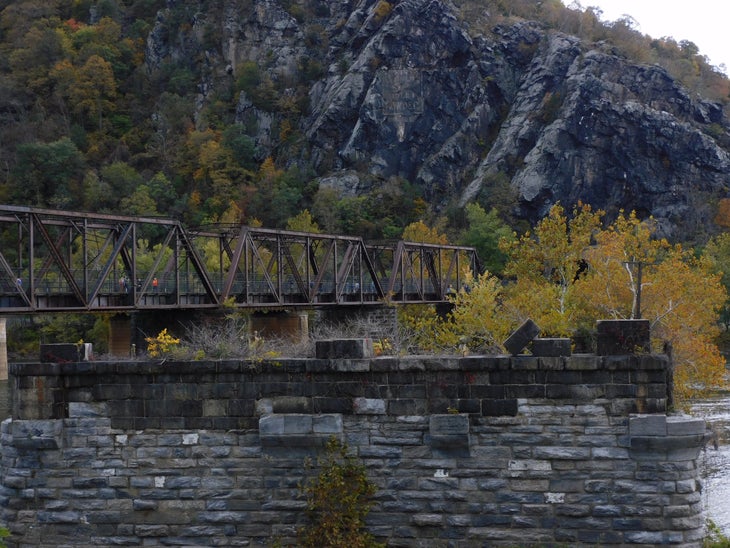 Maryland: AT from Harper's Ferry to Pen Mar Park
Length: 41 miles
Considered easy by thru-hiker standards, the 41 miles of the Appalachian Trail that run through Maryland are a fantastic backpacking route that can be covered in a few days. The abundant maple and chestnut trees lining the pathway between Harpers Ferry and Pen Mar Park create a peaceful (and wonderfully shady) green tunnel in the summer months, and the comparatively gentle terrain lets even new hikers easily complete a multiday trip.
Those 41 miles still manage to pack in a lot of highlights: Panoramic views of the Potomac River at Weverton Cliffs encompass three states. You also earn striking vistas of rural Maryland at Annapolis Rock and a look into the green Cumberland Valley at Pen Mar County Park. Pen Mar opened as an amusement park in 1877 but has since been converted to a pavilion with a lookout point, plus potable water for backpackers. The well-cared-for trail plus stellar views make this easygoing section of a notorious trail an experience on par with any mountain wilderness.
Nalini Ravindranath, better known as "Hiking Misadventures" on social media, started her outdoor journey in 2014 when she jumped into a six-month trek of the Appalachian Trail. She loves sharing her stories in hopes of inspiring other people, especially women of color, to pursue their own adventures. You'll never find her on the trail without a Snickers bar.   

Massachussetts: Mt. Wachusett
Length: 3.5 miles
This short and satisfying hike to the summit of one of central Massachusetts' round mountaintops is our family favorite. Mt. Wachusett isn't the tallest, longest, or hardest trail in the state: It is remarkable instead for never disappointing, no matter how many times we repeat it. It's not a strenuous hike, where all the wonder gets squandered from exhaustion. Instead this trail impresses itself gently upon us, and we love it more every time we hike it. As you gain elevation, clamber up ledges of exposed schist to find yourself in the comforting shelter of some of the oldest forest in the state. Red maple, sugar maple, yellow birch, red spruce, and eastern hemlock—some nearly 400 years old—keep you company on the climb.
At the junction with the Harrington Trail, turn right towards the summit. This short, steep section will bring you to the mountain's flat apex. On clear days, spot the granite bulge of New Hampshire's Mt. Monadnock to the north, the soft green hump of Mt. Graylock to the west, and the skyline of Boston to the east.
In our opinion, though, the trail is best in the winter, when it's emptied of people and often covered with snow. As our boots crunch over frozen leaves, we stop and listen. Beneath the snow and ice, water trickles slowly on its course down to the mountain, where it will ultimately drain into the Ware River. This is the reason we return to nature, again and again; this is peace.
Aloyah Isa lives in central Massachusetts and loves to explore and contemplate in the magical woods that surround her. On the trail, she snacks on Lily's coconut dark chocolate.
Endria Richardson is a queer Black and Malaysian writer, editor, and climber from Worcester, MA. Her favorite trail snack is canned smoked oysters or sardines paired with Triscuits.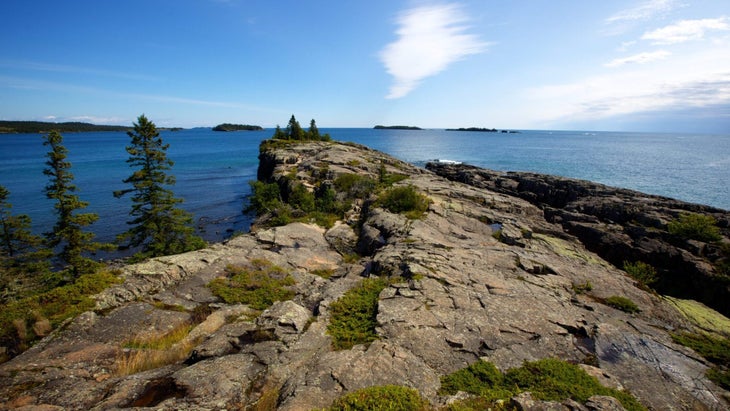 Michigan: Greenstone Ridge Trail
Length: 43 miles
There's no easy approach to the Greenstone Ridge Trail, the 43-mile traverse of Isle Royale National Park. You'll need three hours to cross Lake Superior from the ferry dock on Michigan's mainland (45 minutes if you splurge for seaplane tickets) and have to time that for between spring and fall, when the ferry operates. But Isle Royale's isolation is precisely the reason to visit. After leaving the Superior-splashed gray rocks at Windigo, the trail climbs through spruce forest, with knee-high ferns to either side. The dominant color is deep green except for tiny white Canada Mayflowers and pink lady slippers. By late summer, the forest's thimbleberry crop is so prolific that ripe fruit litters the trail, making any moment a good time for a snack break.
Twenty miles in, the Greenstone breaks out of the forest. Wild roses and bluebells line the trail as it passes through thigh-high grass meadows. Scramble up exposed granite knobs or climb Mt. Ojibway's old fire tower for views that open up to the area's main attraction: Isle Royale's narrow, rocky inlets to the east, Rock Harbor Lighthouse to the south, and Ontario to the north. At dusk, you'll hear the tremolo calls of the island's resident loons and, after dark, a million stars illuminate a sky free of light pollution. And you'll have it all to yourself. 
The Greenstone traditionally finishes with a burger and beer at Rock Harbor Lodge, Isle Royale's only hotel and restaurant. With a little luck, you'll encounter the island's favorite mammal here, the moose. You're unlikely to stumble across this lumbering giant along the Greenstone, partial as it is to the sheltered coves of Lake Superior. But moose make an exception for the tidy lawns surrounding the lodge; like backpackers, they appreciate an easy meal. 
Amy S. Eckert is a Michigan-based outdoor writer known on the trail as "The Happy Wanderer." She makes a point of saving space in her backpack for her too-heavy-but-beautiful wildflower identification book.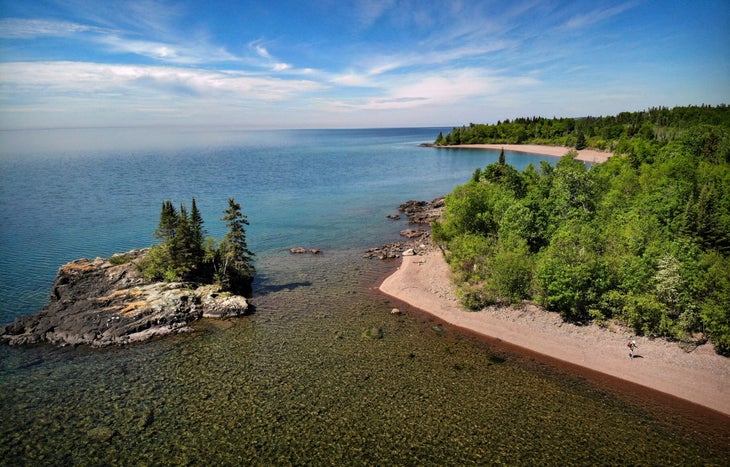 Minnesota: Superior Hiking Trail
Length: 310 miles
Thirty-five years ago, the idea seemed ludicrous: Build a miniature long trail in Minnesota's Arrowhead region, snugged against Lake Superior's North Shore. But the locals knew what they were doing. The land they had in mind encompassed a portion of the jagged Sawtooth Mountains, Superior National Forest, eight state parks, and the shores of Lake Superior. It would be a challenging trek, but the rewards would be plenty: dense forestland, thundering waterfalls, rushing rivers, and steep, rocky crags offering panoramic views.
Today, the Superior Hiking Trail (SHT) is consistently ranked among the nation's finest long trails. The 310-mile path's southern end starts in the deep woods on the Minnesota-Wisconsin border, just south of Duluth. Its northern terminus is the remote 270 Degree Overlook near the famed Boundary Waters. Standing atop this rocky promontory, you can see straight into Ontario, Canada.
Stunning as this path is, you must take any trip along it seriously. While the SHT generally tumbles atop the soaring bluffs lining the North Shore, these outcroppings are repeatedly sliced apart by a series of rivers that rush into Lake Superior with a frenzied roar. This means you'll be scrambling up and down those drainages over and over again. Don't let that distract you from the beauty, though. My personal favorite section is Pincushion Mountain, near Grand Marais, where the view over the forest and Lake Superior has to be seen to be believed.
Thankfully, the trail's brutal elevation changes (over 60,000 vertical feet) are overshadowed by its beauty. Think eye-popping views of Lake Superior, a vast, sapphire blanket that melts into the horizon; stately stands of oak, aspen, spruce, and birch; terrain that's covered in colorful wildflowers in spring, then fiery red and orange foliage come fall. There are fun surprises, too, like the popular swinging bridge in Jay Cooke State Park and the Drainpipe, a 150-foot-long scramble through a rocky crevice in Tettegouche State Park.
Like the Appalachian Trail, the SHT is dotted with established campsites and numerous trailheads, making it easy to access. Local shuttle services assist with hikes of any length, and the North Shore towns make it simple to resupply.
Melanie Radzicki McManus writes about hiking, travel, and fitness from her home in Sun Prairie, WI. During the last decade, she has hiked more than 9,000 miles around the globe, including thru-hikes of six of America's 11 National Scenic Trails. True to her home state, her favorite trail snack is fresh cheese curds.
Note: This article originally stated that this route was suitable for any level of backpacker. The trail is grueling and difficult, and many hikers bail out early; preparation and expertise are the best way to ensure success.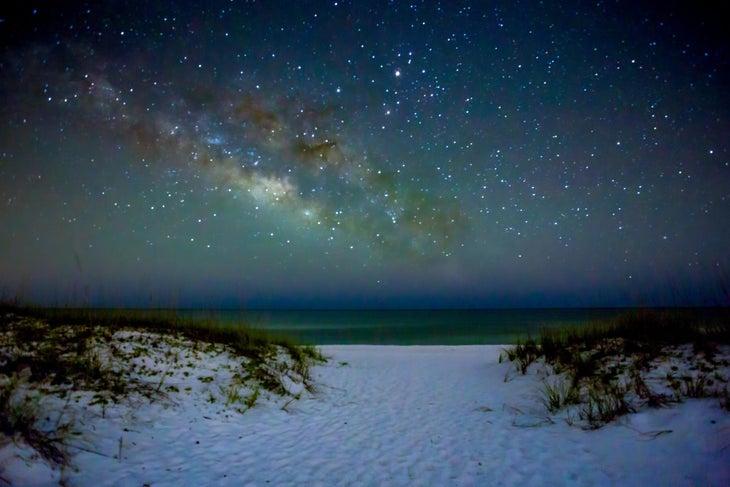 Mississippi: Davis Bayou Trail
Length: 5 miles
The Davis Bayou Trail in Gulf Islands National Seashore weaves in and out of coastal ecosystems, from marshlands to sand dunes to forests, showing off the best of wild Mississippi. The dunes are home to the endangered Perdido Key beach mouse, while the maritime forests of saw palmetto, magnolia, and pine hold together the shoreline and shelter migratory birds and armadillos. Scattered viewing decks along the 5-mile web of short, interconnected trails look out at bayous frequented by alligators and brown pelicans. At the ranger's office that marks the turnaround point, you get 360-degree views of the Gulf of Mexico and the Mississippi Sound, with nothing but barrier islands and ocean stretching to the edge of the horizon. Start your hike early to reach this spot just in time for sunrise over the ocean. Bonus: Early morning is one of the best times for birdspotting, too.
Lee Trebotich grew up in Mississippi and spent years as a park guide at Gulf Islands National Seashore. He is incredibly proud of his 20-by-20-foot gear room. He's now based in Asheville, NC, and always keeps emergency coffee in his hiking pack.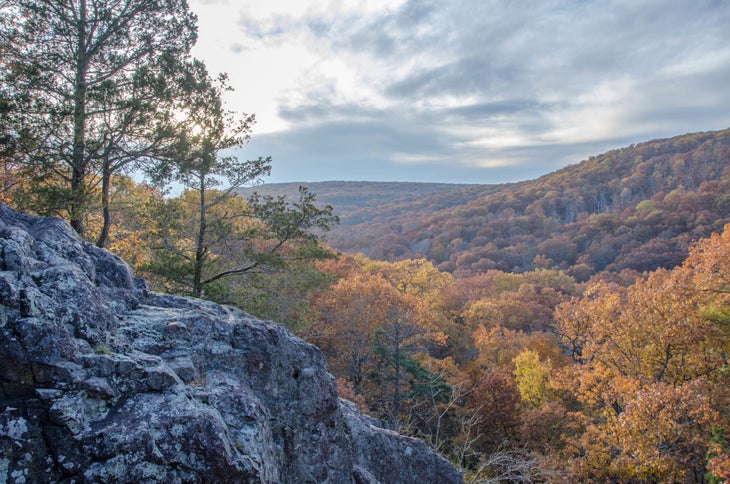 Missouri: Mina Sauk Falls
Length: 2.9 miles
This trail starts with a bang on top of Taum Sauk Mountain, the highest point in Missouri at 1,772 feet. From the boulder-strewn mountaintop, the path drops a mile to views across the St. François Mountains and Arcadia Valley, a vista that blows away every new hiker I bring there—even the Missouri natives. "Yes", I tell them, "we really do have mountains here!" Walking another half mile brings you to Mina Sauk Falls, the tallest in Missouri at 132 feet. The cascade flows over a series of stair-stepped ledges to a pool carved from the same dark rock as the cliffs. I love this hike no matter the season. In the spring, wildflowers bloom beside the trail and rain swells the falls to a roar; in the summer, it's the perfect spot for a picnic; in fall, the leaves blaze with color; and in winter, it sometimes gets cold enough to freeze the entire cascade. The weather makes no difference, either: One of my favorite memories of Mina Sauk is sitting beside the falls in the pouring rain as the storm raged all around me. It has everything you could possibly want in a hike, all an easy drive away from the city.
Debbie Njai, of St. Louis, MO, is the Founder and Executive Director of Black People Who Hike, an organization that serves as a platform to empower, educate and reengage Black people to the outdoors. Debbie's environmental work also includes serving as Board Vice President for the Missouri Coalition for the Environment, Missouri's longest-standing grassroots environmental organization.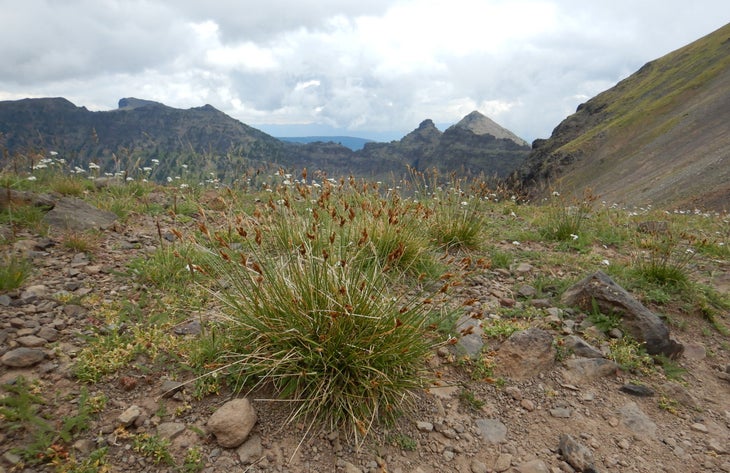 Montana: Gallatin Crest Trail to Windy Pass
Length: 25.6 miles
The Gallatin Crest trail is a 25.6-mile stretch of ridgeline that in summer is blanketed by wildflowers. When traveling from north to south (most common), the route's first 7 miles from Hyalite Canyon feature numerous waterfalls in the Hyalite Creek drainage before reaching the summit of 10,298-foot Hyalite Peak and the alpine terrain ahead. From Hyalite Peak to Windy Pass, the trail remains almost exclusively above treeline, winding along the grassy Gallatin Crest while revealing incredible views of the glacier-carved Paradise Valley and the Absaroka and Madison ranges. Hikers frequently spot elk, mountain goats, and bighorn sheep, and while grizzlies tend to keep to themselves, this is definitely bear country. Conveniently, the only reliable water sources (a small lake and a spring) are at about the halfway point, where the trail takes a brief diversion from the Crest, dipping into a forested basin and making for an excellent campsite. Few trails in Montana have the combination of all-ecompassing views and the wild, alpine character of the Gallatin Crest, making it a trek that shouldn't be missed.
Peder Anderson lives in Bozeman, MT, where he works as a primary care physician, works harder to keep up with his two sons, and spends as much time as possible in the mountains running, skiing, and climbing. He is the recently retired race director of the Devil's Backbone Ultra, a trail run along the Gallatin Crest.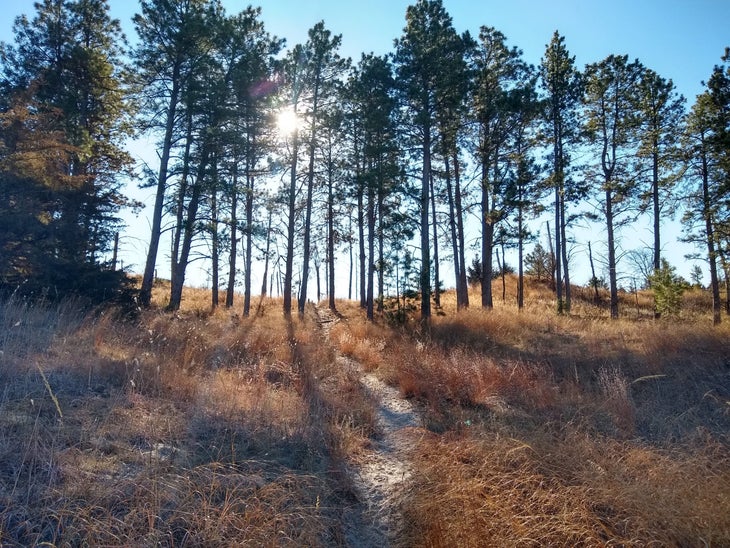 Nebraska: Nebraska National Forest at Halsey
Length: 3 miles
You might not expect to find a full-fledged forest on the high plains of Nebraska, and at the turn of the 20th century, you wouldn't have. But beginning in 1908, by proclamation of President Theodore Roosevelt, the Federal Division of Forestry began planting conifers on a swath of western Nebraska's rolling, grassy hills. More than 110 years later, those now-full-grown trees are protected as part of Nebraska National Forest, the largest human-created forest in the United States.
Located near the town of Halsey, the forest's 141-square-mile Bessey Ranger District is an offbeat, surprisingly wild destination, and with next to no trails, it's up to you to choose your own adventure. Start on the only marked hiking path in the area, a sandy, 3-mile-long trail winding over the hilltops and past snatches of prairie. At the end, climb to the top of Scott Fire Tower, a 50-foot-high observation post that's still in use, and scope out your route. From there, you can link together cattle paths and old forest roads around towering ponderosas and through patches of grazed-down grassland, topping off your water at windmill-festooned cattle tanks dotted around the forest. Here and there, you'll pass the occasional grove of cedar or pine trees planted in stick-straight rows, a reminder that Nebraska National Forest could have ended up as logs. After spending time here, I'm glad that it didn't.
Adam Roy, Backpacker's senior digital editor, lives in Denver and carries a clip-on macro lens for his phone on every hike so he can take photos of new and interesting spiders.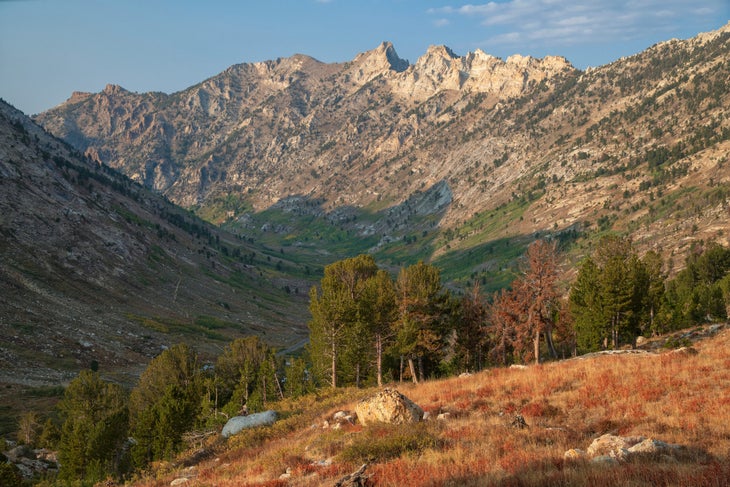 Nevada: Ruby Crest Trail
Length: 33 miles
Rising out of the Great Basin Desert, the Ruby Mountains play host to a winding, 33-mile track that looks more like it was transplanted from the High Sierra than anything found in mostly dry and dusty Nevada. The gradually rising hills covered in sagebrush that characterize the Great Basin disappear almost immediately as you climb into forested Lamoille Canyon, heading south into the heart of the Rubys. With the desert out of sight, the path quickly ascends onto alpine ridges dusted with lupine. Mountain goats frequent the cliff-scattered sides of the surrounding peaks; the mountains themselves are capped with snow for most of the year, raising jagged summits to a clear blue sky. By day two, the climb into high-elevation meadows, broken occasionally with stands of evergreens, is complete, the sagebrush flats all but forgotten. With a high point over 11,000 feet, the range is tall enough to trap atmospheric moisture as it heads elsewhere, and supports a correspondingly vibrant ecosystem; not just mountain goats but also mule deer, mountain lions, pikas, beavers, and cutthroat trout. Wildlife, alpine views, and cloudscraping peaks: This hike has everything I could ever want.
Samantha Milner can be found exploring the mountains in northwest Montana from her home base in Kalispell. She thinks the secret to success while hiking is to carry a trusty hunting knife, a bag of brownies, and hot coffee at all times.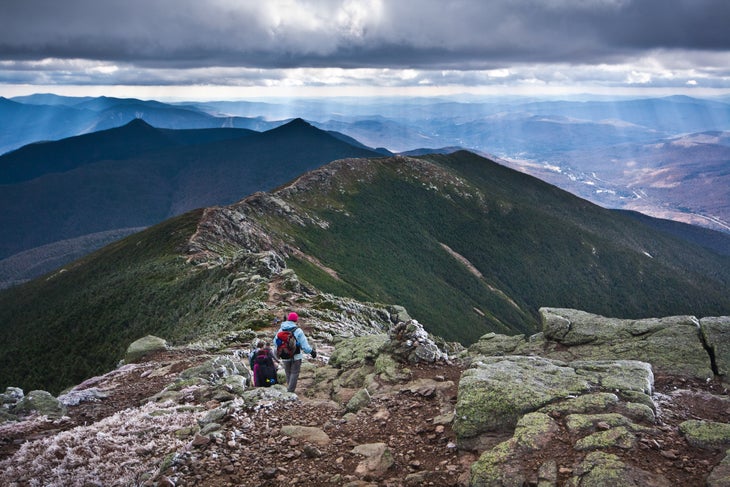 New Hampshire: Pemigewasset Loop
Length: 31 miles
Alpine ridges, sweeping mountain views, deep forest—this loop in New Hampshire's White Mountains has it all. The 31-mile circle of connected trails winds through the western portion of the Pemigewasset Wilderness, the largest such-designated region in the state. Huts, tent sites, and dispersed camping (check regulations first) offer a wide range of accommodations for backcountry travelers.
With eight peaks above 4,000 feet, the Pemi has a lot of climbing—just over 9,000 feet of it. From each summit, you can see the others you've already traversed. The high peaks of the Whites all around will distract you from the exertion. You can't see a single road or sign of civilization besides the backcountry huts on the entire loop; it really is wilderness. One particularly impressive stretch: Franconia Ridge and Garfield Ridge, where the trail stays above treeline for nearly 4 miles, surrounded by mountain vistas.
It's a tough trail, like many in the Whites, with steep, boulder-choked sections that head straight uphill. The positives, though—the views, the wilderness, the alpine camps—are well worth it. Experienced hikers can make it a winter trip, too, for utter solitude where the only sound is the wind whistling through the bare branches of the hardwoods.
Harry Lichtman is a self-taught professional landscape photographer based in Newmarket, NH. Backpacking adventures have brought him all over the world, but the White Mountains still provide some of the most challenging and inspiring terrain. He can often be found dipping Nature Valley bars in hot chocolate or oatmeal for his backcountry breakfast.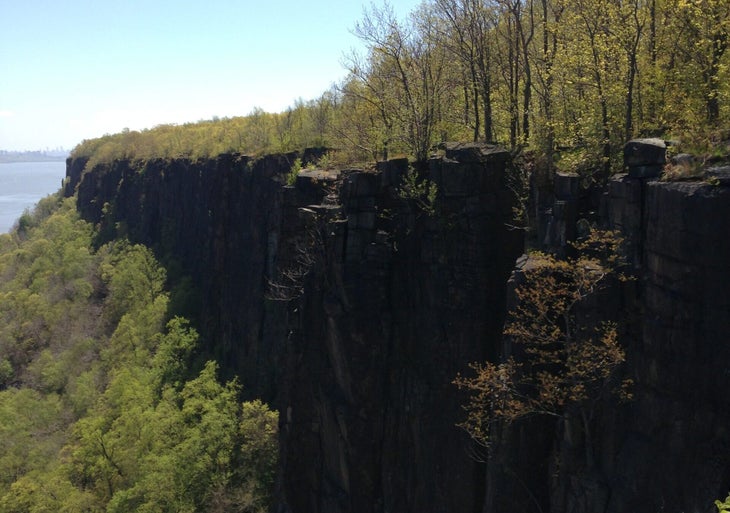 New Jersey: Giant Stairs
Length: 4.3 miles
Towering hundreds of feet above the Hudson River in New Jersey, just a few miles north of New York City, is one of my favorite hikes. Coming in at 4.3 miles, this trek through woods and high cliffs is the best way to spend an afternoon or even a full day in the area.
Giant Stairs trail begins right off the Palisades Interstate Parkway in Palisades Park. Things start off easy as you make your way toward the cliffs edge of the Palisades through dense deciduous forest, often accompanied by birdsong. After a third of a mile, make your way down to the shoreline of the Hudson, dropping through the cliffs themselves; beside the river you'll soon enter a scrambly talus field with panoramic views across the water. And while the trail does start in New Jersey, you pass a border monument on your descent, crossing briefly into New York before reaching a small waterfall.
The trail gets its name from years of erosion and rockslides that caused boulders—some the size of trucks—to fall from the cliffside. To complete the hike, scramble over hundreds of these rocks, some dwarfing the hikers that climb them. Stamina, concentration, and steady feet are all key, but finding a little bit of the wild in New Jersey is a delightful reward.
Richard De Fino is a New York-based writer and columnist. Having spent a year living in the Adirondacks, he loves exploring new hiking destinations with his family from nearby Hamburg, NY, and carries a mini notebook on every hike for jotting down observations and writing ideas.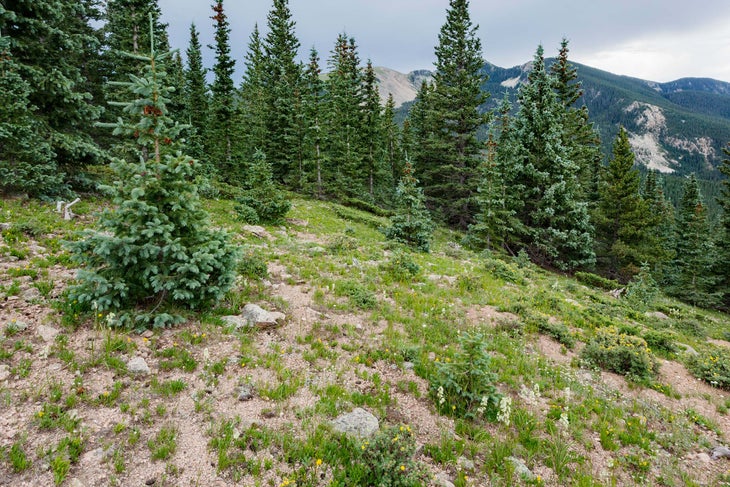 New Mexico: Lake Katherine
Distance: 13 miles
The high desert of northern New Mexico is more than agave, cactus, and sandy arroyos. It's also fringed by 12,000-foot peaks and glistening alpine lakes. Lake Katherine is one of the region's finest, tucked into the Pecos Wilderness below the sloping, rocky flanks of Santa Fe Baldy Peak. The 6.5-mile route to it starts just off the parking lot at Ski Santa Fe, and climbs up the Winsor Trail through conifer forest and aspen groves. After about 4 miles, the trail switchbacks up to the top of a saddle and intersects with the Skyline Trail, which then descends to reach the lake on the other side. Some folks hike or run the 13 miles and 1,500 feet of vert round-trip in one day. To each their own, but I say they're missing out. The area around the lake holds what is easily some of the state's finest camping (pitch more than 200 feet from the shore). If your legs are feeling spry in the morning, tag the summit of Santa Fe Baldy—roughly 2.5 extra miles and 1,000 additional feet of vertical gain. Loop down the opposite side of Baldy to rejoin the Skyline Trail, which takes you back down to the wooded Winsor Trail and your car. A weekend in the alpine cool is magic in a state that's mostly desert.
Ariella Gintzler is a senior editor at Outside magazine. She lives in Santa Fe, NM, and always bakes too much banana bread before a big hike.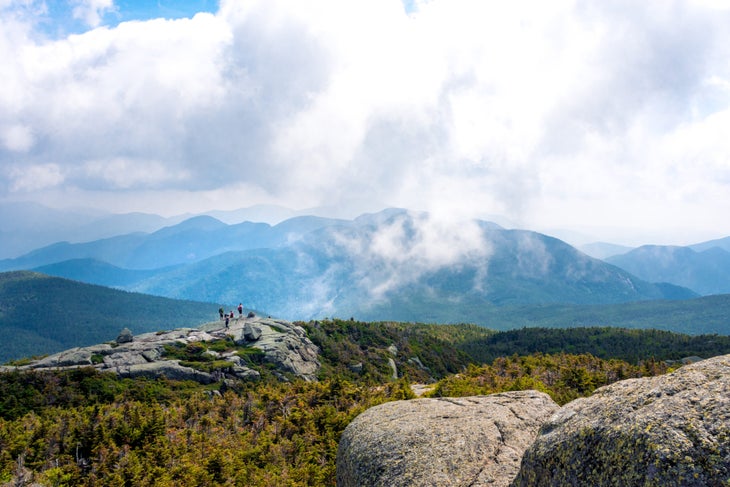 New York: Great Range Traverse
Length: 2o.7 miles
It takes most people years to bag all of the Adirondack 46ers (summits above 4,000 feet). But for the determined (or impatient), this lofty ridgeline loop will give you the best taste of what the range has to offer and allow you to tick off eight 46ers in one hike.
Starting in the dense, wet forests of Keene Valley, the Great Range Trail undulates higher and higher as it heads south. The first summits are tree-cloaked, with minimal views, but the trail eventually deposits you on mountaintops with glimpses over the forest and climbs to broad, craggy peaks speckled with alpine tundra, including 5,344-foot Mt. Marcy, the state's tallest. Done in its entirety (there are plenty of places to cut the hike short if you're looking for something less ambitious), the 20.7-mile GRT will bag you nine summits (including one non-46er) with nearly 10,000 feet of elevation gain, and deliver view after view of the High Peaks Wilderness and its rocky peaks, crystal blue lakes, and thick woodland.
Along the way, the trail is about as Adirondack as it gets: so steep that builders decided putting in ladders and rock steps up bare granite would be easier than switchbacks. Some sections are akin to a climbing pitch, with yellow blazes on the rock telling you to just go "up."
Pack light and complete the loop from the Rooster Comb parking lot to The Garden in a day (they're close enough together that you can walk from one to the other without needing a shuttle car), or take advantage of the plentiful campsites along the way. While you'll need to drop off of the ridge for most camping (aside from an established tent site between Basin and Haystack mountains), the hike down after summiting Marcy passes a slew of lean-to shelters (first-come, first-served) that you can take advantage of before finishing up.
Even once you're off the ridge, the trail passes through meadows and along babbling streams. There are plentiful spots to cool your feet in the water before finishing the mellow-but-rolling hike out, already well on your way to becoming an Adirondack 46er.
Ryan Wichelns grew up just south of the Adirondacks and credits his passion for hiking, backpacking, ice climbing, and mountaineering to the High Peaks he spent every weekend in. Now, having lived in four different states and visited countless others, he still has a hard time calling any range but the Adirondacks home. He lives in Ridgway, CO.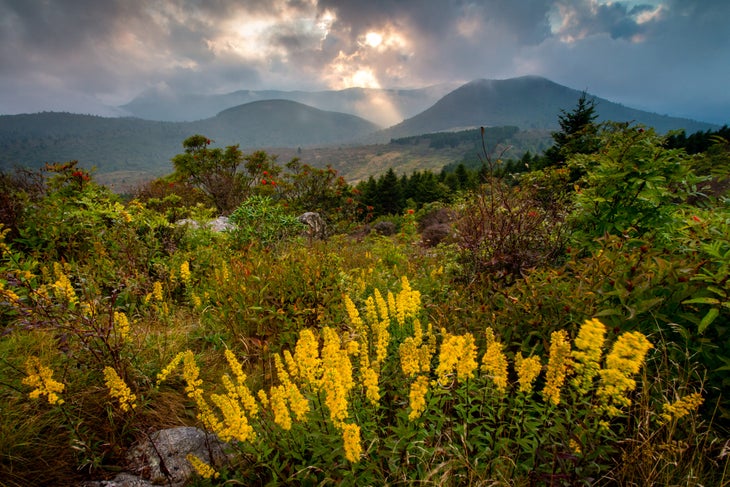 North Carolina: Art Loeb Trail
Length: 30.1 miles
So you want to experience the entire Appalachian Trail, but only want to take a single Friday off work? Some might say you're asking for too much. We say we've got just the hike for you.
A popular trial run for soon-to-be thru-hikers, North Carolina's Art Loeb Trail is a cherry-picked sampler of the best the AT has to offer. In just 30 miles, you'll cross vast highlands, duck through rhododendron tunnels, and teeter atop cliffs that launch soaring views across miles of hardwood canopy. You can complete the Art Loeb in two days, but most hikers choose to do it in three—with over 9,000 feet of vertical gain and nearly as much loss, it's as good of a sampling of the AT for your quads as it is for your peepers. But the burn isn't for naught: The Art Loeb summits a number of knobs and peaks—including three over 6,000 feet—which means you'll never be long without a view.
Corey Buhay learned everything she knows about backpacking in the hills of North Carolina. She now lives and writes in Boulder, CO, and eats trail pad thai at every opportunity.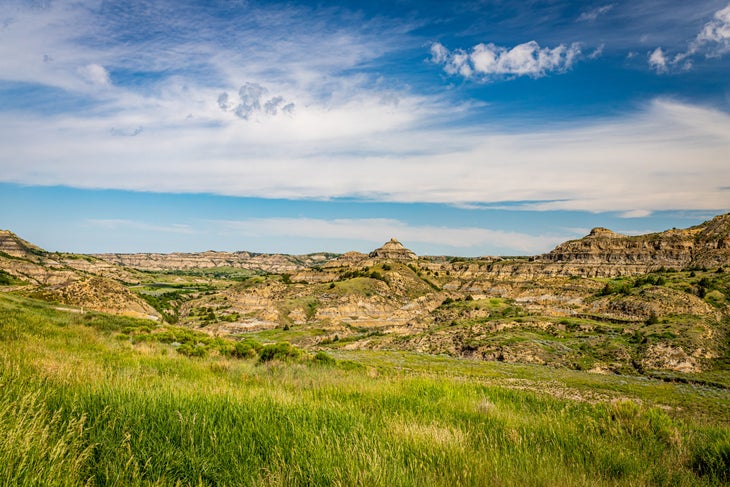 North Dakota: Maah Daah Hey Trail
Length: 144 miles
I read about the Maah Daah Hey in Backpacker several years ago. When I finally visited North Dakota last year, I didn't have the kind of time you need to hike its entire 144 miles point-to-point, but I wanted to experience a few nights on the open prairie. I decided to do a 30-mile out-and-back to see what it was like. After obtaining a free backcountry permit in Medora, I set off, walking through Cottonwood Campground and fording the Little Missouri River to join the trail. Nothing screams adventure like crossing a river with a majestic bison herd nearby. Once I got to the other side, it felt like entering another world. Those first few steps were a door to untamed nature—the rich, sun-drenched, vast Badlands. It was instantly the ultimate wilderness for me.
The trail is well-marked with posts, but gets more overgrown the farther you hike. I headed along the river for about 2 miles to my first primitive campsite. That evening, I set up my tent on top of a hill overlooking the river, perfectly situated to watch the bison families grazing down below. I gazed up at a crescent moon and the Milky Way through my rainfly-free tent as I slowly fell asleep amidst a deep silence.
The next day, I woke at sunrise and started a 12-mile trek to my next and last campsite. The terrain provided little to no shade or water, but the views were magnificent: eroding hillsides with elk trotting on their ledges, horses, and swaying grasses, all backed by the sweet scent of sagebrush. I couldn't resist inhaling deeply. The elevation gain wasn't bad, either, except for a few switchbacks before my second camp, this time nestled among fragrant shrubs and wildflowers. I backtracked my steps the next day, and while I only spent a few days roaming the prairie, the bliss of solitude and feeling of raw adventure will stay with me forever.
Alina Stobiecka is originally from Krakow, Poland, and now lives in Bellingham, WA. "My uncle, back in Poland, got me into the outdoors as a little girl," she says. "We walked in the woods every Sunday, and it ignited my passion to see more of nature. It delivers a sustainable stoke that other things just  don't."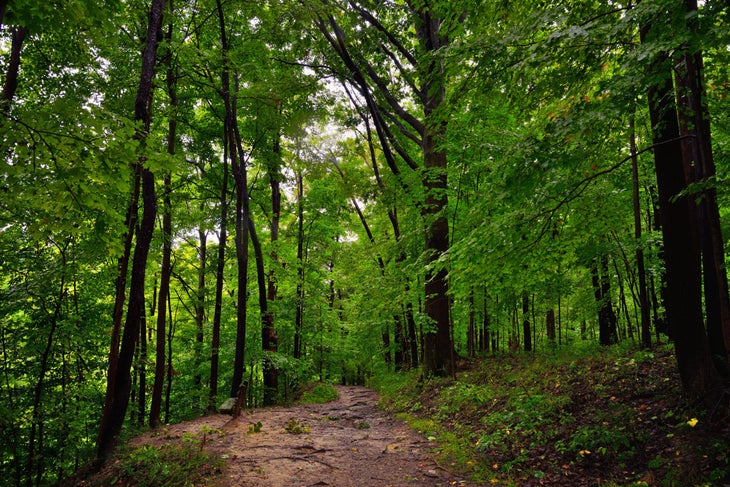 Ohio: Wildcat Hollow Trail
Length: 17.2 miles
"I'm fishing for people, man," said a voice in the trees. Ahead of me, hanging at eye level over the trail, was a marijuana-packed glass pipe on a string.
"Right on, dude," I said as my partner and I hiked past. "Good luck." In another hundred yards or so, where the trail arched left along a creek, a group of nudists held hands and lazed about on the water's edge. My friend and I exchanged glances, giggled, and hiked on. At less than a mile from the trailhead, it was an auspicious beginning to what would become my favorite backpacking trip in my home state of Ohio.
I was an adventure recreation major at nearby Ohio University in Athens, and I spent a lot of time wishing I was somewhere else. I loved OU and my friends, but yearned for high, rocky summits and true wilderness—what corn- and soy-blanketed Ohio lacked. Along the Wildcat Hollow Trail, I found something darn close: a corrugated topography of steep hillsides, sedimentary rock cut by clear creeks, valleys like grand halls, dreamy campsites, and—aside from that Rainbow Gathering near the trailhead—no other hikers. It felt a lot like that somewhere else I craved.
There are two loop options: a 5-miler perfect for a leisurely dayhike (use the Wildcat Hollow Connector Trail) and a 17.2-mile jaunt that slots well into a weekend. We hiked the Wildcat Hollow Trail counter-clockwise, starting in a wide valley of beech and oak laced with shallow creeks. About 2 miles in, the trail rose into the pines. At just over 1,000 feet, it leveled off, and we rambled along an honest-to-God craggy ridgeline with intermittent views of the surrounding quarter-million-acre Wayne National Forest, the only national forest in the state. We passed an amazing campsite on a jagged highpoint too early in the day (go counterclockwise, and you'll arrive right on time) and continued on, losing elevation until we reached a wide valley with towering trees and dappled light and made camp, a throne in a huge castle of trees.
Our hike out the next morning was easy. Of course, we took it slow after an extended breakfast to savor every remaining step.
Shannon Davis is editor-in-chief at Backpacker and lives with his son, black lab, and several chickens outside of Lyons, CO, where he's also a volunteer firefighter. He regrets not packing enough sour gummy snacks on most trips. But not socks: "Whether on Denali or in Wildcat Hollow, I always pack three pairs, rotating between two and keeping one sacred. Sacred socks are for sleeping, chilling, and emergencies only," he says.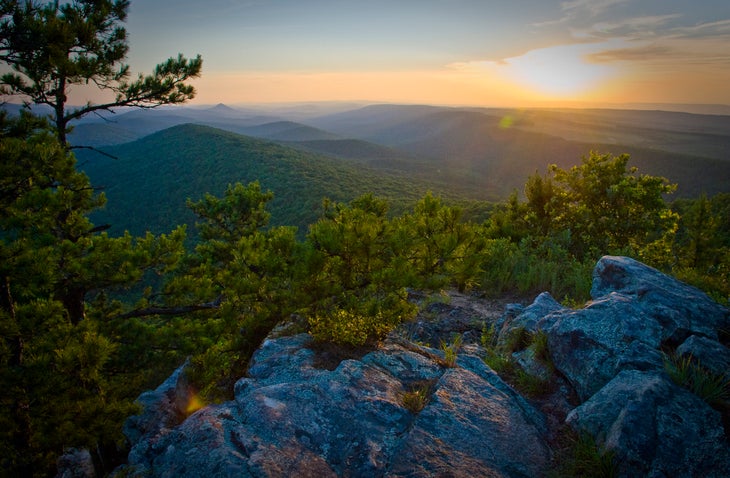 Oklahoma: Ouachita Trail
Length: 192 miles
The Ouachita Mountains in southeastern Oklahoma are, depending on your perspective, either the beginning or the tail end of the Appalachian Mountains. It shouldn't surprise you then (but probably still does) that this corner of the state is a roller coaster of hills—we call them mountains here—that, at their highest, reach nearly 3,000 feet in elevation.
The knobby peaks are girded with dense stands of pine, oak, and hickory that in autumn paint a picture of reds, oranges, and yellows so vivid they would have Monet itching for his brushes. Buffalo and elk once roamed the valleys, but today it's black bears and white-tailed deer that spring up from the tall grasses. Cold creeks slice the valley with rushes of clear water. My great uncle Blackey had a still in the hills until the sheriff found him, and they shot it out. He's buried out there—not a bad place to spend eternity.
Today, the Ouachitas boast the 192-mile Ouachita National Recreational Trail that also arguably begins or ends in Oklahoma, near the town of Talihina, and runs east into Arkansas. While the Ouachitas aren't as rugged and raw as the Rockies or as endless as the Great Smoky Mountains, they are steep enough to drain your tank—the trail has 34,000 feet in elevation gain—and provide plenty of "oh wow," moments. Here, too, you'll likely be by yourself: Backpacker once ranked this trail third for solitude for long-distance trails—only about 50 hikers a year trek the entire distance. Better still: Twenty-one log shelters dot the trail and are spaced about 10 miles apart, although you can camp just about anyplace along the route. Hiking here as a child made me a life-long adventurer.
Duane Raliegh is the editor-in-chief of Climbing (a sibling publication of Backpacker). He recently moved from Carbondale, CO, to Asheville, NC, to rediscover deciduous forests and explore the area's wealth of rock climbing.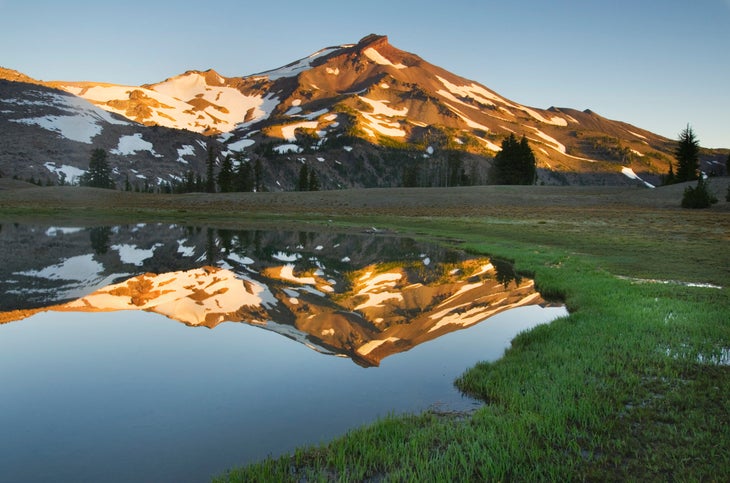 Oregon: Three Sisters Loop
Length: 48 miles
No one is better at lending a fresh perspective on your own backyard than an out-of-state hiker. My sister, who lives in Colorado, had been pestering me for years to hike the Three Sisters Loop in central Oregon—an area I had purposefully avoided for roughly a decade. The 48-mile circuit circumnavigates the alpine "Sisters" (North, Middle, and South), linking several different trails (including the Pacific Crest Trail) as it passes by 9,180-foot Broken Top, a stratovolcano, and offers plenty of blue-green lakes in between.
But as a jaded Oregonian, I knew the Three Sisters Loop was as crowded as trails could get in this region, owing to its proximity to Bend and my hometown of Portland, just three hours away. But when my sister showed up at my doorstep, I dutifully packed my bag and started the drive south with her to the Pole Creek trailhead. "I'm so sick of crowds," I complained as we organized our gear, eyeing the parking lot full of Subarus. "You've never even done this hike!" she pointed out.
The moment we turned onto the Green Lakes Trail and began heading south, my agoraphobia melted away: The massive Hayden and Diller glaciers loomed from the craggy faces of Middle Sister, while subalpine evergreens dotted the path between clear lakes. If there were crowds, I didn't notice them as I jumped into the bracing cold of Moraine Lake and, later, Green Lake, surrounded by ash-gray peaks and its source, the Lewis Glacier, 2,500 feet above.
Still awestruck, I didn't even mind the assembly line of dayhikers filing up and down South Sister, the tallest of the group, during our off-day summit bid—a 7-mile- roundtrip addition. As we reached the peak, passing the Gatorade-blue Teardrop Pool (the highest-elevation body of water in Oregon at roughly 10,000 feet), it seemed like the entire state spread out in front of us: The other two Sisters and Broken Top stood dramatically in the foreground, with Bachelor, Jefferson, and Hood dotting the horizon. It's the trail's busiest stretch, but it's also a view that everyone deserves to see.
On our final day, we stepped off the PCT for a quick detour to North Matthieu Lake, passing through burn scars from the 2017 Milli Fire. As I towelled off next to the turquoise pool, my sister smiled and pointed all around at one thing we couldn't see: anyone else. We'd found our solitude.
Benjamin Tepler is Backpacker's assistant gear editor. He lives in Middlesex, VT and says his biggest weakness as a hiker is a horrendous sense of direction. He carries a map, compass, and GPS unit everywhere he goes.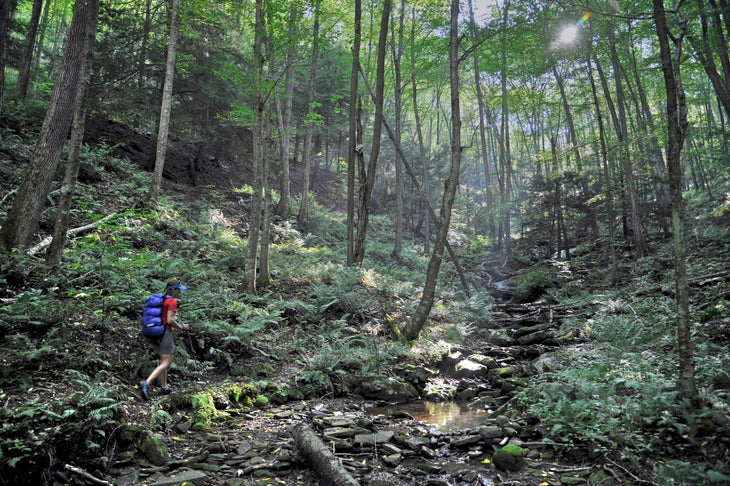 Pennsylvania: Mid State Trail
Length: 327 miles
The Mid State Trail is a lot of things. It's often steep. It's wet even when you don't recall recent rainfall. It's overflowing with vegetation. It's crazy rocky. (There's a reason Appalachian Trail thru-hikers refer to the state as Rocksylvania.) But above all, it's the most beautiful backcountry I've ever hiked in. The 327-mile route blazes through the center of the state, connecting the Maryland and New York borders.
The trail is divided into four sections: Everett (the southernmost, with dramatic views and demanding inclines along Tussey Mountain), State College (the trail's birthplace and most highly-trafficked section), Woolrich (the least-traveled section, going through Pine Creek Gorge, or the "Pennsylvania Grand Canyon"), and Tioga (which winds through low hills and dense forests).
"The MST lets you experience the most concentrated version of all the wild places in Pennsylvania in one trail," Chris Sommer, a State College local who currently holds the trail's fastest-known self-supported time, once told me. I couldn't agree more.
My favorite memories (I've hiked State College most) take place in  early summer, when the forests have new life but before the air gets muggy and buggy. It always seemed so easy to have the time of my life here.
Natalie McCollum, originally from Philadelphia, PA lives in Boulder, CO. She got into hiking by joining the Penn State Outing Club. She calls the outdoors "the ultimate low-maintenance friend who will always be ready to pick up where you left off."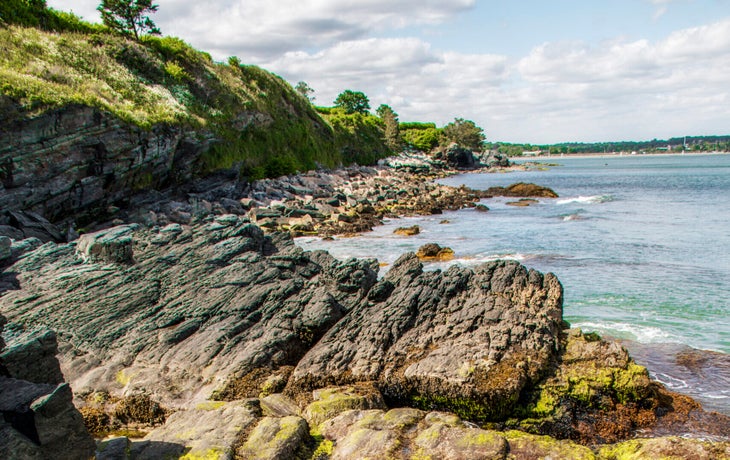 Rhode Island: Cliff Walk
Length: 3.5 miles
It might be the smallest state in the nation, but Little Rhody has 400 miles of coastline to explore, and the Cliff Walk covers the very best of that. New England's first designated National Recreation Trail straddles wild Atlantic seashore and refined society as you walk between crashing waves and opulent 19th-century mansions, with non-stop views on either side. Sections on the northern end of the trail are paved, making it accessible to explorers of many ages and abilities, while the southern end offers light scrambling over the jagged metamorphic rocks riddled with quartz veins. Don't let the paved section fool you: Hikers can get plenty of thrills near Rough Point, where steep dropoffs provide vertigo-inducing exposure above the crashing surf. Between the feel of salty spray on your face and full breaths of that ocean smell, it doesn't get more Rhode Island than this.
Zoe Gates lived in Providence, RI for four  years before moving to Boulder, CO to work as an editor at Backpacker. While she loves exploring the Rockies, she misses Rhode Island's proximity to water, tight-knit outdoor community, and unparalleled doughnut scene.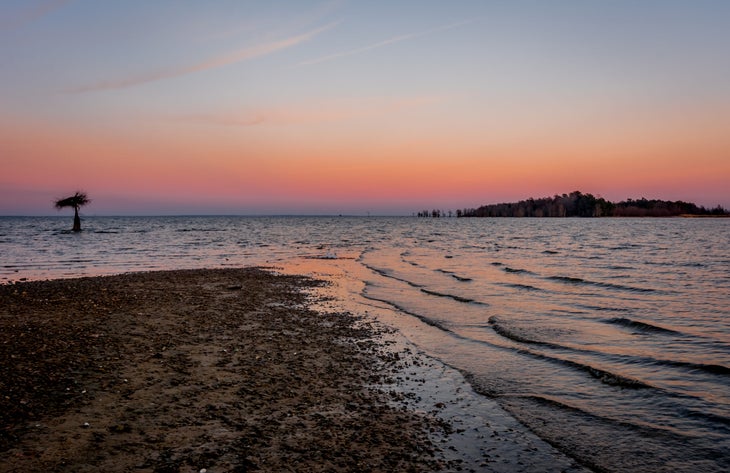 South Carolina: Palmetto Trail
Length: 26.7 miles
The Lake Moultrie Passage of the Palmetto Trail courses through the area where I grew up, and my love of the Palmetto is very personal. It's both home and a source of adventure. Many South Carolina hikers beeline to the higher country, but that leaves lowland hikes like this one crowd-free for the rest of us. Just the way I like it.
Most of the trail is atop a dike, giving you a bird's-eye view of the 60,000-acre lake and a spacious, sweeping feeling. The trail is flat and hard-packed, making it great for many abilities. Hurricane Hugo decimated this area in 1989, but it's coming back nicely: Oak, loblolly, poplar, willow, maple, and sweetgums make for an interesting forest. On the northern section, the trail is often overgrown and requires some navigation. There's a lot of wildlife, from bobcat to deer, and you can even spot gators along the northern end of the lake and at Sandy Beach. My favorite campsite is near there, at mile 18. It's tucked into an oak grove, has a wonderful sunset view, and is great for hammock camping. What an easy escape.
Russell Jolly lives in Columbia, SC but grew up in Moncks Corner near Lake Moultrie. During the early days of the pandemic, he started a hiking club "as a way to be social outside with people around Columbia."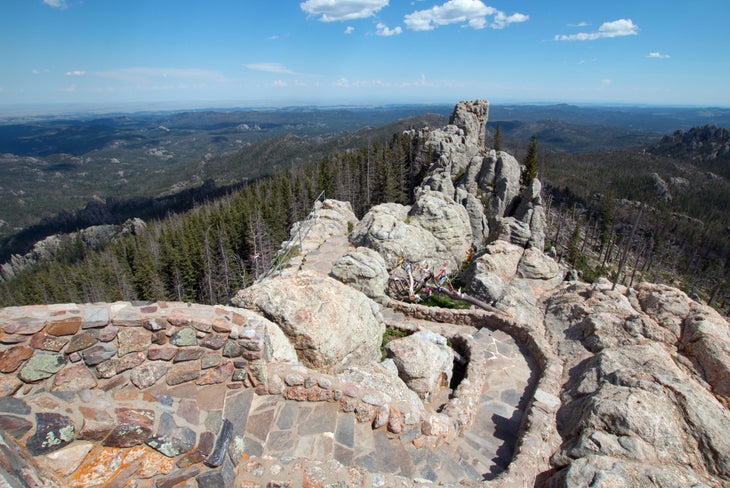 South Dakota: Black Elk Peak Loop
Length: 7.1 miles
We have a family tradition of camping on Labor Day, and for many years our destination was Rocky Mountain National Park. As time passed, my family and I began looking for a change, and I got a hot tip about South Dakota's Black Hills. That year, after some requisite tourist attractions, we headed to Custer State Park. As soon as we saw glassy Sylvan Lake, we knew we had found a little paradise. We started spending our holiday there, fleeing the crowds in exchange for something less-visited.
Camping near Sylvan Lake, paddle boarding, fishing, and having the ability to peakbag 7,244-foot Black Elk makes it such a special place for us. The trail to the peak, while not a gimme at 7.1 miles, gains just 990 feet and is doable for the whole family. A stone fire tower sits at its summit with top-of-the-world views. Camp or get a cabin at Sylvan Lake and stay to explore offshoot hikes into the Cathedral Spires and Little Devil's Tower. The granite pinnacles here are mind-melting. Following advice to explore this mountainous pocket of an otherwise prairie-covered state is one of the best things I've done.   
Gregg Larson lives in Boulder, CO with his wife and two children. While hiking in Canyonlands National Park several years ago, he had an epiphany: "I needed to get in shape.  It was the most powerful feeling I have ever had to do something," he says. "I started running,  lost 30 pounds, and ran a half marathon in Moab!"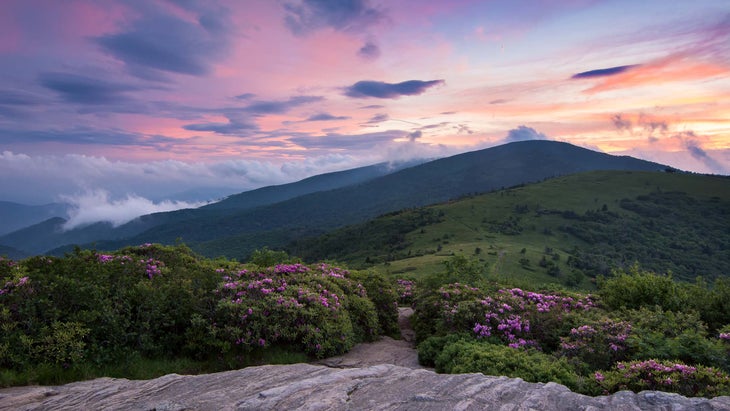 Tennessee: AT Through Roan Highlands
Length: 15 miles
The Roan Highlands' scenery is so standout that it inspired the formation of the Southern Appalachian Highlands Conservancy (SAHC). This 15-mile section of Appalachian Trail traversing "The Roans" from Carvers Gap to Highway 19E has solidified itself as my favorite hike in Tennessee. Truth be told, it's my favorite North Carolina hike, too, as it wanders across the neighboring states' borders. I do this trip as a point-to-point with an arranged shuttle.
Spring brings an ephemeral green to the mountains, and summer shows off an otherworldly azalea garden. Autumn needs no introduction in Appalachia; it's the best leaf show in the country. And, if you're into winter adventuring, the road to Carver's Gap provides relatively easy access year-round.
In any season, I hike for the views, and they start as soon as you step out of the car at Carver's Gap, where the AT welcomes northbound hikers with a lollipop top-out of 5,826-foot Round Bald. I always bask on this easy summit before motoring through Engine Gap and up the impressive, 5,807-foot Jane Bald, then Grassy Ridge Bald at 6,184 feet, where I spend the first night awestruck by its evergreen fringe.
Day two leads me northbound on the AT, past the Stan Murray Shelter, named in honor of the SAHC's founder. At the next intersection, I detour a quarter-mile down to the Overmountain Shelter, better known as "The Barn," to relax and water up. Although overnighters can no longer stay inside the infamous shelter, which was deemed structurally unsound, the pastoral setting is perfect for lunch and is my last shot at a sit-down privy.
Then the trail rambles to the base of Big Hump Mountain. There's a shelter near a spring in the trees, but, again, I'm in it for the views, so I often opt to camp on top and schlep up enough water for dinner and coffee the next morning. The summit is a photographer's dream and worth the extra effort and exposure. After Big Hump, it's all downhill, as they say, save the obligatory break at the bucolic Doll Flats campsite.
The last day is a beast: It's a steep finish, but at the end lies The Station at 19E, my carrot on a stick. This legendary AT institution offers shuttles, showers, lodging, a restaurant and bar, and a concert venue. The owner's trail name is "The Dave"; I always look forward to seeing him and having a hot meal and cold beverage before heading on home.
Steven Reinhold is a Backpacker ambassador and lives in Asheville, NC, where he runs The Appalachian Adventure Company. On every hike, he carries a zip-top bag with a photo of his wife and a notepad on which to record his "hypoxic summit epiphanies."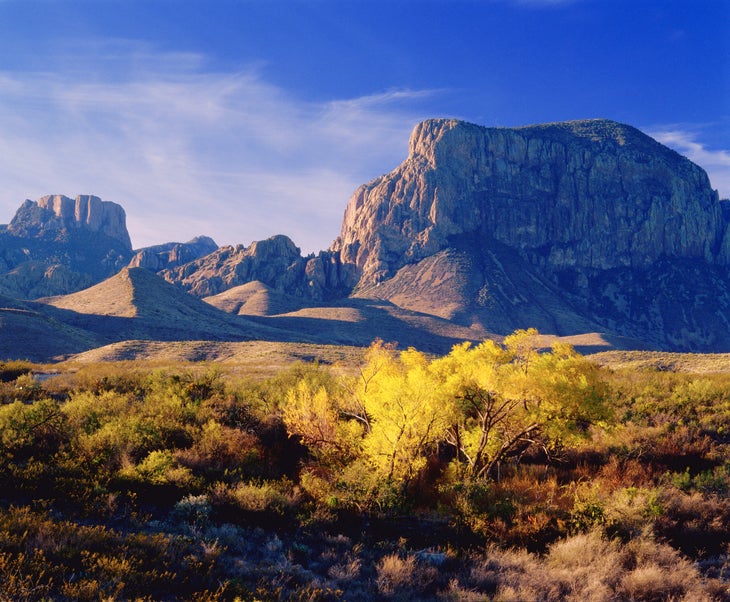 Texas: South Rim Trail
Length: 12.6 miles
You think Texas is flat and boring? Tell me that after backpacking the precipitous South Rim of Big Bend National Park, with views over the distant Rio Grande 6,000 feet below and far beyond into Mexico. The Chisos Mountains create a rugged sky island of piñon, oak, and juniper forest in the heart of the park, cool and distinct from the desert below. A rim lined by cliffs hundreds of feet high crowns the southern and eastern sections of the mountains.
Fortunately for hikers, the Civilian Conservation Corps built an extensive system of trails in the 1930s that leads into the Chisos high country. Backcountry campsites dot the mountains, many located only a few feet from the rim. The sites are rightfully popular (reserve them a few months in advance). The best way to see the park's premier trail is to backpack for one or two nights. The main loop is 12.6 miles long with a net elevation gain of about 1,900 feet. Start at the Chisos Mountains Lodge, hiking up the Pinnacles Trail. Descend the less-steep Laguna Meadow Trail on the way down to save your knees. Get an alpine start, and you'll make the entire sweaty climb to the 7,000-foot saddle between Emory Peak and Toll Mountain in the shade. At the saddle, consider dumping your pack in the bear box and doing the Emory Peak spur trail. You'll not only get extra credit for the 1.5-mile spur with its 800 feet of gain, but you'll reach the summit of the range's highest peak and get views so vast you'd swear you can see the curvature of the earth.
Back at the saddle, drop slightly into Boot Canyon, a sheltered defile with big-tooth maples, smooth pink-barked madrone trees, tall pines, and Arizona cypresses. Some trees burned in a 2021 fire, but many remain. From Boot Canyon, resume the climb to the South Rim. Be careful: Because of the views, rubbernecking here may literally trip you up. After soaking in the scenery, descend the mostly wooded Laguna Meadow Trail back to the lodge trailhead with a whole new appreciation for Texas.
Laurence Parent is a photographer and author living in Austin, TX. He credits his love of the outdoors to his parents, Hiram and Annette, who took him camping as a child.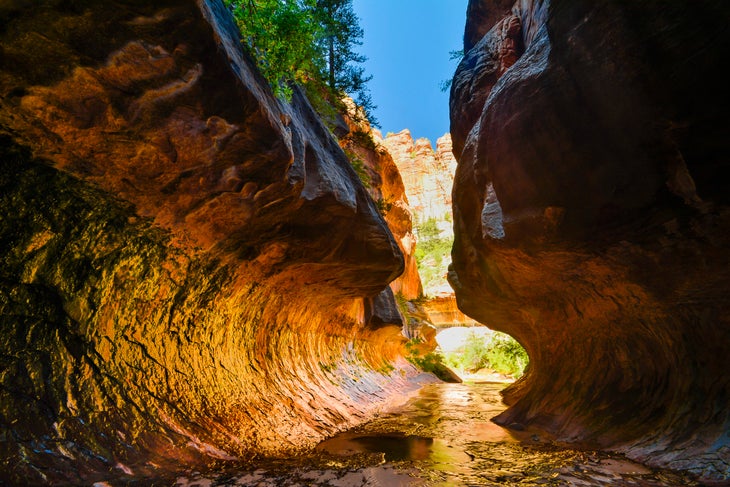 Utah: The Subway
Length: 8.2 miles
I like to do the hardest hike in each national park I visit. Angel's Landing was on my list at Zion, but it seemed too popular to truly make the cut. So my three friends and I decided to try the Subway, a more remote and challenging alternative to the uberpopular Zion Narrows. I have some canyoneering experience, but others in my group didn't, so we did it bottom-up as an out-and-back. (If you do it top-down, you have to rappel.) 
From the parking area, we descended a very steep grade and hung a left at the river. There is allegedly a maintained trail, but the river floods it enough that you're not following a trail, exactly, but rather the path of least resistance. We tried to stay out of the water to start, but ultimately it was easier to wade in the ankle-deep flow. At about 4 miles, there are some cascades that everybody takes pictures of, but in another 15 minutes or so, you hit the real show: the namesake feature. It really is just like a subway tube—a 30-foot diameter hollow in the canyon walls. One of my friends was so excited he jumped in a nearby deep pool despite the October chill.
The route wasn't as challenging as I expected, especially hiking it from the bottom-up, which doesn't require technical gear. Still, the Subway isn't trivial, and we were rewarded for our careful preparations—and lucky to get a permit. 
It was a comfort to use Gaia GPS to mark our car and a critical—and easy to miss—hard right turn on the way out. We nailed it. I often hike alone, but I loved sharing this experience with my group.
Teddy Yeh lives in San Francisco, CA, and is a rock climber obsessed with lists. "I research ideas like California county high points or the hardest hike in each national park, then make lists and start ticking them off whenever I don't have climbing plans," he says.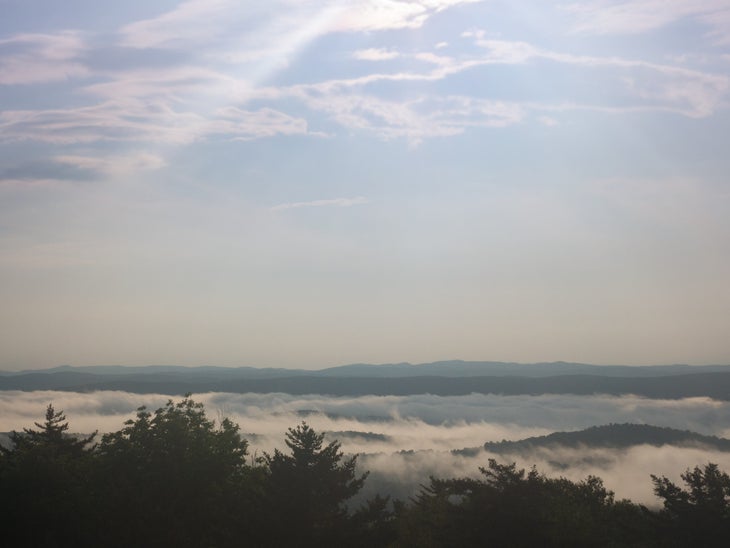 Vermont: Camel's Hump
Length: 5.8 miles
Most days, I wear a silver topographic map of Camel's Hump around my neck. The circle pendant is an anchor to my home state of Vermont, and a calling back to the best trail it has to offer.
Atop the 4,083-foot summit, you are lost in a sea of the Green Mountains, with the Adirondacks to the west, the White Mountains to the east, and 4,229-foot Killington to the south. Most hikers take the Burrows Trail, gaining more than 2,500 feet of elevation  through just one of a handful of alpine tundra zones in the state. The top delivers 360-degree views of conifers and dense foliage. It's one of those hard-but-not-too-hard trails, with a rewarding little scramble to the peak.
The mountain was originally called Camel's Rump—a name that stuck on the summit marker— for the distinctive shape of its ridgeline, and is threaded by the 273-mile Long Trail, which leads from one end of Vermont to the other. It's the third-tallest mountain in Vermont, but perhaps the most iconic, as its silhouette has been memorialized on the back of the Vermont State quarter and countless paintings and photos of the state, especially while surrounded by the pink pre-sunset sky.
For me, this is the hike that stands above all others, the hallmark of my days getting my footing as an adventurer. I've done it several times, including on a field trip in fourth grade (as one does growing up in Vermont). But the mountain left me winded when I went with some University of Vermont friends. I was out of shape and they carried on without me. After years of stagnation and binge-eating, I returned, realizing that to continue as a hiker, I needed to get to the top.
After months of training, I did so on a sunrise hike on the eve of my 31st birthday, a headlamp lighting the way as I hiked up on a solo mission, starting in darkness until the sky and towering trees revealed themselves to me. It was still early morning when I reached the top. There were no cell phones then, so I had to ask a mother and daughter who had hiked up to the top with their dog to take my picture.
That summit was my turning point amid the boundless bounty of the outdoors in the state I will always call home.
Kara Richardson Whitely grew up in South Burlington, VT and now lives in Summit, NJ.  She started hiking because: "It's the opposite of what life was like in the throes of a binge eating disorder, which was pushing everything away. Nature helped me through the most difficult and beautiful experiences." Hot tip for this hike: "Bug spray is your BFF, as the black flies can be vicious."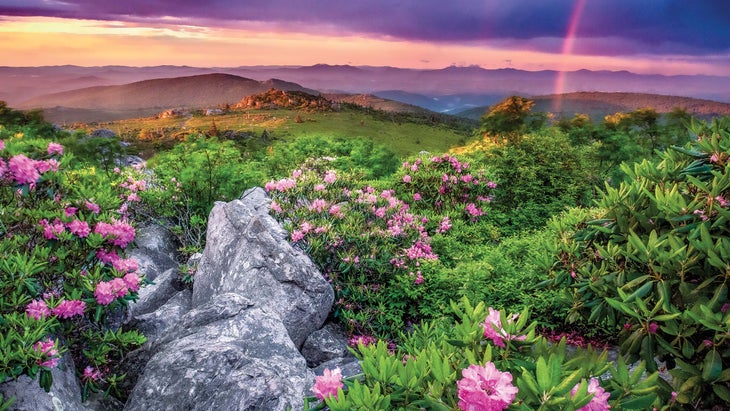 Virginia: Wilburn Ridge Loop
Length: 5.1 miles
As an adventurer and photographer, I often feel the South's gems aren't as celebrated as others around the country. I've seen a lifetime's worth of beautiful places and people, and I want to herald a place that's special beyond any words I could write.
I grew up moving around a lot, and my family settled in the South when I was 12 years old. Home to me, though, is more of a feeling than a location. It's when time slows down. There's something romantic about finding a place with that feel in the South. As a person of color, though, it's hard to grapple with the history of this region. That makes it all the more important to reclaim the South with joy and my own presence for the many who never felt comfortable to go, and for the many who may still feel that they cannot.
One of those places for me is Grayson Highlands, where nature reaches out to touch your soul in a beautiful way. I had heard about it many times and convinced a friend to visit with me so I would feel safer out of cell service. I was excited about seeing wild ponies in the hills off the Appalachian Trail, in an area where there's also rock climbing. I went and have returned again and again. Wilburn Ridge is an ideal loop.
That first visit began with an early morning departure from Chapel Hill. Entering the park amid rolling fog, we soon rose above the clouds. As we left the Rhododendron trailhead, there was a dewiness where the forested trail opens to a high meadow. The ponies were there, and a few had just given birth. They laid in the grass as we took long moments to take each other in. It was peak spring, and wild blueberries were ripe for the picking as we walked further. I felt like a child in a dream.
That first idyllic visit made me want to share the place with others, so I go back and take new people to experience it, reliving it through their eyes. First, with my brother in the winter as it snowed, and most recently with friends of color who never thought that deep Appalachia would be a place for them. Their smiles and awestruck faces are as beautiful to see as the landscape itself.
L. Renee Blount lives in Oakland, CA, and works as a creative consultant for several outdoor brands.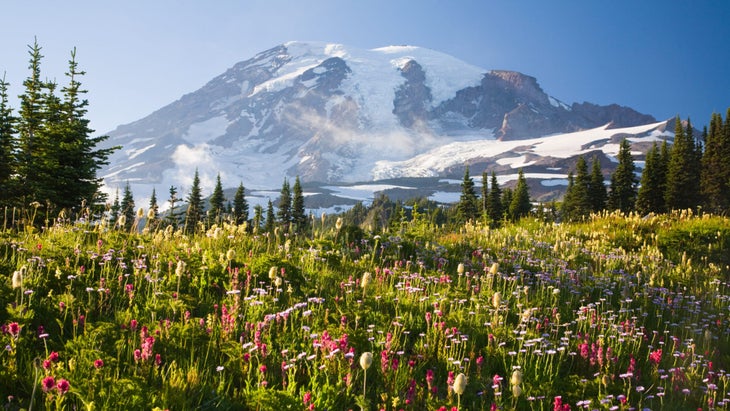 Washington: The Wonderland Trail
Length: 93 miles
The outdoors are where I feel the most like myself. So, when a heart condition sidelined me from adventure in 2016, I was devastated. The following year I got a pacemaker and was able to rediscover running, my greatest joy. On runs, I'd think of a line from a Mary Oliver poem: "Tell me, what is it you plan to do with your one wild and precious life?" Well, I decided I'd hike the Wonderland Trail.
I wanted to do something difficult, and at 93 miles, the Wonderland Trail is pretty demanding. I also liked that it was said to be well-marked, well-maintained, and to have plenty of water sources. (I need about six liters of water on a normal day to keep my blood pressure up.) Also: It's just so darn gorgeous.
When I finally set off, I had so much gratitude for what my body and heart were able to do. I thought about that instead of my pack's weight or the steep grades. At one point, in Spray Park, I sobbed for half an hour, overcome with the natural beauty and my ability to be within it. Then, on day four of my five-day itinerary, lightning struck. Literally. I was knocked unconscious, and when I woke the trees were on fire. [Ed. note: Hear Ingram's full story on Season 3, Episode 1 of our podcast, Out Alive.] I ran. I pushed the SOS button on my SPOT device, then I hit my knees praying for help. Twenty-five minutes later, a torrential downpour moved in. It extinguished the fire, and I was able to complete the last 10 miles of trail the next day.
On the way out, about 2 miles from the trailhead, I saw a girl starting her Wonderland hike. She had an enormous pack and was crying. I told her, "You are embarking on a life-changing journey. You've answered the call, and you can do it." How beautiful is that, to come full circle?
Stephanie Ingram grew up in Colorado, Utah, New Mexico, and Oregon and now lives with her husband and five children outside Indianapolis, IN. Her dad got her into hiking. "He's done a ton of big trips, and he taught me that backpacking is my ticket to staying outside as long as possible," she says.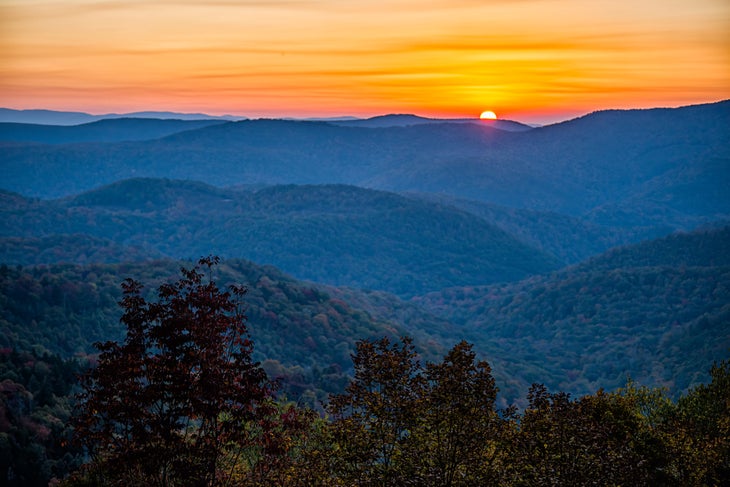 West Virginia: North-South Loop, Cranberry Wilderness
Length: 18 miles
I grew up in a town called Shadyside, staring across the Ohio River into West Virginia. Ohio seemed pretty benign compared to the adventure potential to the south. I finally started exploring "West By God" in earnest during college and never stopped. I loved the Dolly Sods Wilderness Area, Spruce Knob, and North Fork Mountain. Each of those areas take you to weather-beaten terrain that feels like northern Maine or even Alaska, with stunted pines, bogs, and open meadows and mountaintops. But it's the Cranberry Wilderness that's lodged itself in my brain as the state's finest.
At 47,815 acres, it's the biggest wilderness area in the state. Also, it's far less trafficked than my other favorites, and the trails, even on this 18-mile loop, are practically game trails in spots. (Bring your GPS.) The Cranberry is another world, like a rainforest with a dense understory. My last trip here, I spent three nights. I could have moved faster, but it's rugged, and really, this kind of out-there feeling isn't something to rush through.
Glen Crippen lives in Athens, OH with his wife, two young children, and two dogs. His favorite trail snack is Vienna sausages. [Ed. note: we've literally never met anyone who likes these.] His most embarrassing trail moment? "Another hiker, an older gentleman, curious about what he heard in the trees, hiked toward the movement to find, uh, me heeding nature's call."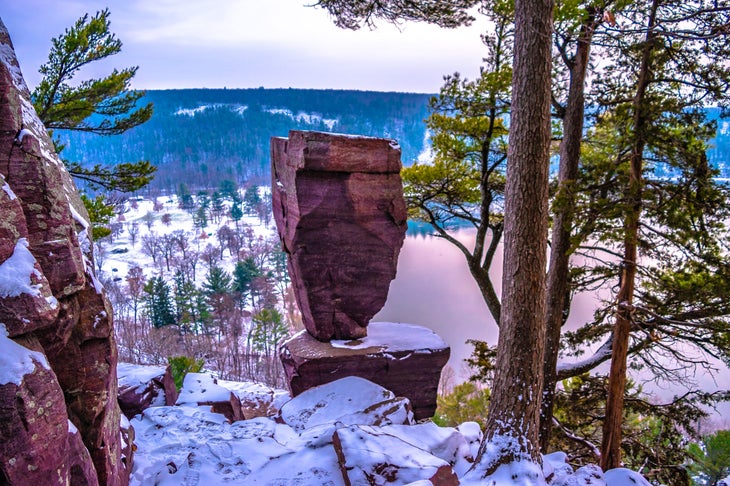 Wisconsin: Ice Age Trail Through Devil's Lake State Park
Length: 14.5 miles
If there's one trail that both epitomizes Wisconsin and smashes stereotypes about it, it's the Ice Age National Scenic Trail through Devil's Lake State Park. I've visited every one of Wisconsin's 72 counties and hiked trails in most of them, and the Devil's Lake segment of the IAT is unparalleled for both scenery and challenge—it's difficult, but still doable for fit beginners.
This place offers a peek at the best landscapes Wisconsin has to offer: open prairie filled with wildflowers in the summer; stands of hardwoods ablaze in reds, oranges, and yellows in fall; and quartzite cliffs rising 500 feet above the lake.
Start this two-day, 14.5-mile trek at the southern trailhead at Roznos Meadow to give yourself a place to spend the night at the park's campgrounds on the northern end. Launching at the southern trailhead also gives you an early look at the park's craggy East Bluff, which looms large over the meadow and is home to two of the area's most notable rock formations: Devil's Doorway and Balanced Rock, giant quartzite boulders arranged like, well, a doorway and a spinning top, respectively.
The trail then loops around the lake and up the West Bluff on the other side, offering more views before descending to a handful of developed campgrounds for an overnight ($20 per night).
The 10.9-mile IAT segment officially ends a couple miles east of there, but it's worth continuing another 3.6 miles to Parfrey's Glen, the state's first natural area—a designation that protects the best representations of the state's native landscapes, geological formations, and archeological sites.
You'll likely share the trail with others, both in Parfrey's Glen and Devil's Lake—it's not the place to go for solitude. But for views that represent the essence of Wisconsin, far from farmland-and-cow stereotypes, and a hike that will get your heart pumping, Devil's Lake is hard to beat.
Chelsey Lewis is from Milwaukee, WI and credits her parents for turning her on to hiking. "We didn't have a lot of money when I was growing up," she says. "So our vacations were hiking and camping. I'm so thankful for that. I'd take backwoods over Disney World any day."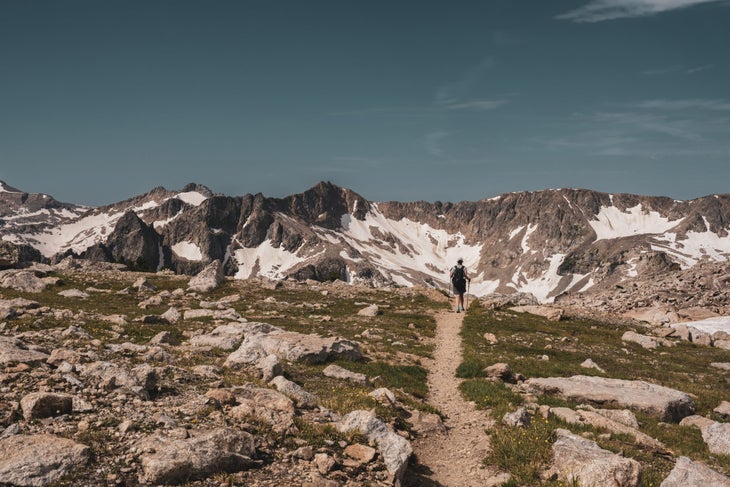 Wyoming: Paintbrush Divide Loop
Length: 20.1 miles
The Paintbrush Divide Loop is a rite of passage in the Tetons and is easily Wyoming's best (big) dayhike. It's probably one of the state's best backpacking trips, too. Most folks navigate this loop counterclockwise—climbing 4,000 feet up Paintbrush Canyon, over Paintbrush Divide, and down Cascade Canyon. I, however, go the opposite direction as a crowd-beating measure.
Late one summer, I set out on dawn patrol from the String Lake trailhead. Meandering around an alpenglow-lit lake was a magical way to start the day. I flew through Cascade Canyon and, after a refreshing splash in Lake Solitude, I settled into a flow state, wandering in an eternal moment. On a prominent rock, I stopped and snapped a photo of myself amid jagged peaks that captured the pinnacle of my hiking career.
Next, I labored up the 2,000-foot climb to Paintbrush Divide—a 10,700-foot pass with unfettered views of the Tetons above and Jackson Hole below. From there, a stupidly steep descent led me into aptly-named Paintbrush Canyon, where I hiked past columbine and Indian paintbrush and even saw a moose and a grizzly. At 11 hours and 20-plus miles into the journey, I finished right where I began and soaked up the Grand Teton view with a reflective swim in the lake.
Steven Reinhold is a Backpacker ambassador and lives in Asheville, NC. He's also a guide, consultant, and Director of Adventure at Black Folks Camp Too.