The Best Dayhikes in Death Valley National Park
Explore the desert with our favorite hikes, short and long.
Heading out the door? Read this article on the new Outside+ app available now on iOS devices for members! Download the app.
Death Valley National Park is a year-round hiking playground, and as you might imagine, offers even more options in the winter and spring than the hot summer months. If you are looking for a fall-through-spring destination, this could be your Shangri-La.
"People expect flat, boring landscapes," says Death Valley National Park Ranger Tom Arnold, "but there are also 11,000-foot mountains and sand dunes. It's an unexpected gem with an endless amount of adventure."
Arnold explains that the hiking in Death Valley is different, unique and unusual. "It's like the Wild West of hiking, so you should start slow and easy to get a feel for it."
Looking for the best that Death Valley National Park has to offer? Start with these recommendations from an expert, from peakbagging hikes to treks over the dunes.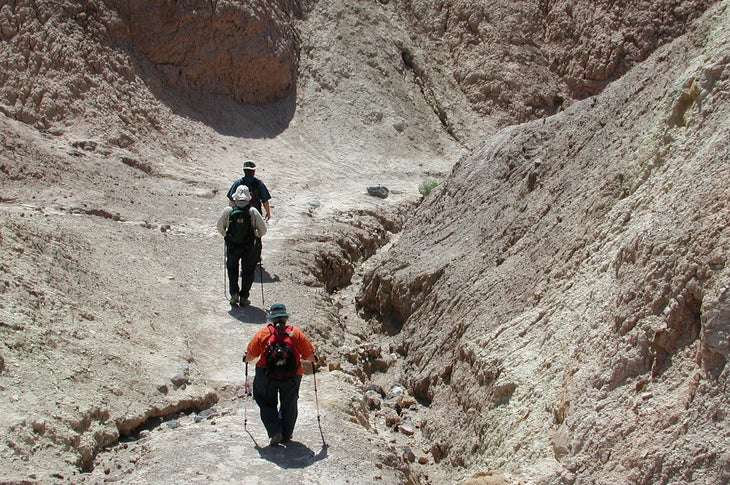 Golden Canyon Gower Gulch Loop Trail
A good starter hike to get your legs under you is Golden Canyon Gower Gulch Loop Trail. This hike is close to the Furnace Creek Visitor Center and has a paved road to the trailhead, unlike many of the other trails in Death Valley that require a 4WD vehicle to get to the trailhead.
"Anyone who wants to hike anywhere in Death Valley should go to the Furnace Creek Visitor Center and check in," Arnold explains. The employees there are happy to help provide things like road condition updates, maps and much more.
The Golden Canyon Gower Gulch Loop Trail is about five minutes from the visitor center so you can go check-in and then head out on this 4-mile loop.
"Most people go up Golden Canyon and down Gower Gulch, but I recommend going the other direction," Arnold says. "You get a unique view down Golden Canyon that way as well as Manly Beacon, which is a great scenic feature."
The trail takes you through the Badlands with lots of rolling rock formations. This trail is best in the morning because the temperatures and the light are nice, and you should only hike it in the winter (November-March). It's a moderate trek due to the elevation, which starts below sea level and stays low the entire hike.
Telescope Peak
This challenging hike is one of the few that's always appropriate in the summer, as well as spring and fall, due to its high elevation and the fact that the trail will have snow on it in the winter.
Telescope Peak is the tallest peak in the park at 11,049 feet. The hike to the top is 14 miles round-trip and is considered difficult due to the distance and the elevation, but the view from the top is worth it, Arnold says.
"You look down on Badwater Basin and out at Mt. Whitney," he explains.
The trailhead for this hike is out of Mahogany Flat Campground and you need a high-clearance, 4WD vehicle to get there.

Sidewinder Canyon
This 5-mile round-trip hike is not maintained and there are no signs or trail to follow.
"It's not so much a hike as it is an exploration," Arnold says. He recommends a lot of research and preparation before going out.
Hikers start in the main canyon, but there are multiple side canyons branching off to explore twisted passages of rock. The canyons hang above you and it can get dark, so make sure to bring a flashlight. Additionally, some of the passages can be tight in spots, so be prepared to take your backpack off to be able to slide through.
This is a low elevation hike and is considered moderate due to the scrambling involved. The best time for this hike is November-March.
Salt Creek
Another great trail to test your legs in the desert landscape is this easy Salt Creek trail. A half-mile lollipop trail, Salt Creek is on a boardwalk that traverses the dried-up bed of an ancient lake, winding through thick growth of pickleweed and salt grass. Access is easy: There's a gravel road to the trailhead, and the boardwalk is wheelchair-accessible. This trail is best for winter and spring adventures (February-April), when endangered pupfish—found only in Death Valley National Park—swim to the boardwalk and spawn.
Panamint Dunes
This 8-mile round-trip hike takes you out to the most pristine dune field in Death Valley.
"There are seven different dune fields in Death Valley," explains Arnold, "but this one is the most spectacular."
The Panamint Dunes are on the side of a mountain and the hike offers a great view Panamint Valley's broad span. However, because the trail has no signage or route information, the area receives much less visitation than other dune areas in the park.
Arnold says that the navigation is fairly easy, as there are no hills or foliage to break your line of sight in the open desert; you can see the sand dune from the parking lot. However, you do need a high clearance to get to the trailhead on the dirt access road. Make sure to check road conditions before heading out as things can deteriorate quickly depending on weather. This is definitely a cool-weather hike, so make plans to go sometime from November to March.

Dante's Ridge
This moderate hike starts at Dante's Viewpoint, which looks down on Badwater Basin, the lowest point in the United States. There is no sign at the trailhead for this 8-mile round-trip jaunt, but if you walk north from the Viewpoint parking lot, you will find the trail. There are also no signs along the trail, but according to Arnold, the thousands of people who have hiked it have worn a distinct social path into the terrain
"Make sure you stay situationally aware and know how to get back," he cautions.
The hike follows the spine of the Black Mountains, providing great views of Panamint Valley, Telescope Peak, and, further off, Mt. Whitney, and ends at Mt. Perry. At 3.5 miles, hikers go through a broken band of rocks where things get steep and scrambly, so some people choose to turn around here, Arnold says.
This is a great shoulder season hike (spring or fall) due to the fact that it starts at 5,000 feet, conveniently located between the snow of the high peaks and the heat of the desert below.
Know Before You Go
"Death Valley is the hottest, driest, lowest place in North America, so hiking here needs high caution and significant preparation," Arnold explains.
As a hiker you need to plan ahead, prepare and be able to navigate with a map and compass or GPS. Make sure you carry and know how to read a paper map, too, as some rugged terrain may block your GPS signal.
Many trails are not marked, so make sure to tell someone (friends, family or someone at the visitor center) where you are going.
Bring lots of water. Arnold recommends one gallon per person per day. Plan to drink more water than you are used to and bring a reserve in case something happens. Additionally, bring a hydration tabs or a watered-down sports drink to ward off potentially deadly hyponatremia.
Be prepared for very little shade and low humidity (hats, sunscreen, sunglasses, and UPF-rated clothing helps.)
"The bar for [hiking] success here is higher," Arnold says. "Ease gently into the desert."
For more information on hiking as well as alerts and additional information in Death Valley National Park go to the park's website and Facebook page.