The Best Local Hikes: Hikers Pick Their Favorite Trails Around the U.S.
For these 12 hikers, local trails so inspired them that they made it their mission to open the outdoors to everyone, one mile at a time. Now let them fire you up with picks so close you can't say no.
Heading out the door? Read this article on the new Outside+ app available now on iOS devices for members! Download the app.
Want to really get to know an area's hiking trails? Go with a local. We asked 12 hikers and wilderness advocates to share their favorite hometown spots with us. Follow their lead and discover something special.
Los Angeles, CA
Dayhike: Cooper Canyon Falls, San Gabriel Mountains National Monument
Find peace and quiet, clean water, and fresh air just outside the city on a 3.1-mile (round-trip) hike to a waterfall in the San Gabriels. Start on the Burkhart Trail, descending in the periodic shade of Douglas fir and Jeffrey pines. After about a mile, the trail forks—keep right, then scramble down to the left (use the 15-foot fixed rope) to the waterfall where ferns line the canyon floor.
In spring, the watery roar drifts uphill like a summons, but in late summer, the falls slow to a trickle threading down a mossy wall. Look for tiny trout in the pool below.
And while relaxing beside a cool, fern-lined waterfall is the principal charm of the hike, for Rosales, the best part comes a few weeks after she's led a group hike for Latino Outdoors, when participants call her to say, "Oh, we went out again. Thanks for showing us how."
Trailhead Buckhorn Campground (34.3400, -117.9196) 56 miles northwest of LA Season Year-round Permit $5 daily pass; purchase at the trailhead 
Overnight: San Gorgonio Mountain, San Gorgonio Wilderness
This hike to the top of the tallest peak in Southern California (11,499 feet) is a locals' rite of passage. It travels 16.6 miles (round-trip) on the Vivian Creek Trail, ascends nearly a vertical mile (5,209 feet), and leaves the trees below for views of 10,833-foot San Jacinto and the Transverse Range. Camp at High Creek Camp (mile 4.8) to split the climb. 
Trailhead Vivian (34.0794, -116.8835) 82 miles east of LA Season June to October Permit Required (free; reserve up to 90 days in advance)
Multiday: Silver Moccasin Trail, Angeles National Forest
Thru-hike this 53-mile sneak route in the forest to the north and you'll pass from canyons to the heights of 9,399-foot Mt. Baden-Powell. 
Trailhead Vincent Gap (34.3737, -117.7521) 92 miles northwest of LA Shuttle car Chantry Pass (34.1957, -118.0225) 76 miles southwest of Vincent Gap Season June and September to October Permit None 
Your Guide: Maricela Rosales
Outdoor brands coordinator, Latino Outdoors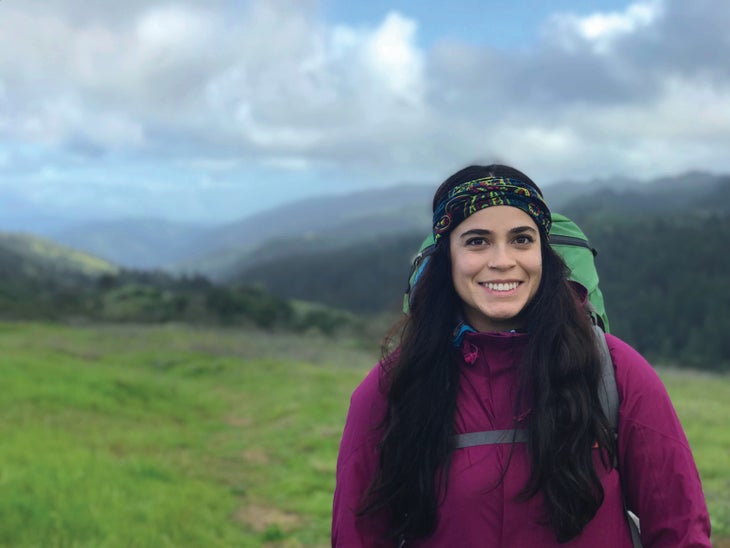 When Maricela Rosales lobbies California lawmakers on behalf of public lands, it's personal. "I was once an inner-city kid and I understand why it's important for children and families to have these things," she says. "It connects us to something bigger than ourselves."
Growing up in central Los Angeles, Rosales's neighborhood parks weren't safe and the mountains on the horizon were out of reach. "I really wanted to be part of these spaces," she says. "I just didn't know how."
She didn't solve the riddle until she attended college at UC Riverside, when she fell in love with the desert.
She now tells people taking their first dayhikes what she wishes she'd been told: "You don't need to go to the mountains, you can go to the local community garden or a park and really enjoy nature in its simplest form," she says. "What you do outdoors is up to you."
Portland, OR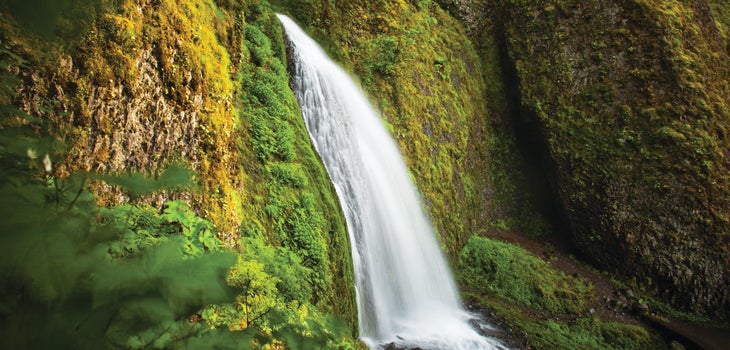 Multiday: Santiam Pass to Ollalie Lake, Willamette National Forest
On his first trip to Ollalie Lake, Travis Clough (see right) was wobbling across roaring Russell Creek when he decided it was a bit much for a group hike with The Venture Out Project. So he and Venture Out founder Perry Eaton decided to harness the adrenaline just for fun.
Start the 45-mile, northbound trek on the PCT with views of 7,841-foot Three Fingered Jack, which stacks up "like sand drip castles," Clough says. Look for fireweed's magenta stems (blooming July and August) amid the ruins of wildfires. Jefferson Park's meadows offer prime camping below its 10,497-foot namesake. Toward the end, ascend Park Butte, where the snow-capped Cascades dress every view.
Trailhead PCT Santiam Pass (44.4226, -121.8549) 130 miles southeast of Portland Shuttle car Olallie Lake (44.8141, -121.7912) 76 miles north of Santiam Pass Season July to September Permit $5/vehicle per day; self-issue at trailheads.
Dayhike: Multnomah Falls to Wahkeena Falls, Columbia River Gorge
Don't be dissuaded by the clusters of camera-toting tourists at the beginning of this hike. The crowds never make it past the first bridge overlook of Multnomah Falls, so all you have to do is keep going to enjoy solitude on this waterfall-filled, 4.8-mile loop. 
Trailhead Wahkeena (45.5777, -122.1172) 35 miles east of Portland. Season Year-round Permit None 
Overnight: Oregon Coast Trail, Ecola State Park
Emerge from a Sitka spruce forest onto a wind-tickled bluff overlooking the Pacific on this 8-mile jaunt. Switchback up Tillamook Head for 1.5 miles, glimpsing rocky islands in the Pacific, then bed down in one of three hiker's shelters (each sleeps four; first-come, first-serve).
Trailhead Indian Beach Day-Use Area (45.9311, -123.9784) 81 miles northwest of Portland; call Seaside Police (503-738-6311) for permission to park overnight. Season Year-round Permit $5; obtain at trailhead.
Your Guide: Travis Clough
Director of Trip Operations and Logistics, The Venture Out Project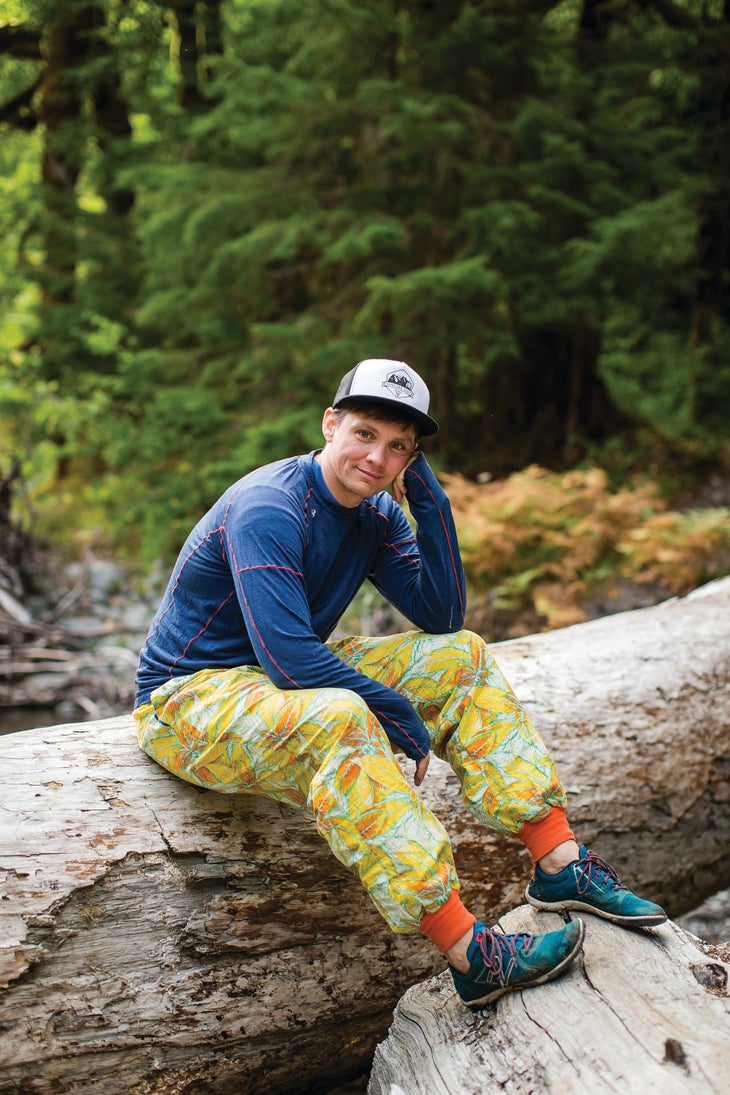 Though he ran out of water and was nearly stormed off the summit, when Travis Clough came off Katahdin at age 16, mountains became one of the leading forces in his life. He was pre-transition and often teased as a result. "A lot of people didn't understand who I was or what I was," he says. Climbing helped him make peace with his body.
"I just found a connection," he says. "And no matter where I was with my body, my body could pull me up those mountains."
But finding anyone to go with, much less anyone who understood what he was going through, was tough. So when he discovered The Venture Out Project, he "kind of freaked out." Venture Out, founded in 2014, is one of the first wilderness guiding companies run by and for queer and transgender people.
Through Venture Out, Clough now helps others explore the woods safely and comfortably. "It's the ultimate reconnection to yourself and to nature and other people," he says.
Seattle, WA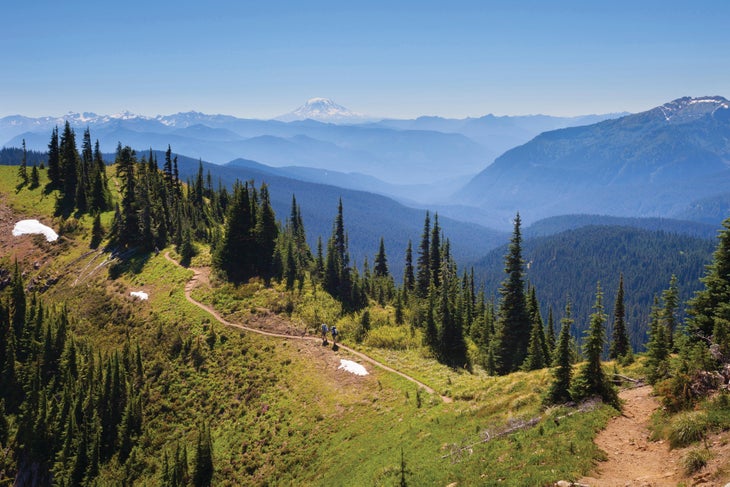 Multiday: Cowlitz Loop, William O. Douglas Wilderness
Few hiker magnets pull harder than Mt. Rainier, but this area on its eastern flank sees a fraction of the visitors. Cruise through it on a 20-mile loop that links the Pacific Crest, Twin Sisters, and Cowlitz Trails.
Start from the Dog Lake trailhead and follow the Dark Meadows Trail to connect with the Pacific Crest Trail. Hike 7.4 miles to Dumbbell Lake and your choice of shoreline campsites. Next day, meander through a mosaic of ponds and pass the long shoulder of Fryingpan Mountain to a campsite by Twin Sisters Lake, 6.2 miles away and, unlike many other lakes in the area, deep enough for a swim.
On the third day, take the Tumac Trail up and over 6,286-foot Mt. Tumac, an extinct volcanic cinder cone, for a view of Cascade titans: Mt. Rainier, Mt. Adams, and Goat Rocks—all of which are likely more crowded. Continue down to Cowlitz Pass and follow it 7.9 miles back to Dog Lake.
Trailhead Dog Lake (46.6549, -121.3612) 115 miles southeast of Seattle Season Summer and fall Permit Free; self-issue at the trailhead 
Dayhike: Huckleberry Mountain, Mt. Baker-Snoqualmie National Forest
It's rare to start a hike in the North Cascades from the valley bottom—most trailheads use logging roads that climb higher. Not so Huckleberry Mountain, which packs 4,850 feet of elevation gain in 6.2 miles (one-way). Such a climb deters the crowds seen at nearby Green Mountain and offers a private viewing of peaks bristling the eastern horizon. 
Trailhead Huckleberry Mountain (48.2692, -121.3494) 97 miles northeast of Seattle Season Summer to early fall Permit None 
Overnight, Crystal Lake and Circle Peak, Glacier Peak Wilderness
A moderate 3.9 miles leads to campsites at Crystal Lake, nestled in a cirque. Rise early, cross the outlet stream, and take the overgrown trail 4 miles up the ridge to 5,983-foot Circle Peak where you'll have the view of Sloan Peak, Mt. Pugh, and White Chuck all to yourself. 
Trailhead Mountain Meadow (48.1895, -121.3709) 92 miles northeast of Seattle Season Summer to early fall Permit Self-register at trailhead
Your Guide: Craig Romano
Guidebook author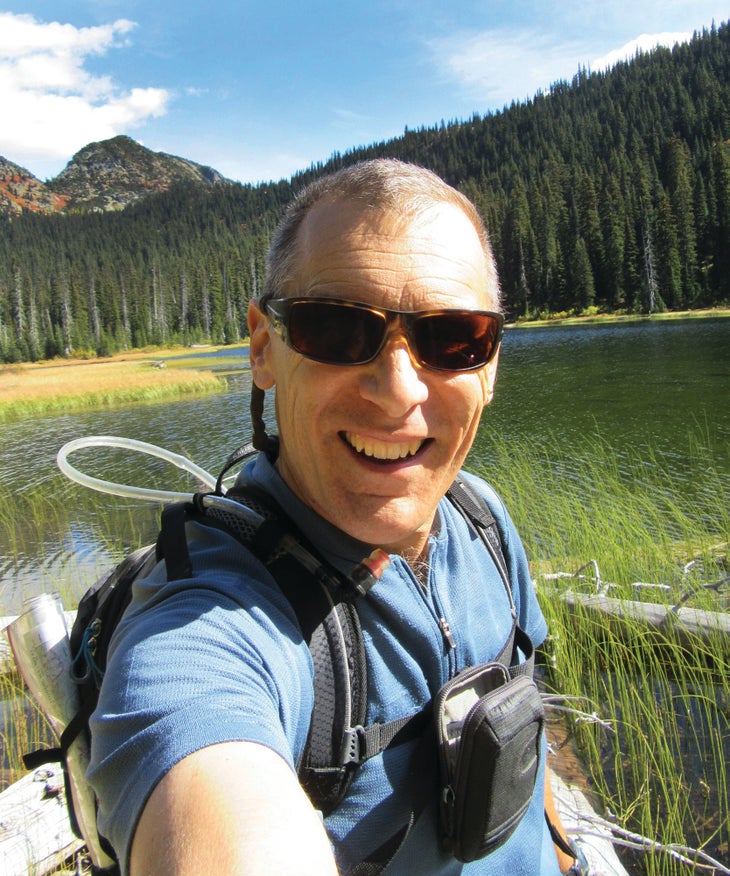 Some places are so popular that hikers can't seem to imagine going anywhere else. But Craig Romano likes nothing more than helping people break out of their ruts. Over 16 years, he's written more than 20 guidebooks for hiking in Washington State. He's put feet on 25,000 trail miles looking for the next best place.
But over those years, the biggest change he's seen? Us.
"There seems to be more people hitting the trails than ever before," he says. That's great, but it concentrates impact in those popular spots. Romano's solution: Welcome new hikers and make it easy for them to spread out.
Romano has been doing this long enough to hope that these new enthusiasts will become, like the generations before them, smarter users and better stewards. But only if the places aren't destroyed first. That's why he makes it his goal to expand the list of great hiking options, which helps disperse the crowds, reducing the environmental impacts of over-use on loved-to-death places, and gives solitude-seekers more options to find what they need.
Las Vegas, NV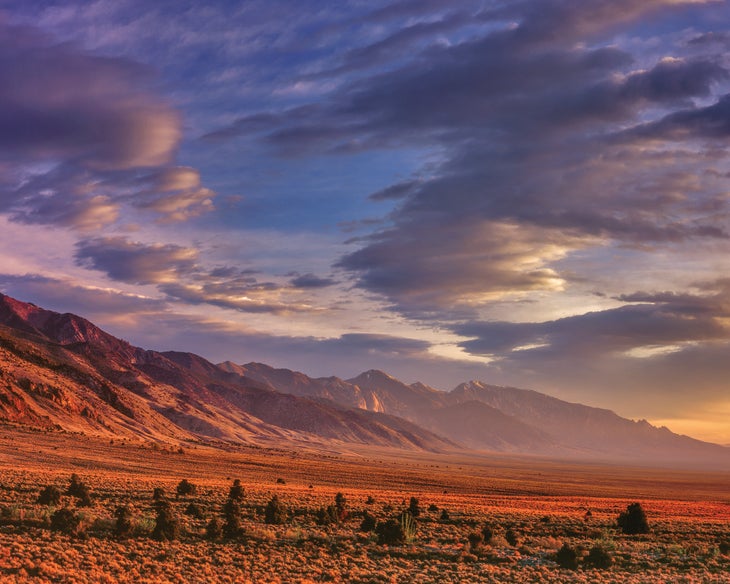 Overnight: Charleston Peak, Spring Mountains National Recreation Area
The Spring Mountains burst from the desert and rise to almost 12,000 feet, where pines replace cactuses and temperatures ease. Two trails, the North Loop and the South Loop, ascend the gray striations of Charleston, the highest point in the range, and create a 16.8-mile circuit.
Joel Brewster (see right) recommends taking the South Loop Trail and climbing to a forest of bristlecone pines. Mummy Mountain (11,526 feet), the second-highest peak in the Spring Mountains, invites a 1.2-mile side-trip at mile 4.4. Pick a campsite (dry) in a meadow at mile 6.9, where peaks block the Strip and the Sierra dominate the western horizon.
Next day, the switchbacks stack up 1,000 feet below Mt. Charleston's summit. Cross the top and descend the North Loop, passing through an aspen grove that fires off in oranges and yellows in autumn.
Trailhead Mt. Charleston (36.2548, -115.6441) 40 miles northwest of Las Vegas Permit None Season Late June to September for snow-free trails
Dayhike: Bridge Mountain, Red Rock Canyon National, Conservation Area
Traverse bands of red, orange, and cream sandstone up what looks, from a distance, like a vertical crack. Up close, it mellows to a class 3 chimney scramble, then passes under an arch en route to the summit. Park at Willow Spring, hike west to Rocky Gap Road and follow it south (high clearance alternative: continue on Rocky Gap Road until you can't). Pick up the Bridge Mountain Trail at mile 4.8 (the Rocky Gap Summit trailhead). Head east, passing high on the shoulder of Peak 7244 before tackling the last segment of stone playground to the bare-rock summit. Skill check: Routefinding on the 2.9-mile Bridge Mountain Trail can be tricky; pick up a map at the visitors center. 
Trailhead Willow Spring Picnic Area (36.1610, -115.4984) 28 miles west of Las Vegas Permit None Season Year-round Info redrockcanyonlv.org
Multiday: Toiyabe Crest Trail, Humboldt-Toiyabe National Forest
Head far out of town and bring strong navigation skills to this 72-miler, which stays high, skimming the 10,000-foot ridge of this central Nevada mountain range. You'll blend windswept, high-country views with beaver ponds pooling in the shade of aspen trees on a trail first cut by the Civilian Conservation Corps in 1930. Every step is a study in solitude. 
Trailhead Groves Lake (39.2503, -117.1661) 307 miles northwest of Las Vegas Shuttle car South Twin (38.8885, -117.2411) 35 miles south of Groves Lake Permit None Season June and July (before water dries up)
Your Guide: Joel Brewster
Board member, Las Vegas Mountaineers Club
Joel Brewster has stood on the highest point in nearly all of the Lower 48 states, but the peaks he can't seem to get enough of are in his backyard. He has explored Nevada's mountains, canyons, and deserts for more than two decades, ticking his way through the list of 50 classic climbs designated by the Las Vegas Mountaineers Club.
Brewster grew up in Northern California, and when work brought him to Las Vegas 25 years ago, the redrock landscape baffled his woodsy sensibilities. But soon, he realized that Nevada's wilderness areas have everything from pettable tarantulas (well, he's seen that done, anyway) to bighorn sheep that bound up near-vertical sandstone to wildflowers that flood the desert with color in spring.
"It always amazes me—the climate here is so unforgiving for animals, or even for people, but things do live here," he says. "I've really fallen in love with it."
Bay Area, CA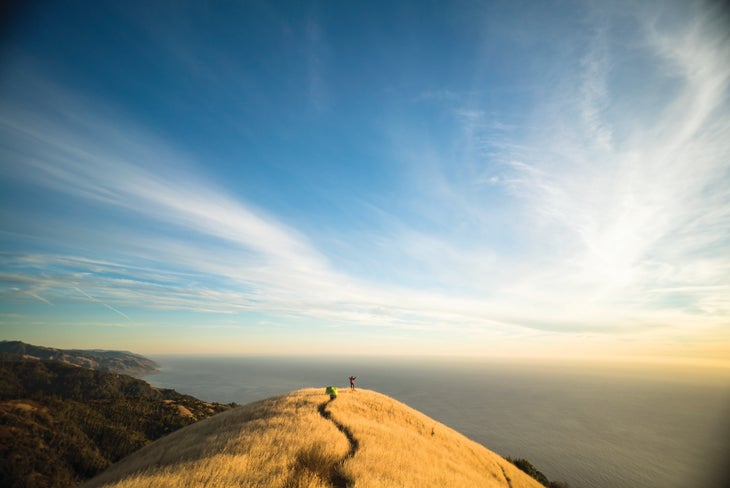 Overnight: Timber Top Camp, Los Padres National Forest, CA
Starting from Highway 1 south of Big Sur, where emerald cliffs meet blue waters, the 2.9-mile Boronda Trail ascends through meadows spotted in summer with the tangerine petals of California poppies and blossom-topped yuccas. By fall, the grasses crisp to gold, temps mellow, and more days are fog-free, offering views of forest and wave.
Follow double-track that fades into chaparral and pine forest as you ascend 2,500 feet to the ridge. At mile 2.9, throw down at Timber Top Camp (dry), where flat spots along a grassy rise offer sunset views.
For photographers, Burkard recommends packing a wide-angle lens and polarizer. "The wide angle allows you to capture the vast landscape, trails leading away, and a subject," he says. "The polarizer is a massive help as it cuts away the reflection from the ocean's surface and allows for a clear view of the deep blue Pacific."
The next morning, take a few minutes to stroll on the serpentine Coast Ridge Road, once the area's main thoroughfare, before descending the way you came.
Trailhead Boronda (36.1984, -121.7178) 108 miles south of San Jose Season Year-round; fall and winter have fewer foggy days Permit None Info ventanawild.org
Dayhike: Año Nuevo Point Trail, Año Nuevo State Park, CA
In late fall, 5,000-pound elephant seal bulls come ashore here to duke it out for dominance. But the beaches here are the year-round home to one of the world's largest mainland colonies of the sea mammals. See how they live on a 4-mile out-and-back over coastal scrub, wetlands, and dunefields to an overlook on the edge of the Pacific. 
Trailhead Marine Education Center (37.1191, -122.3073) 54 miles west of San Jose. Season Year-round; beaches are closed December 1-14 for seal arrival Permit None
Multiday: Skyline to The Sea Trail, Castle Rock and Big Basin Redwoods State Parks, CA
Start in the mountains and end by the surf on a two-nighter that showcases the best of the area. Rock-ledge lookouts over the rolling, coastal terrain give way to silent redwood forests on the mostly downhill, 25.5-mile trek. At mile 14.2, veer off the Skyline to the Sea Trail and take the Dool and Sunset Trails to the Berry Creek Falls Trail. Follow the small creek as it cascades between stands of ancient redwoods. Expect to be slowed by the temptation to gawk. Camp at Waterman Gap (mile 6.4) and Sunset Trail Camp (mile 18.8). 
Trailhead Saratoga Gap (37.2579, -122.1229) 21 miles west of San Jose Shuttle car Wadell Creek (37.1010, -122.2781) 48 miles southwest of Saratoga Gap Season Year-round; winter for solitude Permit $15/site per night; reserve up to 60 days in advance
Your Guide: Chris Burkard
Adventure photographer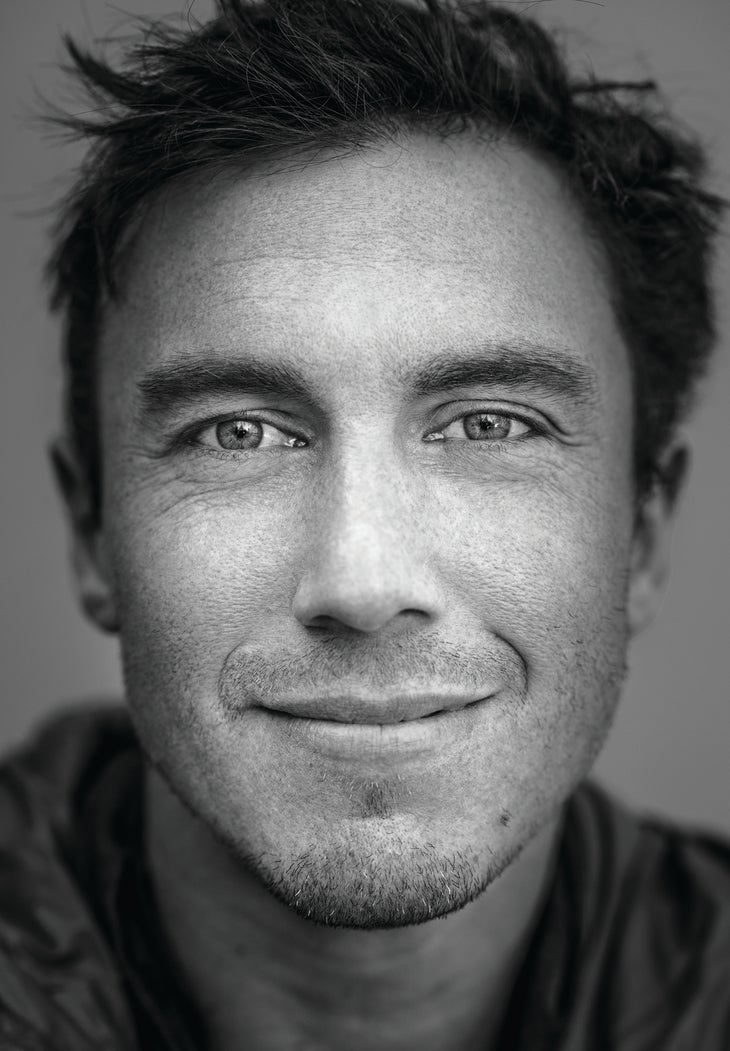 One of Instagram's most popular outdoor photographers takes his 3.4 million followers to the lesser-tracked corners of the globe.
Most recently, he was in Iceland working on a project to shield the nation's highlands from mining. What he hopes his followers see, beyond the beauty, is that one person can make a difference.
Now he brings that ethic closer to his home in Santa Cruz. Last fall, he took his boys, 4 and 6, to a nearby stand of redwoods. They marveled at the massive trees and finger-size banana slugs, but were bummed by the trash. "We picked up a lot of that," he says. "It was a good opportunity to learn that the only people who are going to keep these places beautiful is us."
His work has evolved toward advocacy. "It's about what can I offer, as opposed to what can I take," he says. "That's made me a better storyteller and helps me understand how you can do these places a greater service."
Salt Lake City, UT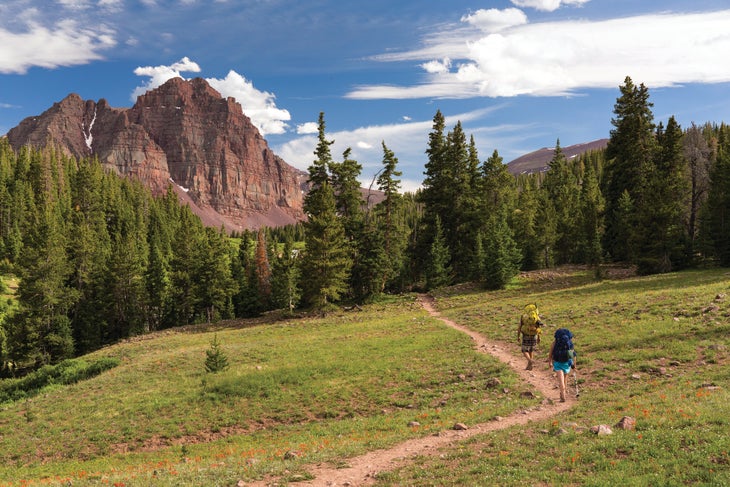 Overnight: Ruth Lake, Uinta-Wasatch-Cache National Forest, UT
What qualifies as a quick escape in the Uintas would be considered a highlight trip elsewhere—it's less than 2 miles from trailhead to tent site at 10,000 feet in the High Uintas. Pass rock-strewn alpine meadows carved with creeks and small ponds, then emerge at the shore of this flower-lined lake.
"July is when the wildflowers (Indian paintbrush, fairy slippers, and wild hyacinths) are really popping," Boué says.
Follow the trail around the lakeshore, and at 1.5 miles, pick out a campsite with views of 12,479-foot Hayden Peak, and wait for alpenglow to paint the summit pink.
Not bad for an hour's hike. But for Boué, it's not just a time-saver. Access relates to equality in the outdoors, and Ruth Lake provides backcountry feel for frontcountry effort. "There is not a more accessible backpacking experience so close to the city," she says. 
Trailhead Ruth Lake (40.7339, -110.8675), 79 miles east of Salt Lake City Season July to September Permits $6; self-pay at the trailhead. 
Dayhike: Mt. Superior via South Ridge, Uinta-Wasatch-Cache National Forest
Think less "dayhike" and more "day climb" on this 2.8-mile out-and-back with exposure, scrambling—and views to reward the effort. Pick a path up a chute then tightrope the ridge to the top where the snow-etched slopes of the Wasatch fan out. (Easier option, same view: The East Ridge is a 2.1-mile walk-up.) 
Trailhead The Cliff Lodge (40.5820, -111.6591) 25 miles southeast of Salt Lake City Season July to September Permit None
Multiday: Red Castle Lake & Wilson Peak, High Uintas Wilderness
Hike a locals' range to a view that includes most of Utah's Thirteeners on a 30-mile out-and-back. Take the East Fork Smith's Fork Trail to camp at Lower Red Castle Lake (mile 10), or, weather permitting, continue 1.8 more miles to above-treeline Red Castle Lake. Access the summit ridge via the pass to its west. 
Trailhead China Meadows (40.9241, -110.4038) 147 miles east of Salt Lake City Season July to September Permit None
Your Guide: Katie Boué
Founder, The Outdoor Advocacy Project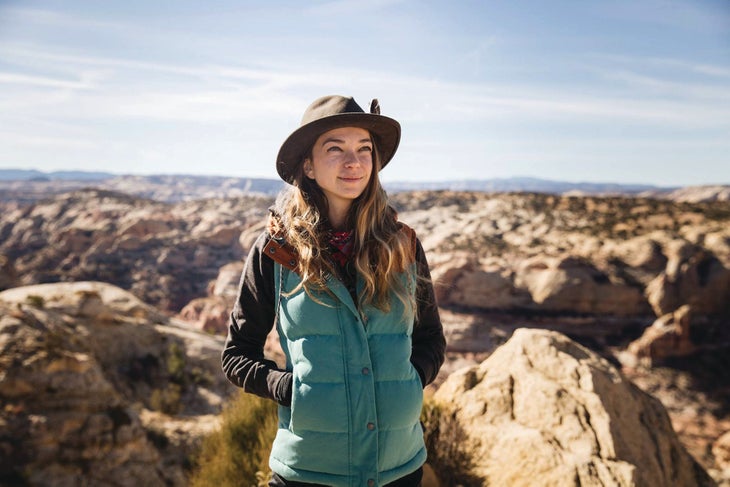 How do we change the way we relate to the wilds? SLC-based Katie Boué is harnessing social media—and her ability to engage others with images of her van-fueled tours around the West with her adorable dog, Spaghetti—into an effort to protect those places. This year, she will launch The Outdoor Advocacy Project.
Her goal with the new venture is to better align the forces at work behind the increased popularity of national parks and open spaces to improve the experience. She's building a social media presence, @outdooradvocacy, launching a podcast, and creating an online, open-source library of outdoors knowledge.
"Everyone who enjoys public lands, especially those of us who work in the industry and make a profit from them, has a responsibility to the land, to do good, to give back, and to take care of it," she says.
Chicago, IL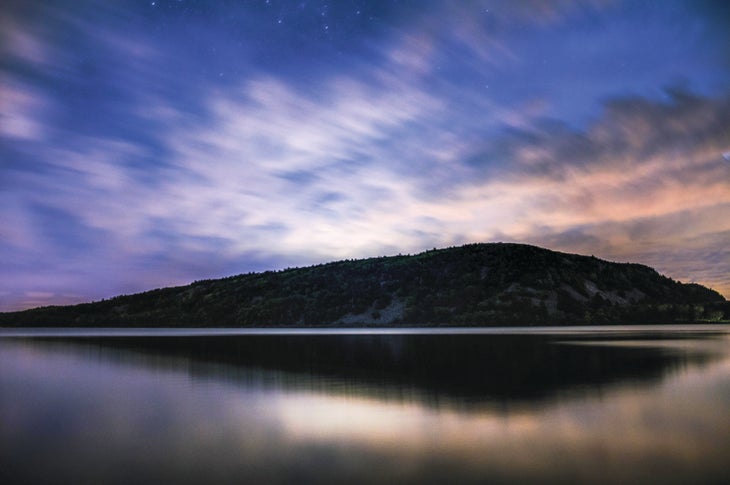 Overnight: River Ridge Backpack Trail, Forest Glen Preserve
This 11-mile loop tops hills and bottoms out in ravines as it winds through an 1,800-acre preserve south of the city. The first 3 miles tour a pond, grassland, and wetland before dropping 100 feet into a gully, where beech and maple leaves glow green in the sunlight (fall foliage peaks in early November).
"When you're back there, you're really on your own," says Nick Jeurissen. "You don't hear cars. You don't see the lights of the city. All you're going to hear are the sounds of wildlife."
A cluster of three primitive campsites lies at mile 7.5. Ascend the 72-foot observation tower to clear the treetops and score views over the Vermilion River.
Next day, pass through forests of 150-foot-tall trees that predate the Declaration of Independence.
Trailhead Old Barn (40.0082, -87.5715) 149 miles south of Chicago Permit Required ($10); registration form due a week before camping. Season Year-round, but spring is best for morel mushrooms and flora like lady slipper orchids. 
Dayhike: Yellow Loop, Sag Valley Forest Preserve
The Sag Valley trail system sits like a dollop of dark green on Chicago's westward sprawl. Follow the yellow blazes on a twisting, 8-mile loop from the Swallow Cliff Woods North trailhead for the nearest deep forest to the city. Come mid-fall, a canopy of bright yellow leaves encloses much of the trail's eastern half, adding to the spectrum of foliage on display. 
Trailhead Swallow Cliff Woods North (41.6834, -87.8614) 23 miles southwest of Chicago. Season Year-round; late October for foliage Permit None 
Multiday: Ice Age Trail, Devil's Lake State Park, WI
Long-distance routes that avoid roads are in short supply around the city, so most Chicagoans tack on a little extra driving distance to stretch their legs on the Ice Age Trail. This 38.6-mile out-and-back swings around Devil's Lake, where a retreating glacier pushed moraines into both ends of an ancient gorge, creating a lake. Other highlights include a mellow boardwalk in the Merrimac segment, views of purple rock inside the Devil's Lake gorge, and the slot canyon-like route through Parfey's Glen (adds 1.7 miles round-trip, but totally worth it), plus a smattering of glacial erratics and stay-awhile views of a land shaped by ice and time. Plan to camp two nights at the same frontcountry campground in Devil's Lake State Park, or do it as a 19.9-mile shuttle hike, leaving a car at Parfey's Glen. 
Trailhead Merrimac (43.3858, -89.6428) 187 miles northwest of Chicago Season Year-round, but late summer has the best mix of weather and bugs; foliage peaks in mid-October Permit Reservations required (obtain up to 11 months in advance)
Your Guide: Nick Jeurissen
District Naturalist and Trail Manager, Forest Glen Preserve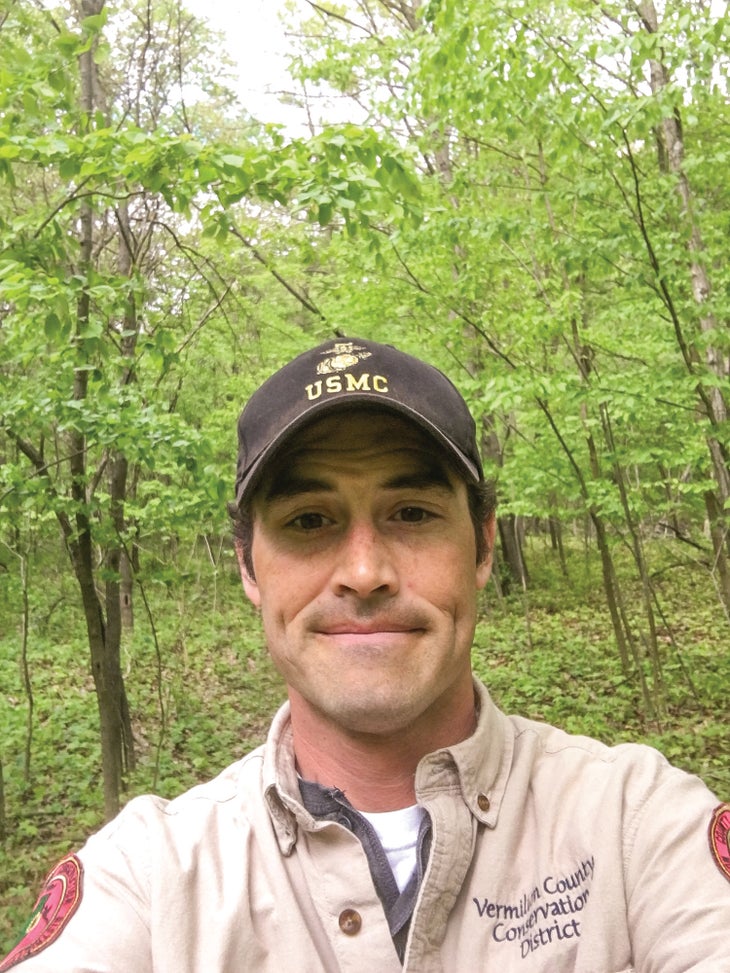 Nick Jeurissen is a legend among fifth-graders in central Illinois. He's the guy who leads a spring school program to "bust the winter rust off" by hiking through the mud, learning the names of trees, and searching for frogs as part of a four-day Outdoor School at the Forest Glen Preserve. Since 1971, roughly 70,000 kids have undergone this rite of childhood.
Jeurissen grew up in the region, and has hiked all over, but when he started spending time in Forest Glen Preserve, it was a revelation. "In central Illinois, we're the land of flat ground, corn, and soybeans, so having areas where you have these large ravine systems that are steep and make for pretty rugged hiking—it felt like I was in the Appalachians," he says. 
Boston, MA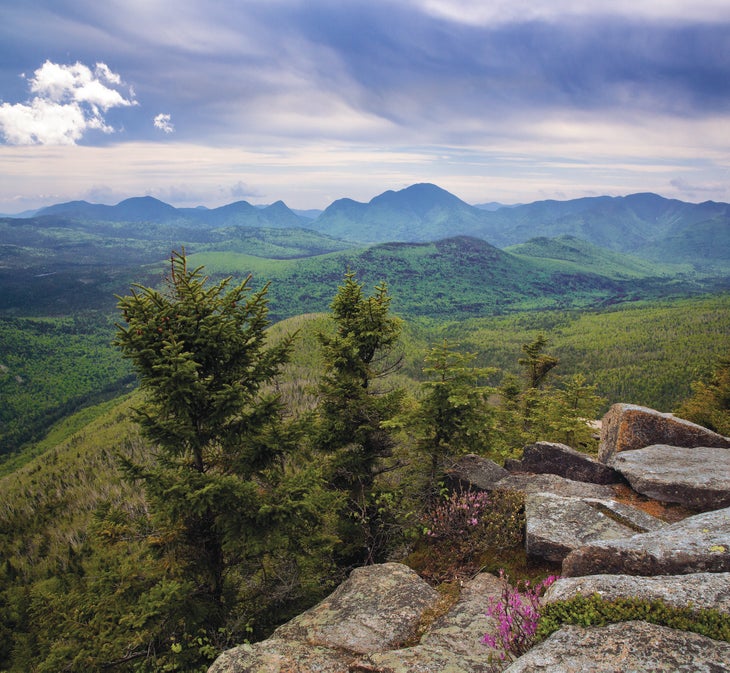 Overnight: Ethan Pond, White Mountain National Forest, NH
A pine-circled pond, waterfalls cascading over granite, and views that sweep New Hampshire's most famous mountain range—this 13.7-mile shuttle hike has it all.
Start from the Arethusa Falls trailhead and get ready for the White Mountain special: a steep, 700-foot gain in a mile. A few minutes later, catch your breath on the .2-mile spur to Arethusa Falls, where water cascades nearly 160 feet—New Hampshire's tallest. Pick up the Ethan Pond Trail (also the AT) at mile 4.1 and climb steadily to the junction with the Willey Range Trail, where a 1.8-mile out-and-back leads to the summit of 4,255-foot Mt. Willey (optional).
At mile 6.4, the trees shrink, revealing Ethan Pond lying like a mirror among the conifers. Boulder-hop past the shelter (sleeps eight) to tent platforms ($10/person per day from Memorial Day to Columbus Day; first-come, first-serve).
Next day, continue on the AT along Ethan Pond's outlet, adding an optional climb of Zeacliff (adds 1.2 miles) at mile 9.9. The Zealand Trail delivers you to the end of the adventure.
Trailhead Arethusa Falls (44.1479, -71.3694) 166 miles north of Boston Shuttle car Zealand (44.2227, -71.4784) 16 miles northeast of Arethusa Falls Permit $5 day use fee Season Summer to early fall; foliage peaks in early to mid-October. 
Dayhike: Coffeehouse Loop, Douglas State Forest, MA
Overlooked by all but locals, the 2.4-mile Coffeehouse Loop near the Rhode Island border offers solitude with a side of woods and wetlands. The maples bring out their fall colors in mid-October. 
Trailhead Wallum Lake (42.0230, -71.7700) 60 miles southwest of Boston Season Year-round Permit $15 parking pass/day ($9 for residents) 
Multiday: Grafton Loop, Grafton Notch State Park, ME
No, it's not super close to Boston—but it's worth the trip for three nights away from the crowds. The 38-mile Grafton Loop Trail crosses streams and summits and traverses the hardwood hideaways of the Bear River Valley. 
Trailhead Grafton Notch (44.5902,-70.9470) 194 miles north of Boston. Season June to October Permit $4/person per day use fee 
Your Guide: Chaya Harris
Director of Instruction and Curriculum, Outward Bound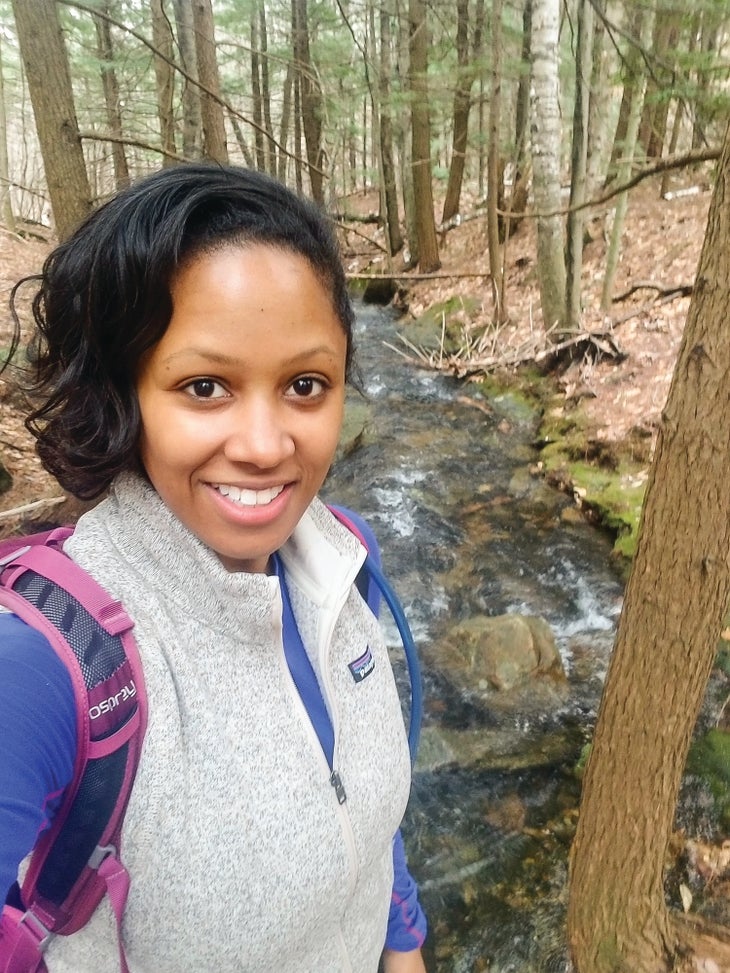 You never know where your local trails will take you. In 2018, Chaya Harris was already leading hikes around the Hub when Outdoor Afro, an advocacy group that connects African Americans to nature, assembled the first all African-American team to climb Kilimanjaro, the highest point in Africa.
After six days of hiking, the 11-member group left their 16,000-foot high camp at 11 p.m. to stomp through snow to the 19,341-foot summit. By the time they reached it, all but five had turned back. "We all just fell on our knees," she recalls of standing at the top. "A few of us were crying—it was unforgettable."
That trip was an international extension of Outdoor Afro's local mission, which Harris had been applying as a volunteer in Boston: to reach people wherever they are and help them take the next step to achieve something bold outdoors. "You don't need to be a superhero," she says. "Just set a goal and come up with a plan to achieve it." 
Washington, DC
Dayhike: Potomac Heritage Trail, George Washington Memorial Parkway, VA
Find nature where you live. That's what Everly Jazi did on the trail that got her started. The Potomac Heritage Trail is a surprisingly wild route that cuts right through the nation's capital. Twenty minutes of walking delivered her from college campus to trailhead, where she could escape the pavement on a 10-mile loop, passing rapids and riparian greenery.
The trail starts on Theodore Roosevelt Island, near the memorial for the 26th president, then crosses and follows the edge of the Potomac, which forms waterfalls bracketed by rocks and runs down rapids that drown out noise from the nearby city streets. Cross the Potomac on the Chain Bridge, pick up the C&O Canal heading south, and loop back toward your start point.
"You see the river, and it's really big and powerful, it's like the heart of the city," Jazi says. 
Trailhead Theodore Roosevelt Island (38.8966, -77.0650) 3 miles west of DC. Permit None Season Year-round Info nps.gov/pohe
Overnight: Three Top Mountain Loop, George Washington NF, VA
Get out of the city and into wooded hollows, then atop a view-soaked ridgeline on a 17.1-mile trek that uses the Massanutten, Tuscarora, and Passage Creek trails. Camp near Little Passage Creek at mile 10. 
Trailhead Signal Knob (38.9352, -78.3198) 80 miles west of DC Season Year-round Permit None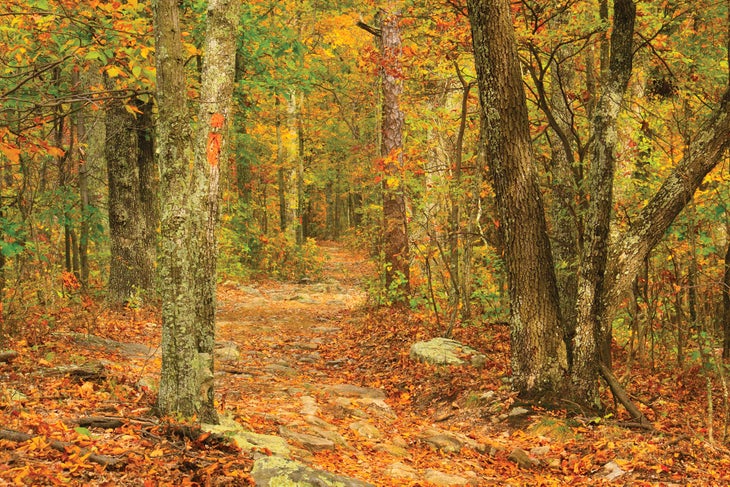 Multiday: Wild Oak Loop, George Washington NF, VA
Recharge on a two-night, 28-mile trip to silent forests where river crossings and rolling panoramas dominate the days. 
Trailhead Wild Oak (38.3670, -79.1645) 155 miles southwest of DC. Season Year-round Permit None 
Your Guide: Everly Jazi
National Park Service Academy alum
Different paths lead us to the outdoors. Everly Jazi was a student at George Washington University and walking DC's National Mall during cherry blossom season when a swarm of tourists trapped her next to a park ranger. She was finishing her junior year, unsure what she'd do with the psychology degree she was a year away from earning. And so she turned to the ranger and asked, "How'd you get this job?"
His answer took her to the National Park Service Academy and a position in the Tetons, where she led interpretive hikes, kayaking trips, and campfire programs. By the time she returned to DC for her senior year, she was taking other students on hikes and camping trips for Roots and Shoots, a club founded through the Jane Goodall Institute. Jazi made the case that taking people into urban-adjacent nature could spark a passion for the whole planet.
"Being outdoors really helped my mental state and opened me up to a new, simple, and fulfilling way of living," she says. "I just wanted to share that with people who had never been hiking."
Columbia, SC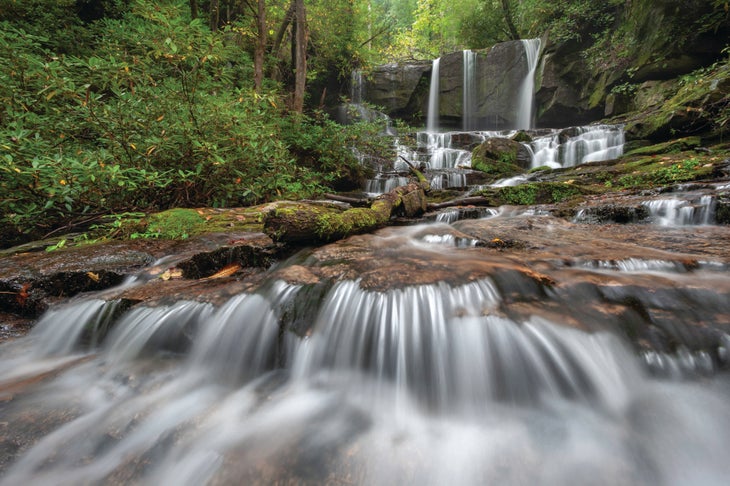 Multiday: Laurel Valley to Bad Creek, Foothills Trail
The Foothills Trail racks up almost 25,000 feet of elevation change over 77 miles of hard hiking. But if you don't have a week, the Hesters recommend a three-day, 34.7-mile chunk, which burns up climbs and cools down in waterfalls.
Starting from Laurel Valley, travel along tree-shrouded streams until mile 8, where Laurel Fork Falls' braided white ribbons reach wider than they are tall. Camp around mile 12. The next morning, ascend a hillside on hundreds of wooden steps. Wind your way for 10 miles to scattered sites along Bear Creek. Next day, head out 9 miles to the visitor's center at Bad Creek, taking a short detour to overlook Lower Whitewater Falls, which tumbles in tiers for hundreds of feet. 
Trailhead Laurel Valley (35.0509, -82.8128) 139 miles northwest of Columbia Shuttle car Bad Creek Visitor Center (35.0124, -82.9989) 33 miles west of Laurel Valley. Foothills Trail Association offers a hiker shuttle (donations accepted). Permit $2/day; pay at trailhead kiosk. Season October to May 
Dayhike: Wateree Section, Palmetto Trail
Try a slice of the Palmetto Trail near Columbia, hiking an 11-mile point-to-point through the Wateree Section. Ascend from a swamp to one of the county's highest points, Molly's Bluff, for views of the stream-threaded wetlands. 
Trailhead Poinsett State Park (33.8051, -80.5481) 45 miles southeast of Columbia Shuttle car Farmstead Rd. (33.8442, -80.6487) 28 miles east of Poinsett State Park Season Year-round Permit None 
Overnight: Sassafras Loop, Table Rock State Park
Take the long way to South Carolina's high point on this 23 miler. Start fast: The Foothills Trail gains 1,959 feet in 3.7 miles en route to 3,563-foot Sassafras Mountain, where an observation tower offers views of the wrinkled hills below. Backtrack 1 mile to the Roundtop Mountain Passage of the Palmetto Trail and camp around mile 12. Next day, follow the Palmetto Trail 8.9 miles back. 
Trailhead Nature Center (35.0322, -82.7005) 131 miles northwest of Columbia Season October to April Permit $5/day to park 
Your Guides: April & Bernie Hester
Ambassadors, Palmetto Trail
When April and Bernie Hester started hiking in January 2017, they had no idea how far they'd get. April has multiple sclerosis, which, on bad days, makes walking a struggle. The pair had dreams of hiking the Appalachian Trail, but thought MS would prevent it.
While out hiking one day, they spotted signs for the Palmetto Trail, a 350-mile trail in South Carolina that starts on the seashore and ascends to the Blue Ridge Mountains. They decided to try it. "As we hiked, April just got stronger and stronger," Bernie says. When they were about 100 miles into the trail, her daily mileage grew to 22.
Having proven their fitness on the Palmetto Trail, they've now finalized plans to hike the AT in 2020. "If you just keep going, you can do anything that you put your mind to," April says.
Houston, TX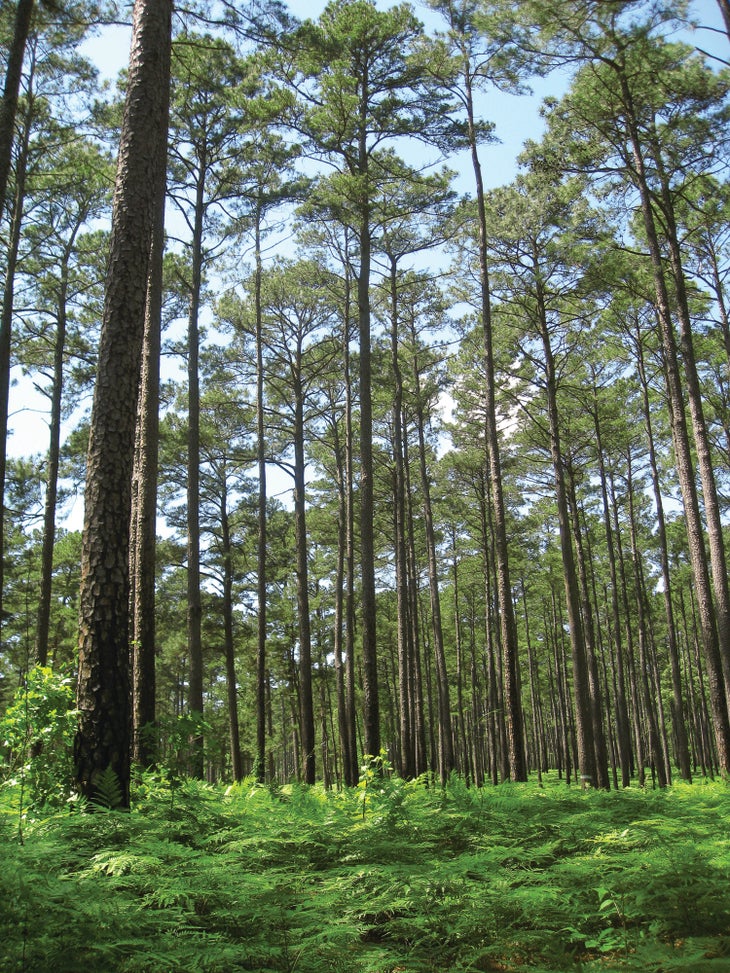 Multiday: Grand Loop of the Lone Star Trail, Sam Houston National Forest
The 129-mile Lone Star Hiking Trail rolls through forests of pines and black alder tilting over dark ribbons of wetlands. These woods provide some of the last, best habitat for endangered red-cockaded woodpeckers, and the birding is spectacular. But if you don't have a week to hike the whole trail, Karen Borski Somers (see right) suggests the 28-mile Grand Loop, which begins at the trail's western terminus and boasts wildflowers, giant beech trees, and water so clear the creek bottoms sparkle.
Start by winding over boardwalks, among ponds, and past open grassy stretches on the Lone Star Trail for 6.3 miles. Then follow a .2-mile spur to a dry campsite in an open forest of mixed hardwood and pine. Next day, pass farmlands before picking up the Little Lake Creek Loop (mile 11.5) and hiking south for 6.7 miles to a primitive campsite near the Pole Creek Trail junction. On the final day, hike the Little Lake Creek Loop Trail for 10 miles. 
Trailhead Richards parking lot off FM 149 (30.5388, -95.7848) 73 miles north of Houston. Season Spring and fall for good temps. Permit None
Overnight: Four C Trail, Davy Crockett National Forest
The last of the logging trucks left in 1920, giving the pine savannahs a century to grow back into themselves. Wind through them on a 22.2-mile out-and-back that mostly follows easy railroad grade. A shelter and tent sites lie at mile 11.1 near Walnut Creek. Note: The Forest Service recommends against drinking the water here; BYO, or cache at FR 517 (mile 8.9). 
Trailhead Ratcliff Lake (31.3885, -95.1566) 129 miles north of Houston. Season Winter and spring; summer is hot and buggy, fall is hunting season. Permit $5/day to park 
Dayhike: White Oak and Red Buckeye Loop, Brazos Bend State Park
Escape the heat on this flat, 2.5-mile jaunt through swaying grasslands beside a slow-rolling river. Dense tree canopy covers these less-trafficked trails, offering a shady chance to view birds (300 species), American alligators, and flora in this patchwork of ecosystems. 
Trailhead White Oak (29.3752, -95.5823) 50 miles southwest of Houston Season Year-round Permit $7/person entrance fee 
Your Guide: Karen Borski Somers
Guidebook author and NASA consultant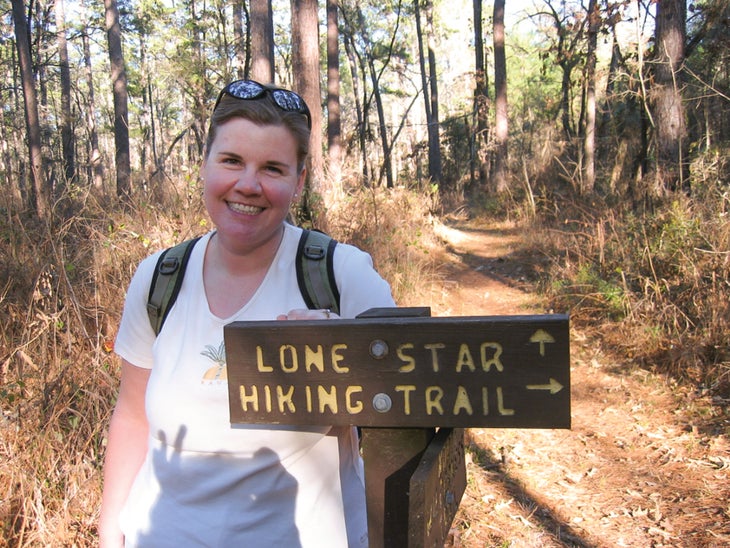 This Texas native and career scientist with NASA brought her technical training to local hiking when she discovered a trail in her home state that was falling into disrepair. The best way to rescue it? Share it. In 2006, as Somers hiked the Lone Star Hiking Trail, a 129-mile footpath through east Texas, she rolled along a measuring wheel—just like Myron Avery used to count mileage on the AT.
"I thought, 'While I'm hiking, it might be good to document what I see and put it online,' and then it grew into, 'Why don't I just write a little guidebook,'" she says (the second edition is due out in November). "It just morphed out of a desire to see the trail more loved, more used, and better taken care of, and knowing there are all these people nearby who really don't have good places to get out for a backpacking trip."