Rip & Go: Jacks River Trail – Cohutta Wilderness, GA
Disappear into the largest–and probably the wettest–wilderness east of the Mississippi.
Heading out the door? Read this article on the new Outside+ app available now on iOS devices for members! Download the app.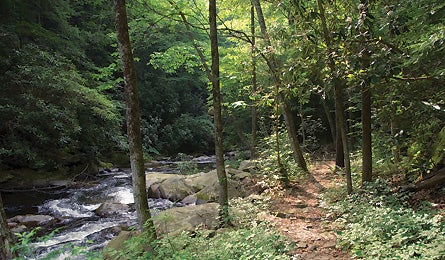 Jacks River Trail (Scott Sanders)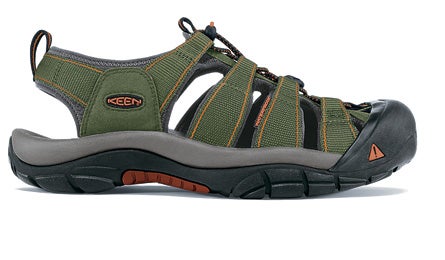 Keen Newport H2 (Courtesy photo)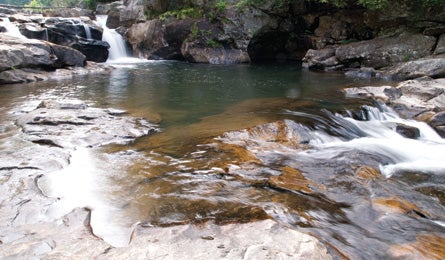 Jacks River Falls (Scott Sanders)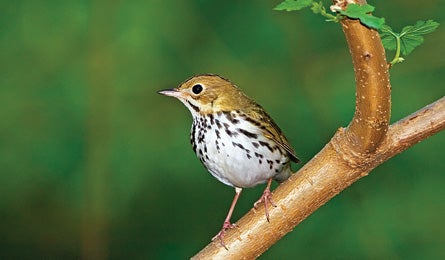 Ovenbird (Johann Schumacher)
Updated: September 17, 2009
Do It The Jacks River trailhead (1) lies tucked into dense greenery 100 miles north of Atlanta. Dozens of glass-clear swimming holes line the 16.3-mile route that drops 1,592 feet from trailhead to terminus, near the Tennessee border. Hike .7 mile southwest to a junction with the Benton MacKaye Trail (2). Stay on the Jacks River Trail (JRT) and prepare for the first of more than 43 water crossings in .2 mile (3). Take in the view of dark and dripping Jacks River gorge at an overlook at 1.7 miles (4). You'll drop back down to the river at mile 2.2 (5) to ford its wide, swift current–unclip your hipbelt to slip out of your pack if you go for a swim. At mile 6.8 veer left at the junction (6) with Penitentiary Branch Trail.
An old railroad bed makes the trail appear to head straight at mile 7.4 (7): Stay left on the JRT. Splash through another creek and climb up the bank to the Rough Ridge Trail junction (8). Turn right, and–surprise!–traverse another small creek. Cross Jacks River at mile 8 (camping restricted for next 1.8 miles) (9), then stay straight at the Hickory Ridge junction (10). Hike about a half of a mile to 80-foot, two-tiered Jacks River Falls (11), passing Beech Bottom Trail on the way. Roughly a mile past the falls, bear right at the junction with Rice Camp Trail and camp in the flat section ahead to end this 9.9-mile day. Next day: Tackle a tricky crossing at mile 10.9. Look for an island near where the trail meets the river and ford Jacks, hugging the downstream tip of the island. Off course? Look for the blue trail marker on the opposite shore (12) and scramble up the bank. If you want to extend your stay, pitch your tent on an old railroad grade in a pocket of trees at mile 13.6 (13). From here, it's 2.7 miles to the trailhead along the north of the river. Before shuttling your car, go jump overv the state line into Tennessee. Why not? It's only at the end of the parking lot (14).

Trip Planner
The Way: From Atlanta, take I-75 45 miles north to US 411 north. Continue on US 411 53.4 miles to Cisco, GA. Turn right onto FR 16 (before the Baptist church). Stay on FR 16 for 30 miles to the northern trailhead (staying right at two intersections on the way).

Shuttle car Take FR 16 back to FR 17 (the junction before the trailhead); turn left. Drive to FR 68 (which becomes FR 64). Continue to Watson Gap and turn onto FR 22 for 3.6 miles to Dally Gap.
Gear up North Georgia Mountain Outfitters, 1215 Industrial Blvd., East Ellijay, GA; (706) 698-4453
Key Gear

Water Crossing Shoes
With an average of nearly three stream crossings per mile, the Jacks River Trail will turn a full-leather boot into a blister bucket; you'd be better off with stilts than shoes with a waterproof/breathable membrane. Pack a sturdy sandal with toe protection that's comfortable enough for hiking or a light hiker with drainage ports. We like KEEN's Newport H2 for it's wrap-around toe bumper and solid traction ($95, keenfootwear.com) and New Balance's 920–with its 12 drainage ports and trail-runner fit and cushion ($95, newbalance.com). Plan B: Use an old pair of sneakers.
See This

Ovenbird

The Cohutta Wilderness lies directly under the Mississippi flyway, the path many migratory birds in the East use to wing it south. Ovenbirds travel more than 2,000 miles to Nicaragua, flying by night at speeds up to 40 mph. Northern Georgia is also the bird's summer breeding ground, so listen for the loud chirping call cher teacher, teacher, teacher and then look for its nest on the ground. Nests look like miniature clay ovens or adobe huts with small doors. Peer though the door to see this teeny brown-and-white-speckled bird. (Check out picture 4 above.)
Locals Know

The Cohutta is the largest federally protected wilderness in the East, with more than 40,000 acres in Georgia and Tennessee. Two major rivers–the Jacks and the Conasauga–run though the lush forest, whose average annual rainfall is more than 60 inches. Not coincidentally, it is home to some of the region's best swimming holes. Cut the summer heat with a dip at the base of Jacks River Falls, or, if it's crowded with dayhikers, save your swim for more idyllic and secluded pools just a couple of miles downstream at Horseshoe Bend, "a swooping oxbow of calm teal water that may just slow you down enough that you'll have to stay another day," says recreation manager Larry Thomas. (Find good campsites where the JRT links to the Horseshoe Bend Trail.)
Camp Chat

In 1958, Sasquatch stomped into the American psyche when a bulldozer operator near Humboldt, California, found a set of 16-inch footprints. Long story short: The prints were a hoax, and so was the 2008 story of two hunters who claimed to have killed a Bigfoot in Georgia's northern woods. They'd stuffed a rubber ape costume with road kill. And yet: There have been more than 3,393 Bigfoot sightings since the '50s. Discuss: Why do so many scary-monster stories survive?
On The Menu
Breakfast 1

Cheesy grits

Lunch 1

Bagel with peanut butter

Dinner 1

Bigfoot jerky potatoes

Breakfast 2

Bagel with cheese and
pepperoni

Lunch 2

Instant ramen

Snacks

Roasted pecans
Cheesy Grits

Dive into a bowl of the South's favorite breakfast.
3/4 cup instant grits

1 cup water

1 ounce cheddar cheese

Pinch of salt and pepper
Boil water. Take off heat, add instant cooking grits and diced cheese. Stir well and cover. Let it sit for 3 minutes. Salt and pepper to taste.
Bigfoot Jerky Potatoes

Tasty enough to satisfy anyone. Or anything.
2/3 cup instant potato flakes

1 ounce of jerky

1 cup dehydrated milk

1/4 tablespoon garlic powder

Pinch of salt and pepper

2 tablespoons olive oil

1 cup water
Cut jerky into small pieces. Bring water to boil. Add dry ingredients, take off heat and cover for 6 minutes, stirring occasionally. Add olive oil and serve.
The Grocery List(Aisle #) In Nearest Store Below
1/2 C. instant
cooking grits (9)

15 oz. of cheddar
cheese (13)

4 plain
bagels (deli)

1 jar of peanut
butter (3)

2 packets ramen
(any flavor) (5)

pepperoni (back wall)
8 oz. pecans
(produce)

2/3 C. instant
potato flakes (4)

1 oz. jerky (12)

1/2 C. powdered
milk (6)
Pack garlic powder, salt, pepper, and olive oil
NEAREST GROCERY STORE:

Food Lion

505 Gi Maddox Pkwy. # C, Chatsworth, GA; (706) 695-1470
THE PIT STOP: Little Rome, 1201 N 3rd Ave., Chatsworth, GA; (706) 695-7309.

Try a slice of lasagna with homemade meat sauce and a side salad with "the best blue cheese dressing this side of the Mississippi."