Kansas City, MO: Thousand Hills Trail
This 10.8 mile overnight shuttle hike features a prairie-covered ridge, miles of picturesque lakeshore, and a rarely-used backcountry campsite tucked away in a fern-studded hollow.
Heading out the door? Read this article on the new Outside+ app available now on iOS devices for members! Download the app.
If you think stunning vistas and backcountry solitude are restricted to Missouri's Ozark region, think again. This 10.8 mile hike through Thousand Hills State Park offers the best wilderness experience in northeast Missouri. Expect to see turkeys, whitetail deer, bald eagles, and great blue herons as you follow a scenic ridgeline, plunge through oak-hickory forest, and trace the shoreline of beautiful, undeveloped Forest Lake.
Drop a shuttle car at the trailhead in Thousand Hills, and park at Big Creek Conservation Area. Follow the grassy lane along the ridge's crest, stopping occasionally to admire panoramic views of the surrounding savanna. Hit the Thousand Hills Trail at mile 1.6 and and continue north on the dirt single-track as it plunges through oak-hickory forest. At the junction at mile, follow the blue arrows to the right. Soon you are treated to views of the lake peaking out through gaps in the trees; trace the shoreline to the seldom-used backcountry campsite off the lake at mile 7 (a permit, required for overnight stay, is free and available at park headquarters). The campsite is dry except for a small pond of questionable quality. After regaining the shoreline, the trail continues along the lake before reaching the spillway at mile 9. Follow a dirt two-track beneath the dam. At the junction at mile 9.6 you are faced with a decision: take a right and continue along the lakeshore (as depicted in the GPS track), or follow the slightly longer trail to the left through rolling, forested terrain. Both routes lead to the trailhead off the main road in Thousand Hills State Park.
Thousand Hills features many additional miles of trail; use the map at http://mostateparks.com/sites/default/files/Thousand%20Hills.pdf to modify or lengthen your route. A trailhead on the east side of Big Creek Conservation Area on Rainbow Basin Trail can be used as an alternate entry point to the Thousand Hills Trail. Be sure to pack water for the duration of the trip, as seasonal streams are unreliable and the lake is unpleasantly silty.
Contact (660) 665-6995, bit.ly/1000hillsSP
-Text and mapping by Paul Chisholm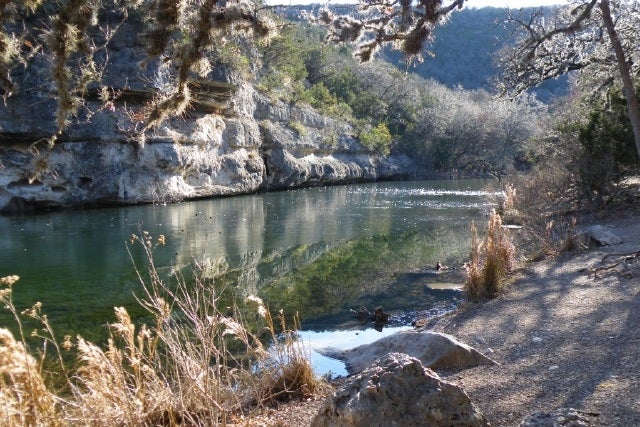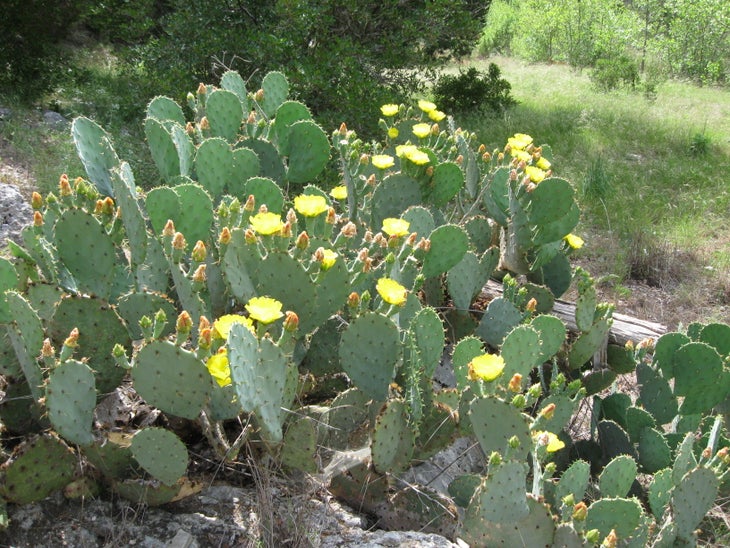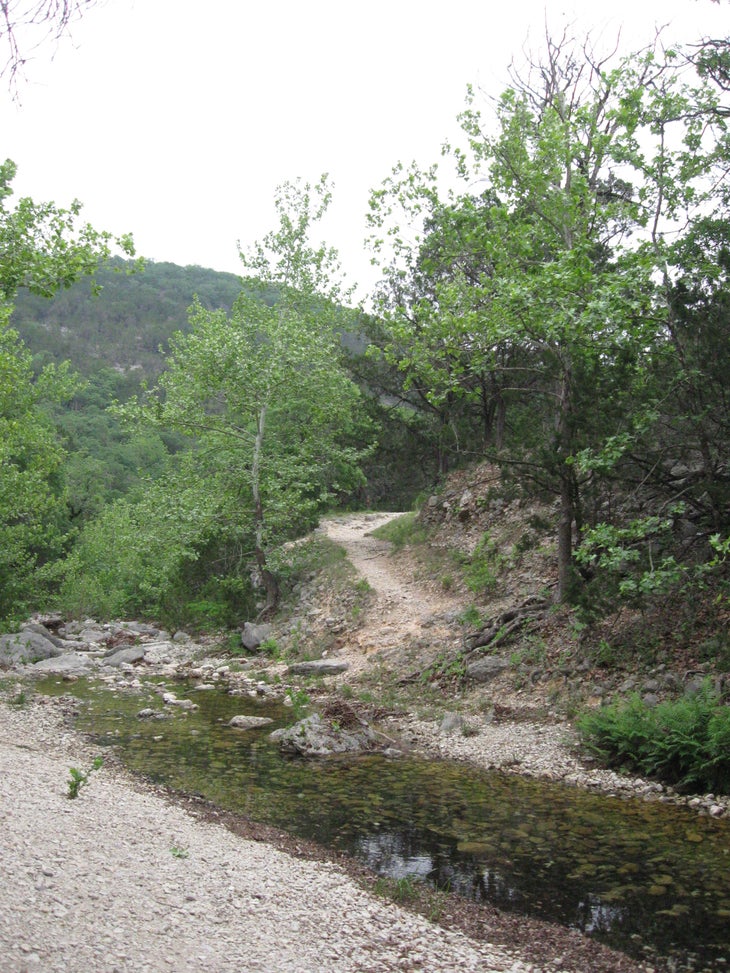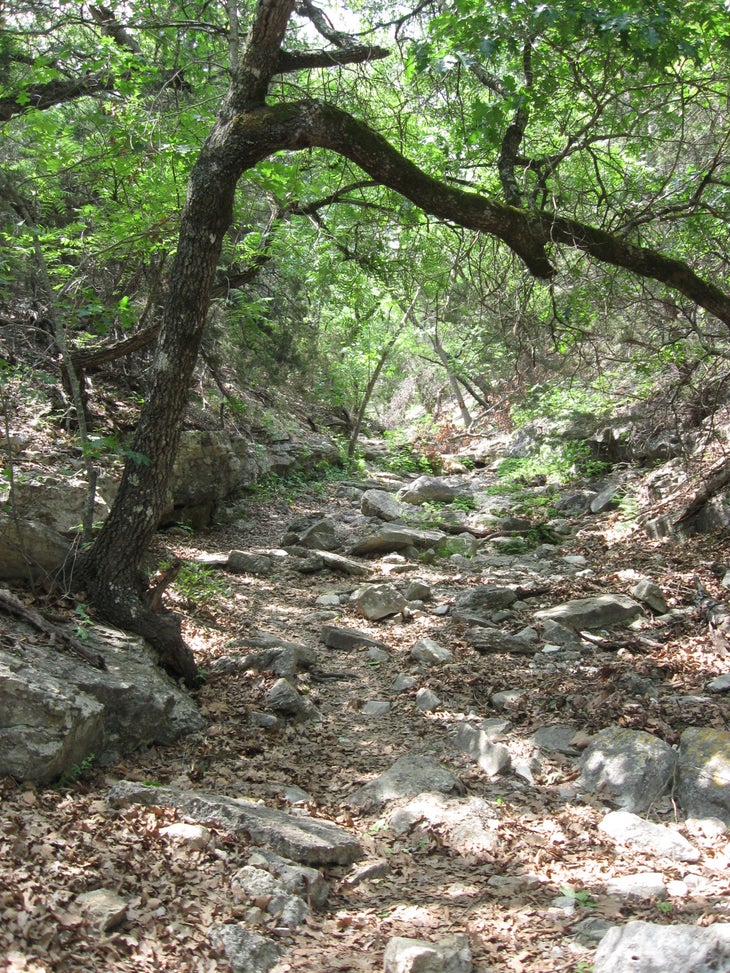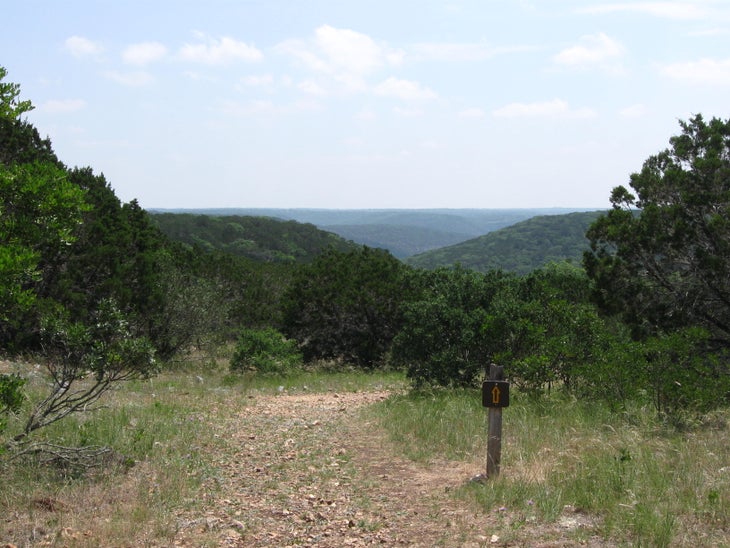 Trail Facts
Waypoints
LOM001
Location: 29.816817, -99.576559
Parking area. East Trail starts at this parking lot.
LOM002
Location: 29.819058, -99.580164
Cross Can Creek
LOM003
Location: 29.820633, -99.59998
Composting toilet
LOM004
Location: 29.821545, -99.602834
Turn off to Campground E
Primitive camp site C
Location: 29.826032, -99.586623
Ponds
Location: 29.826032, -99.586194
Lost Maples Ponds
Location: 29.825529, -99.587932
4. Spring
Location: 29.830499, -99.593446
28-APR-12 9:56:42AM
6. Camp site G
Location: 29.830993, -99.601538
5. Intersection with West Loop Trail
Location: 29.82978, -99.599436
28-APR-12 10:07:24AM
7. Start of loop
Location: 29.833284, -99.60554
28-APR-12 11:14:45AM
Back at West Trail loop
Location: 29.829512, -99.599576
28-APR-12 11:29:42AM
8. Mystic Canyon
Location: 29.826721, -99.601868
Cactus blooms
Location: 29.818381, -99.577718
Crossing Can creek
Location: 29.819172, -99.580185
Rugged trail.
Location: 29.829429, -99.598017
View from the high ground
Location: 29.82028, -99.599283
A
Location: 29.830618, -99.570689
MOON
Location: 29.830914, -99.572622
OVERLOOK
Location: 29.821805, -99.578551
TOP
Location: 29.828616, -99.587198
LOM002
Location: 29.826925, -99.586306
2. West Trail