Hawn State Park, MO: Whispering Pines Loop
Wander through one of Missouri's most revered state parks on this 6.5-mile loop featuring sprawling treetop panoramas and an extended foray along the idyllic Pickle Creek.
Heading out the door? Read this article on the new Outside+ app available now on iOS devices for members! Download the app.
From the Whispering Pines trailhead off Park Drive, follow signs for the North Loop to duck into Hawn State Park's lush hardwood forest. You'll hit the first vista of this counterclockwise loop just past mile 0.5, as an opening in the trees leads to a sweeping panorama of woodlands stretching to the north. At mile 1, descend from tree-blanketed bluffs to the picturesque Pickle Creek, which you'll follow south until the route climbs east at mile 2.4. Continue straight through a four-way junction before reaching spectacular tree-top panoramas from the hike's highest point (938 feet).
Following your descent, you'll bypass a turnoff for the South Loop and push north toward another bluff offering additional high-point panoramas. Drop downhill and continue heading north as the trail snakes through a hallway of trees while winding toward an eastern stretch of Pickle Creek. Before reaching the creek, you'll skirt the edge of pleasant sandstone bluffs looming over the water. Briefly follow Pickle to the south before circling back north to close the loop and reconnect to the trailhead.
Visit Hawn State Park's homepage for more information.
-Mapped by Greg Porter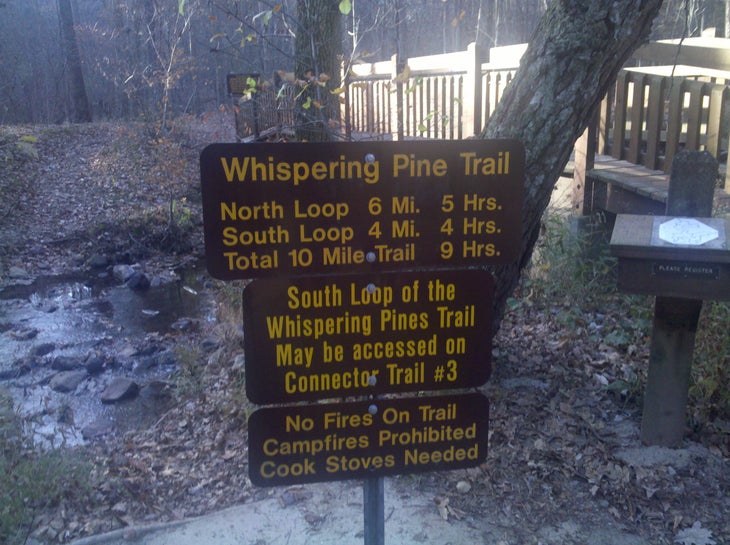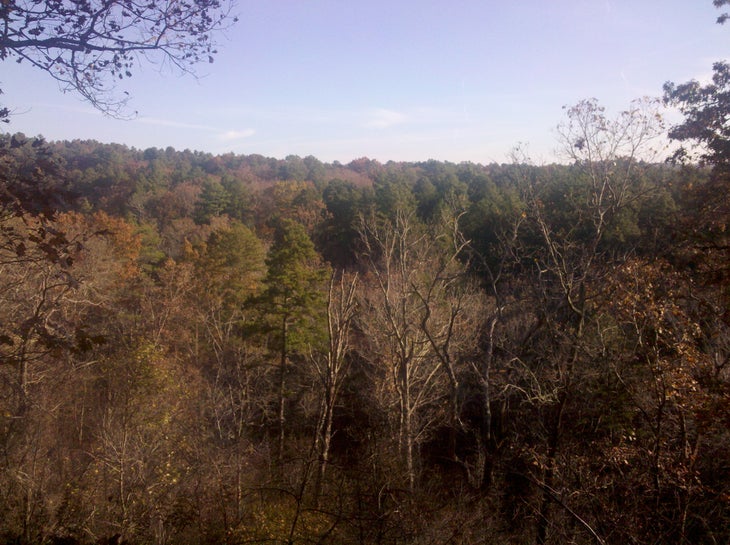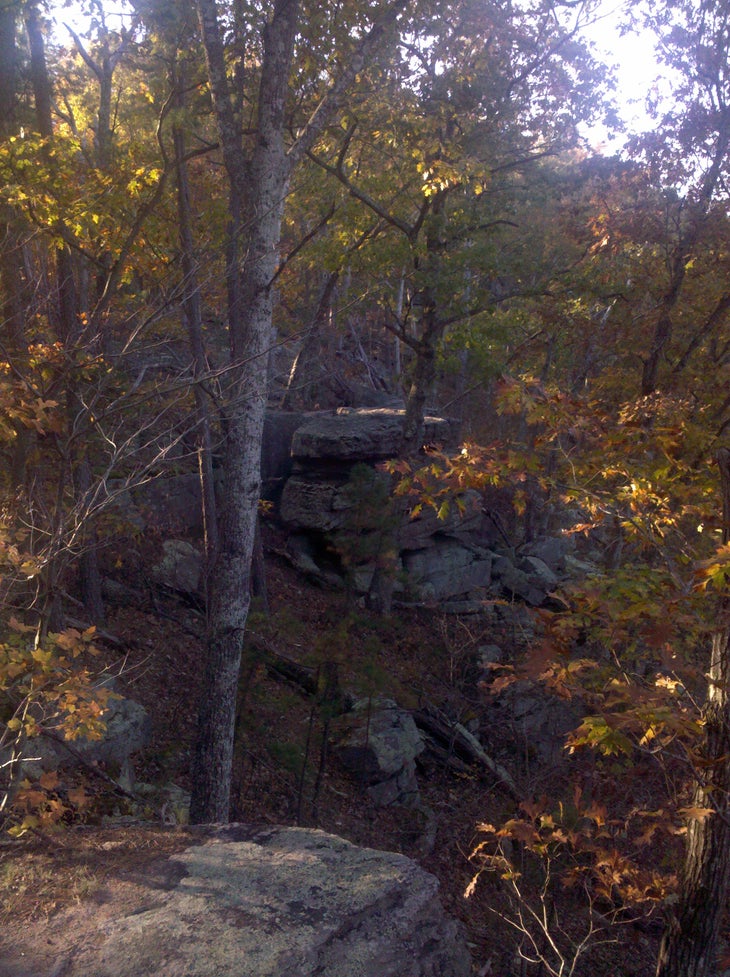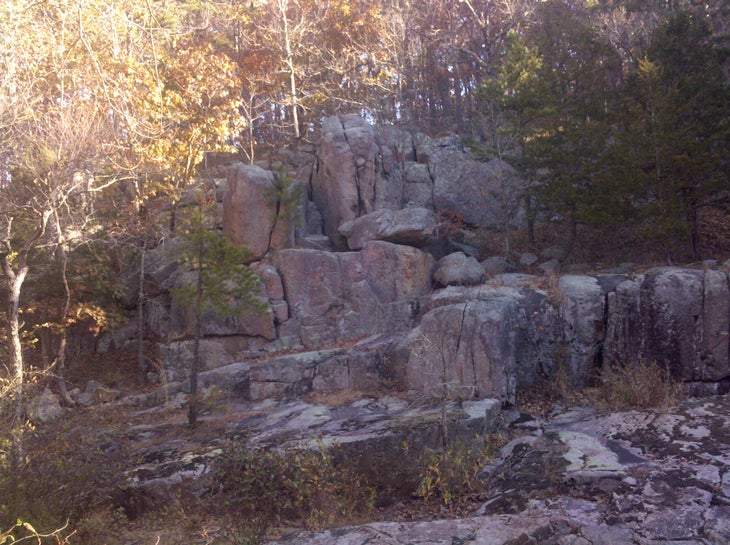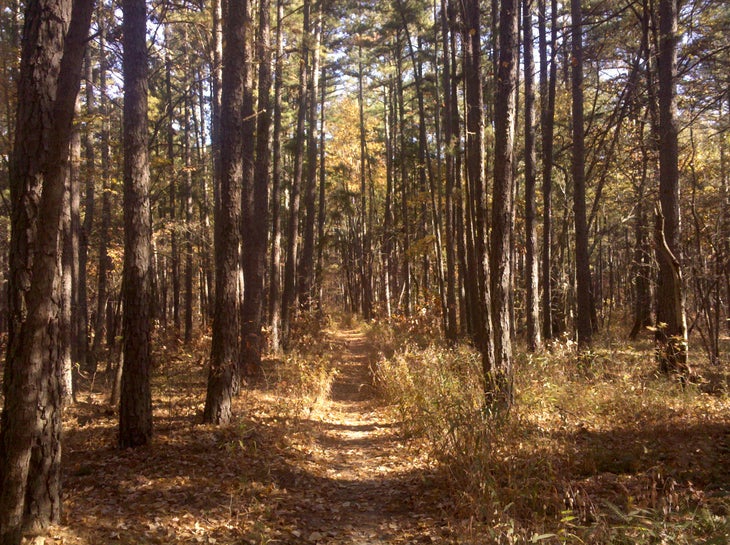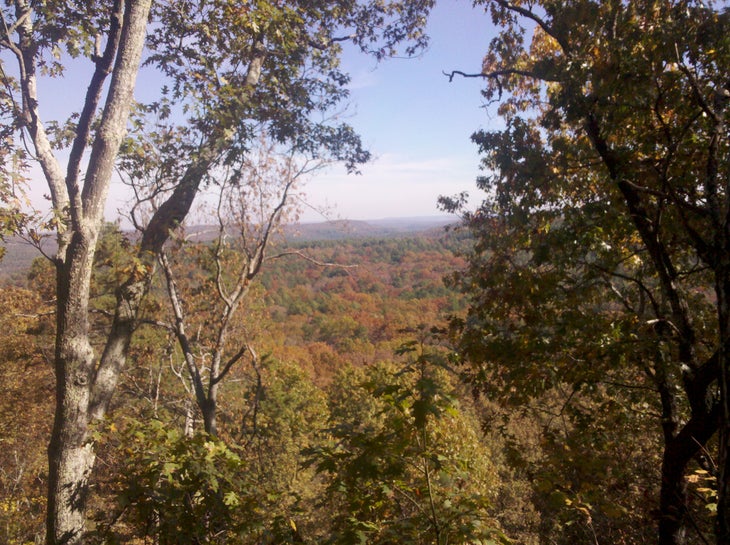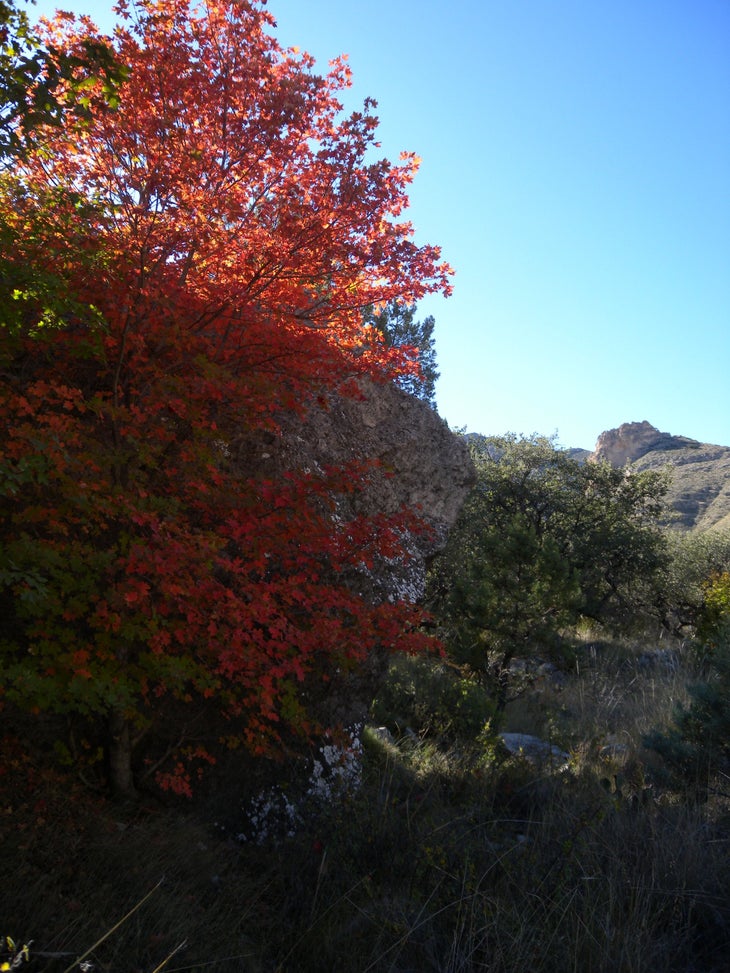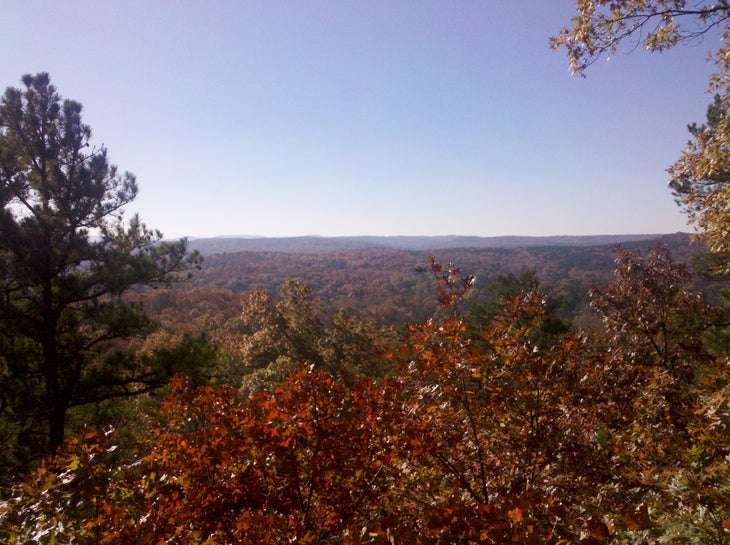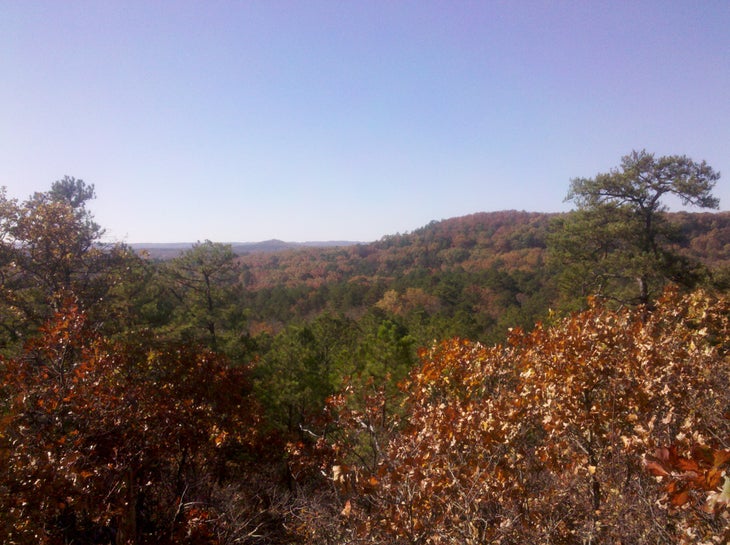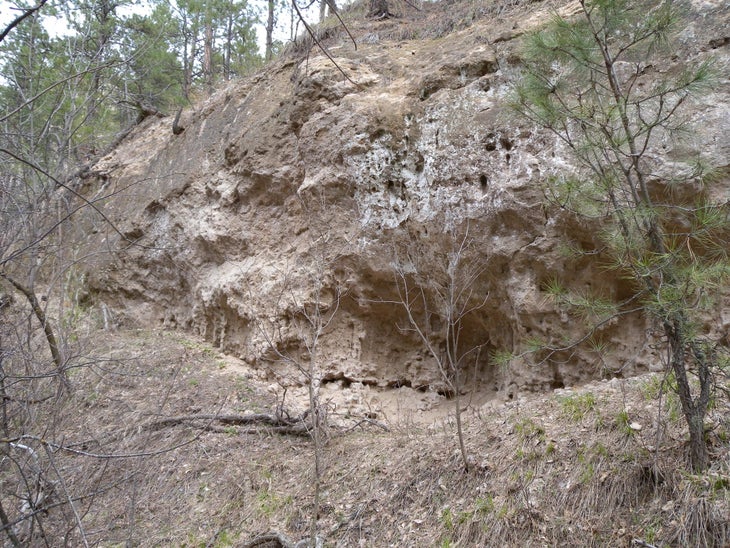 Trail Facts
Waypoints
WPL001
Location: 37.829814, -90.230068
Follow signs for the Whispering Pine Trail North Loop.
WPL002
Location: 37.828467, -90.230886
Bear left at Y-junction.
WPL003
Location: 37.82765, -90.232065
Bear right to bypass the shortcut connector trail.
WPL004
Location: 37.829209, -90.237987
At mile 1, fill up water bottles at the picturesque Pickle Creek.
WPL005
Location: 37.829079, -90.239256
Bear left at Y-junction to stay on North Loop.
WPL006
Location: 37.826591, -90.239296
At a split in the Pickle Creek near mile 1.3, follow the White Oak Connector Trail as it traces the creek's southern fork.
WPL007
Location: 37.821946, -90.24377
Bear left after crossing the Pickle Creek.
WPL008
Location: 37.818294, -90.248287
Climb uphill and away from Pickle Creek at mile 2.4.
WPL009
Location: 37.821078, -90.234792
At the four-way junction, take the middle route and beginning hiking toward the highest point of the trip.
WPL010
Location: 37.819141, -90.232515
Reach the hike's highest point (938 feet).
WPL011
Location: 37.816565, -90.231013
Bear left at Y-junction to bypass the South Loop and stay on the North Loop.
WPL012
Location: 37.828616, -90.22979
Bear right at Y-junction to return to the parking lot.
Whispering Pines Trail
Location: 37.829819, -90.230391
Follow signs for the North Loop of the Whispering Pines Trail.
Vista
Location: 37.830175, -90.233116
At a break in the trees near mile 0.6, look north for a vista of the sprawling woodlands below.
Rocky Outcropping
Location: 37.830144, -90.235924
Pass by boulders embedded in a leaf-blanketed hillside near mile 0.8.
Pickle Creek
Location: 37.829411, -90.237893
Fill up water bottles at the picturesque Pickle Creek near mile 1.
Cliffs
Location: 37.828156, -90.238518
Cliffs and rock slabs flanking the trail near mile 1.2 serve as a prime break spot.
Tunnel Of Trees
Location: 37.818743, -90.240337
Head east through a tunnel of trees while meandering gently uphill near mile 3.
High Country Vistas
Location: 37.820101, -90.232528
As you approach the highest point of the route, you'll notch far-ranging vistas of the countryside below.
Fall Colors
Location: 37.818836, -90.232387
Missouri's sprawling woodlands explode with color during fall.
More Ridgetop Panoramas
Location: 37.818667, -90.232172
Treetop Vistas
Location: 37.821752, -90.224662
Grab more views from above the trees as you climb above 800 feet.
Cliffs
Location: 37.832022, -90.225145
Traverse rock ledges looming over Pickle Creek as you wind your way back to the trailhead.