Death Valley National Park: Racetrack Valley Road to the Nevada Border
Climb through gaping craters and narrow canyons before bagging 11 peaks in northern Death Valley's Last Chance Range on this 46-miler.
Heading out the door? Read this article on the new Outside+ app available now on iOS devices for members! Download the app.
*Editor's Note: This map includes cache locations for water storage. Since there is no water available throughout the park, place your potable water in plastic containers and drop them off at cache locations a couple of days before starting the thru-hike. Mileage and elevation gain and loss are listed after each day's description.
Day 1: Trek across Death Valley Wash and climbing into the Last Chance Range. Mileage: 11.23. Elevation gain/loss: 1817 feet and 369 feet.
Day 2: Hike through colorful Dedeckera Canyon to Eureka Dunes, the tallest dunes in California. Mileage: 13.46. Elevation gain/loss: 2,002 feet and 3,163 feet.
Day 3: Climb past Crater Mine toward the Last Chance Mountains. Mileage: 11.58. Elevation gain/loss: 3,184 feet and 658 feet.
Day 4: Summit no less than 11 peaks and cross the border of Nevada to end the thru-hike of Death Valley National Park. Mileage: 12.48. Elevation gain/loss is 5,117 feet and 4,179 feet.
-Mapped by Roger Homrich, the first person to thru-hike Death Valley Traverse.
TO TRAILHEAD: Start: From Beatty Junction, head northwest on CA 178/CA 190. In 6.5 miles, turn right at N Hwy. In 33.4 miles, turn left at Death Valley Rd. In 2.8 miles, bear left at Racetrack Valley Rd. In 2.8 miles, bear left onto the one-way loop road. Go 0.3 mile to access the start of this hike.
End: From Bishop, go south on US 395/North Main Street. After 15 miles, turn left onto CA 168. At 42 miles, cross the Nevada Border (CA 168 becomes NV 266). Ten miles past the border, look for jeep roads on the right side of the highway. Outside of Lida, NV, bear right onto a dirt jeep road and head south. Pick up thru-hikers near the border. The jeep road will U-turn back to NV 266.
PRO Trip Info
Contact
Furnace Creek Visitor Center & Museum (760) 786-3200
Scotty's Castle Visitor Center (760) 786-2392 ext.231
nps.gov/deva
Potable Water: Water can be found at all park communities, visitor centers, contact stations and museums.
Fuel: It's best to keep a full tank in your vehicle as distances are great in and around the park. The nearest gas stations are at Stovepipe Wells (45 miles south), Furnace Creek (53 miles South), and Beatty, Nevada (60 miles southeast).
Groceries: Limited groceries can be purchased in the park at the Furnace Creek Ranch General Store. Panamint Springs Resort and Stovepipe Wells have convenience stores. Outside the park, buy basics in Beatty, NV and Shoshone, CA. The nearest supermarket is in Pahrump, NV.
Weather: Death Valley is the hottest and driest place in North America. Summer temperatures can reach 120°F (49°C) in the shade, with overnight lows dropping into the 90s°F (mid 30s°C.) Average rainfall is less than 2 inches. Occasional thunderstorms, especially in late summer, can cause flashfloods.
Where to Eat
Furnace Creek Resort (closed in summer)
Dining Room: Serves breakfast, Sunday Brunch, lunch and dinner (dress code). Reservations recommended.
Lobby Bar: Drinks in the afternoon and evening. Don't miss about afternoon tea.
Furnace Creek Ranch
Forty-Niner Cafe: Breakfast, lunch and dinner. Limited summer hours.
Wrangler Steakhouse & Buffet: Buffet-style breakfast and lunch. Steakhouse for dinner. Limited hours.
Corkscrew Saloon: Drinks and snacks served in afternoon and evening.
The 19th Hole: Burgers and sandwiches next to the golf course. Closed in summer.
Stovepipe Wells Village
Toll Road Restaurant: Breakfast, lunch and dinner; casual setting. Limited hours. No lunch in summer.
Badwater Saloon: Drinks and appetizers served in afternoon and evening.
Panamint Springs Resort
Dining & Bar: Breakfast, lunch and dinner year-round.
Lodging options inside the park
Furnace Creek Resort
328 Greenland Boulevard
Death Valley, CA 92328
(760) 786-2345
furnacecreekresort.com
Stovepipe Wells Village
California 190
Death Valley Junction, CA 92328
(760) 786-2387
escapetodeathvalley.com
Panamint Springs Resort & RV Park
California 190
Death Valley, CA 92328
775-482-7680
Lodging options outside the park
Beatty, NV – Bailey's Hot Springs RV Park; 775-553-2395
Amargosa Valley, NV – Longstreet Motel & RV Park; 775-372-1777
Death Valley Junction, CA – Amargosa Hotel; 760-852-4441
Pahrump, NV – Pahrump Nugget Hotel; 866-751-6500
Shoshone, CA – Shoshone Inn; 760-852-4335
Tecopa, CA – Ranch House Inn B&B; 760-852-4360
Ridgecrest, CA – Motel 6; 800-466-8356
Inyokern, CA – Mayfair Motel; 760-377-4321
Olancha, CA – Rustic Motel; 760-764-2209
Lone Pine, CA – Mt. Whitney Motel; 800-845-2362
Independence, CA – Independence Courthouse Motel; 800-801-0703
Big Pine, CA – Big Pine Resort Cottages; 760-938-2922
Bishop, CA – Thunderbird Inn; 760-873-4215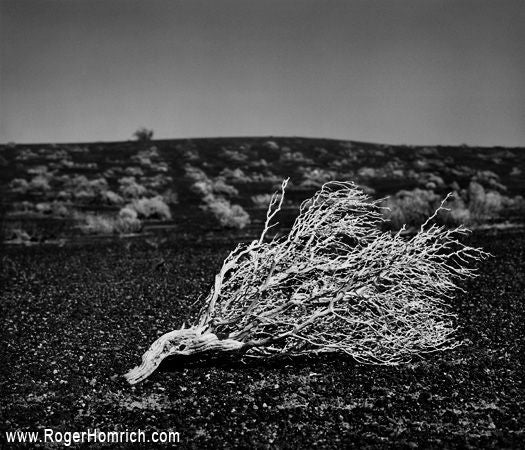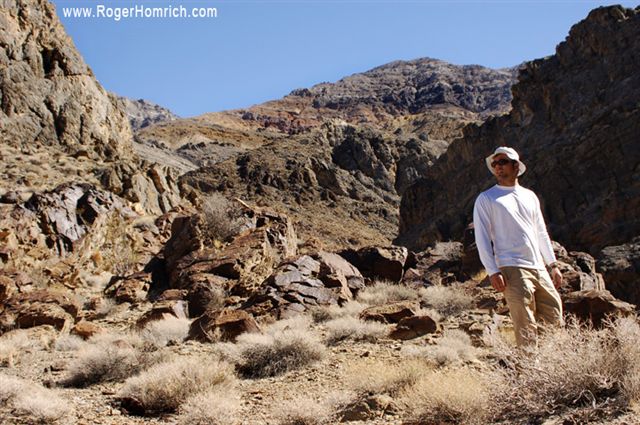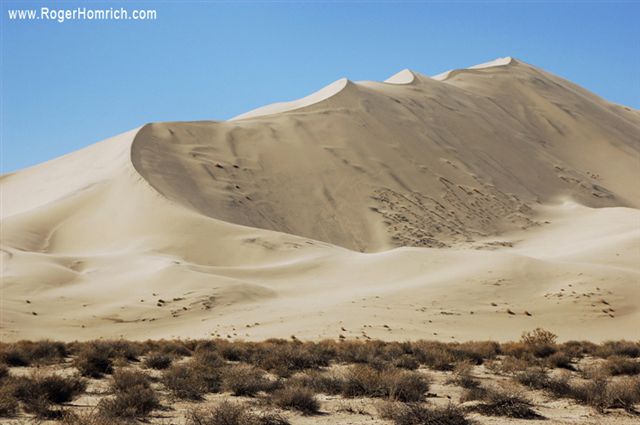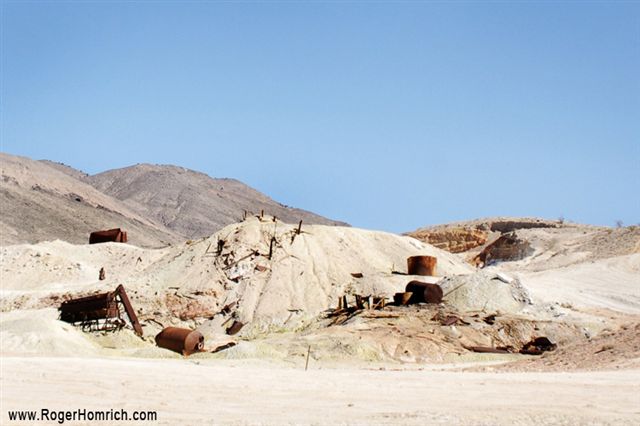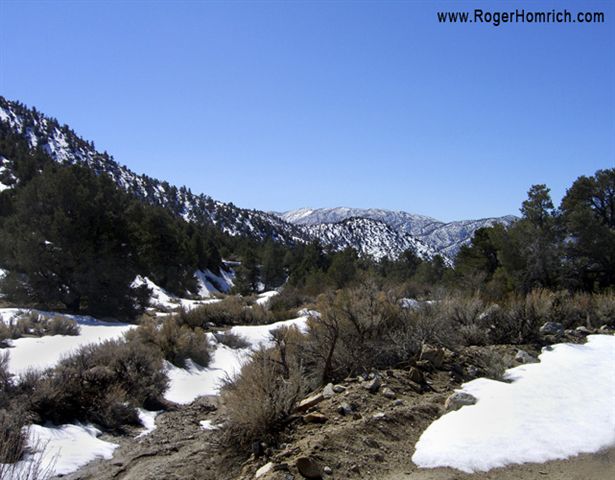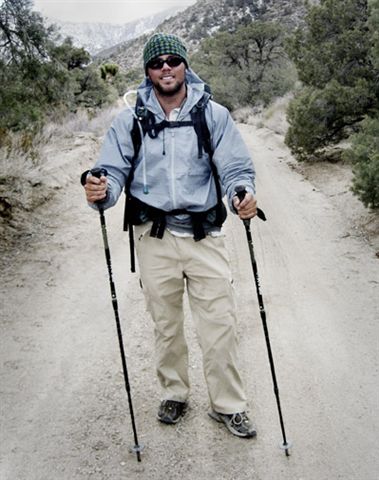 Trail Facts
Waypoints
DVN079a
Location: 37.01088, -117.454834
From Racetrack Valley Road, head north into Valley Wash. Turn around for views of Ubehebe Crater to the south.
DVN080
Location: 37.056736, -117.465362
Enter Death Valley Wash. From here, bear left and follow the wash northwest for about 3.5 miles. The low-lying hills to the west will start to flatten out. At this point, look for a faint intersection where a faded mining road cuts through the wash.
DVN081
Location: 37.091427, -117.495064
Turn left at the intersection between the mining road and the wash. Then climb west for about 3.5 miles toward a notch in the mountains. Though the road leads to the notch for a short distance, it soon turns away from the mountains. Once the notch is in sight, keep climbing towards it and hike off-road. This stretch gains about 1,200 feet.
DVN082
Location: 37.083118, -117.556038
Reach an unnamed notch in the mountains. It looks very similar to the mouth of a canyon, but after walking through a narrow gorge, the route leads to a large, open area. Continue due west.
DVN083
Location: 37.08078, -117.565636
End of Day 1: Just past the narrow notch in the mountains, a wide slope offers a few flat areas to camp (it can get really windy here). No water is available. This is a very private area in Last Chance Range that is rarely, if ever, visited. From camp, hike southwest and gain a quick 1,000 feet over undulating terrain en route to the second notch in the mountains.
DVN084
Location: 37.064171, -117.586395
After climbing up to a very obvious gap in the mountains, continue southwest along the wash. Switchbacking may be necessary to avoid debris.
DVN085
Location: 37.05838, -117.591553
The wash splits at this point. Continue south along the left-hand wash toward a saddle, gaining about 800 feet.
DVN086
Location: 37.042618, -117.594063
After passing the ruins of an old, abandoned mine, summit a saddle. The rocks in this area are extremely colorful. Continue due south to a higher saddle.
DVN087
Location: 37.034462, -117.591499
Reach the second saddle, which showcases Joshua trees, and red, purple, and orange rocks. From here, descend south-southwest down a steeply graded wash. Follow the wash as it curves west and then west-northwest down to Dedeckera Canyon.
DVN088
Location: 37.036713, -117.62503
Enter Dedeckera Canyon. Huge walls of reticulated stone tower above the gravel-covered canyon floor. Descend 2 miles north through the canyon. At the canyon mouth, find views of Eureka Valley, the Inyo Range and Eureka Dunes.
DVN089
Location: 37.058041, -117.639587
Cache
DVN090
Location: 37.101055, -117.662285
Eureka Dunes are almost 700 feet tall, the highest dunes in California and some of the tallest in the U.S. Walking on the dunes or along their base is slow and tedious because the sand is so soft.
DVN091
Location: 37.116684, -117.664703
End of Day 2: Camp on the alluvial material to the north of the dune's peak. From this area, campers have great views of the valley and Inyo Range as well as unforgettable sunsets and sunrises. There is also a primitive camp in the area. No water or protection is available at this spot. From camp, hike north, gaining 400 feet, to a stellar view of Eureka Dunes and the foothills of Last Chance Mountain.
DVN092
Location: 37.139168, -117.671677
Take a moment to stop and look around at this panoramic point, which showcases the dunes below and the snowy Inyo Range. Continue north-northwest through the narrow valley between the foothills.
DVN093
Location: 37.15144, -117.678276
After climbing another 400 feet, rest at this open, flat area between two 4,000-foot foothills. Continue north through the canyon, following the wash. The canyon walls are a few hundred feet higher than the wash.
DVN094
Location: 37.172104, -117.671944
Bear left at an intersection between two canyon washes. Continue three-quarters of a mile over gravel, passing beautifully colored canyon walls before reaching another fork in the canyon.
DVN095
Location: 37.185764, -117.674843
Bear left at the second fork in the canyon. Once the canyon opens, continue northwest to Big Pine Road.
DVN096
Location: 37.192524, -117.68045
Follow Big Pine Road to the left and continue westward to Crater Mine. Cache spot.
DVN097
Location: 37.21172, -117.690918
After bearing left onto Big Pine Road, turn right and continue north past the mining area.
DVN098
Location: 37.220192, -117.684158
End of Day 3: Camp off the dirt road on a flat area near the pass. Pick a spot with protection because this area can get very cold and windy. From camp, follow the dirt road until it dead ends into the mountains. A mineshaft is at the end of the road. Route-finding will be necessary during the next 12 miles because there is no trail and the terrain is extremely rugged.
DVN099
Location: 37.258961, -117.681404
Scramble up a steep, dirt slope to the first saddle in Last Chance Range. From the saddle, hike the ridgeline over 4 unnamed peaks to Last Chance Mountain. Head northwest to the first peak (7,853 feet). Go north-northwest to the second peak (7,978 feet). Continue northwest to the third peak (8,250 feet). Then, head due north and turn east, skirting the ridgeline around the fourth peak (8,211 feet). Hike north, then northwest along the ridge to the summit of Last Chance Mountain (8,456 feet).
DVN100
Location: 37.28014, -117.699806
Summit Last Chance Mountain (8,456 feet), the highest point on the 14-day trip. From Last Chance, hike over 6 more unnamed peaks. Continue north-northwest to the first (8,361 feet) of the six. Then head west to a saddle between the 8,361-foot peak and the second peak (8,338 feet). From the saddle, go north to a 7,735-foot mountain. After reaching the summit, continue north and bear east along the edge of a 7,376-foot mountain. Continue north-northeast to a 7,526-foot peak before turning northwest along a ridge down to a 7,242-foot mountain. From here, descend north to Willow Creek Road.
DVN101
Location: 37.333218, -117.706062
Bear right on Willow Creek Road and follow it for 2 miles to Cucomungo Canyon and the Nevada Border. Pass through the surrounding hills with the mountains high above. Mining prospects are scattered among the hillsides. Last Chance Mountains will be to the south. In the distance, the Sylvania Mountains spread across the landscape to the north, east, and west.
DVN102
Location: 37.353035, -117.680916
Pass the unmarked Nevada Border. End of Day 14 and the thru-hike of Death Valley National Park. It is recommended that thru-hikers get picked up from this spot instead of leaving a car here.
Creosote
Location: 37.053669, -117.464874
©Roger Homrich
Thru-hiker Roger Homrich
Location: 37.036681, -117.623406
©Roger Homrich
Eureka Dunes
Location: 37.098455, -117.663917
©Roger Homrich
Crater Mine
Location: 37.211738, -117.689323
©Roger Homrich
Last Chance
Location: 37.281769, -117.698853
©Roger Homrich
Nevada Border
Location: 37.353034, -117.680225
©Roger Homrich