Cohutta Wilderness Area: Jacks River Trail
This 16.3-mile shuttle hike splashes through the Jacks River region (read: 40-plus creek crossings) in the Cohutta Wilderness Area.
Heading out the door? Read this article on the new Outside+ app available now on iOS devices for members! Download the app.
The Jacks River trailhead lies tucked into dense greenery 100 miles north of Atlanta. Dozens of glass-clear swimming holes line the 16.3-mile route that drops 1,592 feet from trailhead to terminus, near the Tennessee border. Hike .7 mile southwest to a junction with the Benton MacKaye Trail. Stay on the Jacks River Trail (JRT) and prepare for the first of more than 43 water crossings in .2 mile. Take in the view of dark and dripping Jacks River gorge at an overlook at 1.7 miles. You'll drop back down to the river at mile 2.2 to ford its wide, swift current—unclip your hipbelt to slip out of your pack if you go for a swim.
At mile 6.8, veer left at the junction with Penitentiary Branch Trail. An old railroad bed makes the trail appear to head straight at mile 7.4: Stay left on the JRT. Splash through another creek and climb up the bank to the Rough Ridge Trail junction. Turn right, and—surprise!—traverse another small creek. Cross Jacks River at mile 8, then stay straight at the Hickory Ridge junction. Hike about a half of a mile to 80-foot, two-tiered Jacks River Falls, passing Beech Bottom Trail on the way. Roughly a mile past the falls, bear right at the junction with Rice Camp Trail and camp in the flat section ahead to end this 9.9-mile day.
Next day: Tackle a tricky crossing at mile 10.9. Look for an island near where the trail meets the river and ford Jacks, hugging the downstream tip of the island. Off course? Look for the blue trail marker on the opposite shore and scramble up the bank. If you want to extend your stay, pitch your tent here on an old railroad grade in a pocket of trees at mile 13.6. From here, it's 2.7 miles to the trailhead along the north of the river. Before shuttling your car, go jump over the state line into Tennessee. Why not? It's only at the end of the parking lot.
More Info: Conasauga Ranger District; (706) 695-6736
Camping Restrictions: fs.fed.us/conf/press/20060512-jrf-closure.htm
Gear up: North Georgia Mountain Outfitters, 1215 Industrial Blvd., East Ellijay, GA; (706) 698-4453.
-Mapped by Scott Sanders
TO TRAILHEAD: Shuttle car: From Atlanta, GA, take I-75 north to US 411 north. Continue to Chattsworth, GA, and stay on US 411 for another 13.4 miles to Cisco, GA. Turn right onto Old Hwy 2/FS 16, a paved road right before the Cisco Baptist Church. Follow the paved FS 16 until it ends. Continue on a gravel road and stay right at a fork in the road. From the 3-way intersection with FS 51, continue straight on FS 16 for another 8.7 miles. Bear right at the next intersection and the parking lot/trailhead a short distance away near the Tennessee/Georgia state line.
Start: Return to FS 16/FS 51 3-way intersection and continue on FS 16 to FS 17 and turn left. Continue of FS 17 (passing FS 17B and FS 630) and turn left on FS 68. Continue straight at the next 3-way intersection as the road becomes FS 64. Continue past Betty Gap and Three Forks Mountain, and turn left at the next 3-way intersection to continue on FS 64 toward Watson Gap. At Watson Gap, continue straight on FS 22 for 3.6 miles to the trailhead at Dally Gap.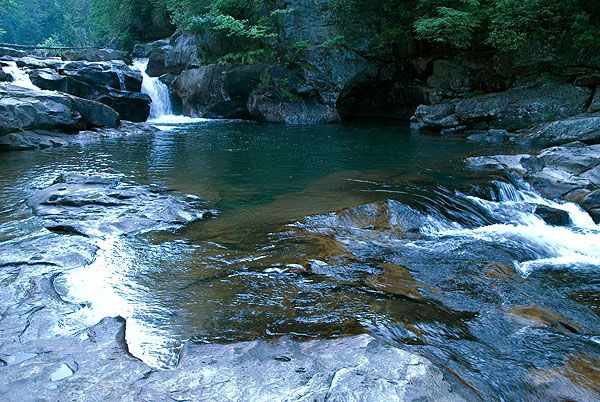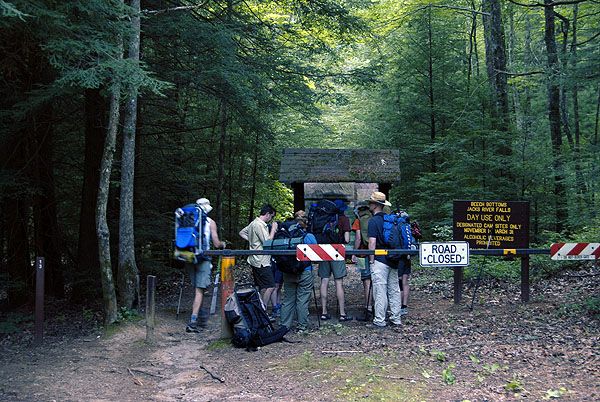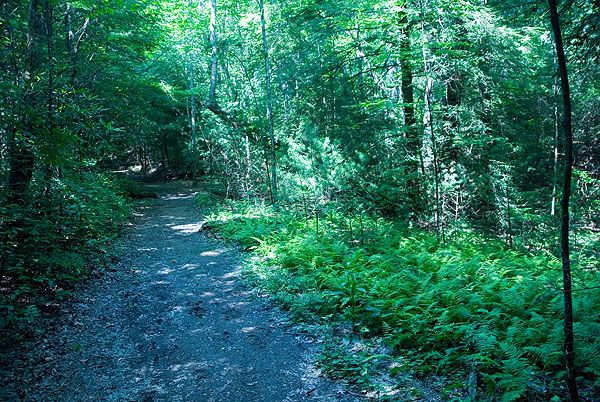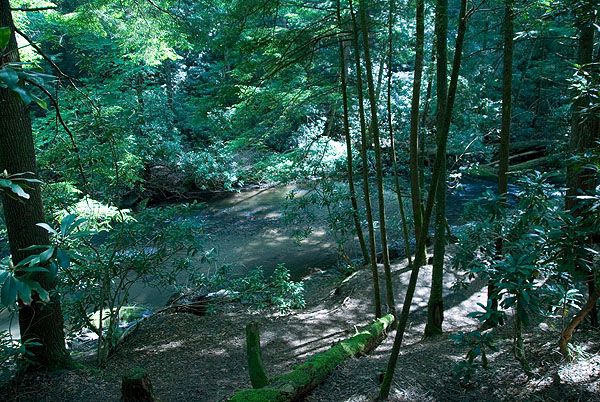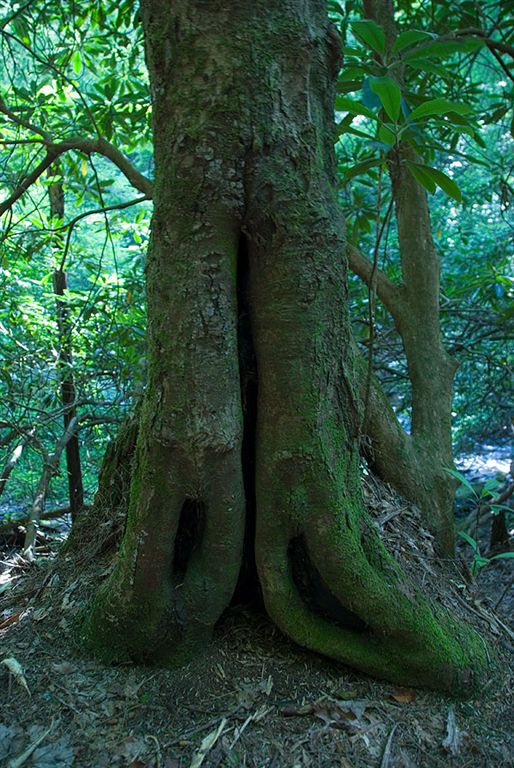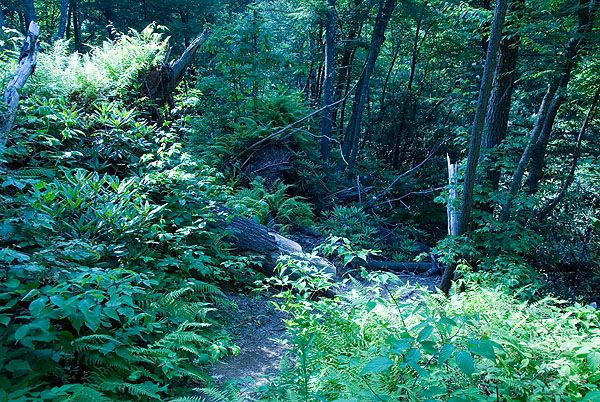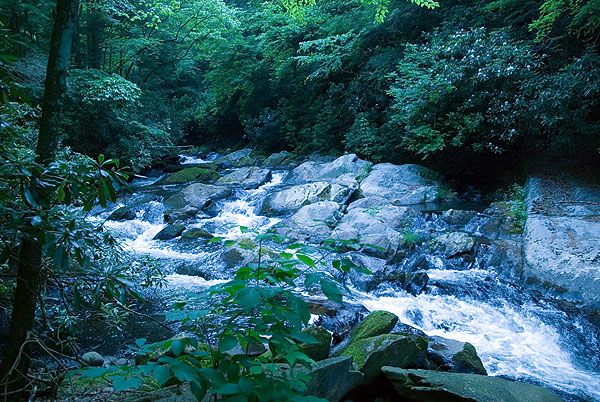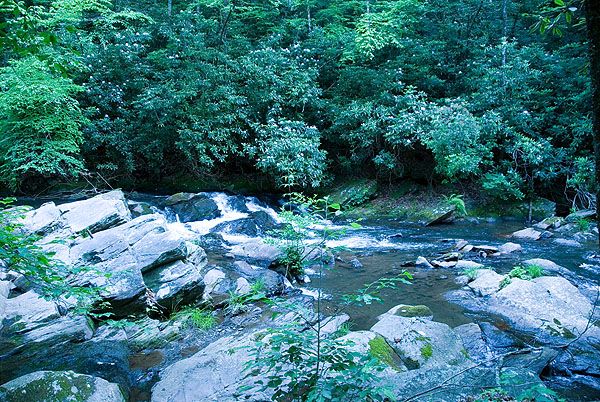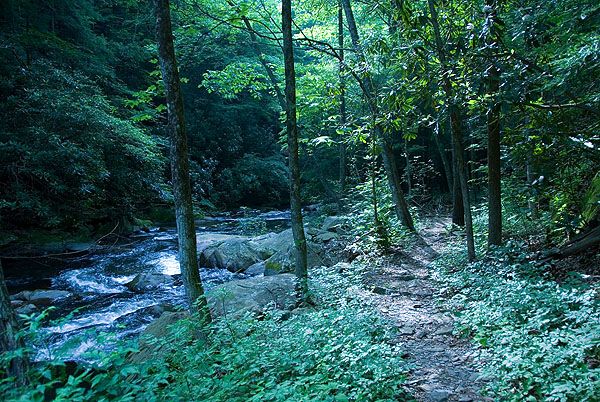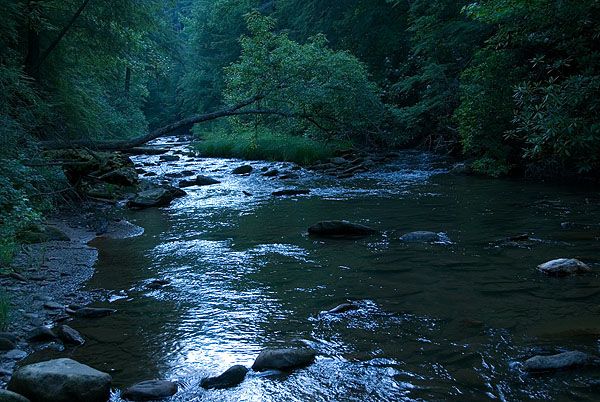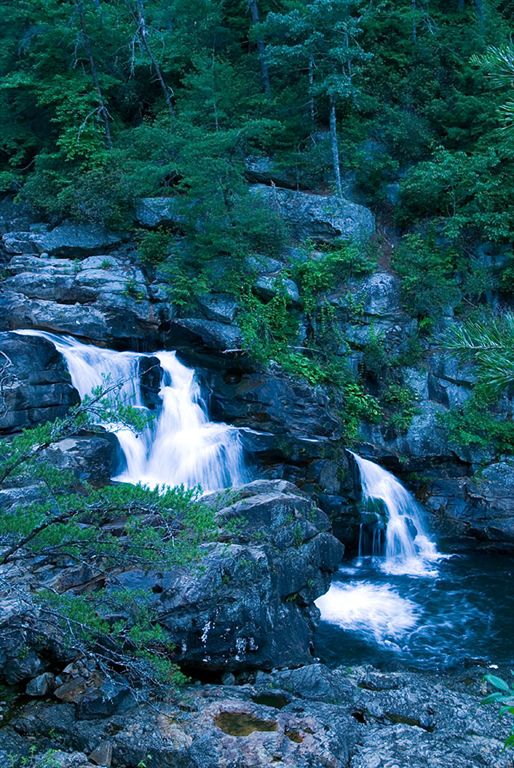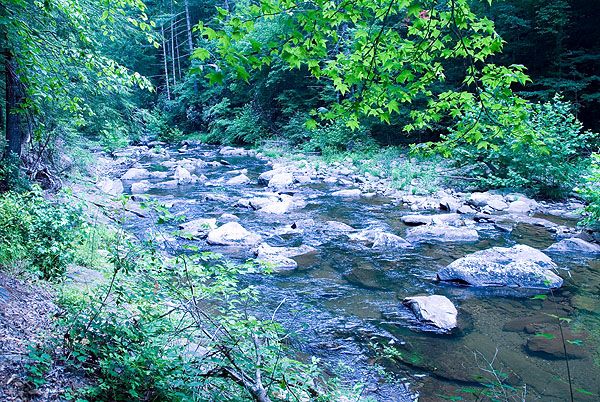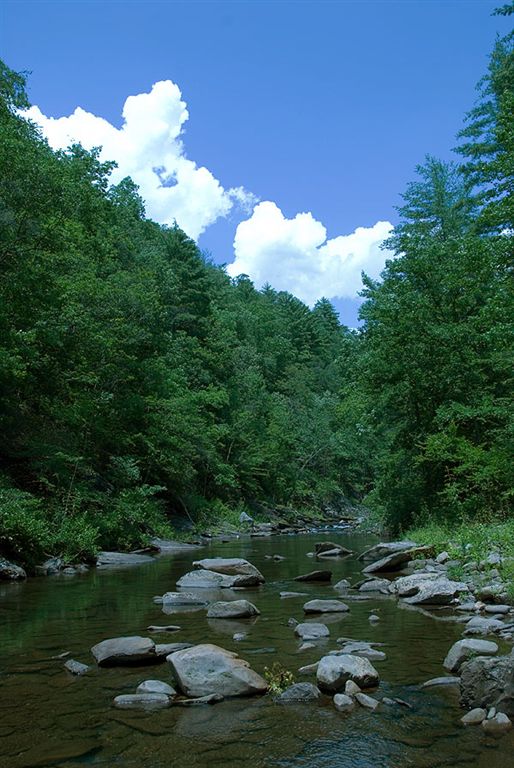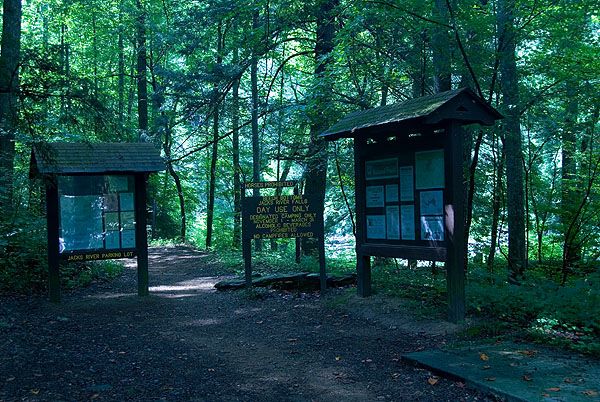 Trail Facts
Waypoints
JCK001
Location: 34.93343, -84.518845
Starting Point: Follow signs for the Jacks River Trail.
JCK002
Location: 34.924831, -84.524048
Go straight @ 3-way junction. The Benton MacKaye Trail shoots off to the right.
JCK003
Location: 34.924164, -84.5243
Continue straight @ 3-way junction. Another junction of the Benton MacKaye Trail heads left.
JCK004
Location: 34.92347, -84.525871
The trail crosses a seasonal spring, the first of many on the trip. Many campsites ahead.
JCK005
Location: 34.919508, -84.533722
The trail passes an overlook: This is the first good view of the creek.
JCK006
Location: 34.917995, -84.539237
Pass a campsite well-suited to large groups (fire ring and nice rapids in river).
JCK007
Location: 34.920088, -84.541597
First significant river ford. Be advised: After heavy rainfall, these crossings become more complicated and can be dangerous.
JCK008
Location: 34.924997, -84.543668
The trail cuts downhill on a hard right.
JCK009
Location: 34.926018, -84.542584
The trail heads up and away from the river, and then re-routes down some switchbacks to avoid a damaged area of the trail. Good views back down to the river.
JCK010
Location: 34.935605, -84.543325
The trail bears left in front of a campsite near an old railroad buttress.
JCK011
Location: 34.957002, -84.551371
Go left @ T-intersection. On the right is Penitentiary Branch Trail, a good escape route if water levels rise.
JCK012
Location: 34.963245, -84.555566
Go left at 3-way junction up a long hill. This intersection is tricky as the trail appears to head straight along an old railroad bed.
JCK013
Location: 34.964291, -84.558431
Go right @ T-intersection just after crossing a small creek and climbing up a small embankment. The Rough Ridge Trail heads up here from here, another emergency exit route in high water conditions.
JCK014
Location: 34.968423, -84.563828
Just before a river crossing, 8 to 10 old railroad ties remain from a set of old RR tracks.
JCK015
Location: 34.968458, -84.5643
Jacks River crossing. Note: This crossing marks the no-camping zone for the Jacks River Falls Area. Overnight camping is prohibited for the next 1.8 miles of trail. Note: Camping is permitted at designated campsites in the Beech Bottom area from November 1 thru March 31.
JCK016
Location: 34.968968, -84.565705
Go straight at 3-way junction next to a campsite. The Hickory Ridge Trail heads left.
JCK017
Location: 34.969364, -84.565995
Continue straight @ 3-way junction past the Beech Bottom Trail (another emergency exit option).
JCK018
Location: 34.97195, -84.572533
Jacks River Falls: This two-tiered fall drops 80 feet, and offers incredible views in the Cohutta Wilderness.
JCK019
Location: 34.971676, -84.584223
The restricted camping area ends roughly 1 mile below Jacks River Falls.
JCK020
Location: 34.971588, -84.585242
Go right @ 3-way junction. The Rice Camp Trail heads uphill to the left. Ahead: Find a designated campsite to set up camp.
JCK021
Location: 34.969355, -84.592452
Here the trail encounters one of the trickier crossings on this hike across an island in the middle of the river. To cross, follow the right side of the river 100 yards down stream to cross the island at its end (do not attempt cross the island in the middle). Look for the blue rectangle blaze and the trail on the opposite shore.
JCK022
Location: 34.981856, -84.60288
After crossing the river, follow the trail as it climbs up the riverbank and go right @ the 3-way junction. To the left a small campsite is perched on an old railroad bed.
JCK023
Location: 34.981751, -84.608781
After this last river crossing, the remaining 2 miles follow an old railroad bed on the north side of the river. No campsites from here to the ending point.
JCK024
Location: 34.988415, -84.632813
End point: Before you pick up the shuttle car, walk into Tennessee, the state line is to the right of the parking lot.
Above Jacks River Falls
Location: 34.971536, -84.572775
Eastern Trailhead
Location: 34.933441, -84.518638
Tree-shaded trail
Location: 34.923115, -84.525933
First view of the river
Location: 34.921232, -84.526255
A head-scratching root system
Location: 34.920141, -84.528551
Fallen trees on trail
Location: 34.925015, -84.543518
Typically beautiful rapids
Location: 34.926035, -84.54237
Cascading Rapids
Location: 34.933283, -84.547884
The trail along the river
Location: 34.937084, -84.546463
Twilight Calm
Location: 34.944541, -84.5465
Jacks River Falls
Location: 34.97194, -84.572411
Rocks in the water
Location: 34.971342, -84.583633
A common occurrence…
Blue skies on the river
Location: 34.979518, -84.6014
Western Trailhead
Location: 34.988414, -84.632621
The Tennessee-Georgia state line is just to the left.