Chile: Private Patagonia – Cordillera Baguales
Escape to trekking and horseback riding nirvana on Patagonia's high plains.
Heading out the door? Read this article on the new Outside+ app available now on iOS devices for members! Download the app.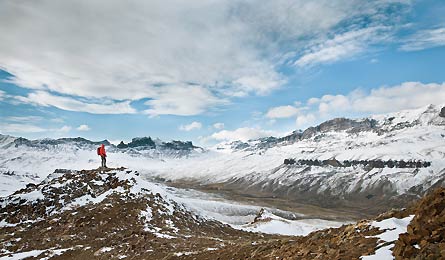 Scouting from a high point behind the house at 3R Estancia (By Jorg Badura)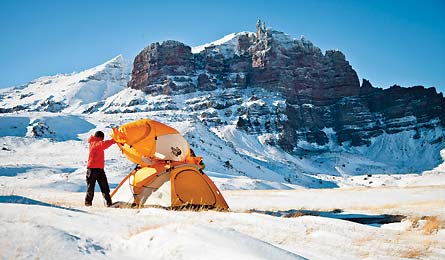 Making camp beneath Cerro Baguales (Jorg Badura)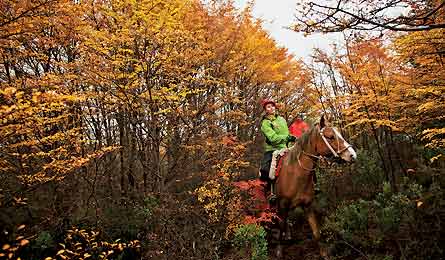 Horseback riding is also an option at Woody Estancia Mercedes, near Puerto Natales (Jorg Badura)
Baguales means "feral," and this vast, arid region on the Chile-Argentina border got its name from herds of wild horses that roam here. But it could have derived from the terrain or its people, too: The area, three hours northeast of Natales, is a sprawling no-man's land with no towns or paved roads. 
My host Cristobal Rivero grew up sheering sheep here at his grandparents' ranch, the 3R Estancia. Now, he's turned the 10,000-acre spread (which still runs 350 head of cattle) into a backpacker's paradise. "It's just an hour or so beyond the turn-off to Torres Del Paine National Park," he says. "Here, you can get to know the real Patagonia." 
We have three days to explore the sprawling grasslands, so we orient ourselves to the terrain on a short hike to a nearby highpoint. Rivero points across the valley at a butte topped by Bryce Canyon-like hoodoos. There's a lake at its base where we could camp, he says, casually adding that this lake has a bulls-eye view of the park's famous Towers. In the next drainage over, arrowheads and fossilized plants have attracted area paleontologists. The ridge beyond is a favorite playground for his horses. That pond and that river over there all have big trout—and, oh, he could teach me how to hand-fish (we later decide it's too cold). Yet these are all bonus options. The most obvious activity: Simply hike in any direction. You could spend four or five days backpacking the perimeter of his property and not see a soul. 
In the morning, a whiteout forces us into another Chilean pastime: chilling. We pass the mate (a traditional tea) and listen to Rivero's tales of ranch life and gaucho marauders.
Seeing a break in the weather, Rivero and I saddle two horses and ride in a light snow the rest of the afternoon, cutting cross-country to see the river, meandering along a narrow ridge, and galloping down a long, swooping valley. The next day the clouds lift, and we search for fossils on a dayhike through Southwest-like high-desert scenery, finding two museum-quality leaf impressions. Then we make plans to camp at the butte—the view of the Towers is a must-see. 
We break a skin of ice crossing the thigh-deep river on the morning of day three, and climb snowy game trails for three hours, spotting a string of guanacos (a llama-like animal endemic to Patagonia). Just before reaching the lake, we turn around and stop in our tracks. The incisor-like Towers pierce the powder-blue sky. This is the grand prize—an iconic landmark from a new perspective. We move on and pitch our tent with a perfect window view.
Stay 3R Estancia (see Trip Planner for additional info)

Cost $56/person/night for room and breakfast (or $21 for camping); guided excursions are extra