Boston, MA: Wompatuck State Park
Explore Wompatuck State Park on a labyrinthine trail system that showcases classic New England-style singletrack right outside Boston.
Heading out the door? Read this article on the new Outside+ app available now on iOS devices for members! Download the app.
Route-finding is the name of the game along this 11-mile clockwise loop through the east side of Wompatuck State Park. Following a series of trail markers, this track (cue-sheet below) is just one of many ride options available in this maze-like trail system just outside of Boston. The loop (which highlights the eastern section of the Root 66 Series Landmine Classic race course) has no fewer than 37 cue-points. Don't be distressed if you miss one; they're spaced very close together so backtracking is never that disheartening.
The ride itself is an intermediate route showcasing the best aspects of New England singletrack: heavy tree cover (which makes for fantastic foliage in the fall), sudden steeps and drops, rock and root gardens, power-sapping muddy stretches, and idyllic reservoir scenes. To track foliage status in the park visit the Massachusetts Office of Travel and Tourism site, but even when the temperature drops and the leaves have fallen, the 'Womp' remains a go-to playground for local mountain bikers.
-Mapped by Wendy Booher, Boston LUNA Chix Women's Cycling Team
CUE SHEET (Trail markers in bold) From Union St., turn LEFT on the paved road at E14. At E15: LEFTC10: Straight through intersectionC5: RIGHTC4: RIGHTC6: LEFT onto singletrackC7: Cross paved road and resume singletrack on the other side.N33: RIGHTN32: LEFT and then immediate RIGHT (paved road)N22: LEFT onto singletrackN21: LEFTN17: RIGHTN18: RIGHTN19: Straight through intersectionN23: RIGHTN24: LEFTN25: LEFT onto pavementN30: RIGHT onto singletrackN31: Cross paved road, ride until singletrack ends, LEFT on pavementNS2: RIGHT onto singletrackNS11: LEFTNS6: LEFTNS7: RIGHTNS8: RIGHTNS9: LEFT (Burbank Boulder will be on your right)NS10: RIGHTNS3: Cross paved roadR1: LEFTR2: LEFTR3: LEFT (when you come to an unmarked, four-way singletrack intersection, stay right)R5: Straight through intersection, when you arrive at next singletrack intersection, go LEFT, keeping the reservoir on your left until you arrive at paved road.E17: Straight on pavement, take a left onto paved spur (there will be a left turn onto singletrack before this, don't take that). Once pavement stops, bear right on to singletrack.E10: Cross pavement, stay on singletrackE8: LEFT on to singletrack, when singletrack ends, take right on to pavement, then take next right at intersection.E7: LEFT onto singletrack, bear right. Continue following singletrack to pavement.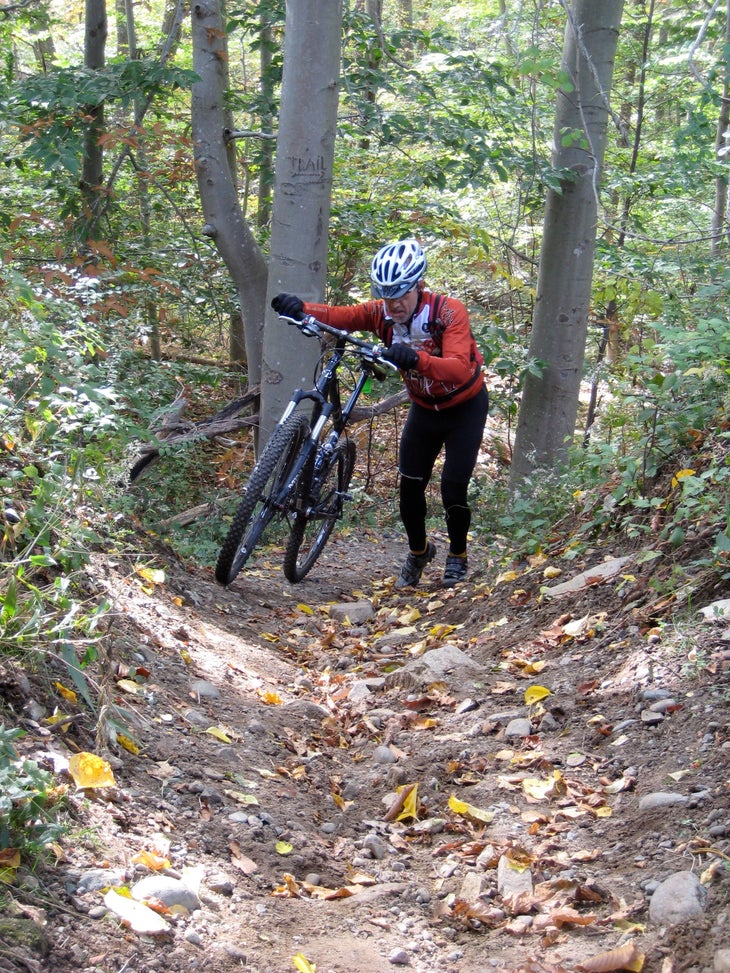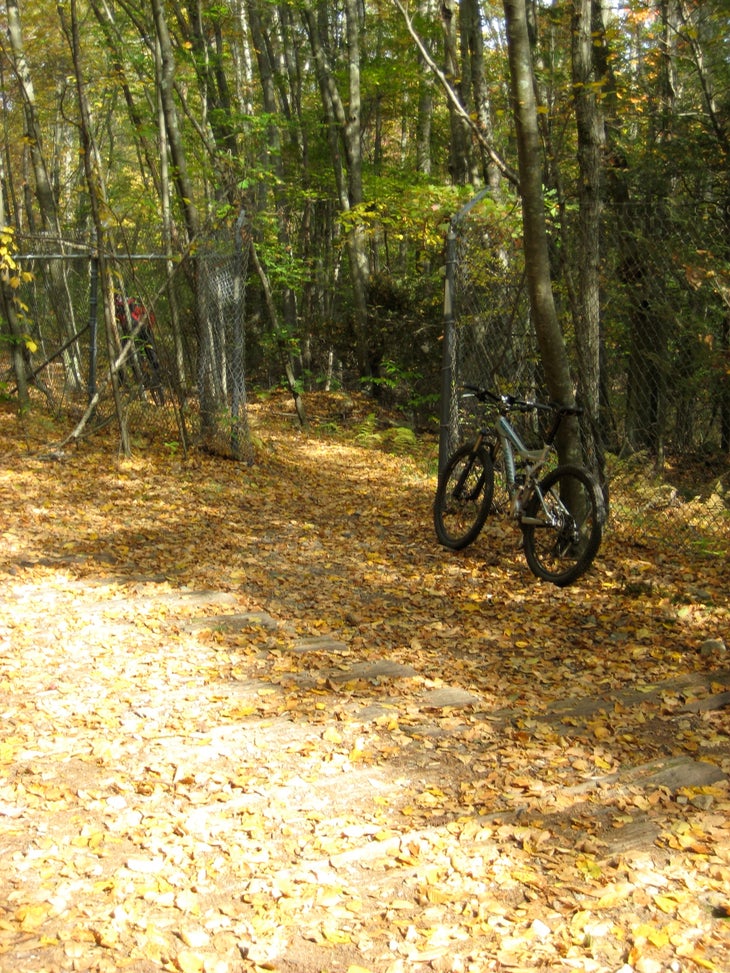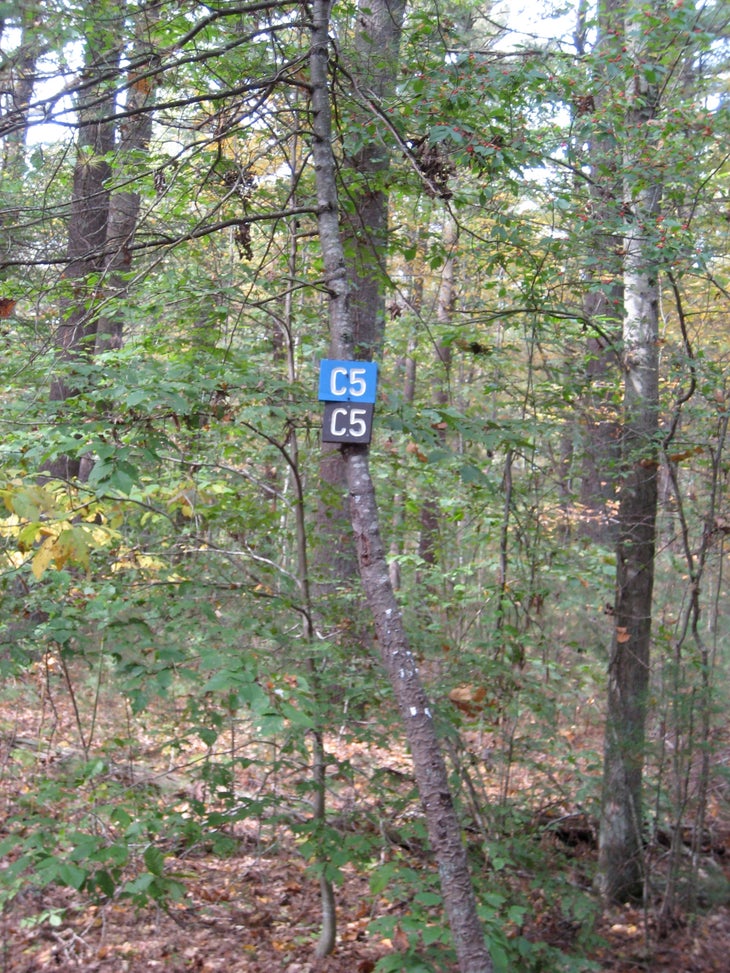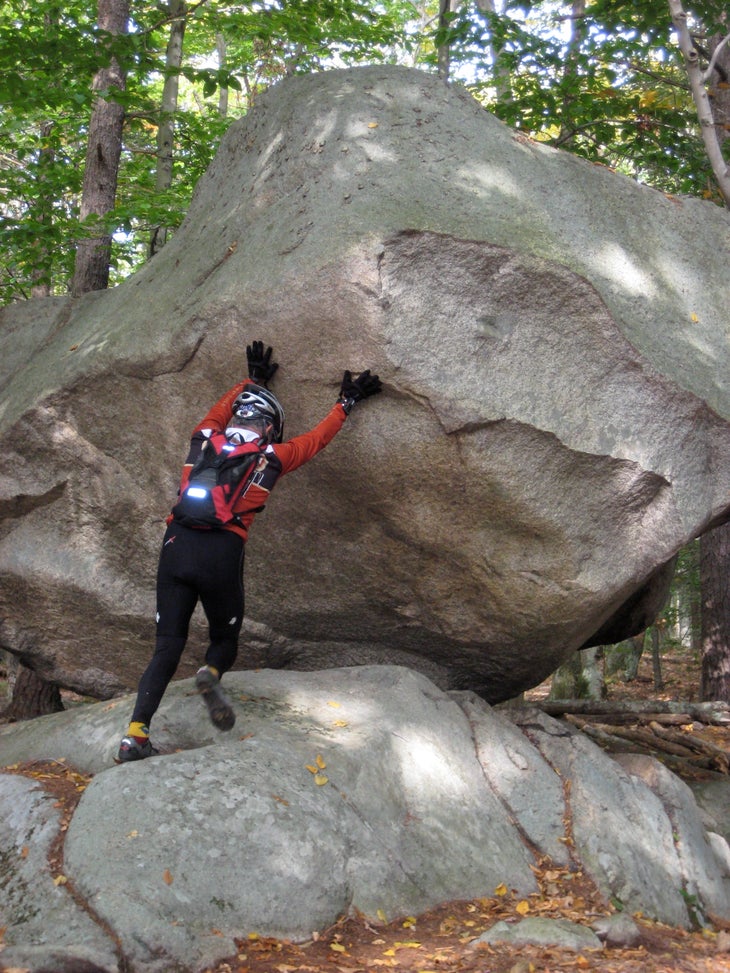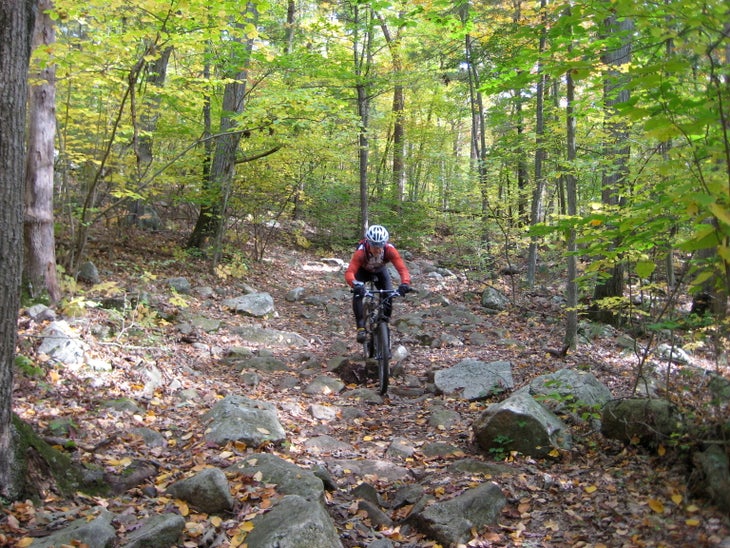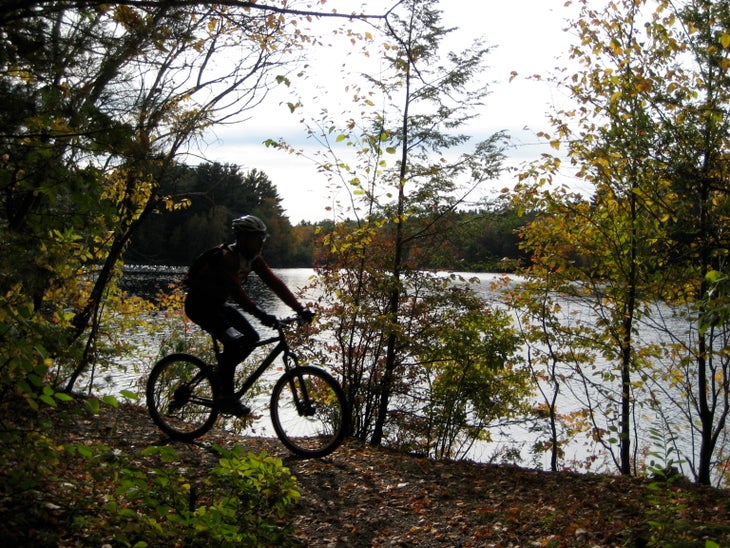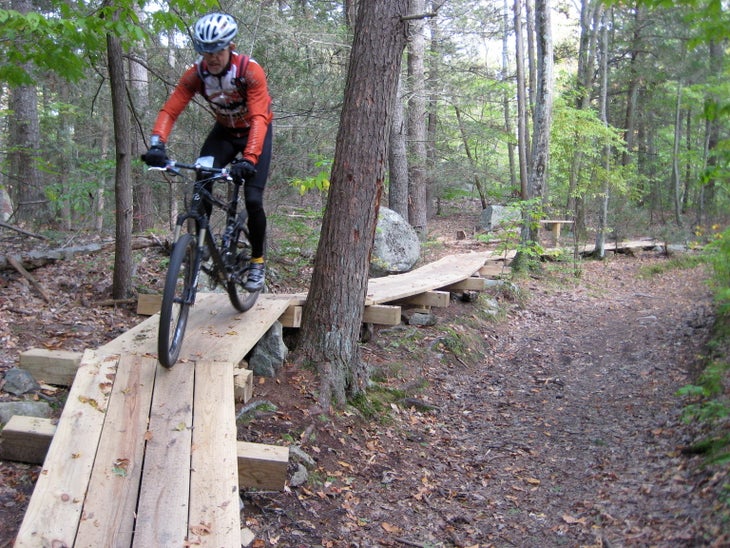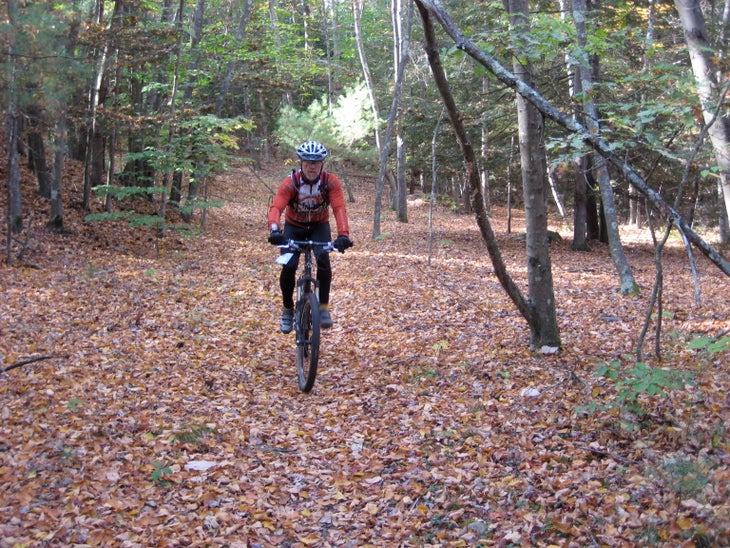 Trail Facts
Waypoints
Power-Sucking Hill
Location: 42.2142158, -70.8502293
The short-but-super-steep mound will put a hurting on your legs; it's rideable, but be sure to pick up some speed and put yourself in an appropriate gear. © Wendy Booher
Visitor's Center
Location: 42.2173307, -70.8636618
Park maps (a good accessory for this maze-like trail system) and restrooms are available here. From here, bear right to continue on Union Street and continue approximately 1.4 miles to the campground parking lot off the right side of the road.
Sneaky Trail Crossing
Location: 42.2189834, -70.8349085
Don't be tempted to turn onto the old railway bed, which seems like an obvious choice. Instead look across the railway bed to the chain-link fence and find the opening slightly to the left. The trail resumes on the other side. © Wendy Booher
"Hide-n-seek" Trail Markers
Location: 42.2013735, -70.8447146
Small trail signs like these are the bread crumbs you'll need to keep an eye out for on this trail. Be aware that they may not always be facing in an obvious direction – keep a lookout! © Wendy Booher
Burbank Boulder
Location: 42.2217802, -70.8299732
A rock landmark that's hard to miss. © Wendy Booher
Wompy Rock Garden
Location: 42.2231149, -70.8587265
A typical rock garden obstacle in Wompatuck State Park. © Wendy Booher
Aaron River Reservoir
Location: 42.2009284, -70.8322906
Riding by the reservoir. © Wendy Booher
Technique Practice, Anyone?
Location: 42.2111009, -70.8253384
Rock bridges like this one test balance, dexterity and fearlessness. © Wendy Booher
Reservoir
Location: 42.212118, -70.8296299
There are lots of unmarked trails, spurs, offshoots on this stretch. Your best bet: keep the reservoir on your left.
Campground Parking Lot
Location: 42.2024067, -70.8474183
Park here to start the ride. To access the trail, ride southeast (go right) on Union Street for 0.15 mile and turn left at the E14 trail marker on the paved road.
Bridge of Virtue
Location: 42.2221615, -70.8307457
Mountain bikers build bridges like this one to minimize erosion and preserve the trails. They're also a trip to ride. © Wendy Booher
Autumn Backdrop
Location: 42.2083036, -70.8443928
Autumn colors in full display both in the trees above and on the ground. © Wendy Booher