Benton MacKaye Trail: Three Forks to GA 60, Section 2
Wind through a remote forest of white pine and hemlock, passing cascading creeks and an idyllic fishing spot on this 11.6-mile section of the Benton MacKaye Trail.
Heading out the door? Read this article on the new Outside+ app available now on iOS devices for members! Download the app.
This remote stretch of the Benton MacKaye Trail (BMT) is a worthwhile shuttle hike for dayhikers. Tracking north from Three Forks (the confluence of three forested creeks), the BMT winds alongside Long Creek and bypasses a detour to Long Creek Falls before starting a ridgeline trek north.
Roughly 2 miles in—at the first of several mini-summits—the BMT enters a wildlife clearing known as The Bald (an Army ranger training area, offering nice views south). From here, the trail continues climbing north to Bryson Gap under the cover of eastern hemlocks, white pine, and rhododendron.
After traversing the western slopes of Little John Dick Mountain, the trail descends to a suspension bridge that crosses the Toccoa River—this scenic spot offers campsites and several ideal fishing spots. Across the bridge, the BMT scales Tooni Mountain before descending to GA 60.
Note: Bryson Gap and the Toccoa River crossing offer the best campsites on this section of the BMT.
View more section hikes along the Benton MacKaye Trail at backpacker.com/destinations/category/2731.
Info: Benton MacKaye Trail Association
-Mapped by Scott Sanders, GroundedGraphics.com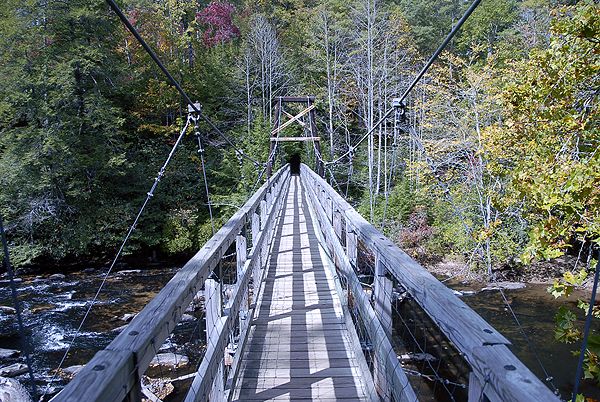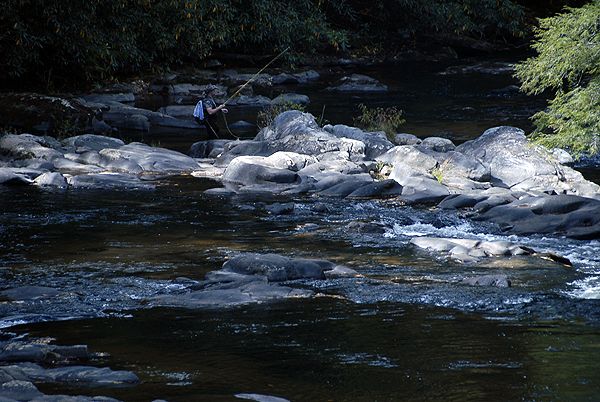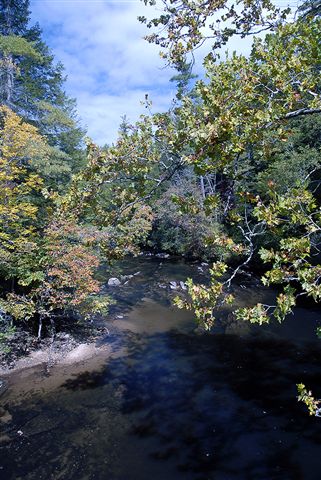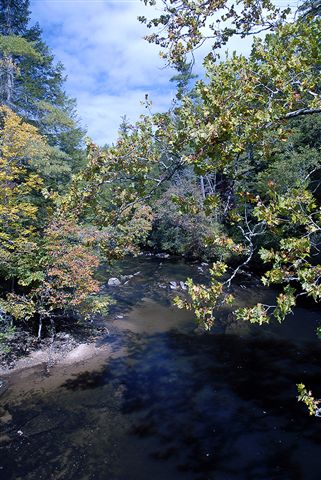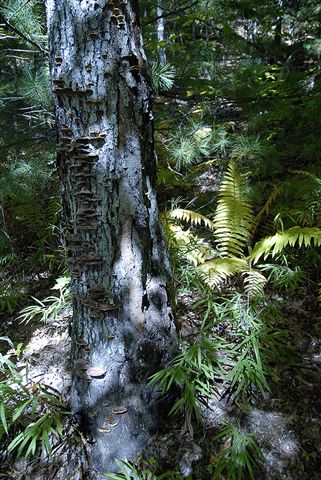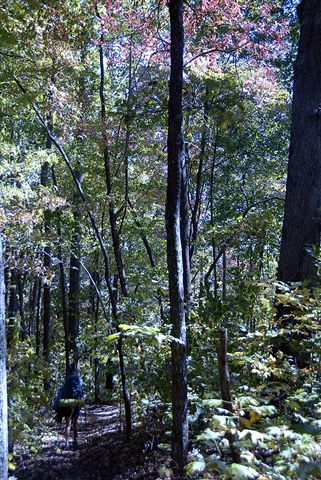 Trail Facts
Waypoints
BMT013
Location: 34.6632522, -84.1844344
Section 2 of the Benton MacKaye Trail (BMT) starts across the gravel road from Three Forks and heads uphill on an old logging road that's closed to vehicles.
BMT014
Location: 34.6670908, -84.1760337
Bear right (almost straight) @ three-way junction. A left turn makes for a short detour to a waterfall on Long Creek.
BMT015
Location: 34.6670114, -84.1720641
Go straight @ 4-way intersection. A left turn takes you to Long Creek Falls (a 30-foot cascade) while the AT shoots off to the right.
BMT016
Location: 34.6675911, -84.1694336
Turn left @ 3-way intersection and cross two footbridges over Long Creek.
BMT017
Location: 34.6740527, -84.1695642
Pass a small campsite by a creek. Steep climb ahead.
BMT018
Location: 34.6773967, -84.1753793
Cross a wide clearing known as "The Bald" (engineered by U.S. Army rangers for training and helicopter landings). Take time to enjoy the views of Springer Mountain, but don't camp in the area. Keep your eyes peeled for wildlife roaming the clearing before continuing west approximately 150 feet to continue on the BMT.
BMT019
Location: 34.7137133, -84.1896486
At Bryson Gap, the BMT passes a campsite with a nearby water source. Pay attention at this tricky trail intersection. Do not follow the old forest service road here; instead, head downhill for about 50 feet and follow white diamond blazes to the right off the old logging road onto a small, easy-to-miss footpath (also marked with white diamond blazes).
BMT020
Location: 34.7217369, -84.1870422
Turn left @ 3-way intersection, heading downhill from Little John Dick Mountain.
BMT021
Location: 34.7259178, -84.1843338
Continue straight across an old logging road @ 4-way intersection.
BMT022
Location: 34.7278786, -84.1782684
Go straight across an old logging road @ 4-way intersection.
BMT023
Location: 34.7354698, -84.1660843
Go straight across an old logging road @ 4-way intersection.
BMT024
Location: 34.7368516, -84.1674399
Cross a suspension bridge over the Toccoa River. Campsites and scenic river vistas abound in this beautiful area.
BMT025
Location: 34.7384186, -84.1698532
Turn right @ 3-way intersection and begin climbing the ridge of Tooni Mountain (trail on the left leads to a parking area accessible by FS 816 and GA 60).
BMT026
Location: 34.766065, -84.164232
Section 2 of the BMT ends at GA 60.
Suspension Bridge
Location: 34.7368428, -84.1673326
A suspension bridge crossing of the Toccoa River.
Fly Fishing on the Toccoa
Location: 34.7365518, -84.1673541
Toccoa River View
Location: 34.7370191, -84.1674185
Toccoa River View
Location: 34.7367017, -84.1673112
Trees on Trail
Location: 34.7411541, -84.1699398
Typical Trail View
Location: 34.7443631, -84.1704869
A typical trail view along the ridge tops.