5 Threatened National Monuments to Backpack While You Still Can
The federal government is considering changes to national monuments around the country. Hike these trails to get a ground-level view of what's at stake.
Heading out the door? Read this article on the new Outside+ app available now on iOS devices for members! Download the app.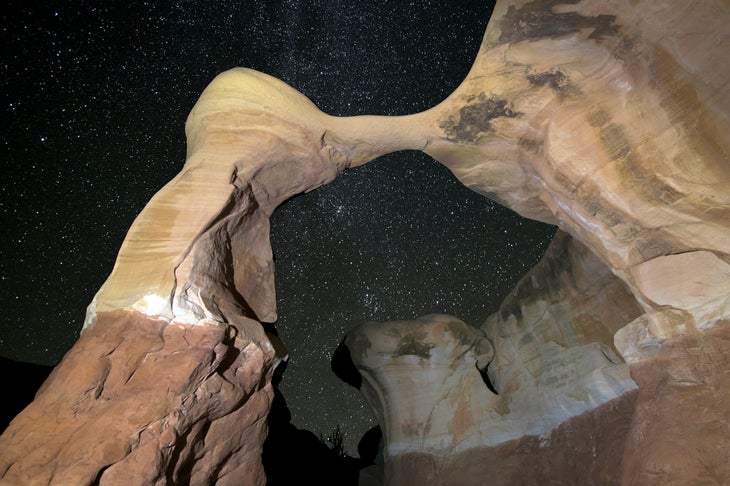 America's national monuments are in limbo. Beginning in 1906, presidents have had the ability to create monuments by executive order, which many have used to protect areas of natural or historical importance. Earlier this year, however, President Donald Trump ordered the Secretary of the Interior, Ryan Zinke, to review and suggest changes to the status of most national monuments created since 1996.
In June, Zinke recommended that the federal government shrink Bears Ears National Monument, a move that, if implemented, is almost certain to draw legal action from environmental groups.
Since then, the Department of the Interior has announced that it will leave four other monuments (Craters of the Moon, Hanford Reach, Canyon of the Ancients, and Upper Missouri River Breaks) as-is. That leaves 23 monuments, spread across seven states, still in play. Get to know them personally on these five backpacking trips.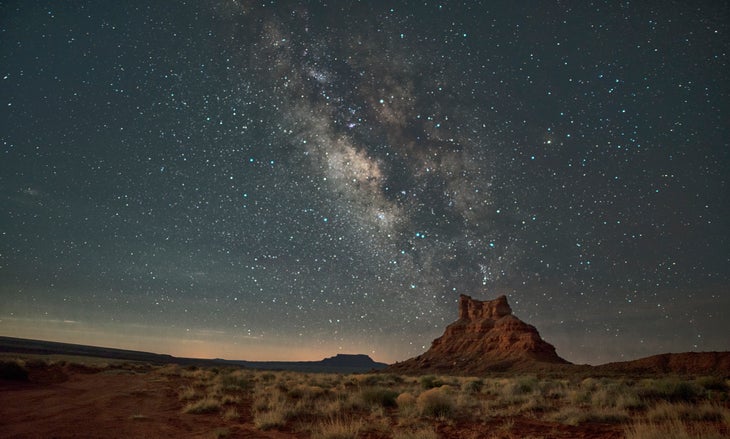 Bears Ears
Designated by President Obama in December 2016, this 1.35-million-acre landscape of canyons and mesas in southeast Utah is beloved to Native American groups (for its astounding abundance of Ancestral Puebloan sites) and lovers of the outdoors (for its winding slots and famed desert climbing). Utah's congressional delegation, however, has steadfastly opposed the monument since the beginning, and Zinke has already recommended reducing it in size.
Hike it: Bullet Canyon to Grand Gulch
This 14 mile backpacking trip takes you into the heart of the monument's canyons. Start at the Bullet Canyon Trailhead and hike 7 miles down Bullet Canyon to its confluence with Grand Gulch, stopping at the Jailhouse Ruins and Perfect Kiva along the way. Bear right and head up the upper Grand Gulch Canyon for 3.5 miles, then bear right again at Sheiks Canyon and take the 3.25 miles out. Hitch a ride back down to your car.
Season: March-June and September-October.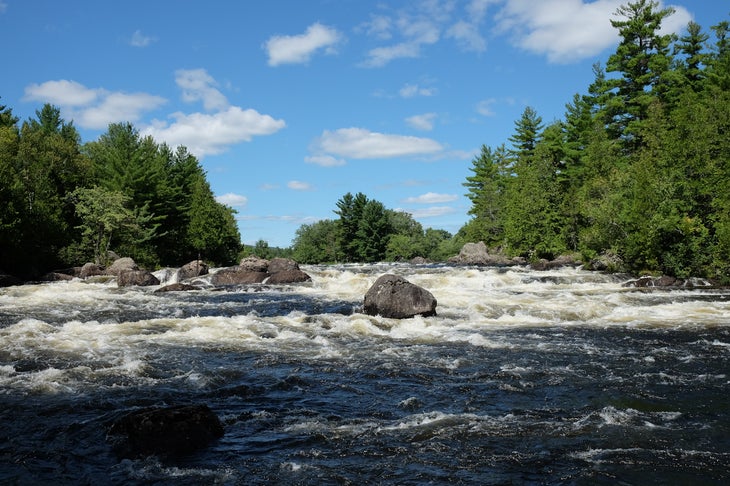 Katahdin Woods and Waters
Located in the shadow of the eponymous Appalachian Trail terminus, this brand-new, 87,500-acre monument in Maine offers hikers the chance to explore old growth forests and waterfalls, and peep megafauna like black bears and moose.
Hike it: International Appalachian Trail
Twenty-seven miles of the IAT runs through Katahdin Woods and Waters, and makes for an excellent backpacking trip. Get on the trail at the 12 Mile marker of Katahdin Loop Road and trek north, following the IAT the whole way. Finish your trip at Haskell Gate.
Seasons: May-October; you can also ski the trail in the winter.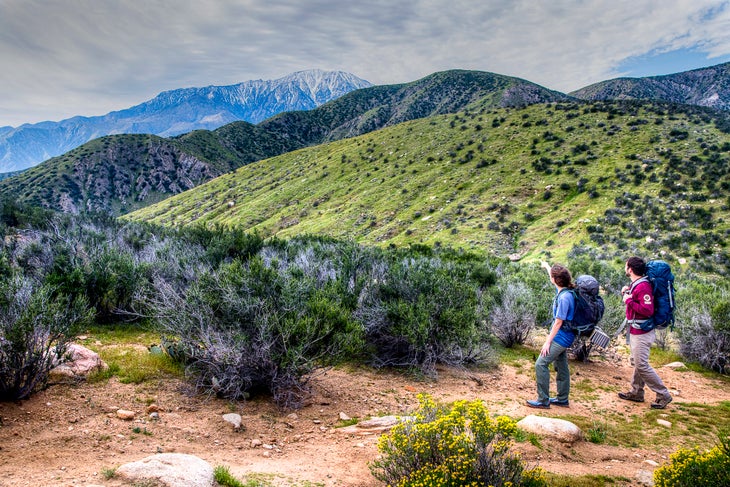 Sand to Snow
Located a measly two-hour drive from Los Angeles, the 154,000-acre Sand to Snow National Monument ascends from the Sonoran desert to the mountains of the San Gorgonio Wilderness. The monument's biodiversity is nothing short of spectacular, touting species from the California spotted owl to the desert bighorn sheep.
Hike it: Pacific Crest Trail
A 30-mile stretch of the Pacific Crest Trail bisects Sand to Snow National Monument. Hike it and you'll experience the full breadth of the monument's varied ecosystems. Catch the trail where it intersects I-10 and follow it north into Whitewater Canyon. After a few miles, the trail briefly exits the monument and winds through a wind farm. Stay on the trail and follow it through Mission Creek, slowly gaining elevation until it reaches the monument's northern border near Coon Creek Campground.
Season: Year-round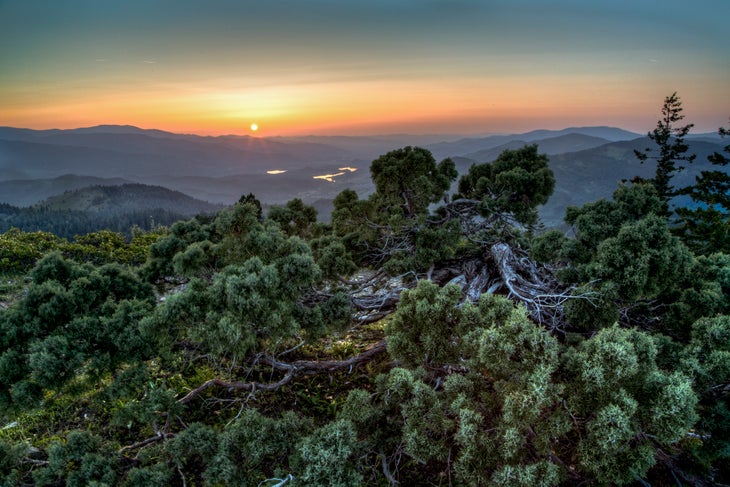 Cascade-Siskiyou
Spanning 86,774 acres of grassland and forests at the junction of two mountain ranges in Oregon and northern California, Cascade-Siskiyou National Monument protects more than 200 species of birds, including the peregrine falcon and the endangered great grey owl. President Clinton designated the first 66,000-acres of the monument in 2000, and President Obama added another 48,000 acres in January 2017.
Hike it: Pacific Crest Trail
Far to the north of Sand to Snow National Monument, the Pacific Crest Trail is still kicking, now through entirely different terrain. Around 20 miles of the PCT rambles in and out of the park. Starting at the Green Springs Summit, you can either head north to Hyatt Lake (6 miles) or south to check out Pilot Rock, a 5,908-foot volcanic plug (12 miles).
Season: April-September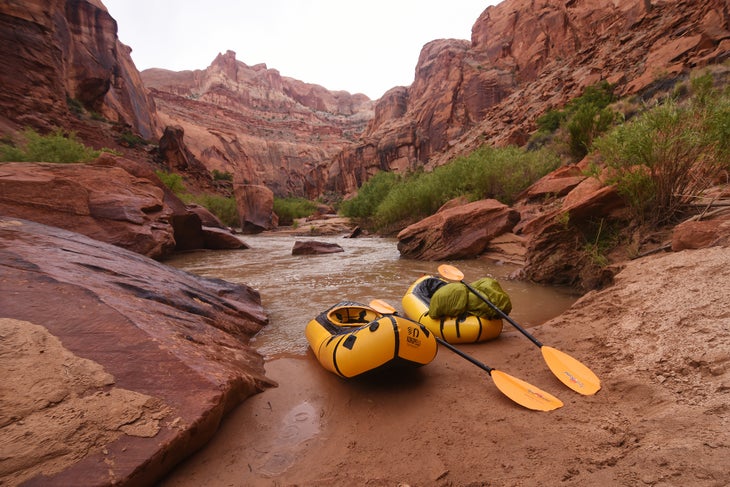 Grand Staircase-Escalante
Before there was Bears Ears, there was Grand Staircase-Escalante. This 1.9-million-acre sprawl of canyons and desert plateau in southern Utah was designated by President Clinton in 1996, and covers more land than any other national monument. It's just as controversial as its younger sibling, too: some Utah legislators are still fighting its designation more than 20 years later.
Hike it: Coyote Gulch
Begin this 26-mile out-and-back trip at Red Well Trailhead. Follow the trail to Big Hollow Wash, then bear left at the Dry Fork-Coyote Gulch confluence. Follow the canyon as it turns into a deeper slot (leave time to check out Jacob Hamblin Arch along the way). The route dead-ends at the Escalante River, where you'll turn around and retrace your steps.
Seasons: March-June and September-October.