Ansel Adams's Lost Photos?
David Howard investigates the mystery of 61 black-and-white negatives that are stirring up a hornet's nest of accusations, threats, and lawsuits.
Heading out the door? Read this article on the new Outside+ app available now on iOS devices for members! Download the app.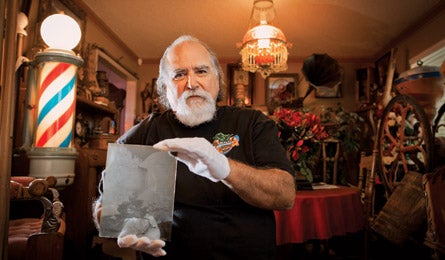 Rick Norsigian (Photo by Craig Kohlruss)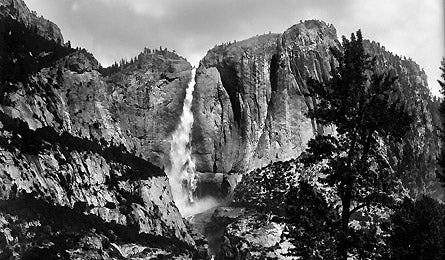 Yosemite Falls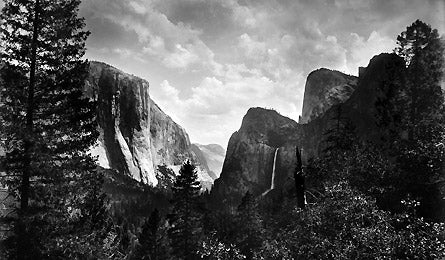 Yosemite Valley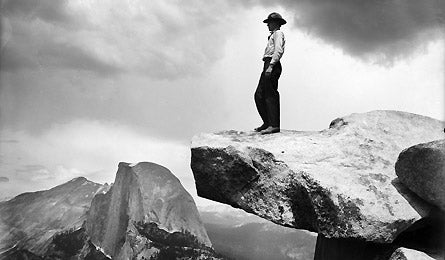 Ansel Hall at Glacier Point

Jeffrey Pine
Rick Norsigian wasn't looking for any pictures.
He went to the garage sale that day 11 years ago thinking he might buy an antique barber chair he'd heard was available. Norsigian is drawn to stuff like that in a way that's hard for him to explain. He loves finding old Americana at street fairs and auctions—barber chairs and old-timey service-station pumps and neon signs and huge, hand-cranked coffee grinders—and bringing the objects home and fixing them up and then just breathing the same air with them. "My sister and brother-in-law got me going in this crap, then they quit and I continued," he says. "It's a sickness." He's standing in the entryway to his house, next to a huge Gilmore Gasoline pump with a Lucky Strike neon sign on top. He shrugs in a way that suggests that he has no real choice in the matter and, in divulging the depths of his predicament, hopes for empathy rather than judgment.
He started more than 30 years ago, and found that he liked collecting so much that his finds began to take over one of the spare rooms in his house, located on a quiet street in his hometown of Fresno, California. Soon, the old things filled up that room, so he used the basement, and when that got stuffed full, he took over some of the other rooms upstairs. His wife, Pam, wasn't thrilled, but Norsigian kept on buying, until the objects began to push, like the inexorable advance of a superior army, into the kitchen and living room and even the foyer right by the front door. Pam pulled her front lines back to the master bedroom and bath—the only territory in the house she has successfully defended.
At 65, Norsigian wears round glasses and exhibits plainspoken mannerisms that call to mind a down-home granddad. But he is a tugboat of a man, all burly neck and shoulders, with a long white goatee and thinning dark hair combed straight back—the effect is more Harley Davidson than country-club golf cart. I meet him on a warm, early-fall evening, and he is in bare feet and shorts. To some, his collecting might sound obsessive. But though the world of old things is filled with fast-talkers and opportunists, that's not Norsigian. He's a romantic—in it for love, not money. "It keeps my ass out of trouble," he says in his country drawl. He laughs, then pauses to absorb the tart irony of the cliché: We both know the opposite is actually true. "Well, it gets me in trouble with the old lady," he says, backtracking. "She can't stand it. Poor woman."
And so it was in spring 2000 that, once again testing the tensile strength of his marital bonds, he decided to visit a Fresno garage sale. What would it hurt to acquire one more barber chair? He was disappointed to find the piece was broken beyond his ability to repair it. But he'd already driven over, so he started poking around. Eventually his eye landed on a small, dusty crate. He spotted "something kind of shining from the top of it," so he walked closer and saw a bunch of envelopes inside. He pulled one out and turned it upside down, and a large glass negative slid out.
He'd never encountered such a thing before. He rotated the plate in his hand: It had to be more than half a foot tall and wide. How anyone would even create that kind of negative, he couldn't guess. But when he held it up, he saw a familiar sight. "Wow, that's Yosemite Falls," he said to himself. "That's pretty cool." He pulled out another and again recognized an image of Yosemite National Park, the treasure full of lush meadows, roiling waterfalls, and soaring granite peaks only a few hours north of Fresno. The paper sleeves holding the envelopes were numbered—the digits were in the 8,000 range—as if part of a collection. He pulled a few more out, and there were more scenes that looked interesting and excited the part of him that is drawn to artifacts. So he asked Irving Schwartz, the elderly gentleman running the garage sale, how much?
Schwartz said $70 for the box of 61. Norsigian haggled the price down to $45. Then he brought the crate home and slid it under his beloved 1909 pool table in the room where he used to shoot pool until he filled it up with so much stuff that no one had the space to wield a cue anymore. When relatives and friends came over, he'd pull the box out and show them: Aren't these cool?
Everyone agreed they were very cool, and they began to joke with him: Those look like they could have been made by Ansel Adams. Norsigian laughed along—Yeah, sure, Ansel's stuff is really going to show up at a garage sale—and slid them back under the table. But people kept needling him, and after a few more months, Norsigian began to wonder. It seemed ludicrous, really. But a voice in his head kept asking: What if?
The first time Norsigian drove through the Wawona Tunnel as a young man, he was astonished: There opened up the entire Yosemite Valley, in all its magnificence. Bridalveil Fall splashed down on the right, El Capitan rose up on the left, and Half Dome jutted skyward in the middle. He remembers pulling into the parking lot beyond the tunnel—the one where Ansel Adams sold his photographs in his early days—just to stare.
"You never forget the view," Norsigian says. "It was unbelievable. I mean, everybody ought to be able to experience that one time." It was mostly coincidence that he ever made it there. Norsigian's early life reads more like blue-collar Springsteen than wandering John Muir: Meet a girl at 17, graduate high school, get drafted into the military. He'd completed one year at Fresno City College when his number came up. After serving in the National Guard in Fresno, Norsigian got married to the girl at 21, and they had three kids.
Back when he was a teenager, his mom had told him not to expect to sit around the house all summer, so he'd asked his girlfriend's father for a job. Norsigian's future father-in-law was a commercial painter, and the work stuck. Another contractor had business in Yosemite, so Norsigian went there for months at a time to paint newly built offices and lodges.
When Norsigian and his buddies got off work at 4:30 every day, they went fishing or hiked to the waterfalls. Norsigian once made his way up to Glacier Point, where the sheer drop made him wobbly. It was a little to the northwest that another young man, Ansel Adams, had first glimpsed the park, just as wide-eyed, about 50 years earlier. Adams was a sickly 14-year-old in 1916, and he later credited the park with restoring his health both on that seminal visit and during the Spanish influenza pandemic a few years later. Fatefully, on that first trip, his parents gave him a gift: a Kodak #1 Box Brownie, to record the journey.
When Norsigian first bought the garage-sale negatives, all he knew about Adams was that he was a world-famous photographer whose original work a school-district painter couldn't afford. Norsigian decided he might as well educate himself. He read a biography by Mary Street Alinder, Adams's longtime assistant, and learned some interesting things. For example, the negatives from that era were large: 8½ inches by 6½ was the size Adams used for a period as a young man. Norsigian took out his slides and measured: 8½ by 6½. He read that a fire had hit Adams's Yosemite darkroom in 1937.
Norsigian had noticed that eight of his slides looked blackened, as if they'd been scorched. Was that simply a coincidence? And there were the locations: Yosemite, mostly, but also Carmel and Fisherman's Wharf in San Francisco. They were all places Adams had photographed. One of Norsigian's negatives showed Baker Beach—which was the very place, Norsigian discovered, to his growing excitement, where Adams grew up. Was this too just a fluke?
Norsigian finished the Alinder book and then picked up Jonathon Spaulding's biography. He read Adams's autobiography. He devoured Anne Hammond's Ansel Adams: Divine Performance, tagging pages with Post-it notes as he went. He again plowed through Alinder's book, all 500 pages.
There were more striking clues. Alinder described one Adams shoot from atop Glacier Point when the photographer was in his 20s. The image, Alinder wrote, showed "Half Dome in three-quarter profile dramatically framed on the top and left side by the dark silhouette of a tree." Norsigian consulted his negatives and found one showing that exact view. Another one closely resembled Adams's iconic image of a Jeffrey pine.
Norsigian remembered that Irving Schwartz, the garage-sale proprietor who had sold him the negatives, had said he'd purchased them from someone in Southern California. Norsigian learned through his research that Adams had once accepted a teaching post in Pasadena.
Theories began to tick through Norsigian's mind. Maybe some of Adams's negatives were lost in the chaos surrounding the 1937 fire. Or maybe Adams had misplaced them in the transition to or from Pasadena. Maybe no one had pieced any of this together before. He loved his old-timey stuff. But this was something different, something much bigger: maybe the find of a lifetime.
Since you're reading this article on Backpacker.com, you probably understand what it means to feel the tractor-beam pull of distant mountains. Hikers and mountaineers have a habit of fixating on a looming summit, and a certain subset of wilderness seekers reserves a special affinity for peaks that are all but unattainable. The more difficult the route, the steeper the slope and the odds, the more attractive the mission.
In Into the Wild, Jon Krakauer describes his irrational but archetypal pursuit of an Alaskan peak called Devils Thumb. "I was dimly aware that I might be getting in over my head," he writes. "But that only added to the scheme's appeal. That it wouldn't be easy was the whole point." Krakauer endures various hardships—blizzards, unstable rock, a terrifying navigation of an icefall—but those setbacks only drive him to dig deeper in pursuit of what he believes will be a life-changing achievement.
Something much like that can happen with people who find art or photography of uncertain authorship. Bruch Loch, a prominent, Pennsylvania-based collector of Edward Hopper drawings, says he often sees extreme versions of tunnel vision and false grandiosity in people who believe they have found art created by a famous figure. "The deeper they drill into their quest," says Loch, who also authenticates Hopper works, "the less likely they are to back down." Contradictory evidence, personal bankruptcy, crippling blows to reputation—these are all mere snow squalls on the true believer's upward march. Summit fever, in other words. And though some triumph at the top, the mountains are littered with dashed hopes—and sometimes the bodies—of climbers who refused to give up.
Norsigian, of course, couldn't imagine how much he was personally risking when he embarked on his photographic quest a decade ago. In 2001, he decided to tell the story of his find to Glenn Crosby, curator of the Ansel Adams Gallery in Yosemite Valley. Worst case, Norsigian figured, he would be dissuaded from his hunch and move on with his life. Crosby invited him up. In a back room, Norsigian spread out the dozen digital prints that he'd brought and showed Crosby the envelopes with the handwriting. Afterward, Norsigian recalls, Crosby asked him: "Do you want to talk to the family?" Meaning the Adamses.
"And I go, 'Well, do you think I should? I don't know if this is or isn't,'" Norsigian recalls. "So he goes, 'Well, let me put it to you—if it was me, I would do it.' So then I got a little excited." (Crosby has since left the gallery and couldn't be reached for comment.)
While Norsigian hoped for a meeting with the Adams heirs, he also consulted the Center for Creative Photography in Tucson, which houses Adams's 60,000 known negatives. Norsigian sent 12 scanned photographs and copies of the handwriting on the envelopes. He says he received a reply stating that officials would consult the center's archivist.
Soon after that, says Norsigian, Jeanne Adams, Ansel's daughter-in-law, called about giving the negatives a look. She came to Norsigian's house and examined the glass plates and the handwriting. "And then [she] turns to me and says, 'Well, that's not Ansel's handwriting,'" Norsigian recalls. "So I apologized: 'I'm sorry to bother you.'"
A few days later, another letter arrived from the Center for Creative Photography saying that the handwriting did not match Ansel's, or his wife, Virginia's, and that Ansel didn't use a numbering system with his negatives. That's that, Norsigian thought, and slid the box back under the pool table.
But that wasn't that. Norsigian couldn't stop thinking about the slides. After a couple of months, he pulled them back out and called Mary Street Alinder, author of the highly regarded biography Ansel Adams, who agreed to take a look. Alinder wrote to Norsigian in April 2002 to say she was baffled: The size of the negatives and the fire damage suggested an Adams provenance. Some of the images looked like Adams's work; others did not. And she thought the penmanship on the sleeves resembled Virginia Adams's (though because of Virginia's work in galleries, she could have kept records on other photographers' collections). Alinder also told Norsigian that many of the proofs from the negatives showed inattention to details that were inconsistent with Adams's work—"messy things creeping over into the edges of the image." But even the great master Ansel Adams had to work his way up the learning curve, Norsigian figured.
So he clamped onto the possibility that the envelopes contained Virginia's handwriting. He began peppering curators and experts with calls. He talked to Adams biographer Anne Hammond. He consulted Melinda Pillsbury-Foster, granddaughter of prolific Western-landscape photographer Arthur C. Pillsbury. She recommended he speak to a couple of experts, including Gene Rose, a historian and author who focuses on Yosemite and the Sierra. "We sat right there at that table," Norsigian remembers, "and I showed him what I had and he goes, 'Well, this isn't Pillsbury. This is Adams.'" Rose recalls feeling less certainty. "I figured they could be [Adams's work], but probably weren't," he says. In any case, Rose didn't feel convinced enough to provide the public endorsement Norsigian sought.
Norsigian sent samples of the handwriting and 30 or so images to the Smithsonian, and soon someone from the Institute called his house. "They told my wife, 'Yeah, we're all in agreement that it's his [Adams's] early work,'" Norsigian says. But when he called back, no one at the Smithsonian would confirm the conclusion in writing; Michelle Delaney, who spoke with Norsigian at the time, recalls telling him only that she wasn't an Adams expert and couldn't help him.
In the quest to unravel Norsigian's story, this becomes a maddeningly familiar scenario: Norsigian recalls a conversation in the affirmative—this person believed it was Adams—but the expert in question remembers something different. Was Norsigian hearing what he wanted to hear? Or have some experts—wanting to avoid getting drawn into the controversy—retreated from what they originally said? Possibly it's a little of both.
Having spent time researching the world of art and antiques, I could sympathize in one sense with Norsigian's plight. It is a hall of mirrors. Experts ostensibly supplying objective opinions about an artist's work have financial interests. There is academic snobbishness. Scholars fear angering foundations that provide funding. Outsiders trying to navigate this bewildering funhouse often find it infuriating and financially debilitating.
According to Norsigian, the experts he encountered fell into three groups. One group disagreed that the negatives were Adams's work. A second set of authorities wasn't sure, and a third concluded that Adams had made the glass plates but refused to say so on the record. Norsigian says he believes this last group feared the repercussions of taking a firm position. But he thinks they also held back because of who Norsigian was—or, more accurately, who he wasn't. "A person like myself," he says, "being a painter, only one year of college. So they're thinking, Well, this guy, what in the hell does he know?"
But if Norsigian lacked fine-art credentials, he had the persistence of a Yosemite bear that's scented your leftovers. Norsigian burned away evenings on the computer. In the Library of Congress's photo archives, he trolled for long-forgotten Adams images that might match one of his negatives. Then he lay awake, turning over bits of evidence in his mind, weighing new approaches. Pam worried about him. She asked him: Isn't it time to give up? He wouldn't. Or couldn't. "If I put my mind to something," he says, "I won't let go until you can prove I'm wrong."
In 2003, he went to see Adams biographer Jonathan Spaulding, then an associate curator at the Natural History Museum of Los Angeles County. Spaulding suggested a number of possibilities. One of them concerned a negative that showed a park ranger standing on Diving Board Rock at Glacier Point. That ranger, Spaulding said, looked like Ansel Hall, a Yosemite naturalist who had befriended Adams. Norsigian rooted around on the internet until he found that Hall had a granddaughter living in Colorado. He called Merrie Winkler, and she said that yes, her grandfather had affectionately told stories about a young Ansel Adams. Norsigian sent the print in the mail, and Winkler studied the image under magnification and called back soon after. There was no doubt. That was Hall in the image.
Norsigian was now back on the trail. He found a court-certified handwriting expert who told him the writing on the envelopes matched Virginia Adams's. A meteorologist, George Wright, studied two Jeffrey pine images—Norsigian's and the iconic photograph known to be Ansel Adams's. Based on "the clouds in the photographs and the snow cover present in the mountains," Wright wrote to him, "it is my opinion that these photographs were taken on the same day." Norsigian thought all that remained was to find an acknowledged Adams expert to step out on his behalf. But he kept striking out, and years rolled by. Finally, in 2007, a distant acquaintance mentioned the mystery to Arnold Peter, a Beverly Hills entertainment lawyer.
Peter was from Fresno but had gone on to big things, working on Hollywood movies and founding the Peter Law Group, which specializes in entertainment transactions and litigation. Intrigued, Peter arranged to meet Norsigian. The attorney listened to the story and told Norsigian he could help. His idea was to take the existing evidence and task a research team to fill in the holes. Then he would synthesize it into something conclusive. Thus the Fresno painter and the Hollywood lawyer struck up an unlikely friendship. Peter was no photography expert, and this was an atypical case for him, but when you've been wandering the woods alone, like Norsigian had been, you're happy to have a companion.
Peter's associates began enlisting experts: Patrick Alt, a large-format photographer with a photo-history background. Robert C. Moeller III, former director of the Duke University Art Museum and curator of the Museum of Fine Arts, Boston. Team Norsigian, as it came to be known, found a second expert who agreed that the handwriting on the envelopes matched Virginia Adams's. Alt would conclude: "Every photographer has a distinct compositional style. In a number of these images, you can see Adams is experimenting, but you can also see his unique vision—the way he paid attention to pictorial space and atmospherics like clouds and light—that would appear later." Stories about the find, and its purported link to Adams, began to appear in local newspapers.
By spring 2010, Peter felt he could present a case that the slides were the work of a young and still-unpolished Ansel Adams. He would posit that the negatives filled a missing link in the Adams timeline. It would be big news. Especially right after an Adams print, titled "Clearing Winter Storm, Yosemite National Park," sold in June for a record $722,500 at a Sotheby's auction.
Peter arranged for Beverly Hills gallery owner David Streets to lend his imprimatur to the proceedings. Streets would host the news conference at which they would announce that a set of Adams negatives that had vanished decades ago had been found. They'd issue a report bearing the alluring title "The Lost Negatives of Ansel Adams."
After a decade of stop-and-start frustration for Norsigian, things were suddenly moving very fast. On July 26, the evening before the news conference, Peter took Norsigian to dinner to introduce him to Streets. Norsigian thought Streets seemed typical Beverly Hills, all smooth-talking and expensive clothes.
The next day, Peter and Norsigian stood before a pack of cameras and pointed out the similarities in two images from the Monterey coast: one made from Norsigian's negative, the other from the Adams collection. Then Streets stepped in and told the assembled media that he believed the negatives to be worth $200 million. This was an astonishing number that Norsigian had heard for the first time only hours before. "I was just as dumbfounded as everyone else," he says. Norsigian later understood the estimate as the sum of gross sales over a number of decades. "But right off the bat, everybody thinks, Oh, $200 million. These things, no, they're not worth $200 million. At least in my estimation, they ain't."
But that gaudy figure was the exclamation point on cable news stations and in newspaper headlines around the globe. In the days and weeks following the announcement, the level of scrutiny on Team Norsigian increased exponentially. In news reports, Ansel Adams's relatives and associates immediately dismissed the findings: Matthew Adams, Ansel's grandson, called Norsigian's enterprise "a scam." William Turnage, the managing trustee of the Adams Trust, labeled Norsigian and company "a bunch of crooks" and likened them to the Nazis. (Matthew Adams and Turnage declined to comment for this story.)
Critics tore into the 19-page authentication report. Why did Norsigian's team not include an Adams scholar? Robert Moeller, they pointed out, had a background in art but not photography. And why was the final report so light on hard science—for example, no forensic testing—and so thick with phrases like "in my opinion" and "not completely verifiable"?
Even more problematic: Several people stepped forward claiming to have evidence that someone other than Adams had created the negatives. In Oakland, 87-year-old Marian Walton saw a television-news segment about Norsigian that included an image of the Jeffrey pine. The print looked identical to one she had been given by her uncle, Earl Brooks, a photographer who had worked in Yosemite in the early 20th century. (Team Norsigian later issued a report refuting the Brooks connection, pointing out that Adams might have given Brooks an unsigned photograph, among other arguments.)
Melinda Pillsbury-Foster, who had met with Norsigian years earlier, proffered compelling evidence of her own. Her grandfather, Arthur C. Pillsbury, was the only Yosemite photographer of that era who cataloged his negatives using a numbering system—and some of the numbers on Norsigian's envelopes match the numbers on negatives missing from Pillsbury's catalog, she says. And Pillsbury consistently made spelling errors—a distinctive feature of the writing on Norsigian's envelopes.
Within weeks, Moeller, the Team Norsigian expert, announced he had changed his mind. He allowed it was possible, after talking to one of Adams's former assistants, that someone else—quite possibly Earl Brooks—had created Norsigian's negatives. (Alt, the large-format photographer who also contributed to the report, stands by his original opinion.)
Things continued to backslide for Norsigian. Several California newspapers reported that David Streets was a convicted felon with a record for petty theft in Louisiana and Kentucky. Though the Beverly Hills art dealer claimed to have 25 years of experience, a gallery owner in New Orleans asserted that Streets had no appraisal background when she hired him in 2000.
All of this happened within a few weeks. And then, less than a month after the release of the Lost Negatives report, the Ansel Adams Trust sued Norsigian for trademark infringement. Still, plans for a public exhibition at Streets's gallery continued. Streets, undaunted, opened the show on September 25, telling me on the phone in advance that the prints were "beyond spectacular." At the unveiling, Streets wore a tailored suit with a pocket square. One entire wall held portraits of celebrities smiling next to Streets. In one, Alec Baldwin wore a wary grin.
During the first few hours, only a handful of people came in. One left after giving the 16 prints a perfunctory look. Another lingered, and Streets began to talk loudly about how big the find was, and how much interest it had generated. Sensing a sympathetic audience, Streets confided that he and Norsigian had both received death threats. (Asked later for elaboration, he would only offer, "People will say and do the craziest things.")
Norsigian was in Fresno that day at a family baby shower. He later said he'd never been threatened. But he acknowledged that the whole effort had derailed in bizarre fashion. "So you understand, I have no control over, or say in, a lot of whatever different things have been going on," he says. "I'm just as surprised as anyone."
Patrick Alt, the large-format photographer, published a letter online in the aftermath of the press conference. He wrote of Norsigian, "A more honest and honorable guy would be hard to find. This quest has always been centered on finding the truth."
If Norsigian thought the truth was clear for all to see, that exhibition was just another false summit. Soon, it was hard to find anyone in the world of high-end photography willing to give Norsigian the benefit of the doubt. And Streets's $200-million estimate opened Norsigian to caricature. At galleries, Norsigian became the butt of a recurring joke. Eric Rollins, a 20-year veteran of the 4th Street Antiques Mall, near Fresno, said that at shows up and down the state, Yosemite photographs were eliciting guffaws. "Someone will say, 'Oh, that's a $2 million shot,'" Rollins said.
But Norsigian and his lawyers fought back. Last December, Peter filed a countersuit against the Adams Trust on Norsigian's behalf, alleging defamation. The suit included a claim for civil conspiracy against the University of Arizona, which houses the Center for Creative Photography; Peter's firm had obtained emails that appear to show that William Turnage, of the Adams Trust, had pressured the CCP to discredit Norsigian's find. (The CCP had never examined the negatives.)
Still, Norsigian was struggling. Facing a potentially long legal battle and public ridicule, he couldn't sleep. His blood pressure spiked. His doctor told him he needed to back off. His wife and kids begged him to let go, saying he was more important to them than any negatives.
To Norsigian, it was an odd experience: On any given day, he could roll out of bed in the morning and see that none of the essential details of his daily life had changed at all. He still lived in his modest house stuffed with Americana. He was no richer, and in fact he estimated he'd spent about $15,000 over the years on his quest. As a person, he says, he is fundamentally unchanged: "All my friends and family, they're Levi's-type people. I hate ties, wear Harley shirts, and bum around and have a few beers with the boys after work."
He realizes what he's up against. "If anybody knows anything about Adams," Norsigian says, "they all pretty much know each other and [are] friends in one way or another." He snorts, "They don't want me in their business. And I don't want to be in their business. I'm 64 [65 now]. If I wanted to be a businessman, don't you think I'd be in business by now?"
Except he did go into business—in a limited way—on the heels of a March 2011 settlement with the Adams Trust that allows Norsigian to continue selling prints of his negatives without using Adams's name or trademark. Both sides agreed "not to make any defamatory statements about the other or unlawfully interfere in each other's businesses." (The suit against the University of Arizona's CCP is still pending.)
Norsigian and his team rejiggered their business plan in response. Having rebranded the enterprise as "The Lost Negatives," they offered free posters to "celebrate" the lawsuit's resolution. Then they drastically cut the prices of prints. Norsigian says this is part of an effort to make the images more accessible, and now they're available for as little as $90 on lostnegatives.com. Adams scholars point out that even if the negatives were Ansel's, they're still not worth anything approaching an authentic print created by the legend. Much of the magic Adams worked was in the darkroom. Alinder, his biographer and former assistant, says Adams thought of this process in terms of his training as a pianist: The negatives were the musical score, and the prints were the performance.
Still, for Norsigian the agreement would seem to offer the chance for something approximating a happy ending—maybe as close as is possible under the circumstances. Near the end of our long visit in autumn 2010, Norsigian recalled his original vision for the slides. He'd imagined gathering all of the evidence along with the negatives and creating a sort of traveling exhibition. The show would be like a trial, and the public would be the jury. The lawsuit's resolution allowed for a scenario not so different than what he'd envisioned. Norsigian announced plans to donate prints to publicly funded schools and museums. He hoped to turn them into teaching tools, so that people could experience the same thrill that he had felt in looking at the images.
And ultimately, wouldn't that be for the best? Stop thinking for a moment about who made the negatives and imagine what it took to capture these images in the 1920s. The glass negatives were heavy and notoriously fragile, the cameras bulky. And a photographer had to lug everything for many miles up rough, fiercely steep terrain to get images like the one taken at Glacier Point. Whoever captured these scenes had to be a serious outdoorsman who was uncommonly dedicated to his mission.
It's impossible to know what Ansel Adams himself would make of the controversy. But it's not hard to imagine that he would have been pleased by one aspect of all this: Nearly a century later, you're looking at beguiling images of his favorite place on earth, and people who have never been to Yosemite can look at these photographs and be moved.
So that looks like the end of Norsigian's quest: Climber cliffs out, sees summit is utterly out of reach. Snaps stunning photo, descends. Such a tidy ending might be a relief: Last fall, at the height of the chaos, he conceded, "To tell you the truth, the only thing I want is my old life back."
But not so fast.
When I speak to Norsigian in August 2011, he is back on the scent, and more excited than ever. He is in serious discussions with an important authority on Ansel Adams, he says—someone he can't identify yet, but who will help him convince the world, finally and completely, that Adams created his 61 plate-glass negatives.
But wasn't he going to hang it up—especially with his blood pressure spiking and his family imploring him to let go? "There are some parts of me," he admits, "that say, 'Hell, if nobody else cares, why should I?'" His voice rumbles through the phone. He sounds content, less agitated than when we met in Fresno. "But then I go back and think about everything that's happened and say, 'Uh-uh. I'm not giving in.'"
Does that make Rick Norsigian an art-world pioneer, forging a new route that others are too timid to attempt? Or is he a doomed climber who can't see any other way than up?
Those are questions Norsigian might ponder in the future. But he's too busy for that now. At last, after all these years, he thinks he sees the top.
David Howard is executive editor of BICYCLING, former senior editor at BACKPACKER, and author of Lost Rights, about a stolen copy of the Bill of Rights.