17 Things Every Hiker Should Know about Death Valley National Park
Our expert reveals his top dayhikes, overnights, and tricks for your best trip ever.
Heading out the door? Read this article on the new Outside+ app available now on iOS devices for members! Download the app.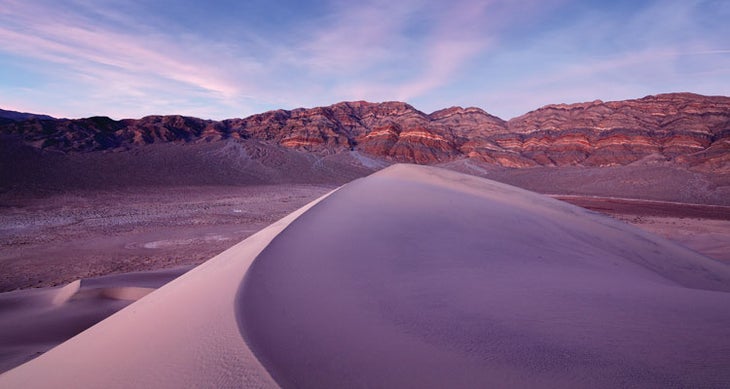 The Last Chance Mountains hover above the 600-foot Eureka Dunes in the park's northern corner. Camping is allowed nearby, and if you slide down the dunes in dry enough conditions they'll "sing" with a low hum. (Photo by Brauer/GTPhoto)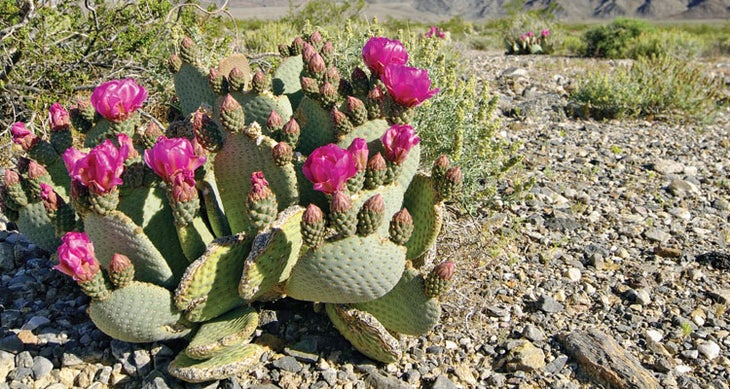 Beavertail cactuses bloom in March and April.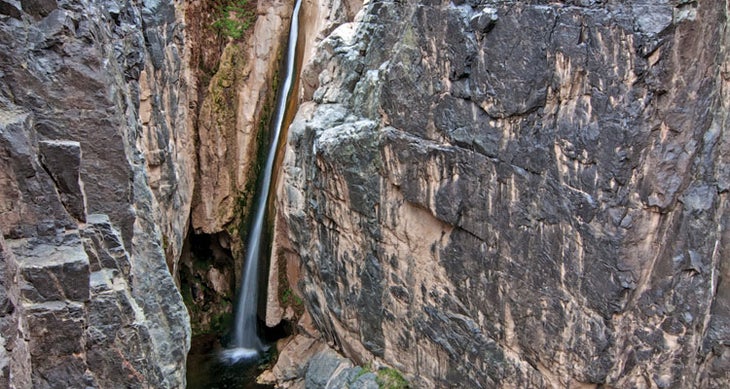 Reach 50-foot Upper Darwin Falls by scrambling up a scree slope to the right of the tower falls. (Photo by Marcus Reinkensmeyer)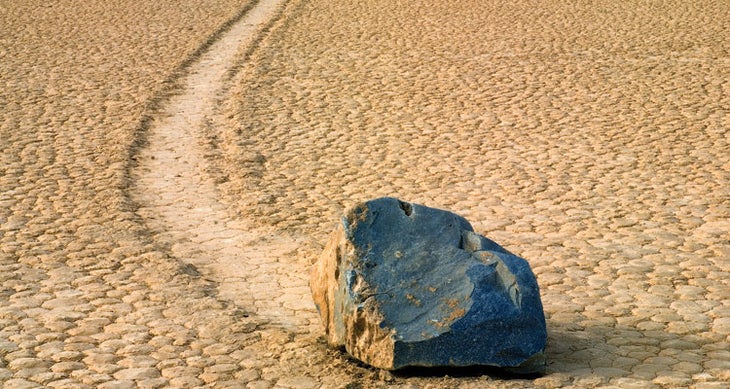 Scientists recently solved the mystery of Racetrack Playa's moving rocks. (Photo by Marcus Reinkensmeyer)
The Payoff
You know Death Valley is the lowest, hottest, and driest spot in North America. But few visitors expect the kaleidoscopic color that enlivens its badlands, slots, and mountainsides. At 3.4 million acres, Death Valley is the largest national park south of Alaska. And like that state, it's still a frontier. Humans haven't yet plumbed all its passageways—just last year, canyoneers in the Grapevine Mountains discovered 60-foot-high Moonlight Bridge. It's an explorer's treasure-trove—and its desert expanses are anything but barren.
Your Guide
When he needs a break from logging long hours in the fiber optics lab, Stanford University professor Michel Digonnet goes on exploratory missions in the Mojave Desert: He's hiked 12,500 miles in and around the park, most of them off-trail, and written two guidebooks about the area.
Winter sunshine
Mild temps from mid-October through mid-March (averaging 77°F highs in November) make winter the best time to log long hikes. Winter also offers the most dramatic scenery, Digonnet says. "The longer shadows create 3D relief and let you appreciate the desert's colors, which look washed-out in summer."
Carry water.
With few streams and springs, Death Valley offers little opportunity for multiday expeditions: Day trips and one-nighters are de rigeur. Even in winter, carry a gallon of water per person per day (Digonnet likes to cache a gallon about a third of the way into his hikes). Keep at least 5 gallons in your car.
Dayhike a seldom-seen slot.
Not far from park HQ at Furnace Creek—yet overlooked by the vast majority of visitors—sit Funeral Canyon's contorted slots. "It's a spooky place, with walls that twist and curve so you can't see much of the sky," Digonnet says. From the northern edge of Texas Spring Campground, enter the unsigned, dry wash and hike upstream through gravel flats and mud hills. At 2.3 miles, the wash narrows and enters pockmarked, pink walls that grow as the canyon constricts to 5 feet wide. A pourover 4 miles in marks the turnaround.
Best peak
Digonnet's favorite summit is also near Furnace Creek, via a 7.8-mile (round-trip) dayhike. "Mt. Perry offers one of the most spectacular views in North America," he raves. "From this 5,716-foot summit, you can see all of Death Valley." From the Dantes View overlook, hike north along the ridge for .4 mile to Dantes View Peak, a scrubby knob where most trekkers turn around. But by continuing north along the ridge for 3.5 off-trail miles (and 3,300 feet of cumulative elevation gain), you get a ship's-prow view over a vast, russet-colored sea of plains and mountains dissolving into the horizon.
Discover a ghost town.
Beveridge, an abandoned 1860s gold-mining village just outside the park, deserves bucket-list status for its idyllic canyon setting and super-tough access. But the arduous trip to the legendary oasis keeps almost everyone away. Commit two days to driving to and from the trailhead, plus two epic days of hiking (7 to 9.5 miles one-way, depending on how far your car makes it), and you're rewarded with "the best backpacking trip in the Mojave," promises Digonnet. "It's one of the few places around that can't be reached with a car or a dayhike." The payoffs: views over the Saline Valley's immense flats framed by jagged peaks, near-certain solitude, and streamside camping in forested Beveridge Canyon (water is the site's key attraction, then and now). On the eastern edge of the Inyo Mountains, follow the rough, 4WD Snow Flake Mine Road up 2,000 feet in 2.5 miles to the Beveridge Ridge trailhead. Pick up the faint Beveridge Ridge Trail and head west, climbing up 50 percent grades to 6,700 feet, then switchback down through the pines of Beveridge Canyon. Willows shade orchids that bloom along the stream (peaking in May; pack bug repellent) and rose bushes have nearly reclaimed the smattering of abandoned cabins.
Desert waterfall
Also on the park's western edge (near Panamint Springs), Darwin Falls makes for a rewarding stop on its own or after a Beveridge epic. From the trailhead in Darwin Wash, hike south then west for .8 mile to where the canyon narrows and cattails grow thick. Continue .3 mile farther, crisscrossing the 8-inch-deep stream before arriving at a deep pool fed by 18-foot-high cascades and surrounded by fern-covered cliffs (no camping or swimming).
TRIP PLANNER
Go October through March for mild temperatures; February and March for spring wildflowers (the best shows fill Badwater Basin, on the edge of the Black Mountains, after exceptionally wet winters). Get there Furnace Creek is 150 miles west of Las Vegas, NV. Permit Free, but required for backcountry camping; available at Furnace Creek Visitor Center and Stovepipe Wells Ranger Station GuidebookHiking Death Valley and Hiking Western Death Valley National Park by Michel Digonnet ($20 each; desertusa.com) Map Death Valley National Park ($12; natgeomaps.com) Contactnps.gov/deva
ONLINE EXCLUSIVES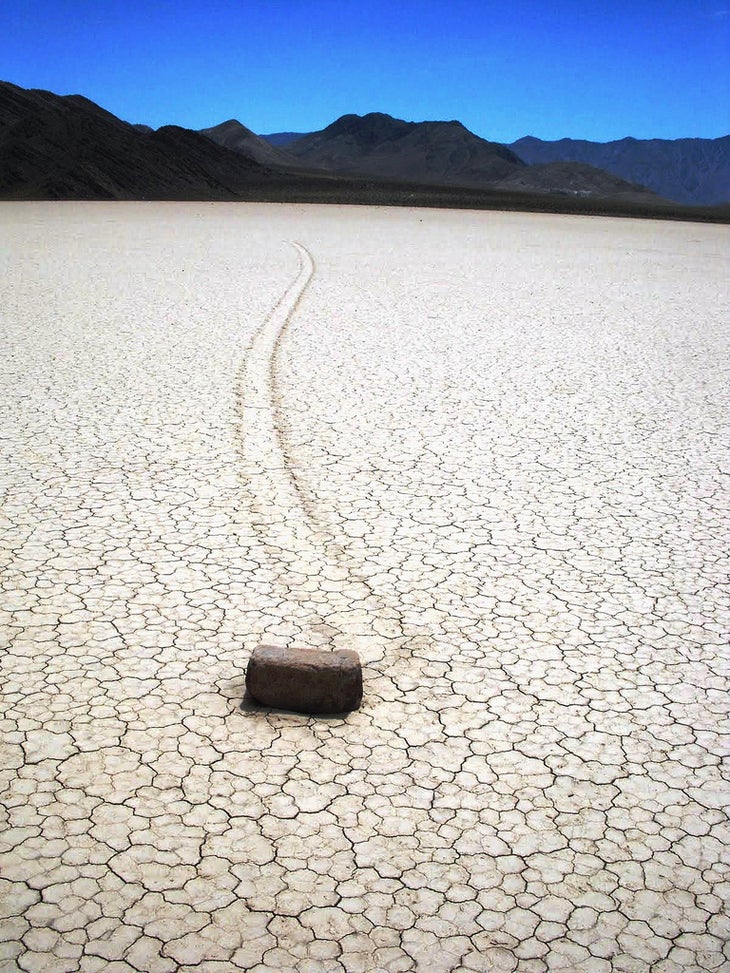 Death Valley's Wandering Rocks Explained
Scientists recently solved the mystery of Racetrack Playa's moving stones.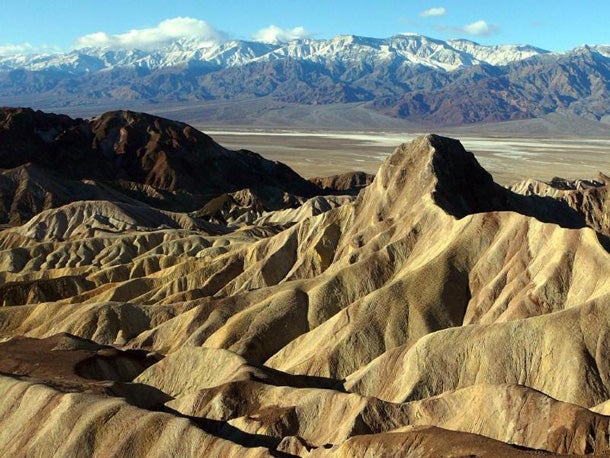 More Hikes
See all our ground-scouted trips from this desert park.