What Cold-Weather Hikers Can Learn from America's Best Sled Dog Racer
Five-time Iditarod winner Dallas Seavey dishes on staying warm, well-fueled, and sane in extreme climates.
Heading out the door? Read this article on the new Outside+ app available now on iOS devices for members! Download the app.
Many people consider Dallas Seavey to be the best sled dog racer in the country. In 2012, he became the youngest person ever to win the Iditarod, the famed, thousand mile marathon from Anchorage to Nome, Alaska. He also holds the record for the most Iditarod races overall, with five wins (the latest in 2021). 
The conditions that Seavey, 34, must endure are beyond what most winter hikers, skiers, and mountaineers will see in their lifetimes: temperatures regularly dip down to -50°F, conditions range from bluebird to blizzard, and mushers rarely get more than an hour of sleep for roughly ten straight days (their dogs, on the other hand, get a solid 4 hours a night.) 
Over his 18 years of professional racing, he's learned some hard lessons about gear, staving off hunger, keeping his dogs happy, and mental dexterity. Here's what cold-weather hikers and backpackers can learn from the five time champ.
Bring food that doesn't freeze or can be easily thawed
Seavey, who basically fasts for the first few days of his Iditarod, fuels up during the final stretch with a mix of nuts, craisins, and crackers. When travelling in sub-zero conditions, only eat foods with low moisture content (no Clif Bars— "those things cause nothing but broken teeth at -40°F"), and make sure there's a mix of good fats (like nuts) and carbohydrates. When you stop eating altogether, explains Seavey, your body doesn't have the fuel to keep you warm. 
He uses the same pot of water to thaw his dog's meat for his own occasional warm meal. On rest stops, while his dog sleeps, he sometimes reheats a vacuum-sealed slice of pizza, which thaws quickly compared to other foods. Fruit juice (what he calls "healthy Capri Sun") sealed in foil pouches don't melt in the boiling water. On his first few hours into a race, Seavey will fill a Nalgene up with boiling water and stick it into an insulated sleeve, which gives him a small window to chug his temporarily liquid water.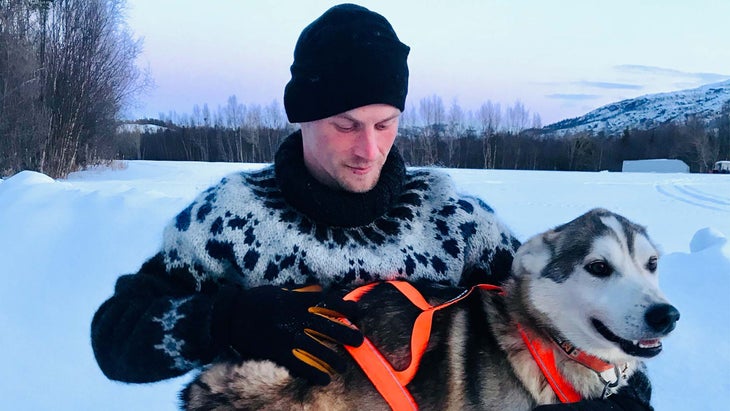 In mixed climates, stay away from down
On the occasion that the temperature rises above 32 degrees, a mix of melting, caked-on ice and sleet makes anything that isn't water resistant dangerous for mushers in Alaska because of hypothermia risk. Seavey layers—both to stay warm and to keep his getup breathable—with a Smartwool baselayer, a fleece-lined hoodie, a thick Norwegian wool sweater, a synthetic or treated down puffy, followed by a massive, waterproof-breathable knee-length anorak from Non-Stop Dogwear. 
In the early days of sled dog racing, he explains, wool was the major insulator, prized for its warmth and breathability. But its weight makes it less than ideal in a race where every extra pound translates to more work for your canine companions. Still, he makes a few exceptions. That wool sweater? "A friend gave it to me before a race in Norway. I initially thought it was too nice to race in, but now it's my favorite piece of gear."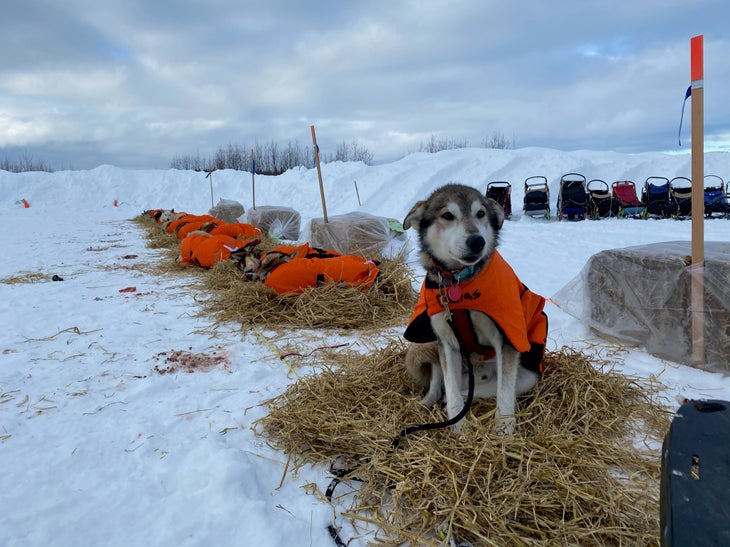 Take care of your dogs
Even if your pup isn't competing in a thousand mile race, sub-freezing temps can do a number on their well-being. Here's how to keep them safe and warm.
"Pay attention to their feet," explains Seavey. Keep your dog's toenails short—they don't get worn down in snow like they do in dirt and gravel. Keep the hair on their feet a manageable length using a mustache trimmer, since that's where painful snowballs collect. If you see abrasions or rubbing on their pads, it's time for booties. "Don't get them fancy $50 booties with a rubber sole," says Seavey. "They'll fall off in five minutes and your dog will hate you for it." Instead, he uses cheap, simple Cordura booties that flex with his dogs' wrist movements. 
Pay special attention to your dog during freeze-thaw conditions hovering around 32-33 °F. That's when dogs are most at hypothermia risk, just like humans in cold, wet climates. A puffy dog jacket (Seavey gets both booties and jackets at Non-Stop Dogwear) might even be warranted depending on your dog's fur type. Abrasive, freeze-thaw snow can be hard on your dog's feet. But if it's fresh, fluffy snow "just let your dog romp."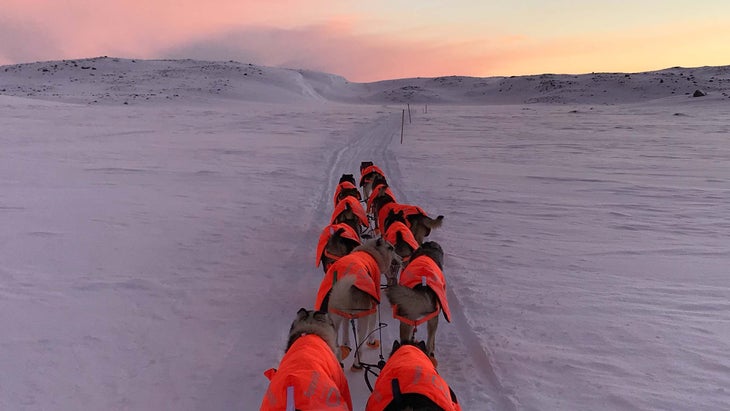 Stay mentally flexible
"There are times when you need to have an out-of-body experience," says Seavey, who spends a full 9 days alone with his dogs and is perpetually sleep-deprived. When conditions are safe during the day—maybe it's warming up, the sky is clear, and he's had a quick nap—that's when he does his long-term strategizing. He puts together a game plan from a detached, third-person perspective, imagining himself as just another cog in the dog-sled machine and planning out his next 24 hours of racing.
En-route he focuses on things one step at a time, making minute-to-minute adjustments. "When people encounter a blizzard and the idea of making it 50 miles further is impossible—that's when they quit. But it's not very often you can look at your situation and say 'it's not possible to take one more step.' 48 hours later you can say 'that was a crappy day, but that's behind us.' Short term memory—you don't need it out here." 
Dallas Seavey will be live on Facebook on the Friday Fuel-Up January 7, 2022.