Ticks Are Changing the Way We Hike
Thanks to the warming world, Lyme infections are on the rise in the Northeast—and hiking there might never be the same again.
Heading out the door? Read this article on the new Outside+ app available now on iOS devices for members! Download the app.
In 2015, during a 200-mile stretch of the Appalachian Trail in New York, Regina Clark—trail name "Queen"—woke up inside the Ralph's Peak Hikers Cabin near Shenandoah with a bullseye-shaped rash on her arm. She knew immediately what it was: a bite from a black-legged tick (also known as a deer tick), which has up to a 50% chance of carrying Lyme disease, the debilitating, potentially chronic, life-long bacterial infection. 
Clark knew the ominous brand because she had contracted Lyme before: In 1999, while training for her first 100-miler in her home state of Maryland, she had developed joint pain and crippling fatigue. She had neither a fever nor the tell-tale rash. Her doctor told her that it was likely a combination of encroaching menopause and overuse from training. 
"Total bullshit," she told herself at the time. It took her a year to discover that she was having seizures in her sleep as a result of the Lyme, causing serious cognitive side-effects and forcing her to quit her job as a night nurse. Clark was finally diagnosed with Lyme and given a regimen of antibiotics, which helped her dramatically. While the threat of a seizure stays with the now 60-year-old Clark on the trail, it hasn't kept her from completing the entire 2,190-mile AT in sections, including during her second brush with Lyme in 2015.
When Clark first contracted Lyme in 1999, there were 16,273 reported cases nation-wide. Now, national cases average 476,000, according to the CDC. While that astronomical shift is due to a number of factors, one of the chief causes is climate change-driven warming, which is enabling black-legged ticks to expand their range and elevation, grow in population, and stay active for a longer portion of the year, especially in New England. 
While the official count for confirmed cases of Lyme isn't in for 2021, both scientists and trail experts agree: It appears to have been one of the worst years ever for ticks in the Northeast. While climate-driven wildfires, smoke, and excessive heat have changed the way people recreate in the West, the growing danger of contracting this life-altering illness will continue to change the way hikers and backpackers spend time outdoors in the East.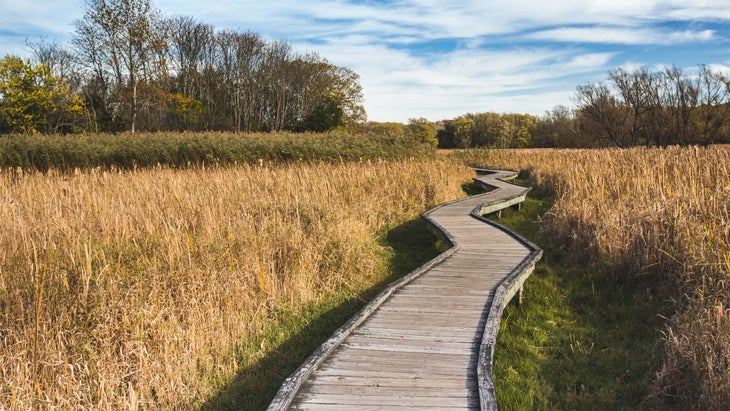 Hawk Methany, the Appalachian Trail Conservancy's senior director for the Northeast, says that while ticks seem to get worse every year, 2021 was especially bad. Methany points to an increasing number of thru-hikers who are finding ticks in places that were previously unheard of, like northern New Hampshire and Maine. And while only 38 out of the 1,073 thru-hikers who completed the AT in 2019 (there was no data during 2020 because of COVID) reported contracting Lyme, Methany says that number is likely only a fraction of the people who are bitten by ticks on the trail, either because they don't report it or because they don't realize they've been bitten.
While AT hikers tend to be afraid of macro threats like bears, lightning, and prison-escapees, the ATC contends that the greatest risk to hikers on the trail is Lyme. 
"If you're from the East Coast," says Methany, "you might be somewhat familiar with ticks. But we get people from all over the world hiking this trail, and for them, deer ticks might be an unknown. I meet hikers every year who say 'yeah, I attempted a thru-hike, but I had to get off because of Lyme.'" 
Methany, along with several of his co-workers and AT volunteers, have contracted Lyme. He says ticks are worse at certain spots along the trail, especially at openings with grassland-low shrub habitat and at scenic vistas. They are less prevalent at higher altitudes, although a 2021 study conducted in Norway found that the deer ticks' Lyme-carrying European cousin has substantially increased the elevation at which it lives in recent years due to warming temperatures. 
"Some people only visit outside of tick season now, or take extra precautions like wearing gaiters over their pant legs," says Methany. 
What's behind the tick takeover on trails all over the Northeast? Almost unilaterally, scientists point to climate change. But to get specific, the trouble starts with acorns. Dr Richard Ostfeld, a Disease Ecologist at the Cary Institute of Ecosystem Studies and somewhat of a celebrity in the field of tick-borne illness, has been studying the environmental factors that contribute to their spread for over 20 years. While he cautions that the Institute is still tallying its tick census for 2021, Ostfeld says that it appears to have been a particularly "ticky" year.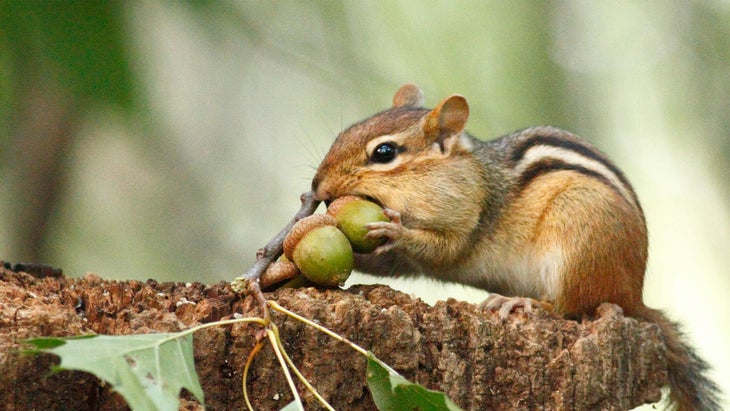 On years where oak trees have exceptionally heavy acorn drops (also known as "mast years"), small rodents, especially the white-footed mouse and eastern chipmunk, stock up heavily for the winter. The next spring, they get a head-start on breeding and reach exponentially higher population levels. Mice, especially, are prime targets for larval ticks, because they don't groom themselves like, say, an opossum might. Those rodents are the source of Lyme and other harmful bacteria and protozoans that cause brutal diseases like anaplasmosis and babesiosis when the infected tick latches on to a human. 
"We've seen this pattern repeatedly since we started this work 30 years ago," says Ostfeld. The acorn-rodent-tick phenomenon happens reliably, with booms in tick population roughly two years after a mast year for acorns.  
While deer and birds also carry black-legged ticks, rodents are the main culprit when it comes to spreading Lyme in the Northeast, says Ostfeld. And while it takes decades to detect long-term changes in oak tree acorn crops, many ecologists have argued that as the weather gets warmer and wetter, there will be bigger crops of acorns at a greater frequency, leading to the potential for a cascading effect with ticks. 
Ticks, unfortunately, do not die in cold weather like other pests: When the temperature drops below freezing, they head below the leaf-litter and down into the soil for protection, waiting for the temperature to rise so that they can continue to look for a blood-meal. (Yes, that means you can be bitten by a tick on any warm winter day). As climate change worsens, the length of the warm season extends with earlier springs and later falls. 
"The longer a season they have, the more likely they are to find a meal," explains Ostfeld. "If not—it's curtains for the poor tick—they die of starvation." 
What does that mean for hikers in the Northeast and other parts of the country where ticks are becoming an epidemic? Some hikers might consider avoiding spring and early-summer jaunts when ticks are still in their nymph stage and near-imperceptible at roughly the size of a poppyseed. Some might even opt out of hiking and backpacking in the Northeast altogether, for the risk of day-after-day exposure and difficulty of bringing along mirrors, tick tweezers, and very intimate friends. Others will hike as they always have, and many will be infected—some without even knowing it—until an effective vaccine is developed.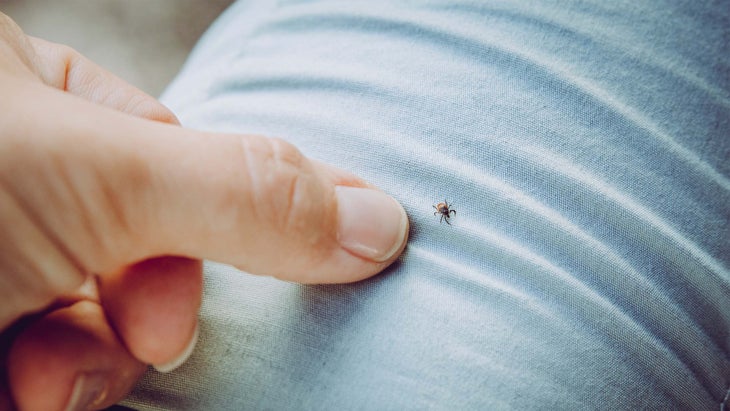 While we wait for that miracle cure, here are some things you can do to lessen your chances of contracting Lyme while hiking in the Northeast (or anywhere else in the country):
Wear light-colored long pants and sleeves to make ticks easier to spot

Treat clothing and gear with

Permethrin

Spray any exposed skin with

DEET repellent

Tuck your pants into your socks and your shirt into your pants

Perform a thorough tick check as soon as you get home or set up camp

Shower within two hours of returning from the trail

Throw all of your clothing in the dryer on high heat for 10 minutes (washing won't kill ticks)

Give your dog tick medication year-round and check them thoroughly after every trip; be cautious about letting them sleep in your tent, as they can potentially bring in the arachnids.