After My Son Died, the Mountains Helped Me See a Brighter Future
A father confronts his grief in the Adirondacks.
Heading out the door? Read this article on the new Outside+ app available now on iOS devices for members! Download the app.
Forty-one days after my wife and I watched our infant son die in the hospital, we thought it would be in our best interest to get out of the house.
We decided on hiking, and set out from a trailhead near our home in Saranac Lake, New York, early in the morning to beat the crowd. We just wanted to be alone with each other; we dreaded running into anyone we knew and having to explain what had happened to our baby in the middle of a public trail.
In the fall of 2018, we had moved from Buffalo to Saranac Lake, an outdoor enthusiast's paradise in the heart of the Adirondacks. Aside from its small-town charm, there were mountains to climb, lakes for kayaking, and the vacation destination of Lake Placid just a few miles away.
After we settled in, we decided to hike a few of our new local mountains before winter arrived. But just days later, a brutal snowstorm swept in and stopped our plans in their tracks. Without the experience or gear to hike in winter conditions, we postponed until the spring thaw.
A few months later, as we eagerly watched the snow recede, Andrea and I learned that we would become first-time parents. Our child was due in November, which meant putting our hiking dreams on hold once again. But we didn't really mind. We talked about hiking with our son once he was old enough. I researched the best trail carriers for toddlers and pictured the three of us summiting peaks and making memories. Although it felt like a lifetime away, we were already making plans for our family. 

Then, in July, our lives changed forever. Early one Sunday morning, Andrea started having contractions strong enough that we rushed her to the hospital. At 23 weeks pregnant, she unexpectedly went into labor and at 5:39 a.m. gave birth to our son, Louis. He was born premature and didn't survive the morning; Louis passed away just a few short hours after he was born.
Over the next few weeks, we lived a routine of crying, sleeping, and searching for answers, only opening the door for family. Overnight, our parenting books were replaced by ones about child loss, and our living room became lined with sympathy cards. I was scared for my wife, never having seen her so sad before, and I was barely functioning myself.
In the rare event we left our apartment, we had a beautiful view of Baker Mountain from our front steps. It always reminded us how good we felt when we were hiking and how much we missed walking in the woods. Some days we'd talk about getting back on the trail for some much-needed fresh air and sun, though in our grief we felt guilty even contemplating it. However, after weeks of what was turning into unhealthy confinement, we agreed that we needed to spend some time outdoors.
Just over a month after Louis died, we returned to the woods. Our first hike was 3,720-foot Panther Mountain. When we made it to the open meadow at the summit we stayed for a while, taking advantage of the moment, letting our bodies absorb the sun. We talked about Louis. We both cried, but we had each other out there. That's what we needed most.
After ticking off a few more summits, we felt confident enough to try something more challenging, and assembled our gear for Scarface Mountain.
Scarface is one of six peaks near Saranac Lake that makes up a local hiking collection called the Saranac Lake 6er. We started the 6er Challenge the summer before Louis died. Now, it gave us something to look forward to, and we wanted to finish it more than ever.
But it wasn't that easy. Outwardly, Andrea and I made a day out of each hike, lingering over lunch and basking in the sunlight on our skin. But no matter how good a time we were having, I was always on edge. For the better part of my life I've suffered from generalized anxiety disorder, and whenever I find myself out of my comfort zone—pretty much anywhere outside of my house—I'm vulnerable to panic attacks. As stressful as hiking can be for me, though, I enjoy it even more. I love the exertion of the climb and the flush of success at the summit.
Before exploring a new mountain, I always research the route ahead of time, hoping to pacify my anxiety by eliminating surprises. On our two other climbs since Louis's death, I didn't have any issues; the trails were easy to navigate. The same could not be said about Scarface. The biggest complaint listed in online trip reports was difficult navigation, which set off alarm bells before I even stepped foot on the trail. 
The morning we set out for Scarface I did my best to block out the fear that had been building all week. I knew the climb was going to be difficult. But there was something about having watched my wife fall apart that made me want to be stronger for her, even as I was fighting to keep myself together, too. For years she had always been the strong one in the relationship, and now she needed me. I couldn't give up. This meant too much to me.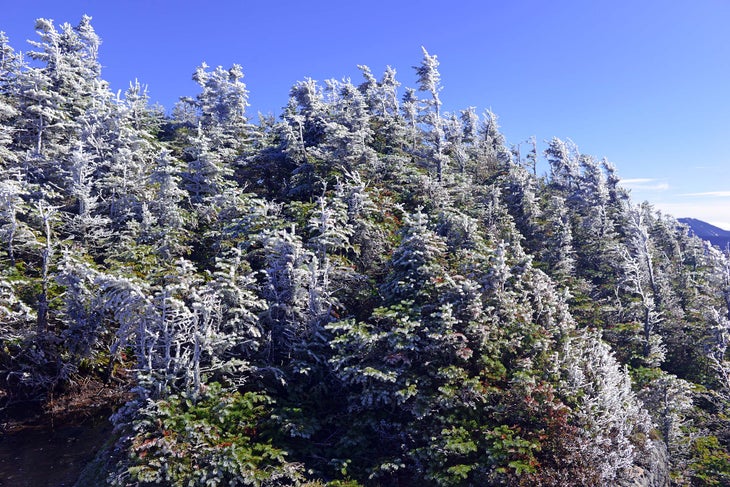 The hike started off well. Once we made it over two rock scrambles and then past a steep incline, I started to feel settled. But then the trail markers began to disappear. The higher we climbed, the less consistent they became. And then they were gone.
My breathing became labored; my vision tunneled. I was suddenly consumed with the idea that we wouldn't make it off the mountain alive, instead dying cold and alone. Usually, when I find myself in a situation like this, I can place logic over irrational thinking, but that wasn't the case today.
"Hey, you okay over there?" Andrea could tell that something was wrong. 
"Yeah, I'm alright," I replied, though the worry was obvious in my voice. 
"I just haven't seen any markers for a while and it freaks me out," I told her as I frantically scanned all the trees in my path. "I'll be fine. Don't worry."
Andrea marshalled my attention back to reality. She suggested we stop for a few minutes so I could gather myself. Initially, I disagreed, as I desperately needed to see pavement again. But she has brought me back from attacks worse than this one, and on her advice I agreed to stop.
We sat down, and I tried to focus my thoughts. Even without the markers, as long as we stayed the course and followed the footpath, we were in no real danger of getting lost. I was just getting in my head, worrying over epic survival scenarios that ranged from barely possible to outlandish. 
Fifteen minutes later we were standing on the summit—an underwhelming finish line with zero visibility thanks to thick forest. But when I saw the summit marker, the relief was overwhelming. We had made it. I was proud of myself for finishing, but more than that, more than doing it for myself, I had done it for my son and my wife. I had been feeling so empty after Louis died, but when I rested my hand on that tree marker, I started to smile a little more. Nothing would ever fill the void in my heart after losing a child, but tackling Scarface with Andrea, in our son's honor, allowed me to feel positive for the first time in weeks.  
Andrea and I moved back to Buffalo a few months later, after we discovered that she was pregnant again. We weren't sure what would happen once we were back home, but we had already faced bigger challenges in our lives and wouldn't let uncertainty slow us down.
After we returned to the city, we couldn't help but feel like we had left a part of our family behind, in the place where Louis died—those trails and peaks have become woven into our lives. It's where we grieved the loss of our son, and where we bonded, fought, cried, laughed, and ultimately grew stronger together as a couple. 
Almost a year from the day that we hiked Scarface Mountain, Andrea gave birth to our daughter, Violet Louisa. You can bet we are going to take her hiking—and our daughter will become a part of our Adirondack story, too.