What's the Best Backpacking Food?
Choose the best backpacking food with these simple tips from an expedition meal-planner.
Heading out the door? Read this article on the new Outside+ app available now on iOS devices for members! Download the app.
Q:When doing longer, multi-day hikes, what's the best way to maximize the amount of calories per ounce of weight while still eating healthy, nutritious foods?
–Karen Elisabeth, via Facebook
A: To get some truly professional advice on the best backpacking food, we turned to NOLS Rocky Mountain Rations Manager Claudia Pearson, who has helped plan expedition meals for tens of thousands of students over the last 35 years. Here are her key tips.
#1: Pack a variety of foods
"Food on the trail isn't an exact science," Pearson reminds us. "But eating should be a priority. You need to be eating enough to feel be energized." That's harder to do when it's your fifth day straight of hot mush.
So don't be afraid to bring things you find delicious at home, even if they aren't traditional "backpacking" foods (check out this guide to the shelf life of common backpacking foods). And when planning for a group, make sure each person gets to chose a few favorites to include in the rations.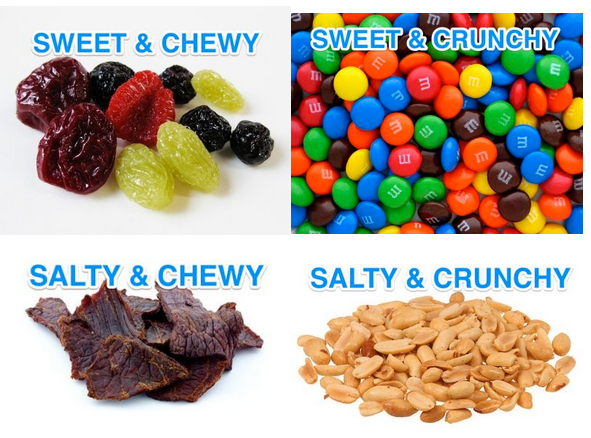 Also, to avoid food boredom, Pearson says, "there are four different tastes I keep in mind: sweet, salty, chewy, and crunchy. You really want a balance of those textures and flavors in what you're packing. That way you can choose what you're in the mood for at that moment, and you won't get totally sick of whatever you've got."
#2: Pay attention to calorie density.
"We like foods that have very condensed calories," Pearson explains. Her top examples:
Nuts and nut butters
These are a good source of protein and fat. "There's such a variety of nut butters these days, you'll find one you like," Pearson says.


Recipes and more info:Test Kitchen: Nuts | Trail Smoothies | Paleo Crunch | Power Oatmeal | Peanut Butter Omelette (really) | Super-Pumped PB&J Cereal | Spicy Peanut Noodles | Pumpkin Peanut Soup | Peanut Butter Twigs | Cinnamon Cocoa Almonds
Cheese
keeps longer than you'd think and, paired with crackers, make a good, quick meal.


Recipes and more info:Test Kitchen: Cheese | Crispy Avocado Melt | Molly's Kickin' Mac & Cheese | Easy Cheese Fondue | Savory Gruyere Fondue
Tortillas
are a sturdy, dense carb option. "You can put anything on a tortilla," Pearson says.


Recipes and more info:Black Bean Tortilla Casserole | Chicken Curry Wrap
Pouches of salmon or tuna
pack easily and provide healthy, lean protein.


Recipes and more info:Pesto Tuna Sandwich | Tuna with Olives and Capers | Tuna Salad with Sprouts | Smoked Salmon Pasta | Gourmet Salmon Pate | Green Curry with Salmon | Risotto with Smoked Salmon
Jerky and pepperoni
come in a huge variety of flavors. "When people say they wish they had more protein, they usually mean they wish they had more meat," Pearson explains.


Recipes and more info:Editors' Choice 2013: Sweetwood Cattle Company Beef Jerky | Taste Test: Beef Jerky | Salmon Jerky & Tomato Couscous | Test Kitchen: Sausage Recipes | Cashew Beef Curry | Test Kitchen: Salami
Olive and coconut oil
are both really high in calories for the weight. Olive oil works well for dinners; you can put coconut oil in oatmeal or use it to cook pancakes.

#3: Hydrate often
Don't forget that drink mixes and powders can be a great way to help you stay hydrated and add calories. Don't just think coffee or tea: hot chocolate mix, milk powder, and electrolyte mixes like Gatorade all make great additions to a long-term food kit.


Recipes and more info:Backcountry Bartender: Spicy Hot Chocolate | Hot Chocolate Taste Test | No-Stove Minty Mocha Coffee | Test Kitchen: Electrolytes