Trail Mix: Great November Hikes in the East
Your region's go-now guide: Explore New York City, hike four states in 24 hours, and perfect days in NC, GA, and NH.
Heading out the door? Read this article on the new Outside+ app available now on iOS devices for members! Download the app.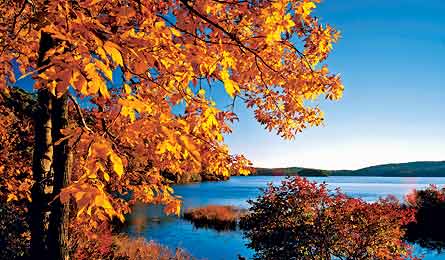 Yellow Birch in Harriman SP (Photo by Superstock/ AGE Fotostock)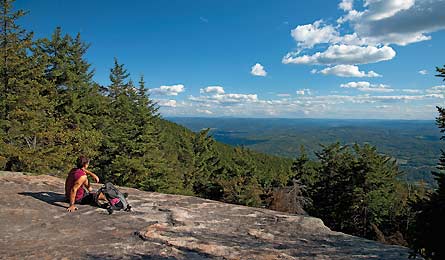 Mt. Ascutney (Photo by Tim Seaver)
Explore: New York City

Breakneck Mountain Loop, Harriman SP Stand atop a 1,260-foot summit in the Ramapo Mountains on this 7.4-mile lollipop through thick woods dotted with rock outcroppings just an hour from Manhattan (Trip ID424405). Download our free smartphone app, GPS Trails, to access bundled packages of editor-approved trips within the metro area. Get it at backpacker.com/gpstrails.
Perfect Days



Manchester, NH

Mt. Ascutney 

Get views of Vermont's Green Mountains from the lookout tower atop this 3,144-foot summit. The 5.2-mile trip features two waterfalls and plenty of late-season solitude (wear orange; it's hunting season). Then get an even more spectacular panorama from the air with a hang-gliding lesson or tandem flight ($149; flymorningside.kittyhawk.com)—the acrophobic can play outdoor laser tag instead. Trip ID1341091
Asheville, NC

Max Patch Loop

Now that crowds are thin and the summer haze is gone, use the Appalachian Trail as the backbone of a 2.8-mile loop over and around Max Patch, a high-elevation bald that provides a grassy perch for observing the Black Mountain Range's 6,000-foot behemoths (extend the trip to Roaring Fork for a 7.6-mile day). After the hike, cruise north to the tiny town of Hot Springs and soak in one of the only naturally occurring thermal pools in the region (pool rental starts at $11 depending on time and size; nchotsprings.com). Trip ID1819690
Atlanta, GA

Benton MacKaye Trail

Experience a hilly section of this 300-mile trail on a 3.8-mile romp past oaks and hardwoods to views of the Blue Ridge from 3,091-foot Wallalah Mountain. Stop in Buford for a swing on a treetop zipline and obstacle course before the day is done ($45; treetopquest.com). Trip ID399077
Hike Here Now

Pennsylvania Trails Fracked?

Anyone who's been paying attention to the clamor over natural gas drilling in Pennsylvania knows that hikers in the state are facing a crisis, as gas well construction in state forestland threatens to overtake mountaintops, reroute trails, and disturb the natural quiet. Whichever side of the debate you're on, you at least have one easy course of action: Hike all you can before the scenery changes. Devote one weekend to the Old Logger's Path, a 27.1-mile loop in isolated north-central PA with a trailhead in the ghost town of Masten. It's rarely hiked, but offers views of broad, wooded valleys and gurgling waterfalls. Plus, the trail is wide and smoothly graded, perfect for cross-country skiing if it's snow-covered.

Contact (570) 946-4049; bit.ly/oldloggers
Bragging Rights

Four-State Challenge
Hike 42.9 miles on the AT in 24 hours, in the process traveling across the borders of Virginia, West Virginia, Maryland, and Pennsylvania. It's a rite of passage for many trail-hardened thru-hikers (especially the young guns), but you can get a leg up by tackling the rolling miles in cool weather and low-traffic season, rather than when most northbounders are passing through in spring. Tyler Schultz, a 2011 thru-hiker who returned to knock out the challenge after summiting Katahdin, recommends hiking the trail from north to south, so you can do the cliffy southern bit in daylight. Park a car in Harper's Ferry at the intersection of Shenandoah Road and US 340. Take a second car to Pen-Mar Park in Waynesboro, PA, and get going before dawn (Schultz started at 3:30 a.m.). Near the end of the hike, you'll pass your car before you get to the Virginia border. Don't stop! To finish the challenge, cross the Shenandoah River and knock out 2.4 miles out-and-back on the AT/Loudoun Heights Trail to reach your fourth and final state line (Virginia). Trip ID1903734