Backpacking Recipe: Blondie-Style Oatmeal Peanut Butter Bars
Satisfy your sweet tooth with this fiber-packed power-up.
Heading out the door? Read this article on the new Outside+ app available now on iOS devices for members! Download the app.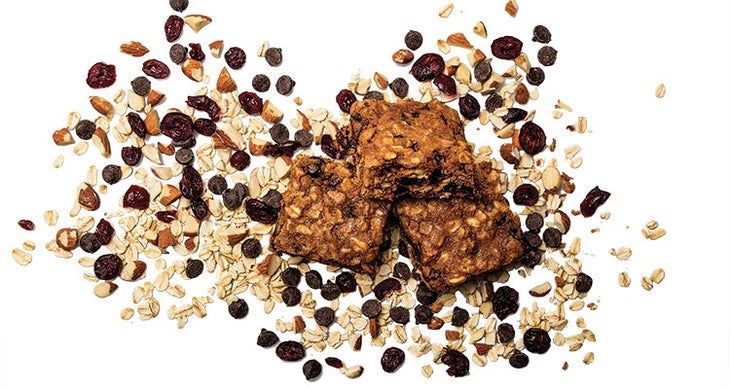 Our Rocky Mountain Field Editor swears by these bars, which have fueled her on trips from Canada to the Cascades (it's been so long, she can't remember where she got the recipe). Makes 10 bars.
½ cup whole-wheat flour
1 tsp. cinnamon
½ tsp. baking soda
Dash salt
½ cup smooth peanut butter
½ cup brown sugar
1/3 cup honey
1 large egg
2 large egg whites
2 tbsp. canola oil
2 tsp. vanilla
2 cups rolled oats
1 cup dried cranberries
½ cup chopped walnuts or almonds
½ cup chocolate chips
Preheat oven to 350°F. Spray a 9-by-13-inch baking pan with nonstick cooking spray. Whisk flour, cinnamon, baking soda, and salt in a medium bowl. In a large bowl, beat peanut butter, sugar, and honey with an electric mixer. In a small bowl, beat eggs with a fork. Add eggs to peanut butter mixture, then add canola oil and vanilla. Beat until combined. Add the flour mixture and mix with a rubber spatula, then mix in oats, cranberries, nuts, and chocolate chips. Scrape into baking pan. Bake 20 to 25 minutes, until browned on the edges. Let cool, then cut into bars. Wrap tightly in foil.
Pack life 5 days
Nutrition (per bar)Calories 364 Fat 18g Protein 9g Fiber 5g Carbohydrate 47g Sodium 95mg