5 Easy Appetizers For Backpackers
Got a camp full of hangry hikers? After years of leading teens, BACKPACKER staffers, and his own family, Editor-in-chief Dennis Lewon has fed more than his share. Here are his favorite easy-prep appetizers.
Heading out the door? Read this article on the new Outside+ app available now on iOS devices for members! Download the app.
Spicy Quesadillas
These fast-cook hors d'oeuvres satisfy exhausted hikers who crave salt and fat (which is all of them). Serves 2.
2 flour tortillas
4 oz. cheddar cheese
2 jalapeño peppers

At home ⇒ Pack ingredients separately.
In camp ⇒ Slice cheese into thin strips and dice peppers (remove seeds if desired). Divide cheese and jalapeños between tortillas. In nonstick pan on medium heat, cook quesadillas on each side until cheese is melted. Optional: Use a little oil to get tortillas crispy.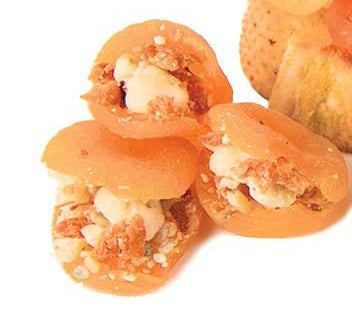 Apricot Delight
This sweet-and-spicy recipe tastes more complicated than it is. Serves 4.
20 dried apricots
4 oz. crumbled blue cheese
2 Tbsp. bacon bits
1 tsp. red chili pepper flakes (or 1 diced jalapeño)
At home ⇒ Pack ingredients separately. Store cheese in a hard-sided container.
In camp ⇒ Pull open apricots. Mix blue cheese with bacon bits and chili pepper flakes; stuff a spoonful in each apricot and serve.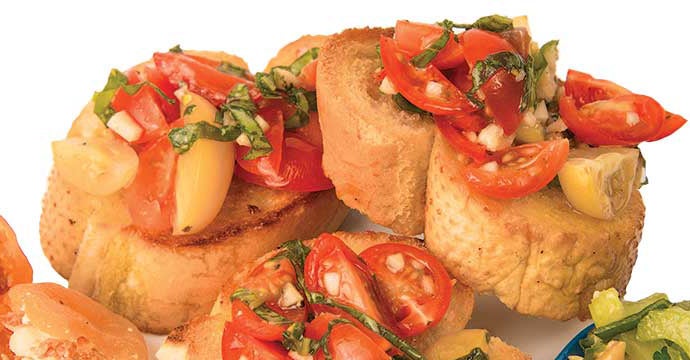 Camp Bruschetta
Go gourmet with this garlic-and-tomato classic. Serves 4-6.
1 lb. cherry tomatoes
4 cloves garlic
12 fresh basil leaves
1/2 cup extra-virgin olive oil
½ tsp. salt
½ tsp. black pepper
1 loaf of French bread

At home ⇒ Pack ingredients separately. Stow tomatoes and basil in cookpot or other hard-sided container.
In camp ⇒ Peel and mince garlic. Add to olive oil in a bowl or pot. Cut the tomatoes into halves (or quarters) and the basil into thin strips. Add to garlic-oil mixture, along with salt and pepper. Toss lightly; set aside for 30 minutes to allow flavors to meld (if you can wait). Cut bread into inch-thick slices and toast. Pile bruschetta mix on top and serve.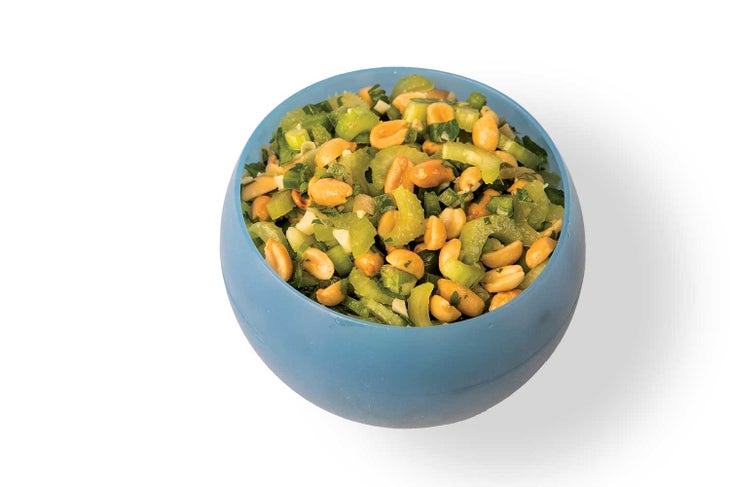 Ginger-Celery Salad
Fresh veggies make a welcome change from routine camp food. Serves 4.
4 stalks celery
4 green onions
½ cup cilantro
1 jalapeño
4 cloves garlic
3 Tbsp. pickled ginger
4 oz. roasted peanuts
2 Tbsp. olive oil
1 lemon (or its juice)
At home ⇒ Package vegetables together in a zip-top bag. Pack other ingredients separately; stow oil in a leak-proof container.
In camp ⇒ Chop veggies and mix together in a pot. Mince garlic and toast it in a nonstick pan over medium heat with a few drops of oil, stirring frequently until browned. Add garlic, ginger, nuts, olive oil, and juice from lemon to the veggies. Stir and serve.  
Easy Bean Dip
In a hurry? Make this flavorful instant dip.
BYO chips, crackers, or veggies and whip up a dish of AlpineAire Spicy Cheddar Bean Dip ($5). It's fast (just add water), tasty (the spice level is surprisingly bold), and has 16 grams of protein per 2.5-ounce serving (2 servings per bag).