These Gourmet Camping Recipes Have Just 3 Ingredients Each
You already know packing more stuff isn't always better. These tasty, three-ingredient, simple backpacking recipes apply that same philosophy to your menu.
Heading out the door? Read this article on the new Outside+ app available now on iOS devices for members! Download the app.
We usually default to boil-in-the-bag dinners when we camp. But sometimes, whether to impress a date or just treat yourself, you want to go a little more luxe. These three recipes taste gourmet, but each only requires three ingredients.
Unless noted, each recipe makes 1 serving and assumes you packed salt, pepper, and oil/butter.
Lemony Salmon Noodles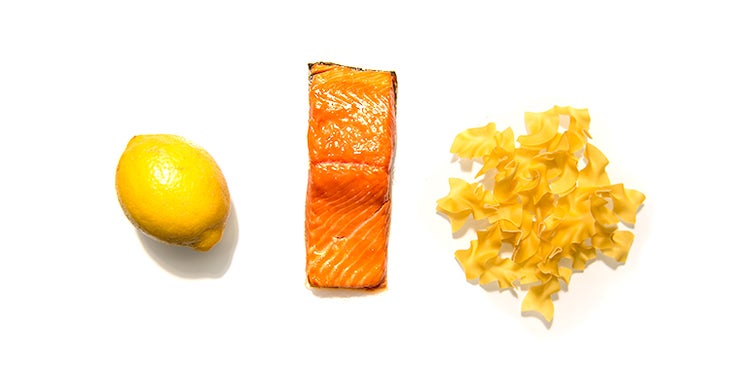 This is an easy-but-upgraded, 3-ingredient version of everyone's favorite tuna noodle casserole.
Ingredients
2 oz. chunk smoked salmon
3 oz. wide egg noodles (the wider, the better)
½ lemon
Instructions
Bring 2 cups of salted water to a boil in a medium pot, add noodles, and reduce heat to simmer, partially covering pot. When noodles are tender (about 7 minutes), drain completely and stir in 1-2 Tbsp oil or butter. Flake salmon into noodles (bigger flakes are better). Squeeze lemon over noodles just before eating.
Superfood Bowl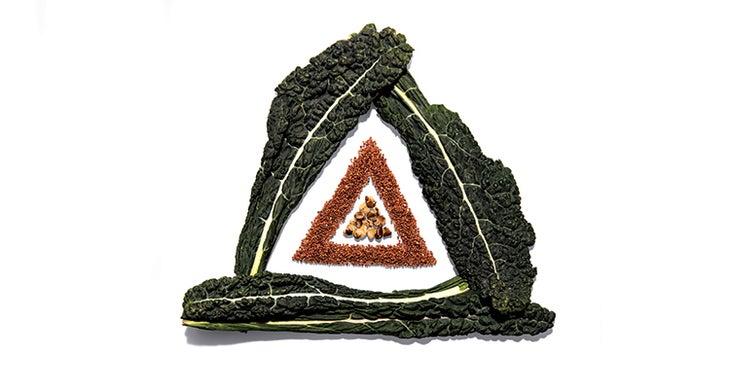 These ingredients are all nutrition powerhouses, with antioxidants, healthy fats, and complete proteins.
Ingredients
1/3 cup quinoa (pre-rinsed and dried at home; or use precooked, though this adds weight)
2 oz. kale (bag with a lightly moistened paper towel; it will keep 3 to 4 days, or use kale chips for hot temps or longer trips)
2 Tbsp toasted walnuts (Toast your own: 5 to 10 minutes on a baking sheet in a 350°F oven.)
Instructions
In camp
Boil ½ cup water with quinoa, then reduce heat. Cover and simmer about 15 minutes, until water is absorbed and quinoa is tender. Let stand 5 minutes. Add salt, pepper, and about 2-3 Tbsp olive oil or butter. Shred kale, stir in (it'll wilt from the heat), and top with walnuts.
Breakfast Option
Sub in a handful of raisins, chopped dates, or chopped apples for the kale.
vegan | gluten free
Insta-Pizza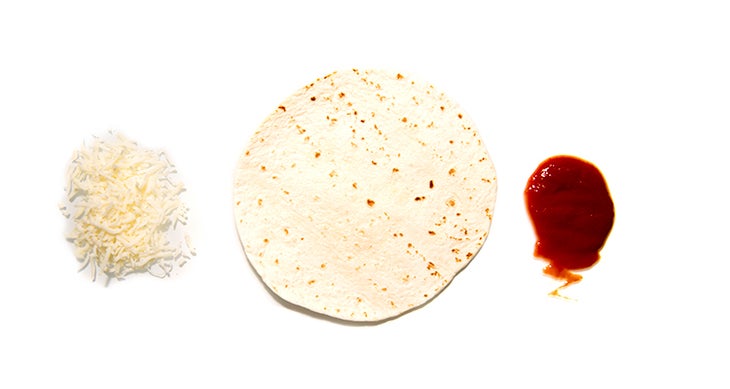 Make a personal pizza pie—or three—for dinner, or as an appetizer for a crowd. It takes just three ingredients and it's super-easy.
Ingredients
1 fajita-size tortilla
1-3 Tbsp pizza sauce (pack in a small plastic container; less means crisper crust)
¼ cup Italian blend pre-shredded cheese
Instructions
Spread the sauce over the tortilla and place in a lightly oiled, non-stick skillet over med-low heat. Sprinkle with cheese and cover. Cook until cheese is melted and tortilla is crisped on bottom, about 90 seconds.
Originally published in 2015; last updated April 2023