September 2012 Table of Contents
Heading out the door? Read this article on the new Outside+ app available now on iOS devices for members! Download the app.
>> FEATURES

Easy Epics

Fantastic views, hiking to match, total solitude without reservations. . . and it all starts where you park the car. That's right, drive-up campsites a backpacker will love. And don't forget the creature comforts. Kitchen sink? Please. Bring the table and cooler, too. From the Grand Canyon's North Rim to a Florida swimming hole, you'll find it all at one of these spots. By Jim Gorman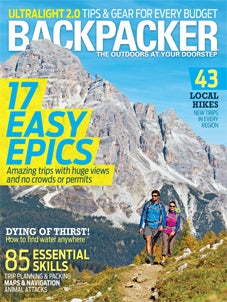 Going, Going…Gone?

For decades, hikers have journeyed to Isle Royale National Park for a life-list experience: see the island's iconic wolves. The predators established themselves here when a pair crossed an ice bridge from Canada in the 1940s, and the population grew to 50. But only nine remain, and biologists fear the Isle Royale wolf will soon be extinct. Gustave Axelson goes in search of the last pack.
The Long Way Home

Fourteen years ago, Karl Bushby made a vow: He would walk from the tip of South America back to his native England. Since then, he's crossed Central America's guerilla-ridden Darien Gap, traversed an ice bridge across the Bering Strait, and hiked some 17,000 miles. He's also left behind his family, and recently, seen his expedition grind to a halt. It's time to ask: When is a hike too far? By Bill Donahue
Canyonlands Adventure Guide

Discover the towering sandstone wonders, hidden slot-canyon scenery, and deafening quiet of this desert park. Our scouts give step-by-step details for the best weeklong, weekend, and day hikes. By MacKenzie Ryan and Kim Phillips
Heroes

When Margaret Fuller first hiked into Idaho's rugged Sawtooth Range in 1957, there were no guidebooks to lead the way. So she grabbed her kids and a notebook, and wrote the first one. She's since penned seven more guides, and now—at 77—still hikes hundreds of miles a year.
>> TRIPS
Life List:African Safari

Get a spine-tingling sight of African wildlife.



Mountain Map:Sandia Mountains

Explore Albuquerque's backyard range.
Top 3:Wine Country Hikes

Raise your glass to trek-and-taste tours.
Local Hikes

West: Rip & Go, From the Field, Trail Mix
Central: Rip & Go, From the Field, Trail Mix
East: Rip & Go, From the Field, Trail Mix
>> SKILLS
MASTER CLASSCut pack weight

Hike faster, farther, easier. Ultralighters share tips for shedding 5, 10, or 15 pounds.



INSTANT UPGRADES5 pro tips

Improve GPS battery life, stay energized in the heat, fix a chipped tooth, and more.



TEST KITCHENCheese

We tried 20 types to bring you the top snacking, packing, and cooking tips.
>> SURVIVAL
Out Alive:Rockslide

Learn from one hiker's near-deadly encounter with falling boulders.
Troubleshoot This:Burned by boiling water

Cool it! Three steps to stopping, assessing, and managing scalding water spills.
Chart of Death:Animal Attacks

Get the facts about where, when, and how predators kill. Plus: 21 tips for avoiding, evading, and surviving an encounter.
Survival Lab:Emergency Water

Not a drop to drink? Our man in the field tests techniques for wringing water out of thin air. Plus: Should you drink your pee?
>> GEAR
Field Test:All-season sleeping bags

Improve your snooze with one of the these light, warm, and bargain sacks. Our testers found one for every trip or budget.
Field Notes

An ultralight tent for tall guys, an affordable puffy, a versatile daypack, the ultimate scrambling boot, and a wallet-size battery pack.
Review:Car Camping Gear

Who says you have to rough it to enjoy the outdoors? We rate a luxe stove, a cavernous tent, and more car camping gear.