Readers' Best Advice: No-Fail Firestarters
Heading out the door? Read this article on the new Outside+ app available now on iOS devices for members! Download the app.
Hiking Tips | Camping Tips | Gear Tips | No-Fail Firestarters | Bear Bagging | Bear Questions | Prolific Reader Tipster
» A wad of dryer lint and one of those trick birthday-cake candles. —"Atvtuner"

» Dryer lint soaked with rubbing alcohol, carried in an old prescription bottle. —Mark "ed dog" Blanchfield, Farmington, NM

» Alcohol-based hand sanitizer gel. —Dustin "BoomerHiker" Hughes, Sand Springs, OK
» Cardboard cut into one-inch-wide strips (sandwich-baggie length) and soaked with paraffin. Thirty minutes of work makes a couple of years' worth of starter. —Patrick "Sticks" Jones, Louisville, KY

» Birch bark. When you see some dry birch bark on a fallen tree, peel it off and stick it in your pack. —A. Ross "Bansko" Meeker, Lander, WY

» Get a Dixie cup and fill it with dryer lint and wax. —Matthew "hiker1025" McKenna, Philadelphia, PA 

» I make starters by using a cardboard egg carton, filling in the cups with sawdust, and pouring melted wax (canning paraffin) over it. Then I break each section apart. The wax makes it more or less waterproof, and each "cell" burns quite a while. —Leafwalker

» I use cotton balls with petroleum jelly, but stuff them into a four-inch-long McDonald's straw (fatter than other straws) by pulling the cotton balls into a string and pushing them into the straw with a matchstick. Then I seal the ends by holding them shut with pliers and melting the ends in a flame. To use, just cut off one of the ends, pull out and fluff a bit of cotton, light, and apply to your tinder. —Steve "grampabarber" Barber, La Mirada, CA
» Get some corrugated cardboard. Tear off one side of the paper so that the ridges are exposed. Roll it up. Tie it up with twine. Dip in wax. Cool. Dip again. Cool. Repeat. Cut to size. —Wayne "WicksWanderer" Wicks, Blue River, CO
QUICK BURN


I picked up this trick from a veteran Army Ranger who taught my Boy Scout troop: When building a fire outside of a pan, dig an X into the ground. I make the arms three to four inches wide, two to three feet long, and about two inches deep. This helps air pass into the base of your tinder, ensuring plenty of oxygen if you're drying damp wood.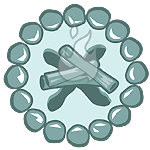 Patrick "Plandr5" Landry, 
Baton Rouge, LA