Post-Hike Beverages: Hot Trail Toddies
4 steamy drinks to spice up your after-dinner stargazing
Heading out the door? Read this article on the new Outside+ app available now on iOS devices for members! Download the app.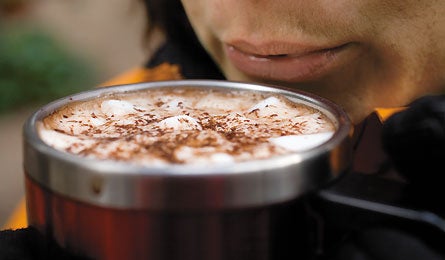 Mexican Hot Chocolate, Justin Bailie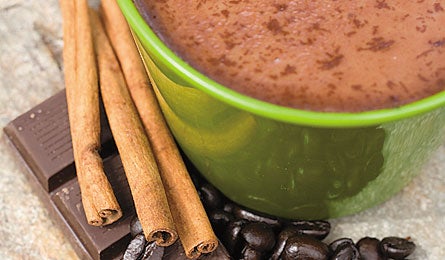 Mocha Espresso, Justin Bailie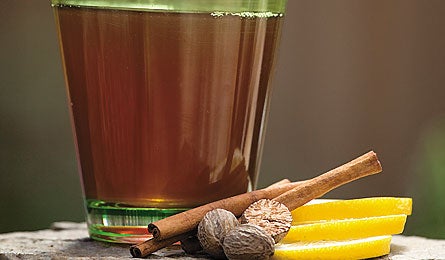 Mulled Wine, Justin Bailie
Few camp comforts rival the warm glow of a fresh-brewed drink cascading down your throat and into your belly. Take a long swig, and the night air seems less cold, the wind calmer, and the stars brighter. Next time out, ditch the old tea bags and weak, sugary hot cocoa for one of the palate-pleasing recipes below. Whether you're toasting the end of a winter day or waking up to a crisp morning, these sweet potions will warm your stomach-and your attitude.
Mexican Hot Chocolate
Dashes of cinnamon and salt give this sweet standby a savory twist.
1/3 cup brown sugar
3/4 teaspoon ground cinnamon
1 1/2 teaspoons powdered vanilla
1 1/2 teaspoons salt
1/4 cup cocoa
2 1/2 cups powdered milk
At Home
Combine all ingredients in a zip-top bag.
In Camp
Divide mix evenly into four mugs. Add boiling water and mix well.
Tip: You can substitute vanilla extract for powdered vanilla.
Mocha Espresso
Satisfy your caffeine and chocolate cravings with a sweet kick.
5 oz. semisweet chocolate (squares or bars)
3/4 cup nonfat dry milk powder
1/2 cup instant espresso powder
1/2 teaspoon ground cinnamon
At Home
Shave chocolate with grater or sharp knife. Store 4 oz. with powdered milk, cinnamon, and espresso in zip-top bag, and the remainder in plastic wrap.
In Camp
Spoon 2 tablespoons espresso mix into a mug. Add 6 oz. boiling water; stir. Sprinkle the extra chocolate shavings on top, and serve.
Tip: Substitute dark roast instant coffee for espresso powder.
Mulled Wine
Wintry spices warm up an ordinary bottle of red.
5 teaspoons sugar
5 pinches of nutmeg
5 pinches of cinnamon
1 fresh lemon
1 bottle of bitters (flavoring derived from roots, barks, herbs, and berries)
1 bottle red wine
At Home
Place nutmeg, cinnamon, and sugar into a zip-top bag. Pack lemon and bottle of bitters in a paper bag. Decant wine into hydration bladder or Lexan bottle.
In Camp
For each drink, simmer 5 oz. wine in a non-reactive pot (i.e., not unanodized aluminum; stainless steel with non-stick coatings are okay) with one teaspoon of the nutmeg mixture, a teaspoon of lemon juice, and a dash of bitters.
Switchel Syrup
This old-fashioned infusion invigorates hot water, apple cider, and even whiskey, while adding a dose of electrolytes and stomach-settling ginger.
1/2 cup apple cider vinegar
1/2 cup maple syrup
1/4 cup molasses
1/4 cup finely grated fresh ginger
At Home
Add ingredients to a pot, and bring to boil. Simmer for 5 minutes, then turn off heat and let steep 15 minutes. Strain and pour the resulting syrup into a small Lexan bottle.
In Camp
Add 2 to 3 tablespoons of the syrup to a mug of warm water or cider. It's also refreshing when mixed with cold water. Makes 5 cups.
Tip: Grate the ginger, skin and all.