How to Raise a Backpacker: 4-7
Your kids are old enough to remember this. Make some magic.
Heading out the door? Read this article on the new Outside+ app available now on iOS devices for members! Download the app.
The best part about introducing kids to the outdoors? The fun!
Do This
Tell a great campfire story. It doesn't have to be scary. Use a rotating cast of camping superheroes or magical fairies with outdoors-relevant powers; save these characters for outdoor trips.
Give them a job. Kids this age are eager to feel like they're helping. Let them pull out the sleeping bags, assist with the tent, or find some marshmallow sticks for later.
Bring a friend. "Should your kid have an emotional breakdown, it's nice to have another caregiver there to help," says Jeff Alt, author of Get Your Kids Hiking. Or go with a group, like your local chapter of Hike It Baby.
Key Gear
Small daypack Offer light items like water, snacks, or a jacket, but let children choose what they want to carry.
Sneakers Boots are important in rough conditions. But for light loads on dry trails, sneakers are sufficient. Splurge on some quality wool/synthetic socks to ensure comfy feet.
Teddy bears Pack comfort items to make the tent feel more like home.
Sweets and treats Whatever your rules about junk food at home, consider loosening them on the trail. Yes, bribery. There's almost nothing a kid won't do for a Snickers—including hiking uphill.
On the Menu: Crowd-Pleasers
Skip unfamiliar freeze-dried foods and recreate favorite meals your kid eats at home, like quesadillas or mac 'n' cheese. The goal? You want your child to associate hiking and camping with full bellies and tasty food.
How far can they go?
2-5 miles
Troubleshoot This: Fears
There's a lot of darkness and a lot of noises when camping. Talk to your kids about what scares them, and give them concrete things to do if they see a bear (don't run) or a snake (don't touch).
Fun & Games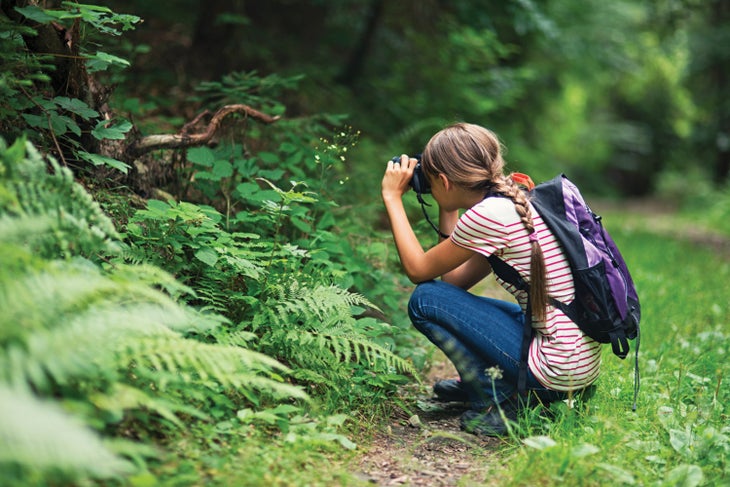 My 5-year-old loves scavenger hunts. We write up a list of items to find (not collect): a white feather, a yellow butterfly, etc. –Damian McArthur
I got my kids cameras and let them shoot whatever they wanted. Made for slow going sometimes, but they loved it. It's amazing to see the trip through their eyes. –Kelley Ziegler