My Worst Hike: My Boyfriend Left Me Injured on the Trail
What's a surefire way to ruin a hike? A selfish hiking partner.
Photo: Cavan Images/Cavan via Getty Images
Heading out the door? Read this article on the new Outside+ app available now on iOS devices for members! Download the app.
Twelve years ago, I headed to the South Rim of the Black Canyon of the Gunnison in Colorado with my then-boyfriend. We had just moved to Colorado after graduating from college, and I wanted to explore my new home. At the time, I knew very little about hiking. Sure, I had some outdoor education experience under my belt—I had been to summer camp and gone on group hut trips in the Presidential Mountains of New Hampshire—but when it came to being self-sufficient on the trail, I was a total newb.
The Black Canyon's steep walls plummet over a thousand feet straight down, creating an awe-inspiring scene amplified by the thundering Gunnison River below. The trail we chose to hike—the Gunnison Route Trail—stretches 1.8 miles down a loose, scree-filled gully that drops 1,700 feet to the banks of the Colorado. For the well-initiated, those stats tell you that this is no walk in the park. In fact, the route requires scrambling and even has permanent chains installed to assist with the steep sections over loose rock.
But we were none the wiser, and with one Nalgene of water between the two of us on a hot August afternoon, we set out. 
The trail started with a series of switchbacks before it dove straight down the loose, boulder-ridden gully towards the canyon floor. I felt nervous looking down the barrel of a rock canyon. But we happily picked our way toward the bottom.
Eventually, we reached a section that had a long chain installed into the rock. The idea was to hold the chain, turn into the hillside, and slowly walk backwards down the section of scree. From here, it looked as though the canyon bottom was just within reach.
As I stepped down off of a rock to grab the chain, I slipped and fell, twisting my ankle and rolling it over the loose terrain. Yelping in pain, I rolled in the brush whimpering. 
"You're alright," my boyfriend said. "We're almost there."
Even though my ankle throbbed with pain, I was feeling the pressure from him to keep moving, so I slowly grabbed the chain and scooted down the scree. We kept descending until we finally reached the canyon bottom. At this point, we had run out of water and the sun was getting low on the horizon. Fortunately, another nearby hiker gave us a little bit of water for the hike out. 
I may have known very little about hiking, but I knew that we were teetering on a bad situation. With very little water and an increasingly stiff ankle, I knew getting back up would take some time. We started the long climb out and learned our first lesson of canyon hiking: What goes down must come back up. I was struggling hard to scramble up the rocks (did they grow in size or was it just me?). Each step felt more painful than the last, and my pace slowed to a crawl—at times, literally.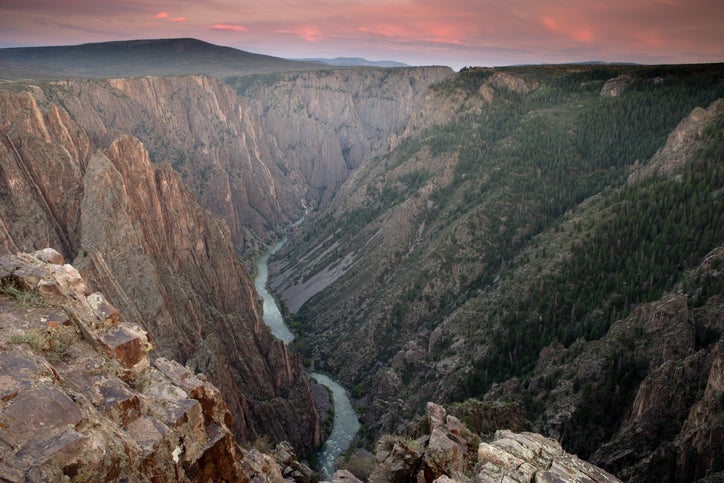 About halfway up the canyon, my boyfriend, who had been pestering me to move faster, gulped the last of the water and turned back to me and said, "I'm leaving. You're moving too slow."
It doesn't take an expert to know that you shouldn't leave an injured person behind without any water. Before I could say anything in protest, he turned around and scampered up beyond the bend.
Too exhausted to move, I slumped over next to a scrub oak and took a break. I felt like this was all my fault. If I hadn't been so slow, I wouldn't be stuck here, even though my gut was telling me it wasn't okay to leave someone behind. 
I knew I had to get moving, but I was so exhausted, thirsty, and my legs screamed in protest. Defeated, I slowly stood myself up and glacially walked up the remaining hillside, about a third of a mile or so, praising the sky when I finally saw the roof of the visitor's center come into view. At this point, I was utterly parched. Fortunately, there was a spigot of water at the visitor's center. I plunged my face into the spigot and drank until I puked.
As I hopped my way back to the campground, I blamed myself for the bad day. How could I be so slow that my own boyfriend just left me there? I told myself that I wasn't in good enough shape. Not strong enough. Not good enough at hiking.
I swore off hiking for three full years after that. When friends would ask to go on a hike with me, I'd simply reply that I was a bad hiker.
But here's the thing: There is no such thing as a bad hiker, just bad partners. No one should leave anyone behind, especially someone who is hurt and out of water. It took me three years to realize that I wasn't a bad hiker, I just had a crummy boyfriend—who, don't worry, I definitely dumped. I didn't get back into hiking for about four and a half years, when I finally met some friends (and a better boyfriend) who were supportive and made decisions as a group.
Safety—both physical and emotional—in the outdoors is absolutely essential. A great hiking partner is prepared to turn around and never pressures you to keep moving when you're hurt. They stick around and make collaborative decisions instead of acting individually. And under no circumstances do they leave someone behind without any supplies.
When you're vetting hiking partners, always ask about their expectations. Are they driven to make it to the finish line even when it means taking risks? Or are they more concerned about listening to each other's needs and having fun? Choose a partner that aligns with your comfort level and shares your views on staying safe. 
The joke is on my (now-ex) boyfriend. Since that fateful day in the Gunnison, I've gone on to become an expert hiker, trekking through Nepal, summiting over 55 peaks (some of them technical), and backpacking over 120 miles of the Colorado Trail. I didn't return to the Black Canyon of the Gunnison for 12 years after that trip, but when I did, I was there to confidently climb those impressive granite walls.