Master Alpine Starts
Boost your summit chances and beat lightning storms with a smooth early-morning start.
Heading out the door? Read this article on the new Outside+ app available now on iOS devices for members! Download the app.
What's worse than rising at 3 a.m.? Getting stuck above treeline in an afternoon lightning storm. Follow these tips from expert mountain guides to make the predawn start on your next big climb as efficient and painless as possible.
Get Some Sleep

Pop in earplugs and go to bed early, even if you don't feel tired. "Just lying prone will do your body a lot of good," says Joe Horiskey, co-owner of Rainier Mountain-eering, Inc.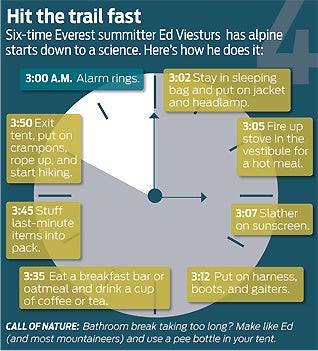 Dial in a Bedtime Routine
Here's what Eli Helmuth, a Colorado guide with 3,000 days of alpine climbing under his belt, does the night before:
Make a checklist of summit-day gear; load your pack before bed, checking off items as you go.
Prep breakfast: melt snow for coffee (this speeds boil time, even if the water partially refreezes), spread PB on bagels, slice cheese.
Pack lunch/snacks for the climb.
Guy out your tent and store food.
Put tomorrow's clothes in a stuffsack and use as a pillow. (Even faster: Just sleep in them).
Place your hat, gloves, headlamp, jacket, and alarm next to your bag so you won't waste time hunting for them in the dark. Store technical gear (rope, harness, crampons) prepped and ready in your vestibule.
Eat Smart

Cold, strenuous climbs You need warmth to rev yourself up, and plenty of calories and fat to fuel your hike. Drink hot tea or coffee and eat something quick, easy, and hearty–like dried fruit, cheese slices, Pop-Tarts, candy bars, or a packet of instant dried soup.

Superfast Starts
Pack a cold breakfast–trail mix, energy bar, bagel–in a zip-top bag, stash it in your jacket pocket, and eat as you hike. Your java? Chocolate-covered espresso beans.
Longs Peak Special
Helmuth's favorite morning meal: Instant mashed potatoes loaded with butter.