How to Winter Camp More Comfortably for Just a Few Extra Ounces
When the ground is cold, it's tough to stay warm. Don't skimp on comfort.
Heading out the door? Read this article on the new Outside+ app available now on iOS devices for members! Download the app.
When cold air is creeping up at you from the very bed you're sleeping in, it can turn an otherwise wonderful backpacking trip into a frozen nightmare. Once, as beginner hammock campers, my partner and I brought only our sleeping bags while leaving our sleeping pads at home, thinking we'd rather save the weight. Rookie mistake: We camped above 11,000 feet near Aspen, and didn't have an insulating barrier against the wind. We were so cold that we had to stack our hammocks with a sleeping bag in the middle and sleep in the top one together, sharing one sleeping bag. It was impossible to stay comfortable, and I don't think I slept more than 20 minutes at a time that night. Every time one person moved, the other was exposed to a shot of frigid air.
Closed cell foam pads, which pack a lot of heat for their light weight, are a much better way to insulate. As your body heats up the pad, it traps that warmth to share with you all night instead of dumping it directly into to the ground or the icy void around your hammock. Pads like these also give you extra insulation for winter camping when you put one on top of the inflatable pad you're already using, just like you put a topper on your mattress at home. Not only will you stay warmer, you'll have a much cushier camp bed.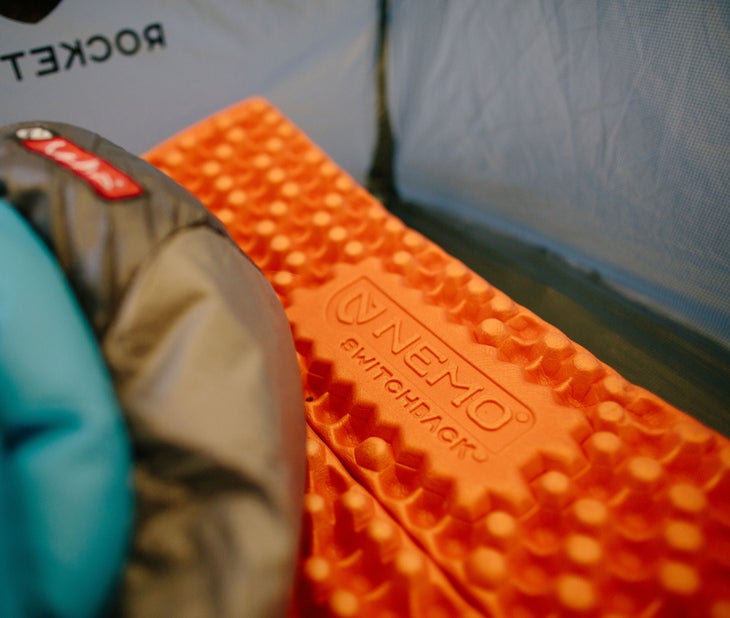 One good option is NEMO's Switchback Ultralight Sleeping Pad ($50, sold exclusively at REI), which weighs 14.5 ounces and packs 15 percent more heat-trapping cavities than similar pads. Its hexagonal nodes are plusher and retain more heat than standard foam pads. A metalized thermal film layer reflects heat back at your body so you don't unwillingly donate it to the cold air around you.
As you plan for cross country ski trips and snowshoe expeditions this winter, be sure the rest of your kit is up to snuff, too. An ultra-insulating pad does you only so much good if you're bringing your summer, 45-degree bag with you. If the rest of your kit needs improvement, consider these other cold-weather picks to help you cozy up and stay comfy no matter the weather.
1. NEMO Women's Rave and Men's Disco Down Sleeping Bags
Most people sleep on their sides. Most mummy bags are not great for sidesleepers. Enter NEMO's Rave and Disco sleeping bags ($300), which are spoon-shaped to give you more room to get comfy the way you prefer to sleep. These down bags weigh 2 pounds, 12 ounces (men's) and 3 pounds, 3 ounces (women's), and are rated to 15 degrees.


2. Icebreaker BodyfitZONE Wool Baselayers
When it comes to next-to-skin clothing—arguably the most important layers—synthetics are out, and wool is in. Unlike polyester, wool doesn't hold on to the stink from your 15-mile slog, so your tentmates can sleep easy without having to breathe through a Buff. Icebreaker's BodyfitZONE leggings and tops, for both men and women, come in a variety of weights. And don't forget to nix your cotton underwear in favor of wool, too—like layers work best together. ($60 and up)


3. The North Face Thermoball Traction Booties
Down booties are about the best ounce-for-comfort exchange you can make aside from a pillow. Most are indoor shoes, not intended for traipsing across camp in the snow. But The North Face's Thermoball Traction Booties ($60) have rubber soles (made from 40 percent recycled material) and 100 percent recycled, water-resistant uppers, making them an excellent camp shoe. Each pair weighs about 15 ounces.
4. NEMO Insulated Tensor Ultralight Sleeping Pad
For maximum comfort, pair the Switchback with NEMO's updated, insulated Tensor air pad, which gives you three inches of cushion in a 15-ounce package (regular size; $160). Aside from being warmer, the updated version features two suspended layers of NEMO's Thermal Mirror metalized film, which is lighter and less crinkly than other insulated pads.