How to Find and Set Up the Best Campsite of Your Life
From location to decoration and everything in between, these tips will make your campsite the most tricked-out on the mountain.
Heading out the door? Read this article on the new Outside+ app available now on iOS devices for members! Download the app.
After a full day of negotiating navigation, carrying a heavy pack, and handling all the spontaneous hurdles that can come with backpacking, you want a reliable place to set up camp for the night. Your campsite is your home away from home, so you might as well make it feel like one, too.
Location, Location, Location
Your perfect property sits at the edge of a clearing with plenty of shelter and shade but unobstructed views of the night sky and beyond. Nearby water is a must—just make sure to throw down at least 200 feet from it.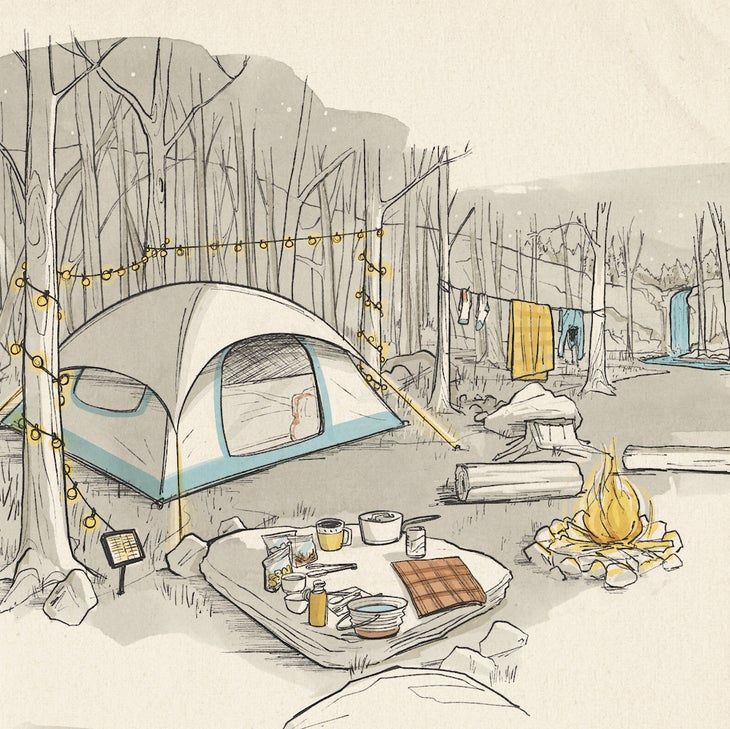 Light it Up
Solar-powered string lights illuminate your camp efficiently and bring the good vibes. Reflective tent guylines also make your camp a no-tripping zone once the sun sets. Now, if you have to answer nature's call in the middle of the night, you can find your way back to your campsite without stumbling around.
Chef's Kitchen
Gather around a flat rock for meal prep. Bonus if you find a spot with rocks, stumps, and logs to make an all-natural dining room. Cook and clean your meals far from your tentsite in bear country (and at least 100 years away in grizzly territory).
Sun Salutation
Pitch your tent where the morning sun will entice you out of your slumber. Face your door to the east to catch the sunrise from your sleeping bag. A trash bag welcome mat keeps your socks clean where you enter and exit the tent, too.
Leave No Trace
The best campsite is the one that disappears when you leave. Camp in previously impacted sites when possible and durable surfaces anytime else. Don't create a pile of leaves to sleep on or otherwise landscape your site. Also, always follow the fire regulations for where you're camping.