How to Pick the Perfect Hike for Kids of All Ages: Pre-Teens and Teens
Get your teens psyched on hiking with expert advice from BACKPACKER Editor-in-Chief, Dennis Lewon
Heading out the door? Read this article on the new Outside+ app available now on iOS devices for members! Download the app.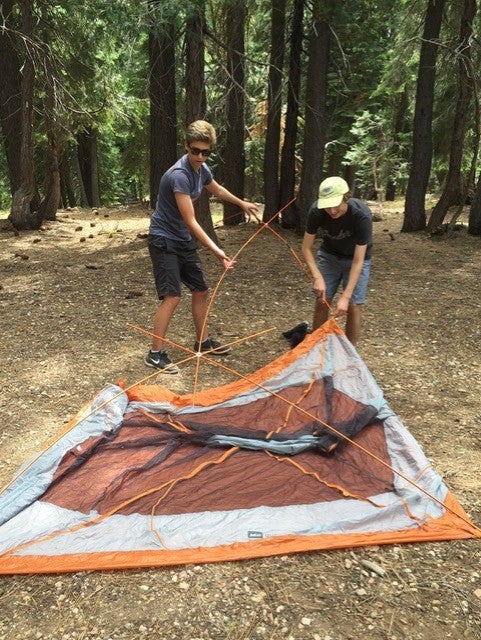 Our guide provides tips on how to pick age-appropriate challenges for your little hikers. Check out the full series here.
"For kids in this age range, it's less about finding some ideal trail, and more about sharing ownership in a specific way," says Dennis Lewon, Backpacker's Editor-in-Chief and father of three boys, ages 14, 16, and 18. Lewon recommends having your pre-teens and teens help choose the trail you'll be hiking by utilizing technology. "Teaching them how to use trail-finding apps that use GPS is great," he says. Involving them in the process of choosing a trail lets them work on their research and technology skills, and have some ownership about the hike before you take one step.
"Keep in mind, though," warns Lewon, "that kids change a lot between 13/14, and 16/17. The younger kids are still in the 'making it fun' stage, so giving them tasks, like giving them a compass, can work great to keep them engaged on a hike."
"Older kids can handle a lot more mileage than the younger teens. Most kids around 15 and older can definitely hike 10 miles," says Lewon. He adds that parents should treat older kids like they would any adult hiking partner. "Let them weigh in on things like whether or not they want to bring friends," he says.
Ah, friends. Since both middle-schoolers and high-schoolers are hugely social, having friends along can be highly motivating, wherever you hike.
And for both young teens and older teens, continuing their education from earlier trail experiences is a good way to keep them interested. "Some kids this age will have grown up backpacking," says Lewon, "while others will be just starting out hiking." Adjust as necessary: If your child has done a little navigation with just a map, maybe now's the time to introduce a compass. Or, have them try to pitch the tent on their own, or hang the bear bag.
Preteen and teenager-friendly trail features:
Planned by the preteen/teen
Add friends
Build on what they know/make it educational
Treat them as equals
Dennis Lewon is BACKPACKER's Editor-in-Chief, and father of three teenage boys.
For tips on finding ideal hikes for babies and toddlers, click here. And for tips on finding trails for elementary school-aged kids, click here.