Gear Review: Herbal Oats Granola Bars
The four Herbal Oats granola bar varieties are all-natural, preservative-free, and delicious.
Heading out the door? Read this article on the new Outside+ app available now on iOS devices for members! Download the app.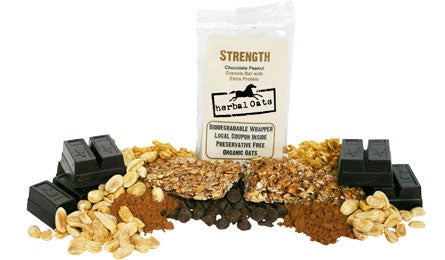 Herbal Oats Granola Bars, Strength (Courtesy Photo)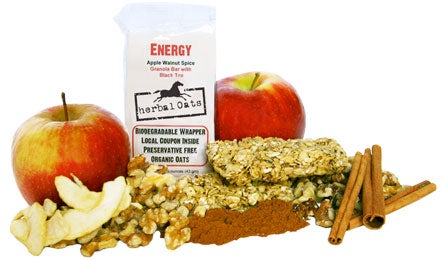 Herbal Oats Granola Bars, Energy (Courtesy Photo)
Everyone loves a home cooked meal, I know I do. Well, Herbal Oats is just like the Mom's home cookin' I remember, except in bar form. And this time my mom is two college students named Steven Adamski and Sarah Newsome. When Steven decided to maintain a diet that was preservative and additive free, he was unsatisfied with the lack of compliant granola bars. So he started making his own, and was soon after joined by Sarah. Steven also had the idea of infusing his oat bars with various herbs to include their natural benefits.
The result is four delicious flavors of all-natural, preservative-free granola bars made with organic oats: Immunity Blueberry with echinacea, Focus Raspberry with ginkgo biloba, Energy Apple Walnut Spice with black tea, and Strength Chocolate Peanut with extra protein.
Though the bars look too healthy to be any good, I was wrong. Because Energy and Strength are the two qualities I most want when I'm on the trail, these two bars became my faves. Did I feel more energetic or strong after mowing them down? Short answer: yes. Even though I could have eaten more (I have a big appetite), I was surprised at how long they kept me going. I found they were the perfect size for one of my many mid-morning snacks or afternoon pick-me-ups. The Immunity and Focus bars are tasty treats for my off-trail days, in fact I'm eating one right as I type this.
As a geeky nutritional-number cruncher who reads the labels of any bar I buy to make sure I get the most bang for my buck, I would have personally liked to get a little more sodium and potassium out of these bars, but I guess that's what you must sacrifice to be additive-free.
Due to their small operation, the bars are only available in a few Missouri locations and on the website with payment via PayPal. Hopefully, the company will figure out online credit card processing soon, because these bars are worth bulk ordering.
Herbaloats.com

8 bars for $12.80 (single flavor)

16 bars for $24.80 (single flavor or variety)