Cozy Up to Shoulder Season with These 7 Belly-Warming Soup Recipes
Ward off the chill of fall backpacking with a cup of steamy, savory soup.
Heading out the door? Read this article on the new Outside+ app available now on iOS devices for members! Download the app.
When the nighttime temperatures start dropping in fall, there's no need to put your backpacking gear in storage. With a few extra layers and a steaming hot meal, you can enjoy the solitude that comes with backpacking in shoulder season. These soup recipes will warm you from within and delight the tastebuds.
Molé Tortilla Soup
Chocolate in soup? Yes, trust us. Makes 2 servings.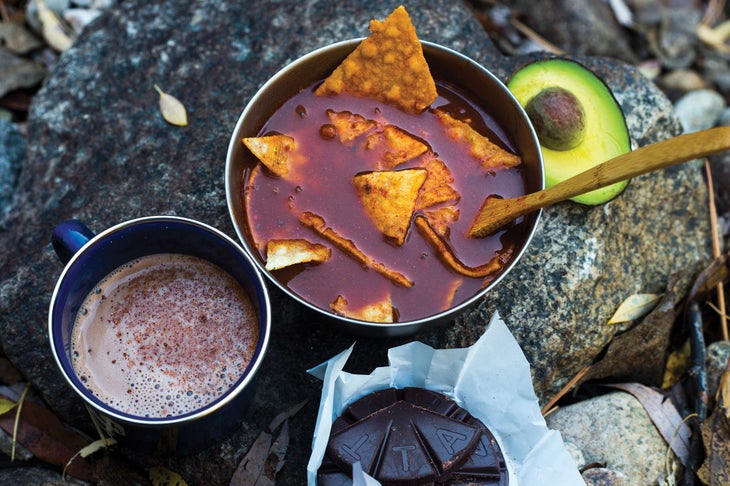 Ingredients
2 oz. freeze-dried chicken
¼ cup ancho chile powder
¼ cup dried onion flakes
½ cup freeze-dried corn
1 oz. Mexican chocolate  (such as Ibarra; 1 oz. is about 1.5 servings)
8 oz. can of tomato sauce
1 Tbsp. Mexican oregano
4 bouillon cubes (or enough for 4 cups)
1 cup tortilla chips
1 avocado
AT HOME Pack tortilla chips in a zip-top bag (it's OK if they break). Combine all dry ingredients in another bag. Pack avocado separately.
IN CAMP Empty the zip-top bag of dry ingredients into a pot with 4 cups water. Bring the mixture to a boil, then reduce heat, cover, and simmer until all ingredients are rehydrated, about 15 to 20 minutes. Top with tortilla chips and diced avocado and serve.
—Nick Cote
Tomato Soup with Grilled Cheese
Bring your childhood favorite into the backcountry with this simple recipe that's so much tastier than the canned version. Makes 2 servings.
Ingredients
¾ cup tomato powder (like Harmony House Foods)
2 tsp brown sugar
¼ tsp dill
½ tsp granulated onion
2 tsp chicken bouillon powder
1 stick unsalted butter
4 slices sturdy sourdough bread
1 tsp garlic powder
2 slices provolone cheese
2 slices Swiss cheese
2 slices mozzarella cheese
AT HOME Combine tomato powder, brown sugar, dill, onion, and bouillon in a baggie. Pack other ingredients separately.
IN CAMP Add 1 cup water to a pot. Whisk in tomato mixture with a fork and heat over a medium flame, gradually whisking in another cup water. Bring to a boil, then reduce heat and cook until soup thickens, about 5 minutes. Add about half the butter. Meanwhile, butter each slice of bread generously (use the other half-stick; perfect for staying fueled in cold conditions), then sprinkle with garlic powder. With the butter side out, layer the cheese in the middle to make two sandwiches. Place the sandwiches in a skillet and cook over medium flame, turning once, until the bread is golden brown and cheese melts (about 2 to 3 minutes on each side).
—Jennifer Bowen
Mushroom & Broccoli Vietnamese Noodle Soup
You'll hardly remember the light-as-air ingredients for this dish are in your pack until you pull them out; but the herb-packed, umami flavors are an experience you won't forget. Makes 2 servings.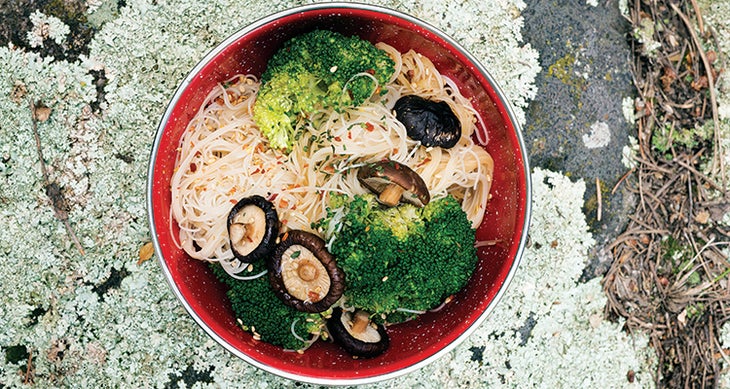 Ingredients
8 oz. rice noodles, broken up
1 cup dried mushrooms, such as shiitake
1 tsp onion flakes
1 tsp powdered ginger
¼ tsp Chinese five spice
1 tsp red pepper flakes
½ tsp dried cilantro
½ tsp dried mint
1 Tbsp. rice wine vinegar
½ tsp sesame oil
3 packets soy sauce
1 head fresh broccoli, chopped into florets
Sesame seeds
AT HOME Pack the noodles, dried mushrooms, and herbs and spices in a zip-top bag. Combine the rice wine vinegar and sesame oil in a small screw-top bottle.
IN CAMP Bring 4 cups of water to a boil. Add the noodles, mushrooms, and spices and simmer. Add broccoli to pot when noodles are almost done (3 to 5 minutes); simmer a few more minutes. Stir in vinegar and oil; top with sesame seeds and serve.
—Kelly Liken
Pumpkin Peanut Soup
Fall is pumpkin spice season, so why limit your enjoyment to lattes? The unlikely flavor combination in this soup recipe will having you licking the bowl clean. Makes 2 servings. 
Ingredients
1/3 cup chunky peanut butter
1 15-oz. can pumpkin
1 tablespoon unsalted butter
1 cube chicken bouillon (enough for 2 cups of broth)
Salt and pepper
1/3 cup Monterey Jack cheese, grated
AT HOME Measure peanut butter and butter, and store in a zip-top bag. Pack other ingredients separately.
IN CAMP Mix peanut butter, pumpkin, butter, bouillon, and two cups of water in a pot. Heat on medium and stir three to five minutes, until smooth. Add a pinch of salt and pepper (to taste). Turn heat to low, and simmer soup for five to 10 minutes. Divide the soup into bowls and top each with half of the cheese.
—Ellie Levitt
Angry Red Lentil Tortilla Soup
Don't let the name fool you—you'll be anything but mad after whipping up this hearty dish. Habanero peppers lend a kick, while grated Manchego cheese ups the class factor. Makes 2 servings.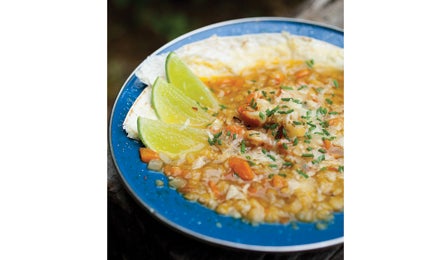 Ingredients
4 Tbsp. olive oil
¼ cup minced onion
¼ cup minced carrot
1 clove garlic, minced
½ habanero pepper, minced
¹⁄³ cup red lentils
2 cups water
2 six-inch stale flour tortillas
2 Tbsp. dried chives
6 Tbsp. grated Manchego cheese
Salt and pepper to taste
Several lime wedges
AT HOME Pack onion, carrot, garlic, and pepper together. Pack other ingredients separately.
IN CAMP Heat oil in a pan. Sauté onion, carrot, garlic, and pepper until caramelized. Add lentils and cook for about a minute. Add water, cover, and simmer (stirring occasionally) for 15 minutes or until lentils are soft. Mash the lentils with a fork. Add salt and pepper. Rip tortillas and place them in two bowls. Add soup, then garnish with chives, cheese, and lime.
—Chris Gilliam
Creamy Clam Chowder
Who says seafood isn't for the backcountry? This rich, comforting chowder will transport you straight to the beach. Makes 4 servings. 
Ingredients
1/4 lb. butter (1 stick)
1 medium-large onion
1 Tbsp. flour
32 oz. milk from powder
6 oz. dehydrated potato flakes or hash browns
6.5 oz. canned clams (tuna or salmon also work)
pepper to taste
sourdough bread (optional)
AT HOME Place dry ingredients in separate zip-top bags.
IN CAMP Sauté the chopped onion in the butter. When the onion is translucent, add the flour to the melted butter, making a paste. Slowly add the rehydrated milk while stirring. Add the clams and potatoes. Simmer for 10 to 15 minutes, stirring occasionally, until the potatoes are rehydrated. Sprinkle on pepper and serve with sourdough bread.
—Backpacker Editors
Farmer's Mash
Not into food prep? This recipe makes us of pre-packaged ingredients and comes together in minutes, keeping effort to a minimum. Makes 2 servings.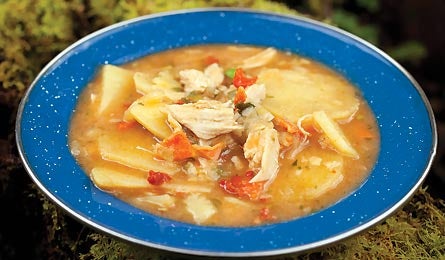 Ingredients
1 package white chicken in a pouch
1 package Knorr Vegetable Soup Mix
½ of a 5.25-ounce box of scalloped potatoes
¹⁄³ cup instant potatoes
AT HOME Place the scalloped potatoes and vegetable mix in one zip-top bag and the instant potatoes in another.
IN CAMP In a pot, stir the scalloped potatoes and vegetable mix into 2½ cups water. Boil for one minute uncovered. Reduce the heat to medium-low and simmer uncovered for two minutes. Add the chicken and the instant potatoes, stirring slowly and continuously to thicken the stew. Once the instant potatoes are dissolved, let simmer uncovered for one to two minutes. Serve hot. Tip: Crumble in crackers for crunch, or add in the cheese packet from a mac 'n cheese box and red pepper flakes for a richer, spicier soup.
—Megan Eckman and Jeffrey Opp