5 Potato Recipes for Your Next Backpacking Trip
Sorry, pasta and rice: Potatoes are the best comfort food. How, you ask? Let us count the ways. They're packable, versatile, and nutritious. You can cook them in actual fire and use them for any meal. Going light? Bring instant flakes. Basecamping? Treat yourself to the real thing. No matter your style, the potato is right for you.
Heading out the door? Read this article on the new Outside+ app available now on iOS devices for members! Download the app.
Gnocchi with Sage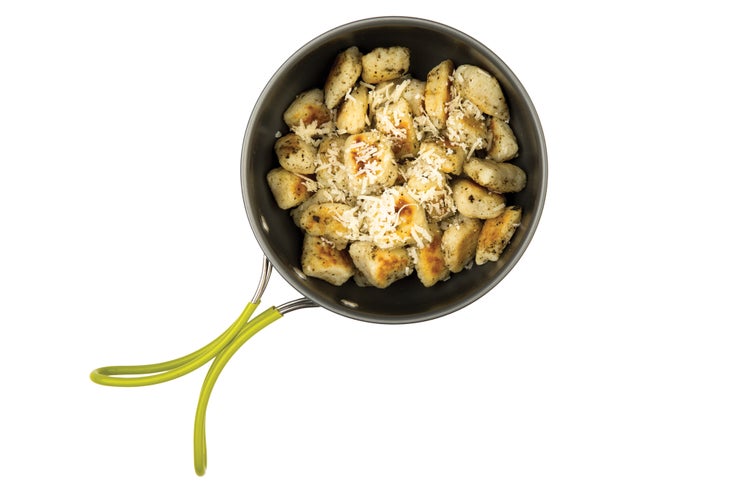 With fresh, handmade pasta in your repertoire, you can go as far out as you want without ever leaving behind the taste of a home-cooked meal. Serves 2 to 3
1 cup potato flakes
1 ½ cups flour
¼ cup olive oil
1 tsp. dried sage
¼ cup Parmesan, grated
Salt and pepper, to taste
At home: Pack all ingredients separately in zip-top bags. Store oil in a leakproof container.
In camp: Boil 1 cup water. Add potato flakes, remove from heat, and stir until thickened (2 to 3 minutes). Let cool for 8 to 10 minutes.
Add cooked potatoes to a large pot or gallon-size zip-top bag. Fold flour into potato mixture, about ½ cup at a time. (Knead gently to keep dough from becoming too dense.) Use as little flour as possible—around 1 to 1 ½ cups—and knead until dough is uniform and no longer tacky.
With your hands, roll dough into oblong shapes about the size of your thumb pad. When all dough is shaped, add gnocchi to a boiling pot of water and cook until they float to the top, about 1 minute. Remove from heat and set aside.
Warm olive oil and sage over medium heat for 2 to 3 minutes. Add gnocchi and cook until pasta is lightly browned, another 2 to 3 minutes. Remove from heat, stir in Parmesan, and serve.
Tip: While shaping dough, sprinkle with extra flour as necessary to keep it from sticking to your hands.
Sweet Potato Brownies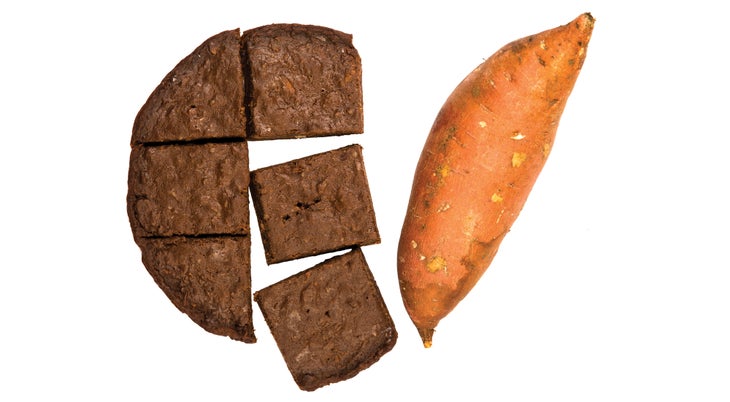 The best way to get in your vitamin A? Dessert. Serves 3 to 4
1 small sweet potato
3 Tbsp. maple syrup
2 Tbsp. coconut oil
2 Tbsp. water
1 egg
3 Tbsp. cocoa powder
2 Tbsp. all-purpose flour
¼ tsp. cinnamon
Pinch salt
At home: Wrap sweet potato in foil. Mix maple syrup and coconut oil in a leakproof container, and pack the egg in a paper towel-padded container or crack into a zip-top bag (freeze, double-bag, and use on the first night). Mix flour, cocoa powder, cinnamon, and salt together in a separate container. Pack other ingredients separately.
In camp: Cook sweet potato over hot coals until very soft, rotating every 5 minutes for about 30 minutes.
In a bowl, mix maple syrup, coconut oil, water, and egg. Scoop potato flesh from skin and mash with wet ingredients. Add remaining ingredients and stir until batter is lumpy.
Heat a small nonstick skillet over medium heat on a stove. Add batter, cover, and reduce heat to medium-low. Cover until cooked through, about 15 minutes. Remove from heat, let cool, and serve.
Potato Pancakes
Drizzle these fluffy pancakes with maple syrup for breakfast or top with chives and sour cream for a savory dinner. Serves 2 to 3
1 cup potato flakes
2 tsp. baking powder
1 tsp. onion powder
1 cup all-purpose flour
4 Tbsp. cornstarch
1 Tbsp. canola oil
2 tsp. salt
1 Tbsp. chives (optional)
1 packet sour cream (optional)
At home: Store cornstarch and canola oil in separate leakproof containers. Pack sour cream packet and chives separately. Combine other ingredients in a zip-top bag.
In camp: Combine cornstarch with 4 tablespoons water and stir until smooth. Mix in dry ingredients until batter is slightly lumpy.
Heat oil in a skillet over medium-high heat. For each pancake, pour ½ cup batter into the pan and cook each side for about 3 minutes (until browned). Serve hot.
Camp Hash Browns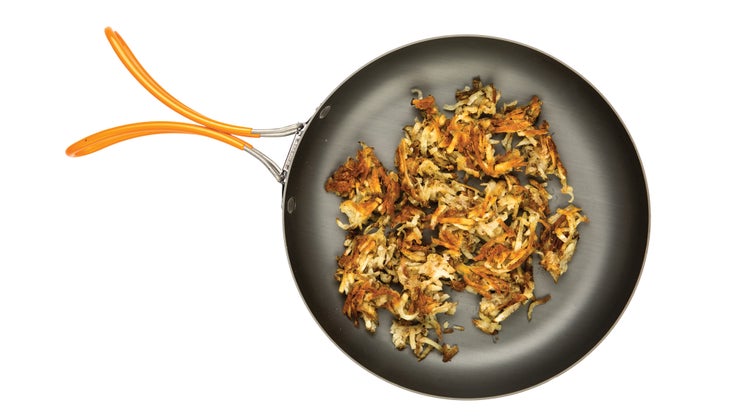 Pack a grater and enjoy crispy breakfast fare miles from the nearest diner. Serves 2 to 3
2 medium russet potatoes
2 Tbsp. canola oil
½ cup onion, diced
Salt and pepper, to taste
Hot sauce, to taste
At home: Pack all ingredients separately.
In camp: Grate potatoes into bowl of cold water. Let soak five minutes and drain, using a paper towel or camp towel to squeeze excess water from potatoes.
Heat oil over medium-high heat in a skillet. Add onion and potatoes and cook 5 minutes or until bottom is browned and crispy. Season generously with salt
and pepper and flip. Cook until both sides are brown and potatoes are tender.
Serve with hot sauce.
Parmesan Bacon Hasselback Potatoes
Fancy up a simple baked potato with little extra effort. Serves 2
2 large Yukon Gold potatoes
2 Tbsp. olive oil
2 Tbsp. Parmesan cheese, grated
2 Tbsp. bacon bits
Salt and pepper, to taste
At home: Wrap potatoes in aluminum foil. Pack cheese and bacon in one zip-top bag. Pack other ingredients separately.
In camp: Make a series of slices across the potato about 1/₈ inch apart, leaving about ¼ inch uncut at the bottom. Drizzle 1 Tbsp. oil over each potato and sprinkle salt and pepper over the top and between slices. Wrap tightly in foil and cook over coals, rotating every 5 minutes until tender (about 30 minutes). Top with Parmesan and bacon bits, then serve.