Climbing the Grand Teton For a Cause
There's no surer way to ensure a successful trip than hitting the mountains for charity.
Heading out the door? Read this article on the new Outside+ app available now on iOS devices for members! Download the app.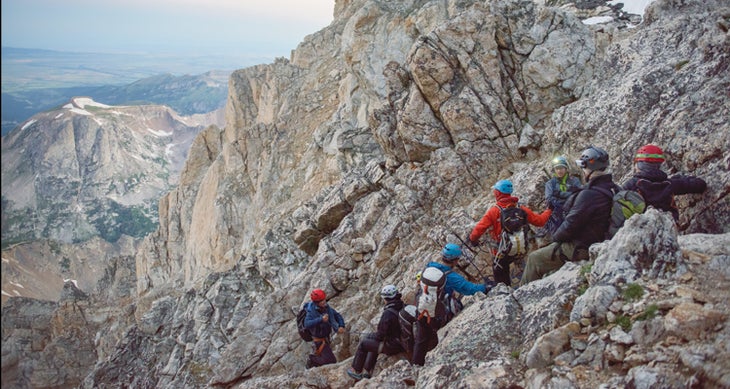 "I CAN PLAY FOUR MUSICAL instruments," Kathy said, prompting a chorus of oohs and ahs.
"Gonna be tough to beat that," I ventured. We were huddled in a Quonset hut at about 11,000 feet in the Tetons. Outside, angry gray clouds swirled around the peaks. We planned to climb the 13,775-foot Grand Teton, but first, it was time to get to know our new ropemates. We'd been a dozen strangers when we met at the trailhead in the morning. Now we were sharing standard icebreaker stuff—hometown, climbing experience—as well as a unique personal detail.
"I'm allergic to hot tubs," Caitlyn ventured.
"No way! I'm allergic to cold water," replied Bowen, who was squeezed in next to her. First came protests of disbelief. "No really, it's call cold urticarial," he said. Then laughter all around. What were the odds of these two sitting next to each other?
Outside, the wind blew drops of cold rain against the thin hut walls, but inside things were warming up. And it wasn't just because of the strangely complementary water allergies. Unlike most strangers who come together for a guided trip, this group started with something in common: We'd all joined the Summit for Someone climb as a fundraiser for Big City Mountaineers, a nonprofit that mentors under-resourced youth in the outdoors. The effort of raising $4,000 each created a bond we only recognized when we sat down in the hut to get acquainted. The camaraderie was instant, the sharing genuine.
Indeed, Sanjay, next in line, didn't hesitate: "I can take my eye out," he said, then did, to a round of raucous applause. Yes, this crew was getting pretty comfortable.
The next day, as we learned figure-eight knots, rappelling technique, and rope work, even our instructors from Jackson Hole Mountain Guides noticed something special about the mood.
It wasn't hard to understand why. For most novice climbers attempting a big peak like the Grand, the ascent is the goal. The months prior to the trip are filled with training and gear selection and trip planning. We had to get ready for the climb as well, but those months were also filled with telling friends and family about BCM, about how the organization literally changes kids' lives by exposing them to the power of the outdoors. Our goal was to make that possible.
So when an unusual July snowstorm blew in overnight and crushed our chances of summiting, the mood didn't change. As we descended the icy rocks, we were comforted by this thought: Lots of climbers get turned around by weather. But they've rarely accomplished so much on the way up.
Editor's Note: Thanks to all of the participants of the 2015 BACKPACKER Summit for Someone climbs. Our four Grand Teton teams raised $147,000 for BCM. And thanks to LOWA for donating boots to our top fundraisers. Infobigcitymountaineers.org