Stay Warm Longer With These Layering Tricks
It's like the old saying goes: there's no such thing as bad weather, just bad clothing. Get ready for whatever nature throws at you with this guide to layering strategy.
Heading out the door? Read this article on the new Outside+ app available now on iOS devices for members! Download the app.
Way back when, in the Garden of Eden, Eve ate the forbidden fruit and dragged Adam into a new kind of knowledge. The byproduct, of course, was layering—who could dispute the performance of the fig leaf? That original layer may have brought down Old Testament fury, but it soon became a foundation for survival, helping humankind spread into just about every corner of creation.
Over time, we moved past foliage to animal skins. When the ice man we call Ötzi met his violent end 5,300 year ago in what is now Italy, he brought his layers—a grass cloak and leather garments—to his grave. They were his armor against the ice and snow, though not the baser impulses of his fellows.
A few millenia later, the Inuits perfected their layering technique, wearing animal furs against their skin, another layer of fur on the outside, and a parka stitched from seal intestines on top of that in bad weather. Remarkably, layering appears in the clothing history of diverse and far-flung cultures. Everyone had arrived at the same conclusion.
Today, technical apparel has gone beyond animal furs to become a multibillion dollar industry. New innovations make it possible to be comfortable in more extreme environments for longer than ever before (just ask polar explorer Eric Larsen, who lent his expertise to this guide). The right layering strategy means comfort whether slogging uphill under sleeting skies or running in the heat.
The spark of humanity is kindled in layers and always has been. There is no more efficient way to stay warm, dry, comfortable—and ultimately safe—than to dress for the occasion.
–Casey Lyons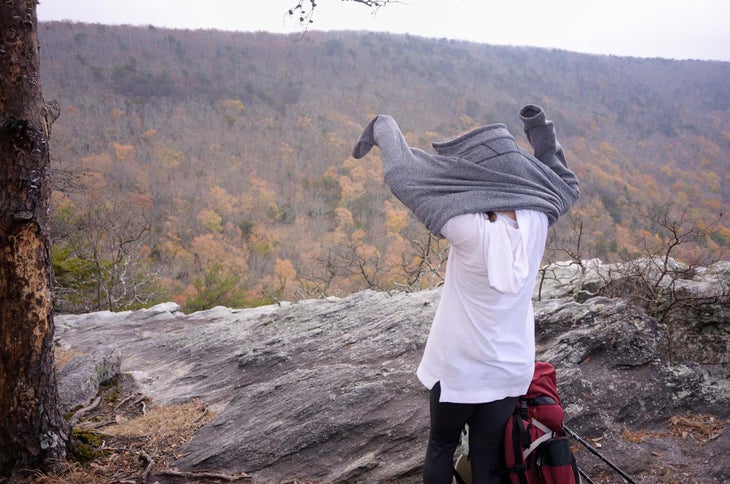 Layer 1: Body
How Your Body Loses Heat
The body loses heat through a variety of sources both physiological and environmental. The right layers combat each of them.
1. Evaporation
As the core temperature warms to about 100.4°F, the body starts perspiring. Sweat glands push salt-laden water to the surface of the skin. There, the moisture evaporates, lowering the temperature of the skin and cooling the blood at its surface. In intense exercise, the body can dump up to 85 percent of its excess heat in this way—up to three liters of sweat per hour in acclimatized, trained athletes. Baselayers  with good breathability and wicking will manage the moisture.
2. Convection
Cool air or water moving across the body strips away heat—we lose 10 percent or more of our heat this way, depending on the temperature of the wind or water and the speed at which it's moving. That makes wind a key factor when deciding on the right layers. Shells serve as the primary wind-blocking layer.
3. Radiation
When the air temperature drops below a comfortable 68°F, radiation—heat dissipation through air—accounts for the majority (65 percent) of our overall heat loss. Holding onto the right amount of heat is all about your insulation.
4. Conduction
Heat escaping through stationary solids or liquids (think sitting in a snowbank or hot sand, or standing around in a wet baselayer) causes heat loss. Mitigation requires a group effort from your whole system: insulation for warmth and baselayers  and shells to remain dry and protected.
5. Respiration
Our lungs add humidity to the air we exhale. In dry conditions, this equates to a slight loss of body heat. Insulation  over the face helps to manage it when temperatures in dry climates get very low.
Know Your Metabolism
The average American needs 1,662 calories (men) and 1,493 calories (women) to support basic function
Hard hiking with a pack increases energy needs about 8 to 10 times or approximately 500 to 700 calories per hour.
Cold tends to slow our metabolism while boosting our caloric needs. Get too cold and the body starts shivering to create heat, which burns 400 calories per hour.
How to Warm Up Without Extra Clothing
Eat: The human engine is inefficient. After basic function is met, just 15 to 25 percent of the calories we burn translate into muscle movement. The rest escapes as heat. Eat some high-fat foods for a quick energy burst
Speed up: Increasing your workload generates a lot of excess heat. Pick up the pace—or put on your heaviest jacket and do jumping jacks for 10 minutes—to shake just about any chill.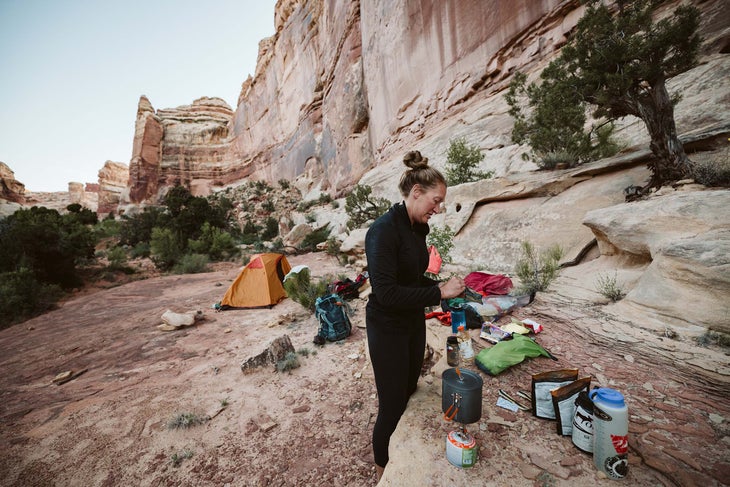 Layer 2: Baselayer
The Rule: Breathability is Number One.
The baselayer is the only constant of your system—the idea is to leave it on and change your other layers to meet conditions. Polar explorer Eric Larsen prefers a technical T-shirt for core warmth and maximum venting. Baselayers preserve a layer of air next to the skin to prevent chills.
Pick the Right Baselayer
Your main baselayer choices fall into two categories: wool and synthetic. Compared to synthetic layers of the same thickness, wool keeps you warmer, trapping air next to the skin. It also resists stink, making it a good choice for long trips where you may not be able to change often (or at all). Downside: It dries slower, though it still insulates decently when wet. Synthetic baselayers dry quickly, making them good choices for wet climates or high-tempo activities; they're also usually less expensive.
How to Keep Your Baselayer Dry
Moderate your pace
Find the sweet spot that lets you produce enough heat to dry your shirt without letting your sweat chill you.
Sleep with it
If you only brought one baselayer and it's damp (not soaked), put midlayers on over it and hop in your sleeping bag. Your body heat will bake it dry overnight.
Hang it
If it's warm and windy, hang your baselayer over a branch, bush, or rock. Most tech shirts dry quickly.
Freeze dry
If it's cold and very dry, hang your shirt outside to freeze the moisture out of it.
Can you layer with cotton?
The trail to the summit of Bear Peak in Boulder, Colorado, climbs nearly 3,000 feet over 3 miles. It's a haul any time of year, but it's particularly tough when the snow is knee deep. That's the way we found it on a BACKPACKER staff outing in early spring. With temps in the 20s, it was a perfect day for a layering test.
Which is why I was wearing a cotton T-shirt. I wanted to force myself to think more about managing layers than about how one particular shirt worked. With cotton, you can't be lazy.
The problem with the stuff is that it absorbs moisture and dries very, very slowly. That's great for keeping you cool in the summer, but the combo can be deadly if you get wet in freezing weather and can't change into something dry.
I knew if I started sweating, misery wasn't far off. As soon as the trail steepened and the postholes deepened, I slowed down to stay in the no-sweat zone. Later, when I wanted to climb faster, I took off my softshell, picked up the pace, and stayed comfortable. And so it went all day—12 hours—on a big loop through the Boulder foothills. I made preemptive changes to my pace or outer layers, and never removed the T-shirt or wished I'd worn something else.
Of course, I'm not the first to use cotton in wintry conditions. Early mountaineers like George Mallory and Sir Edmund Hillary incorporated cotton into their layering systems. And it worked, because they knew its limitations and how to use it correctly. And now, so do I.
—Dennis Lewon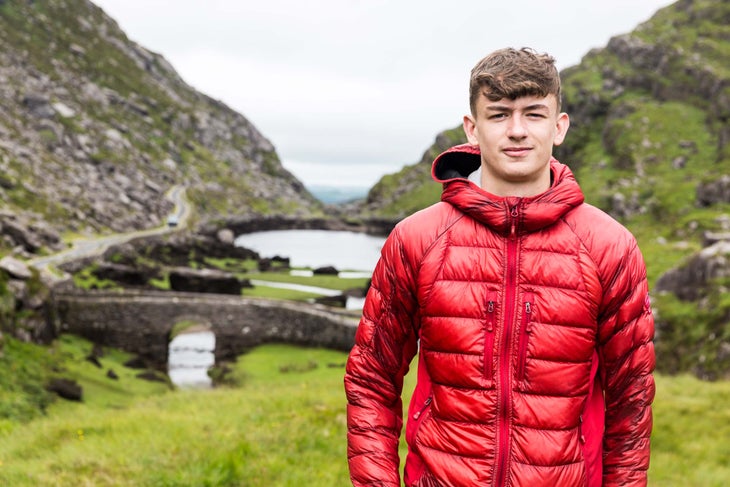 Layer 3: Insulation
The Rule: More Is (Sometimes) Better
"There is no such thing as cold weather—just not enough layers," says polar explorer Eric Larsen.
How to Use Midlayers
When a baselayer isn't warm enough, and hiking with a puffy is too warm, it's time for a lightweight midlayer. Oddly, this is one of the most important layers in a good system, but also one of the least precisely defined. It can range from a vest to a light jacket. (Larsen simply doubles—or triples—his baselayers to maintain good breathability.) Midlayers come in a variety of synthetic and natural materials. Some use internal gridding, which increases surface area to wick moisture and hasten drying. Others use body mapping to target warmth in zones that need it.
Choose midlayers with full zips to maximize venting and make for easy on/off, as this layer comes and goes more than any other.
Goose Down
Pros: durability, weight, compressibility
Cons: cold when wet
Duck Down
Pros: durability, weight, availability
Cons: slight odor, cold when wet
Wool
Pros: durability, breathability, wicking
Cons: weight
Short-Staple Synthetics
Pros: affordability, compressibility, wicking
Cons: durability
Long-Staple Synthetics
Pros: affordability, wicking, durability
Cons: compressibility, weight
Blow-In Synthetics
Pros: compressibility, wicking, durability
Cons: availability
What's next for insulation?
Water-repellent down By coating down clusters with a water-resistant treatment, chemists erase down's biggest weakness: moisture.
Active insulation Polartec launches Alpha, a porous synthetic insulation that wicks moisture and lets air pass through while you're moving.
Blow-in synthetics Synthetic insulation usually comes in sheets. This fall, PrimaLoft and 3M debut synthetic plumes, solving synthetic's biggest weakness: packability.
Dynamic venting By laser-cutting holes in synthetic sheet insulation and using a stretchy shell, The North Face Ventrix's vents will open only when you're moving.
Self-regulating synthetics
Scientists at the University of Texas are developing a fiber that coils and uncoils in response to changes in temperature.
Keep Your Layers From Clashing
Check for space: Make sure your baselayer fits smoothly under your midlayer without binding together or constricting your movement. Your midlayer should fit under your puffy, and your puffy under your shell without compressing its loft or leaving any fabric exposed.
Limit hoods: Hoods are a quick, easy-access way to add warmth and sun protection without finagling a hat, but too many can be hard to manage. Aim for no more than two hoods, including your shell.
Offset zippers: When zippers overlap, it can create inadvertent cold spots and discomfort, particularly under a sternum strap. Mix layers with crew necks and quarter- or full-zips.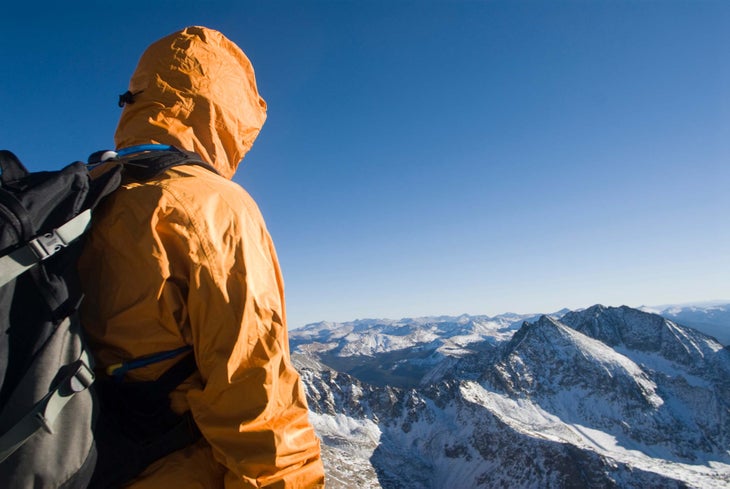 Layer 4: Shell
The Rule: Be Careful When You Wear Your Shell
"Be mindful of your body and actively manage your system," says polar explorer Eric Larsen.
Shells protect against weather, but they don't always handle internal moisture well. That's where you come in. When the shell is on, the stakes are higher. Open vents, de-layer, or remove hats and gloves to stay comfortable.
Pick Your Shell
From ultralight running jackets to hardcore expedition armor, no product category has more niches than hardshells. But picking the right one is still as simple as figuring out what you want most—and then living with the trade-offs.
Budget: Trade-offs: breathability, compressibility
Durability: Trade-offs: breathability, compressibility
Breathability: Trade-offs: budget, durability
Compressibility: Trade-offs: budget, durability
How to Wear Your Shell
1. Put it on before precip soaks your baselayer. It's easier to manage sweat than dry out rain.
2. De-layer to accommodate the extra heat a shell is going to hold in.
3. Make sure no fabric is exposed at the cuffs or hem. Otherwise, your baselayer's wicking properties will transport water toward your arms and core.
4. Shorten your trekking poles. If they're too tall, water flows into your sleeves.
5. Vent wisely. Preemptively open pit zips to prevent overheating.
6. Arrive dry at camp. Moderate your pace 30 to 45 minutes before you get to camp so any internal moisture has a chance to dry.
When the forecast calls for intermittent rain and wind, hardshells can be overkill. Softshells let more air through, keeping you cooler during high-output activities and preventing the quick buildup of sweat. Most rely on a DWR to repel light precip.
Softshells work best in dry conditions and climates. Wear one as a standalone outer layer when working hard or under a hardshell as an insulation layer on long days with variable weather.
How Hardshells Work
BICOMPONENT
Such as Some Gore-Tex
How they work The inward-facing PU-like film is hydrophilic (water-loving), so it draws sweat to its surface. Moisture diffuses through the film, evaporates, and passes through pores in the membrane.
Liability The process requires pressure (a humidity differential), so you have to break a sweat before it starts working.
AIR-PERMEABLE MEMBRANES
Such as eVent, NeoShell, Pertex Shield AP
How they work The membranes contain billions of microscopic pores that are large enough to let vapor out directly, but small enough to block rain droplets.
Liability They feel colder when you're inactive, because wind can find still its way through.
HYDROPHILIC MEMBRANES
Such as Pertex Shield Plus, Rab's Proflex, Mountain Hardwear's VaporDry
How they work Same basic concept as a bicomponent, but the PU film is a standalone piece.
Liability They aren't as breathable as the others.
MEMBRANE-ON-THE-OUTSIDE
Such as OutDry Extreme, Gore-Tex Active Shell with SHAKEDRY
How they work This new construction places the membrane on the outside of the shell, without the usual protective outer fabric layer. Result: great breathability that never wets out.
Liability They feel rubbery (OutDry) or lack durability (Gore-Tex SHAKEDRY).
In Defense of Rain Pants
It happens every single time I pull together a pile of gear for a backpacking trip: The obvious goes in (sleeping bag, chocolate). The frivolous goes in (novel—hardcover, usually). I don't think twice about the essentials, or the boring stuff.
And then I'm left staring at my rainpants. I sigh. Their very existence is a coin with luck on one side and misery on the other.
I've lost track of the places I've carried and then never used them, smashing them in the bottommost trench of my pack. Muley Twist Canyon in Capitol Reef. The Larapinta Trail, which cuts across the red desert of Australia's Outback. Rainier's Wonderland Trail in late summer. As a native Seattleite, I'm conditioned to always think it's about to rain and I never want to be unprepared. But I always feel chagrined whenever I return home, turn my backpack upside-down, and find out that there are layers I carried and didn't even remember packing.
Except those unappreciated rainpants have come in handy—I mean, saved my butt—just often enough to stay on my permanent packing list. I've forgotten DEET and remembered rainpants, which stymied hardline mosquitoes from ravaging my legs. I've shown up to campsites at sundown, shivering in sweat, and pulled rainpants over long underwear. And of course, I've used them for their intended purpose, too.
But even when they're just along for the ride, they're still comforting in their way—like the least-cozy security blanket you can imagine. For there's no better layer than the one that makes you feel savvy, smart, and ready for anything.
–Evelyn Spence
Sleeping Bags: The Real Last Layer
There's an unnerving feeling when the sun goes down, the temperature dips, and you zip into your heaviest jacket with miles to go before camp. It's the precise moment you wonder if it's going to get any colder, because you don't have another layer to put on.
It's a time for gallows humor, fear, and, of course, hope. But hope is not a strategy. Anyway, there's no turning back now.
It's not usually winter that brings this out the last layer. It's the "easier" seasons: late fall on the Appalachian Trail in Shenandoah, a summer snowstorm in Glacier's alpine zone. It comes when you push a fair-weather system beyond its margins, figuring it will be all right to be just a little uncomfortable.
This isn't a unique feeling to camping, though the stakes are higher. It's the feeling of bringing your brain to bear on your survival and then the suspense of waiting to see if it was enough.
The thought grows, eating at your attention. When your body gets cold and starts to shiver, it's hard to think of anything else. Mistakes and miscues aren't far behind as your divided mind loses its grip on the situation. This is the time when you can't catch problems before they become catastrophes. This is the moment to act.
Because you may be an ounce-counter who didn't pack enough layers, or maybe the weather changed beyond the range you were expecting, but you're still a backpacker. You have a shelter. Find the first suitable spot, set up your tent, and get into your bag. Warm up in the real last layer.
Originally published in 2017; last updated December 2021