How to Sneak a Hike Into Your Non-Hiking Vacation
Yes, you might have to get up early. But put in the effort to fit some trail time into your vacay, and you'll have a chance to sample hikes you might otherwise never do.
Heading out the door? Read this article on the new Outside+ app available now on iOS devices for members! Download the app.
Breathing hard, I planted my foot in the sand and took another step up, feeling it slide below me as I shifted my weight. 
It was late April, but temperatures were already reaching the high 80s in California's Mojave National Preserve, the sun shining bright in a cloudless desert sky. My 2-year-old son, Rhys, and I were about halfway up Kelso Dunes, a 600-foot-high sand pile with sweeping views of the Granite and Providence Mountains. On our home trails in Colorado, we would have knocked out that elevation gain in no time, I thought; here on the desert sand, every step was proving to be a battle.
That morning, we had woken up in a room high in Bally's on the Las Vegas Strip, where we had joined my wife for a rare family vacation. After a leisurely breakfast in a kitschy faux-French bistro in Paris Las Vegas, we split up, she heading to a true crime convention while we got the car from the parking garage and pointed it west toward California. Our destination: Mojave, a sprawling swath of desert valleys and rolling peaks near the state's eastern edge. 
I'm in my 30s, and I have a job (thanks, Backpacker) and a family. For every backpacking trip, climbing weekend, or hut tour I do these days, there's a family reunion, a work obligation, or a visit home. But sneaking pint-sized adventures into trips like these has become one of my favorite challenges.
Usually, I don't announce my plans. Instead, I make them privately. I spend a few hours searching out trails near where we'll be, find the gaps in our plans where no one will miss me for a few hours, and check the weather. If I won't have a car, I look for trailheads within walking distance or figure out the bus schedule. Then, I tuck the gear I need into my luggage. Just a few extra things that will fit into the cracks: a lightweight pair of trail runners, a packable midlayer, maybe a pocket-sized water filter.
Thanks to my stealthy preparation, I've hiked a handful of trails that I probably would never have planned trips to otherwise. Some of them have been spectacular: I've rambled through slot canyons and the ruins of old movie sets in Nevada's Valley of Fire State Park and found quiet grottos in the Loess Hills at Iowa's Waubonsie State Park. On one family vacation to Oregon's Cannon Beach, I woke up before dawn and pounded out 10 miles down misty beaches and through rainforest to the top of Ecola State Park's seaside cliffs, and made it back in time for breakfast. 
That's what I love so much about the snuck-in vacation hike: It takes a few hours that you might have spent aimlessly and turns them into a memory you can carry around forever. True, not all of them are winners. For every run through the rainforest, there's been a trudge through some poorly-managed forest preserve that never got out of earshot of the interstate. But even when a trail turns out to be wholly pedestrian, I'm rarely sorry I went.
It took Rhys and I another hour to make the top of Kelso Dunes. I trudged along, occasionally with him on my shoulders; he pointed out lizards and played a new game he had invented called, I assume, Eat a Handful of Sand and Then Laugh At Dad While He Tries to Wipe It Off My Tongue. When we reached the broad top of the dune and its 360-degree views, though, not even exhaustion could erase the smiles from our faces. Don't believe me? I have the vacation snapshots to prove it.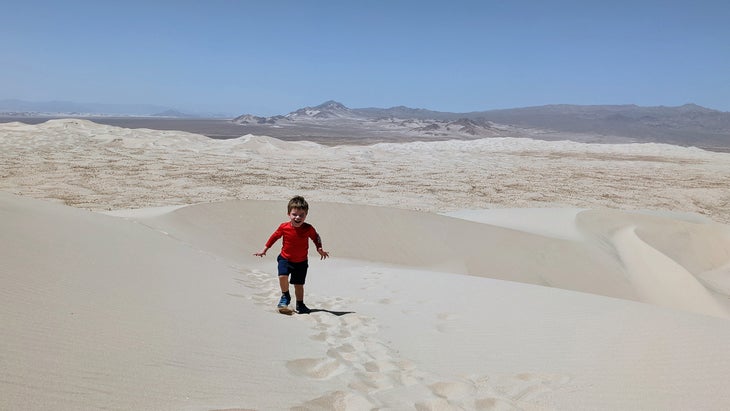 Tips: Sneak in a Vacation Hike
—Abandon your preconceptions of what a good hiking destination looks like. Even Disneyland has decent trails nearby.
—Make a hit list of trails you can reach with the time and transportation you have. Gaia GPS (which comes included with an O+ membership, hint hint) is a great place to start. Find more than you have time to hike; once you're there, local beta will likely help you winnow it down.
—Pack your trail-to-town gear. Have clothes or shoes that can pull double duty as casual travel apparel? This is a great excuse to bust them out.
—Get up early. Nobody wants to wake up with the sun on vacation. Nobody but you, at least, you beautiful sicko. Pack a headlamp and pull off a dawn patrol, and you can likely have hours to yourself.