Fail: We Ran Out of Food—Except for Mustard
Backpacking rule number one: Pack enough to eat.
Heading out the door? Read this article on the new Outside+ app available now on iOS devices for members! Download the app.
There must have been a spreadsheet. We always made one before trips like this—how else would four college kids make sure they had enough peanut butter, Tang, and oatmeal packets to get through a week in the Great Smoky Mountains? But even the most organized students still can't escape one ineffable truth: they're still just kids. 
It's hard to say whose fault it was. I don't even think we suspected we were low on food until day three. That's when I caught John sneaking a second bagel about an hour after breakfast. "John, you already had breakfast," I chastised. He looked up, sheepish. "It's second breakfast." 
"It's OK, we have more bagels," Tait said. "Don't we?" 
By day four we realized that we were, indeed, a little low on food. We started joking about rations. On day five, with two days left in our 85-mile trek, that joke became a reality. 
That morning, we'd woken up in our three-sided Appalachian Trail shelter to snow sifting past the opening like a lace curtain. It was cold, and with only hot tea, hot Tang, and two oatmeal packets apiece, we were hungry. But there was magic in the snow. We giggled as we brushed our teeth, broadcast sprays vanishing into the sea of flakes. 
That magic began to dissipate as the sun rose, melting the fresh inch into mud that clung to our boots. By now we were down to just enough food for breakfasts and dinners, plus a little lunch if we were careful. The full inventory: Some cheese, a handful of tortillas, several ramen packets, a little oatmeal, and three Fig Newtons for dessert. Tait had eaten our last apple core, and the bars had run out long ago. 
Snack breaks just weren't the same without snacks. We tried to find other ways to entertain ourselves. There was trail yoga, which mostly consisted of falling over deliriously into the leaves. We tried poetry, read aloud from a book Tait had bought (nice; also not food). Eventually, hunger got the best of us, and we turned to the last, er, snack we had left.

Inexplicably, John had brought a full bottle of spicy mustard, which of course contained next to zero calories. Why we had wasted space and weight on family-size condiments in lieu of real food, I'll never know. Whenever a belly rumbled, we took turns sharing spoonfuls, wincing and hollering at the burn of spice and vinegar on an empty stomach. At least laughing took our minds off our hunger.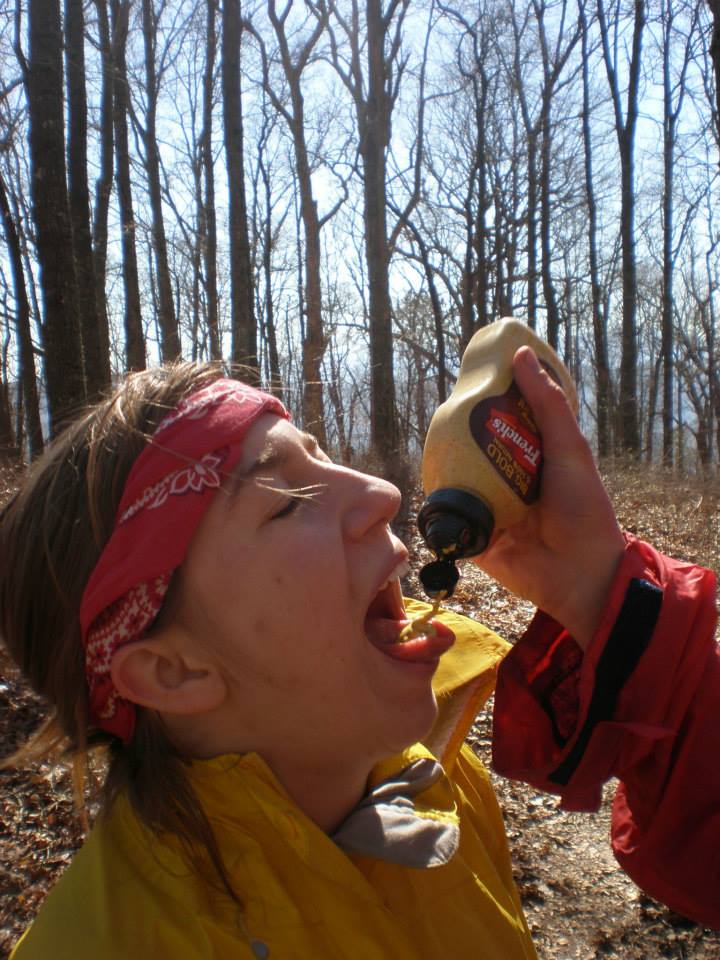 It wasn't the only failed attempt to feed ourselves. That night, after a meager dinner of ramen and instant mashed potatoes, we cooked up our last three Fig Newtons in olive oil and what we thought was cinnamon to try to make them go further. It wasn't until we split them four ways (three quarters of a Fig Newton each) and dished them out that we realized the "cinnamon" had been cumin. Of course, we ate them anyway.  
On the last day, it poured rain. For the first time, trudging through the rain and mud, morale began to dip. We were just about out of food and still had something like 15 miles to go. That's when the seriousness of our error started to catch up to me. What if Eric's bum knee doesn't make it?  I thought. What if there's another emergency and we get stranded for another night out? I was new to backpacking, but this wasn't my first trip. I should have known better than to skip the shakedown. 
I spent the whole last day counting down the miles. 5 left. 4 left. 3 left. With just two downhill miles to go and the end in sight, we started running. Finally, we emerged from the woods under the open gash of sky at Newfound Gap. When I spotted our shuttle driver, a friend and fellow hiker named Alexander, sitting behind the wheel of his mom's old Toyota Sienna, I'd never been more relieved. We piled in, hooting and hollering and digging around the floorboards for the ancient snacks Alexander always seemed to have on hand. I found the smashed dregs of a Brown Sugar Cinnamon Pop-Tart, busted open the wrapper, and drank down the crumbs. To this day, it's the best thing I've ever tasted.  
Time has a way of softening things, and that includes hunger pangs. Today, that trip is one of my most fondly remembered in over a decade of backpacking. But word to the wise: There are better ways to build camaraderie. Double-check your food supplies before you head out. You never know when an unexpected hill climb, snow storm, or emergency stop might require more calories. And though it can be tempting to bring the bare minimum to save weight, you're better off finding other ways to reduce your load—like, say, leaving the spicy mustard at home.