Try Night Hiking Once and You'll Fall in Love With it Forever
Shorter days are no problem with these night hiking tips.
Heading out the door? Read this article on the new Outside+ app available now on iOS devices for members! Download the app.
The end of daylight savings marks the end of after-work excursions for many hikers, but it doesn't have to. Short days might mean fewer daylight hours to see the views, but a day's still 24 hours long, and there's plenty to love about hiking in the dark. Make the most of the long nights and fight off seasonal blues with these tips. 
Gear Up
It's tough to convince yourself to step out the door at night knowing you'll be miserably cold. Bundle up in cozy layers, a hat, and gloves. Of course, pack a headlamp (make sure it's charged, or bring spare batteries), but if you can, start your hike without it and let your eyes adjust. A lamp with a red light setting helps maintain night vision.
Many runners opt for a waist lamp instead of (or in addition to) a headlamp. Securing around your torso, these illuminate obstacles on the trail while allowing you to keep your head up. Plus, they alleviate pressure on the skull during longer hikes. Hiking with a pup? Gear them up with a light and a reflective harness so you can comfortably let them roam.
At night, it's especially important to carry navigational tools like a map and compass, GPS device, or mapping app. You won't be able to rely on landmarks like you would on a daytime hike.
Pack for morale. An insulated mug with hot chocolate, tea, or soup and your favorite snacks can make your night hike feel like an occasion. 
Choose the Right Trail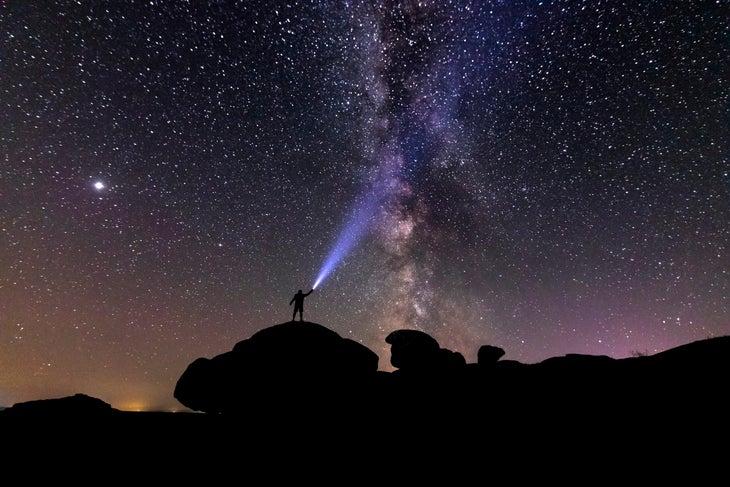 For your first night hike, choose a shorter trail and take your time—you won't be racing sunset, anyway. Since your navigation skills will be impaired, it's a good idea to start with a familiar hike and stay on the path. Seek out trails with open sky above—meadows, lake shores or beaches, and hikes above treeline are preferable to dense forest, which will be darker (and spookier). Avoid trails with hazards such as river crossings or technical terrain that's tougher to navigate without light.
Change Your Attitude
Sure, dayhikes are great for soaking in sweeping vistas and vitamin D, but there's plenty you can only see at night. Time it right, and you can catch both sunset and moonrise on your after-work jaunts. During a new moon, turn your hike into a stargazing outing, or shoot for a full moon hike to see silver light bouncing off the landscape. In some areas, you might even be able to catch the northern lights. 
Certain wildlife only emerge in the dark hours. Spot bats, owls, foxes, and more on your nighttime safari.Scared of the dark? Bring along friends and make it a trail party (or check your local hiking club for group full moon hikes). Hike to a campsite for s'mores around the fire, then hike out and be home by bedtime. 
Not convinced that night hiking is right for you? You still don't have to hibernate through the dark season. Use the down time to repair gear, experiment with backpacking meal prep, hone your skills, and dream up adventures for those long days ahead.