Be A Backpacker Map Correspondent
Become an official BACKPACKER Map Correspondent and get FREE GEAR!
Heading out the door? Read this article on the new Outside+ app available now on iOS devices for members! Download the app.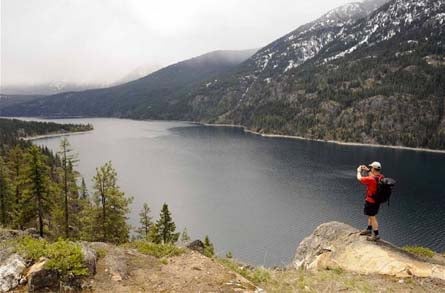 BACKPACKER map contributor in the field. (Alan Bauer)
An example of a BACKPACKER tracklog.


Follow these steps to create prize-worthy trips:
1. CREATE a user profile at backpacker.com/community.
2. CHECK our trips database to make sure the hike you're doing isn't already done. New hikes only!
3. HIT the trail with your GPS and camera.
4. REQUIREMENTS: Snap 1-2 pictures per mile (at least 5 images per hike), create waypoints for key points-of-interest on the route (trail junctions, water sources, campsites, summits, overlooks, tricky spots, etc.), and, if you can, on-trail video clips. (Check out our detailed contest rules.)
5. UPLOAD the GPS track and multimedia content to backpacker.com/postatrip. Include an overview paragraph describing the trip, details and descriptions for each waypoint and point-of-interest, and trailhead driving directions.
6. CLICK the "Submit A Trip" button.
7. REPEAT. Hike and map like crazy from May 1, 2012 through October 31, 2012.
NOTE: Once your map reaches our standards for quality, we'll add it to your tally. Remember, new hikes only! Repeats of trips on backpacker.com/hikes won't count toward your total.
EXAMPLES OF PRIZE-WORTHY TRIPS:

1. Colorado: Never Summer Wilderness: Baker Gulch to Bowen Gulch

2. Washington: Vancouver: Dog Mountain Loop

3. New York: New Paltz: Mohonk Lake and Sky Top Tower
QUESTIONS? Email the map team at maps@backpacker.com
* All equipment has been used in the field by our gear testers and bears requisite signs of use. Don't worry, though: We won't stick you with any mangled junk (that stuff goes back to the manufacturer with a note).