The Ultimate Stair Workout for Crushing Climbs
Prep your trail legs with this hiking-specific training plan.
Heading out the door? Read this article on the new Outside+ app available now on iOS devices for members! Download the app.
Using stairs is a great way to prepare for hiking no matter where you live: Stairs perfectly mimic hill ascents and descents, and they're easily found in cities and towns. This time-efficient workout will fit anyone's busy schedule. 
When exercising on any type of incline, your heart pumps harder and faster to deliver the required blood and oxygen to your working muscles. In turn, this strengthens the heart, which helps it pump blood with less effort over time. In addition, your lungs work with a greater intensity, which is a great way to improve your cardiovascular efficiency. Add in the strengthening benefits for the hip and leg muscles, and you've got the ultimate workout for hiking. 
If you live in a flat geographic location and need to train for hiking hills, stairs are the perfect option. Look for stairways in apartment buildings, parking garages, or your local park. This workout is most effective when performed one to two times per week for any level of fitness.
Proper Form and Step Patterns
Yes, stairs are a simple exercise, but the right technique is important to avoid injury and maximize benefits. Take each step by placing your entire foot on the stair and emphasize pressing through the heel. Stepping in this way instead of pushing off the toes will engage more of the muscles in the hips and back of the legs, which you need for crushing uphills. Avoid taking steps on the balls of your feet; this will tax your calf muscles quickly, making for an ineffective workout.
Make sure to use caution going down the stairs to avoid any trips. Take a slow pace; save the intensity for going up.
For the following stair interval workout, you will use two different stepping patterns. For the first, take one step at a time. For the second, use every other stair, skipping one in between. Only skip steps while ascending. Always use every stair the way down for safety.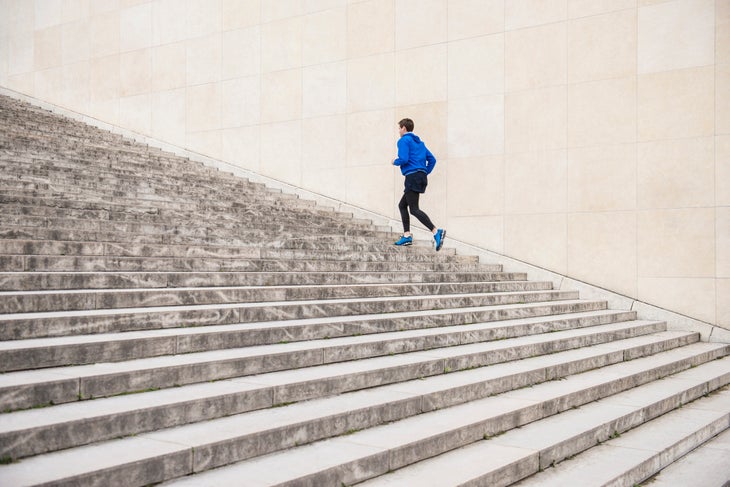 Using a four-story flight of stairs (about 50 steps) is perfect for any fitness level to begin this workout.  Begin your workout by ascending each flight by stepping one foot on each stair as you go. Maintain a steady pace—you don't have to run, but move with purpose. Once you reach the top, take a short rest break until you can breathe normally before descending. Once you reach the bottom, turn right around and begin round two as described below.
For your second round, alternate your step pattern on each flight of stairs. On the first flight, take every step (pattern 1). Once you reach the second flight, use every other step (pattern 2) before alternating back to singles for flight three. Following this pattern, go back to pattern 2 for the fourth flight. Take a rest at the top before descending. 
Once you are at the bottom, begin round three: Take every other step for all four flights. As before, rest until you feel recovered before descending. These three rounds complete one circuit.
Progress Slowly  
Start with one to two circuits for your first workout and assess how you feel in the next couple of days. If you feel little to no soreness, add another circuit to your next session. You want to find a sweet spot where you feel like you got a great workout, but aren't sore for days afterward. Once you find the number of circuits that helps you achieve this, maintain that volume for three to four weeks before increasing. Finish the workout by stretching your calves, hamstrings, and quads for 5 minutes.
To make this workout more challenging after a month of consistent training, try adding a weight vest or 15- to 20-lb. backpack if you are training for an upcoming trip.  Another option is to reduce or eliminate the rest break at the top to increase the workout intensity. 
Lee Welton is a physical therapist assistant and personal trainer in Southeast Idaho. He thru-hiked the Pacific Crest Trail in 2018 and has trekked through the Dolomites in Italy. He can typically be found hiking and exploring the trails in Idaho and Wyoming. For more information, videos, and resources from Welton, visit trailsidefitness.com.