How to Rehab Your Body and Mind After a Thru-Hike
Ending a long trek takes its toll on your mental and physical health. Here's how to ease back into your home routine.
Heading out the door? Read this article on the new Outside+ app available now on iOS devices for members! Download the app.
Thru-hiking season is drawing to a close, and if you're just returning home from an extended trek, it's time to focus on some much-needed self-care and recovery. Many hikers ending long-distance adventures experience stiff and sore joints, along with a rollercoaster of emotions. Try these tips to help ease physical aches and pains and manage post-hike depression.
Stay Flexible
Hiking uses only a small range of motion. Over time, this can lead to stiff joints. Try these stretches to help ease the soreness and restore flexibility after hundreds of miles on the trail.
Heel sits
This stretch is excellent for easing pain in your feet, ankles, and knees. Kneel on the ground and sit on your heels with your feet pointed straight behind you. Consider sitting on a yoga block or bolster like a rolled-up jacket at first to make it easier. Hold for 20 seconds and repeat three times.
Pigeon Stretch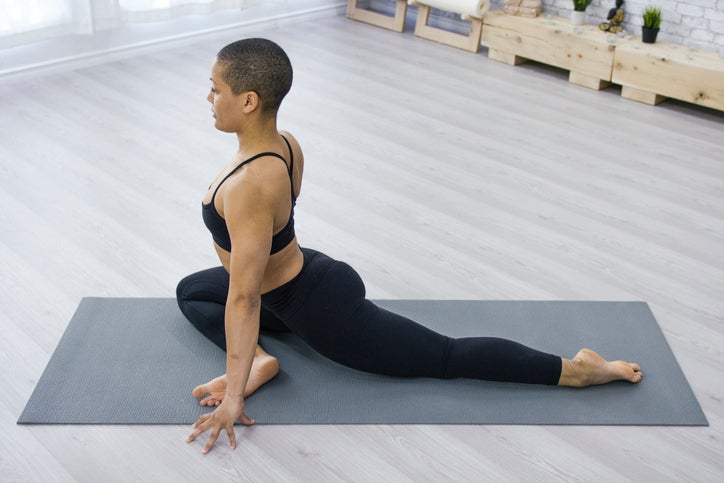 This position is excellent at loosening up stiff hips. Start this stretch at the top of a push-up position. From there, bring your left knee to the outside of your left wrist and place your knee on the floor. As you bring your leg forward, move your left foot toward your right hand. The right leg will stay straight out behind you as you lower your hips to the floor. Using your arms for support and keeping your hands flat on the floor, drive your hips toward the floor. For a deeper stretch, lower to your elbows while driving the hips forward. Hold for 20 seconds and repeat three times per side.
Combating Post-Trail Depression
Many hikers who complete long-distance hikes suffer from post-trail depression when the journey ends. The reasons for depression may include uncertainty over what comes after a thru-hike, a lack of finances, going back to work, drastic change in routine, and trying to describe to family and friends the impact the trail made on them. There's also a loss of endorphins from a major drop in physical activity once the hike is complete. 
Don't go this one alone: Hikers should reach out for help from a professional counselor if they feel signs of depression such as anxiety, sleep problems, and loss of interest. Mental health counselors have tools and resources to help you when signs of depression appear. Alongside seeking help to manage depression, here are complementary activities you can do to help recover from the mental toll of finishing a thru-hike.
Stay Active
It's tough to reproduce the endorphin levels—stress-relieving chemicals that are released during exercise—hikers experience while they walk many hours and miles per day. A massive dip in daily activity often comes with an enormous drop in endorphins, which contributes to feeling depressed after a hike. The solution? Ease back into an exercise routine and go for walks each day. A recent study found that just 10 minutes outside can boost mood and reduce stress.
Gut Check
Hikers are not known for their healthy diets while on the trail. Over a few months, a poor diet can lead to imbalances in the gut bacteria responsible for mood. According to psychologist Dr. Siri Carpenter, about 95 percent of serotonin, also known as the happy hormone, is manufactured in gut bacteria. A poor diet can upset the balance in the gut, which directly impacts the hormones, like serotonin, that the brain and body need to stay healthy and balanced. Some research has suggested that poor diet during a thru-hike can negatively impact your circulatory system no matter how active you are.
The takeaway for long-distance backpackers is to eat as healthy as possible during and after a hike. Once home, where nutrient-dense food options are accessible, focus on dark leafy greens and healthy fats like avocados, olive oil, nuts, and seeds. For lean protein sources, opt for salmon, chicken, turkey, and lean beef. Improving your diet will help rebuild and restore gut bacteria levels. Not only will this help your body restore depleted vitamins and minerals from hiking, but it helps battle depression. Good nutrition goes a long way.
Lee Welton is a physical therapist assistant and personal trainer in Southeast Idaho. He thru-hiked the Pacific Crest Trail in 2018 and has trekked through the Dolomites in Italy. He can typically be found hiking and exploring the trails in Idaho and Wyoming. For more information, videos, and resources from Welton, visit trailsidefitness.com.