Get Your Butt In Shape to Power Through Trail Miles
Squats and step-ups aren't targeting your entire gluteus. These three exercises are your key to complete glute strength.
Heading out the door? Read this article on the new Outside+ app available now on iOS devices for members! Download the app.
It can be easy to overlook glute strength for hiking. However, having a strong booty can decrease knee pain, improve low back pain, and keep the hip joints moving smoothly. The glutes certainly get some benefit from exercises such as squats, deadlifts, step-ups, and lunges. These don't strengthen every muscle in your gluteus, though; prioritizing more specific exercises helps strengthen areas commonly prone to injury for hikers, such as the knees and IT band. Work these exercises into your current routine to isolate the glutes and prep your body for the miles ahead.
Start with three sets of 12 to 15 reps three to four times per week and build up to four sets.
Single-Leg Bridge
This exercise is great as a warmup before your workout or as a cool down at the end of a session. The single-leg bridge is terrific for building the large hamstring muscles on the back of the upper leg, glutes, and core.
To begin, lie down with your knees bent and the soles of your feet on the floor. Your arms will rest by your sides. Start by raising your left leg to create a 90-degree angle between your upper leg and your torso. Your left leg will remain here until the reps are complete.
With your core engaged, press through your right foot to raise your butt off the floor as high as you can while keeping your hips level and without arching your back. Return to the start position and repeat for the assigned reps. You should feel this exercise in your glutes and the back of your upper leg. Complete all reps for one leg before changing sides.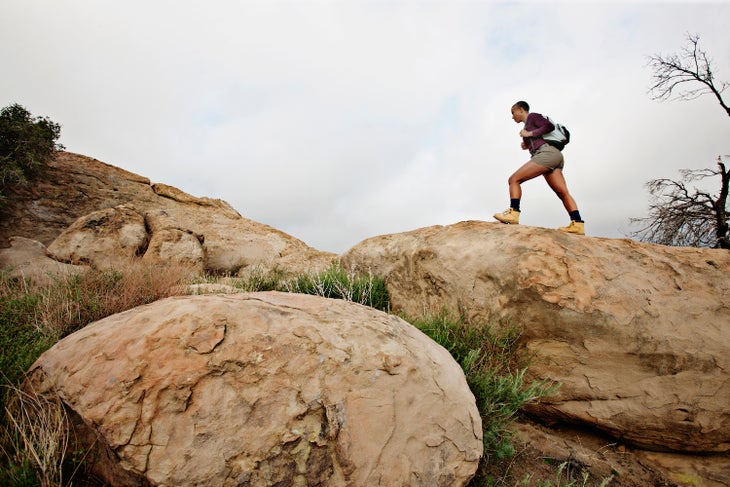 Single Deadlift
Use this variation of a deadlift with or without weights. It works great for targeting the hamstrings, glutes, and core while improving foot strength and balance.
Stand with feet shoulder-width apart. Shift your weight to the left leg while keeping a soft bend at the knee. Keeping your right leg straight, extend it behind you as you simultaneously hinge your hips and lower your torso toward the floor. Use one arm for balance on a countertop or wall if needed. Once the torso is nearly parallel to the floor, squeeze the glutes and contract the hamstrings to pull yourself back up to the start position. Keep your back straight during the exercise and keep your hips level.
Hip Thrusts
This is one of the best exercises to isolate the glutes and hip muscles. It also does double duty to simultaneously strengthen the core muscles.
Sit on the floor with your knees bent at 90 degrees and feet shoulder-width apart. Rest the bottom of your shoulder blades against a workout bench. With a loaded backpack, heavy dumbbell, or kettlebell centered on your hips, squeeze your glutes and raise your hips until your torso is horizontal and your legs are parallel to the floor. Keep your core tight and look toward your knees with a slight chin tuck in this top position. With control, lower back to the start position. Emphasize strong glute contraction throughout the movement.
Lee Welton is a physical therapist assistant and personal trainer in Southeast Idaho. He thru-hiked the Pacific Crest Trail in 2018 and trekked through Italy's Dolomites. He can typically be found hiking and exploring Idaho and Wyoming. For more information, videos, and resources from Welton, visit trailsidefitness.com.