Backpacker's Readers' Choice Awards 2008
America's 100 Best Hikes–chosen by you.
Heading out the door? Read this article on the new Outside+ app available now on iOS devices for members! Download the app.
Shenandoah National Park, Charles Gurche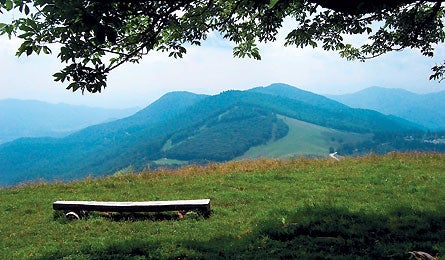 Hemphill Bald Loop, Tim Johnson
You averaged 17 nights out and 140 miles hiked last year. You hit trails from Alaska to Arizona, New Mexico to New Hampshire. All of which means you truly know your backpacking destinations. To capture that expertise, we tallied your survey votes and the most popular trip downloads at Backpacker.com. The result: An insider's guide to the top hikes in every region–plus your favorite parks, peaks, waterfalls, and more.
Your Favorite National Park
Yellowstone 14%
Yosemite 10%
Acadia 9%
Great Smokies, Grand Canyon 8%
Denali, Grand Teton 6%
Glacier 5%
Mountain West
Top Contributor
Bill Velasquez
Albuquerque, NM
Age: 43
Killer trip report: Pecos Wilderness Traverse, New Mexico. "If I only had a week to live, I'd take this trip." Why? Six lakes, countless streams, and a 224,000-acre wilderness that sees surprisingly little traffic.
Miles hiked per year: 900-1,200
Great hikes have: "My wife, some wine, a sunset–in that order."
Dream trip: "Canada's Yoho Valley–for the glaciers and waterfalls. Until then, it's pretty much any time I see a sign post indicating that I am now entering wilderness."
Favorite gear: Timex TrailRunner Speed Distance GPS-enabled watch
Top 5 Downloads
1. Crest of the Wind Rivers, WY Got game? This 80-mile route, most of it above 10,000 feet, crosses the heart of some of the wildest alpine country south of Alaska.
2. Longs Peak via the Keyhole Route, Rocky Mountain National Park, CO
3. West Canyon, Glen Canyon National Recreation Area, UT 4. Baker Gulch to Bowen Gulch, Rocky Mountain National Park, CO
5. North Halfmoon Lakes, San Isabel National Forest, CO
Life List Locations
Your ultimate backpacking destination is…
1. Alaska
2. New Zealand
3. Long trail thru-hike
4. Inca Trail
5. Patagonia
6. Alps haute route
7. Annapurna Circuit
8. (TIE) Australia
China
Trans Canada Trail
The Best Vistas
Highline Trail, Glacier
South Kaibab Trail, Grand Canyon
Mt. Sneffels, CO
Goat Rocks, Isle of Haute, Acadia
Zion Canyon, UT
John Muir Trail, CA
Northwest
Top Contributor
Trung Q. Lee
Portland, OR
Age: 36
Miles hiked per year: 250
Killer trip report: The Loowit Trail, a sturdy 30-miler around Mt. St. Helens. "You see moonlike landscapes at the Plains of Abraham and spooky Spirit Lake, and leapfrog through boulder rock gardens."
Essential footwear: Timberland Trail Dog sandals. "I don't wear regular shoes."
Crazy encounter: Running into a rattlesnake in the Appalachians–10 minutes before coming face-to-face with a black bear.
Earliest trail memory: "I was 16 when we took a Greyhound to Lake Arrowhead [California], hailed a taxi, then hiked 6 miles in the dark."
Dream trip: "Backpack the entire globe."
Top 5 Downloads
1. Loowit Trail Loop, Mt. St. Helens National Volcanic Monument, WA Circumnavigate America's superstar stratovolcano on this 3-day, 30-mile hike that passes massive debris avalanches created by the 1980 blast.
2. Crystal Peak, Mt. Rainier National Park, WA
3. Iron Creek to Sawtooth Lake, Sawtooth Wilderness, ID
4. Oregon Section 11, Timberline Lodge to Cascade Locks
5. Southern Traverse, Wrangell-St. Elias National Park, AK
The Most Photogenic National Park is…
Grand Canyon 25%
Yosemite 15%
Rocky Mountain 12%
Glacier 8%
Crater Lake 6%
Zion 4%
Bryce 3%
Midwest
Top Contributor
Steffan Fay
Wyoming, MN
Age: 38
Miles hiked per year: 400
Killer trip report: Isle Royale Traverse, Michigan. "This was my first assignment for BACKPACKER, and it hits all the park's highlights: inland lakes, mining remnants, and natural harbors." Steffan also paddles some 100 miles a year, including a four-day tour last summer of the Hunter Island Loop in Quetico National Park, where he caught smallmouth bass and walleye.
Crazy encounter: "While kayaking in Quetico Provincial Park, I sat 30 yards offshore as a wildfire played out right in front of me."
Earliest trail memory: "My first real hike was in college, a misty jaunt up Goat Fell, Isle of Arran, Scotland."
Top 5 Downloads
1. Cross Timbers Trail, Lake Texoma, TX This 8.9-miler rolls along bayou fingers and passes through big stands of twisty-limbed blackjack oak.
2. Zaleski Backpack Trail, South Loop, Zaleski State Park, OH
3. Wildcat Hollow Trail, Wayne National Forest, OH
4. Buffalo River Trail, Ozark Mountains, AR
5. Big Piney Trail, Paddy Creek Wilderness, MO
You've found the best wildlife in …
Yellowstone 40%
Denali 14%
Rocky Mountain 11%
Glacier 7%
Yosemite 6%
Isle Royale 5%
Everglades 4%
Come winter, you don't hang up your boots, you get out even more. Here's where: OUTER BEND LOOP, BIG BEND NATIONAL PARK, TX BLACK MOUNTAIN CREST TRAIL, NC BEAR VALLEY TRAIL, POINT REYES NATIONAL SEASHORE, CA TURTLE MOUNTAIN STATE PARK, BOTTINEAU, ND VIRGIN FALLS POCKET WILDERNESS, MI
California
Top Contributor
Dave Miller
Newark, CA
Age: 44
Miles hiked per year: 120
Killer trip report: Pescadero Creek Loop, Portola Redwoods State Park, California. "This is only a half-hour away from where I live, but really far removed from the noisy Bay Area. The peace and seclusion among the giants is incredible–it's just like The Twilight Zone." Bonus: You might see a huge, trippy-yellow banana slug like Dave did (there's photographic proof in his online report).
Favorite multiday hike: The Lost Coast. "It's the type of trip that beats you up, but you look back and say, 'Wow, that was great!'"
Crazy encounter: "While hiking in the Sunol Wilderness, I was stalked and harassed by a cow for about a half-mile."
Dream trip: "Hike the entire John Muir Trail with my son."
Top 5 Downloads
California
1. Sierra High Route, CA What's better than the standard John Muir Trail? A greatest hits tour of the Sierra– like the JMT, only off-trail and mostly above treeline. For nearly 200 miles, that's exactly what the SHR delivers.
2. Pacific Crest Trail, Mexico to Canada
3. High Sierra Trail, Sequoia and Yosemite National Parks
4. Susie Lake via the PCT
5. PCT, Mt. Whitney to Sonora Pass
Your Favorite Mountain Range…
40% Rockies
26% Appalachian
20% Sierra Nevada
9% Cascades
When you finally arrive, your best reward is…
Seeing a great sunset: 41%
Eating fresh trout from the frying pan: 27%
Soaking in a hot spring: 12%
Taking a dip in a freezing-cold lake: 6%
"Is 'all of the above' acceptable?"
Quad-burners
We asked for the toughest hike in America. You nominated:
Continental Divide Trail
Miles: 3,100 Elevation gain: 372,000 feet
Whitney Portal Trail to Mt. Whitney
Miles: 11 Elevation gain: 6,145 feet
Angel's Landing, Zion National Park
Miles: 5 Elevation gain: 1,488 feet
Wonderland Trail, Mt. Rainier National Park
Miles: 42 Elevation gain: 11,700 feet
Rim to Rim to Rim, Grand Canyon
Miles: 24 Elevation gain: 6,000 feet
Appalachian Trail
Miles: 2,175 Elevation gain: 471,151 feet
Southeast
Top Contributor Southeast
Tim Johnson
Morganton, NC
Age: 33
Miles hiked per year: 150
Killer trip report: Little Lost Cove Cliffs Loop, near Asheville, North Carolina. "This is by far my favorite. It's only about 45 minutes from home, and only 4.5 miles long, with beautiful scenary–great to convert a nonhiker."
What makes a great hike: "Variety. If I can see waterfalls, wildflowers, and views on the same hike, that's the best."
Can't live without:Trekking poles
Dream trip: "Everest basecamp. I have no desire to climb the mountain, just hike to the bottom."
Top 5 Downloads
Southeast
1. Panther Creek Trail, Chattahoochee National Forest, GA Winding through a protected botanical area, this 10.8-miler–with great spots for swimming and fishing–meanders past gurgling streams, up steep bluffs, and alongside roaring waterfalls.
2. Charlies Bunion Loop, Great Smoky Mountains National Park, NC
3. Matthews Arm Loop, Shenandoah National Park, VA
4. Cohutta Mountain Loop, Cohutta Wilderness, GA
5. Hemphill Bald Loop, Great Smoky Mountains National Park, NC
Northeast
1. Mt. Greylock via the Appalachian Trail, MA At 3,491 feet, Greylock is the highest point in Mass–we're talking five-state views on a clear day. This 15-mile stretch weaves in and out of hardwoods and finishes at a towering war memorial.
2. Hurd Corners to Morgan Stewart shelter, via the Appalachian Trail, NY
3. Fall Trails Loop, Ricketts Glen State Park, PA
4. Devil's Path, Catskill Mountains, NY
5. Mt. Katahdin via the AT, Baxter State Park, ME
Top Contributor
MtnMagic
Dalton, NH
Age: 56
Miles hiked per year: 1,600
Killer trip report: A detailed 7.4-miler that hits the summits of Pierce and Eisenhower in the classic Presidential Range.
What's with the nickname? "I used to be a magician in Hollywood."
Mystical powers: "Last winter alone, I saved three groups in peril. And I find gear all the time–five Nalgenes, a 20°F bag, cameras."
Peak Picks
These summits make your heart race and your mind wander.
Mt. Rainier 14,410 feet >A northwest classic with a broad cap of snowfields and glaciers. Parts of the lower mountain are still in rehab from fall 2006 storms, but the main summit route via the Muir Snowfield is open for business (best time: May to October).
Mt. Marcy 5,344 feet Thousands of hikers attempt this High Peaks Wilderness climb every year, drawn by the challenge of a 14-mile round-trip (via the Van Hoevenberg Trail) and views of 40-plus 'Dack peaks. Want to hike it in winter?
Grand Teton 13,770 feet The tallest of the three Tetons, the Grand is an educational must for any aspiring mountaineer. Get a guide (exumguides.com) to take you up Upper Exum Ridge–and teach you rope skills along the way.
Mt. Whitney 14,505 feet The Lower 48's high point, this granite monolith towers above Death Valley. The ever-popular Whitney Trail from Lone Pine, CA, gains 6,145 feet in 11 miles
Katahdin 5,267 feet This horseshoe-shaped peak is the northern terminus of the AT, but also a great scramble in its own right: The infamous Knife Edge route has plenty of dazzling exposure. Check your fear of heights at the trailhead.
Longs Peak 14,259 feet Boulder Field. Keyhole. Homestretch. The highest peak in Rocky Mountain National Park takes 7 miles and 4,000 vertical feet to scale, with some Class 3 moves in spots.
Mt. Washington 6,288 feet Wrapped in ironies as much as clouds, this windy New England summit boasts challenging trails, "the worst weather in the world" (it can change minute by minute), and a paved road to the top.
Clingmans Dome 6,643 feet The AT crests this tallest point in Great Smoky Mountains National Park, following a long ridge 8 miles from Newfound Gap to a spruce-fir forested summit.