Backpacker-Friendly Noodles
Noodles are easy-prep crowd pleasers. Learn about the trail-worthiest types and cooking methods.
Heading out the door? Read this article on the new Outside+ app available now on iOS devices for members! Download the app.
GSI's PackTongs (Photo by Ben Fullerton)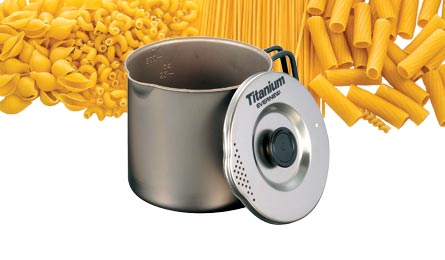 Evernew's Ti UL Pasta Pot M (Photo by Ben Fullerton)
Wheat Pasta

Best for Hearty meals, nutritious carbo-loading
Beta Dry pasta (made from wheat flour) is packed with nutrients like iron and calcium, and has about 100 calories per ounce of pack weight (20 percent more calories than tortillas or bread). Whole-wheat noodles contain even more nutrients, including an average of 300 percent more fiber, which helped keep testers full longer. Thin varieties cook faster than you think (in as few as three minutes), shells and scoop-like shapes hold tons of sauce and make camp meals more kid-friendly, and cheese- or spinach-filled tortellini are hearty and flavorful without mix-ins.
Packing Remove from box (break strands in half) and seal exact meal portions in zip-top bags (plan to eat 1.5 to two times more than normal after a full trail day).
Top pick We like Barilla Whole Grain Thin Spaghetti ($1; 13 oz.; barilla.com) for the nutrient kick and svelte profile, which cooks in half the time of conventional spaghetti.
Rice Noodles

Best for Gluten-free menus, light calorie blasts
Beta Rice noodles are cheap, quick-cooking, and can be used as a meal base for crews that include gluten-intolerant campers. Rice noodles also absorb strong flavors better than wheat noodles. Spaghetti-like rice vermicelli requires just two minutes of boiling (other shapes average half the time required for similarly shaped wheat pastas). Bonus: Compared to wheat, rice pastas are easier to digest, which may reduce bloat and post-meal lethargy, making them a good choice for midday or pre-alpine-start meals.
Packing Store and carry as you would wheat noodles. Want to hike stove-free? Seal cooked and drained noodles (they'll last several days) in a zip-top bag. Toss with chicken, peanuts or peanut butter, soy sauce, sesame oil, and lime juice for a no-cook meal.
Top pick For speedy eating: opt for vermicelli, aka rice sticks. For versatility: Tinkayáda (tinkyada.com) offers a variety of shapes that cook in two minutes plus 20 minutes of hot-water soaking.
Loads of Leftovers?
Make breakfast using surplus spaghetti.

Add scrambled eggs and salsa to warmed noodles, then load into a tortilla and top with hot sauce for morning burritos. Make a pancake by blending unsauced noodles with a beaten egg, frying, and topping with jam. Or combine rice vermicelli, brown sugar, nuts, and milk for an oatmeal stand-in.

Get Sauce-y
Learn to make savory dishes like puttanesca and orzo pesto at backpacker.com/pasta.