April 2008 Table of Contents
Heading out the door? Read this article on the new Outside+ app available now on iOS devices for members! Download the app.
APRIL 2008 ISSUE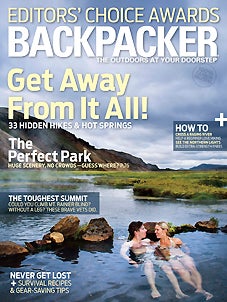 Features



The Perfect Pool

The ingredients for the ultimate hot-springs trip: Just hard enough to get to; just roomy enough for you and your closest friends; and just warm enough to melt muscle. Here are the top wilderness soaks on the continent. Can you keep a secret?

by Doug Schnitzspahn
Hot Springs: Soak Here Now

6 more must-dip pools from Alaska to Hawaii
Shock and Awe

Think climbing Mt. Rainier is tough?

Try it blind–like Iraq veteran Scott Smiley. Or with one leg–like his fellow soldier Ed Salau. Then see who you pity.

by Michael Perry
Iceland Adventure Guide: Live/Earth

On this island's Laugavegur Trail, the land is alive–with blasting geysers, watercolor lava flows, and burbling mudpots. Here's how to take in the great upheaval.

by Michael lanza
How to Lose 5,400 Pounds in Three Months

Is it possible to take a guilt-free vacation in an overheating world? On the way to a jungle trek in Costa Rica, Jason Daley finds the line between saving the planet–and seeing it.
BACKPACKER Exclusive: Our Carbon-Neutral Project

We've asked manufacturers to make green gear. We've shown the impact of climate change on wilderness. Now we present this unprecedented effort to analyze our own carbon footprint. Here's what we've learned, what we're doing to reduce our impact, and how we became a carbon-neutral magazine.
Backpacker Interview: Rock Star Brett Dennen

Once a camp counselor and guide in the Sierra Nevada, Brett Dennen is taking his backcountry jams to the masses. His lofty goal: World peace through campfire tunes.

by David Pidgeon
Gear
2008 Editors' Choice Awards

Only the year's best packs, tents, boots, and other gear make it here–the final round of our most grueling field test. We present 14 winners, plus two Green Awards for leading sustainable products and one Gold Award for a timeless (and toasty warm) performer.
Adventures
North America's Highest Sandbox: Great Sand Dunes National Park

Pocketed between snowcapped peaks in Colorado lies an otherworldly kingdom of dunes where the ground sings and solitude reigns.
Quick Fix: Death Valley National Park

Death Valley Badlands, peaks, wildflowers: Catch the best of the California desert with this trio of hikes.
Top 3 Trail-Building Trips

Want to boost your backcountry karma? Here are three places to hike–and give back.
Best Damn Weekend Ever: Acadia National Park

1.8 million people visit the park in summer–leaving spring crowd-free. Here's your plan of attack.
Backpack West Virginia's Cranberry Wilderness

Discover a slice of rare Eastern wild country in West Virginia, where Canadian taiga meets Southern forests.
Highpoint Texas

Traverse Guadalupe Mountains National Park to the state's airiest perch.
Where Am I Lowest On The Food Chain?
Trip Doctor: Theft-Proofing Your Car
Nature
Where Have the Animals Gone?

Scientists trek deep into California's mountains to investigate a mysterious animal migration.
Danger Signs: Trail Confusion
Phenomenon: Northern Lights

The science behind the sky's natural fireworks display–and how to see it.
Trip Finder: Stay-Dry Spring Hikes

Stay dry on spring treks in Minnesota, New Mexico, and more.
See More: Bobcats And Coyotes

Unlike their cougar and wolf cousins, these cats and dogs are (often) easier to to spot.
Does Geocaching Violate Leave No Trace?
Skills
Be a Hiking Ambassador

You already love the outdoors. Now follow these rules to ensure your friends do, too.
Stoves on a Plane

Breeze through airport security with your gear.
Spring Cleaning Your Gear
Survive This: A Plunge into Raging Whitewater
Start Smart: Stay Clean and Healthy
Next Level: How To Lead A Group
Recipes for the Trail: Underground Cuisine
Free Food! Trailside Edible Plants
Taste Test: Best of the Bars

Need to top off your tank, pronto? Here are the tastiest quick-energy snacks.
Skills Health: Make Time For Exercise

Top athletes share their secrets for sticking to a daily training routine.
Sprained Ankles: Watch Your Step
Tune Up: Protect Your Joints and Build Pivot Power