Fat Bear Week is Here. We Chose Our Favorites to Win.
Our editors sound off on the bears dominating our brackets.
Heading out the door? Read this article on the new Outside+ app available now on iOS devices for members! Download the app.
The best week of the year is here. Today, voting kicks off for Fat Bear Week, explore.org's annual celebration of the pre-hibernation salmon buffet at Katmai National Park's Brooks Falls. Over the next seven days, our ursine friends will face off for the title of Fattest Bear, a designation bestowed by voters at home. This year's lineup includes old favorites, and some newcomers ready to stake their claim at the falls. Who will prevail? We chose our front-runners. May the chubbiest bear win. 
747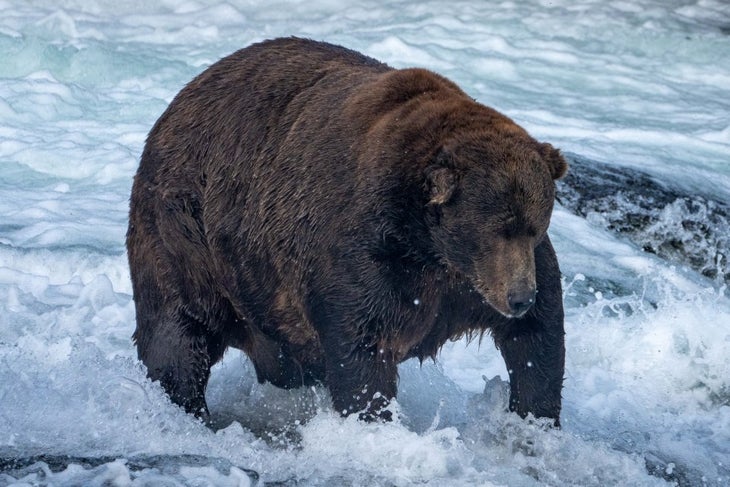 When 747 made his first appearance on the silver screen of Katmai National Park's bear cam this year, he was already looking chonky. That's rare; bears typically lose a third of their body weight during hibernation and spend the summer and fall fishing their strength back. The fact that 747's bulked-up after-hibernation body looks like many bears' before-hibernation body shows that he always has what it takes to power him to the top of this competition. Sure, this old grizz has some battle scars, even as the king of the river year after year, but 747 is a fighter: He won Fat Bear Week in 2020, and anyone who thrived that year is naturally unstoppable. But here in 2022, I'll be cheering on this absolute unit as he tips the scales and is crowned Fattest Bear once again. —Emma Veidt, Assistant Skills Editor 
435 Holly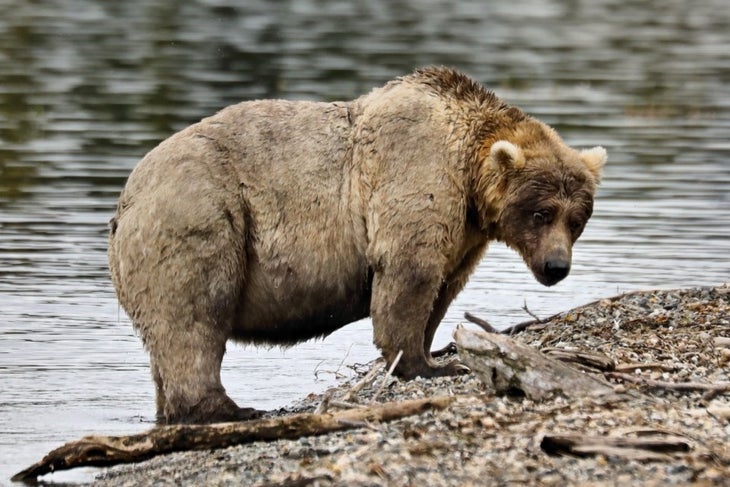 Never underestimate a supermom. That's exactly what 435 Holly is—the 2019 Fat Bear Week Champ has reared several litters of cubs over the years, even adopting a lone yearling in 2014 and raising it as her own. This bear is scrappy. She's looked after cubs with wounded paws, limps, and countless other challenges, and her adaptability surely gives her an edge when it comes to bulking up for winter. Now, Holly's cubs are all out in the world on their own, allowing her some much-needed free time. That can only mean one thing: self-care in the form of binge eating salmon at Brooks Falls. This mama bear is wise, experienced, and will do anything to give her future cubs the best shot at life, which is why I'll be cheering her on this week. —Zoe Gates, Senior Skills Editor
335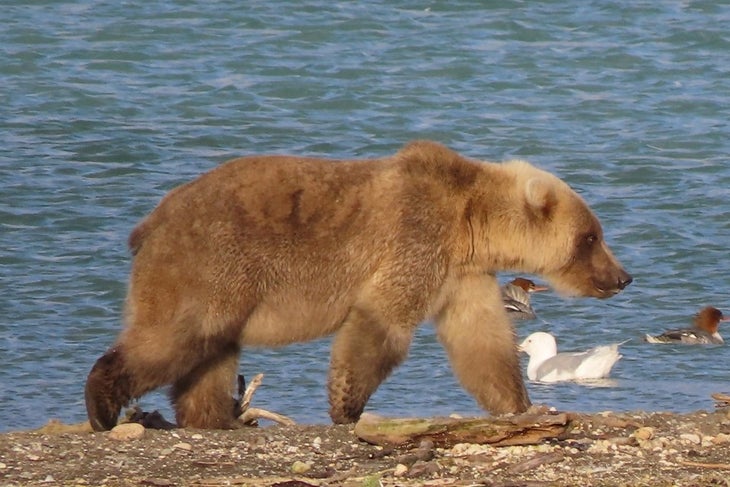 I am a big fan of the mother/daughter team of Holly and 335, but I think it is time for 335 to step out from her champion mother's shadow and claim the title on her own. She has clearly learned incredible fishing skills from her mom and is now ready to distinguish herself from the pack with scrappy scavenging tactics and super secret salmon stashes. While Holly was enjoying her first Hot Girl Summer as an empty nester, 335 secured her place among the top 12 for Fat Bear Week. I am excited to see what she can do when she finally gets a place at Brooks Falls for proper fishing next year. —Sara Turner, Senior CRM Manager
856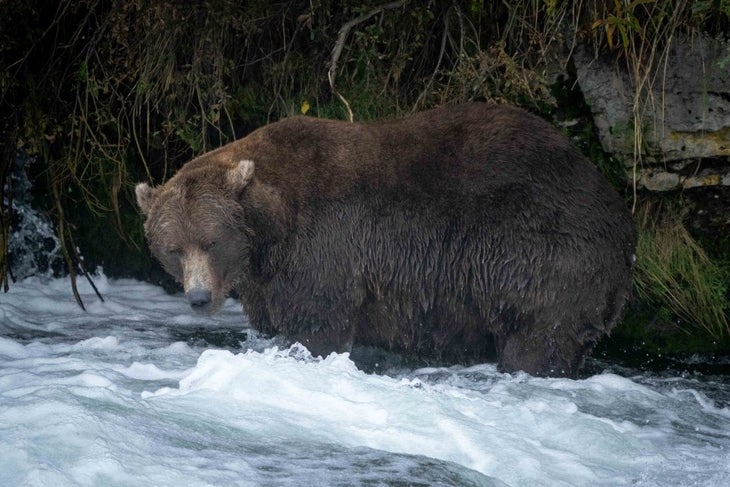 Hailing from the east coast, I love a good dynasty story. Considering his growth as a dominant bear from 2006 to 2022, 856 has been perfecting his skills as an assertive angler and forager. This bear knows the game, and has been watching the young-guns and taking notes on their mistakes. Overcoming adversity in 2021 when rival 747 rose above him in the Brooks Falls hierarchy, 856 has hardened battle scars that make him a force to be reckoned with. Sure, he's a bit older now than the average Fat Bear, however he's got tenacity and passion to climb to the top this year. Plus—look at those wheels! —Devin Lehman, Senior Product Manager 
164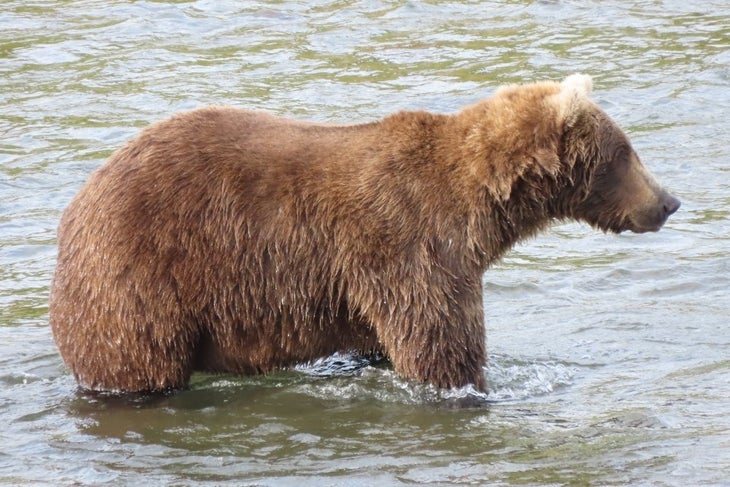 This 5 ½-year-old bear is an innovator. A maverick. If bears gave keynote speeches, 164 would wear a black turtleneck and dad jeans. Why? While most other young bears at Brooks Falls wait their turn for the prime fishing spots or go elsewhere in search of food, 164 has developed his own method of feeding. He stands at the edge of the deepest plunge pool at the base of Brooks Falls, and nabs the salmon as they well up from the water, jumping and falling back down in an attempt to make headway upstream. With this veritable sushi conveyor belt all to himself (no other bears have attempted to fish this spot), I'm betting 164 is the young, super-sized upstart Brooks Falls has been waiting for. —Benjamin Tepler, Gear Editor
854 Divot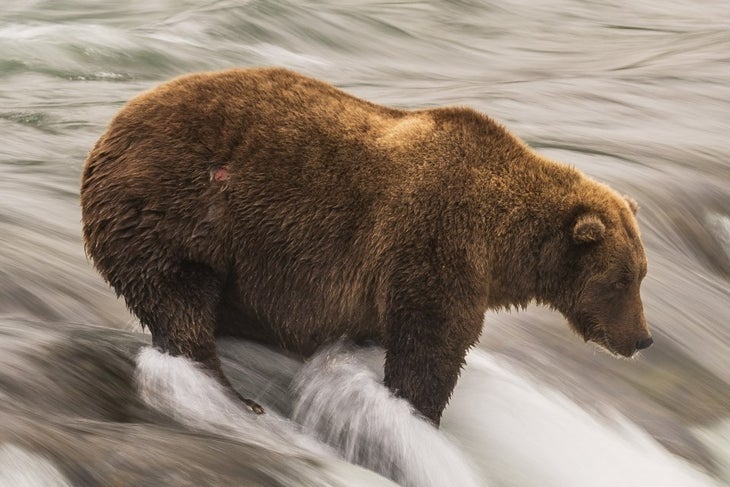 My pick is 854, Divot, for her "f*ck around and find out" attitude. When an illegal snare trap tried to take her out in 2014, she said "not today" and broke free. Rangers eventually helped remove the noose, but the lingering scar on her neck stands as a monument to her toughness and perseverance. She doesn't shy away from fishing areas with larger male bears, either. She's had at least three litters of cubs, and "emancipated" two earlier this year, so she's ready to focus on herself and getting those gains. —Jenn Voss, Director of Engineering
Want to participate in Fat Bear Week? Voting begins today, Wednesday October 5th.